Dallas Art Fair
The 10th edition of the major art showcase was an affirmation of the city's commitment to visual culture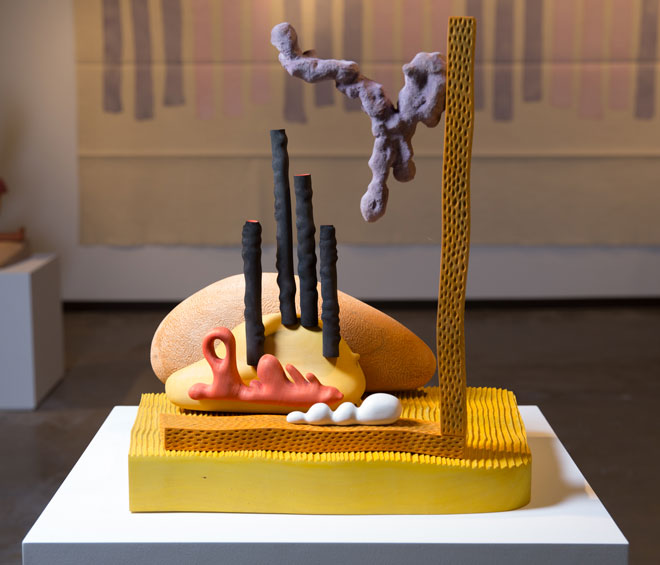 Fashion Industry Gallery, Dallas
13-15 April 2018
by ALLIE BISWAS
Marking a decade since its inauguration, the 2018 Dallas Art Fair confirmed its critical role within the region as well as outside it. The annual event, which took place over three days last month, became the buzzy centre of a thriving downtown arts district that includes Dallas Museum of Art, the Nasher Sculpture Center and the Crow Collection of Asian Art.
It has been some time since the fair has been held back by claims of regionalism, in the sense of possessing an inward-looking focus. The quality of originating from a southern, Texan locale, though, has served it well, and it is this characteristic, however discreet, that has prevented it from becoming yet another indistinguishable initiative within the contemporary art circuit. Dallas is on its own cultural roll: the popularity of the fair inspired Dallas Arts Week and, now, Dallas Arts Month, which connects the public with artists and organisations through poetry slams, jazz performances and panel discussions. Dallas is also the only city in Texas with a substantial art fair that keeps an international following.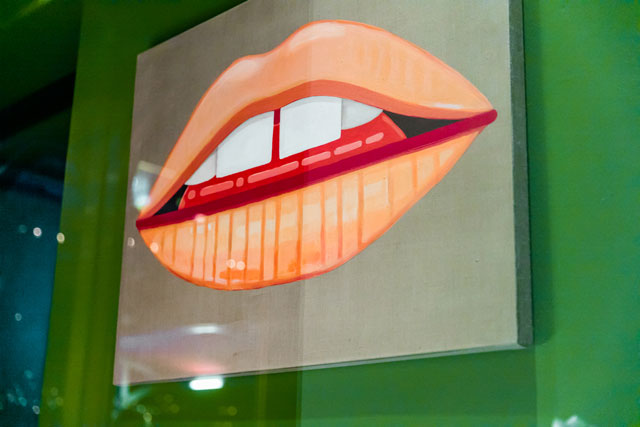 SUNNY by Brian Calvin on display at The Joule, Dallas.

The fair's programming over the past few years has, not incidentally, imparted an increasingly international outlook. The continued interest from eminent galleries around the world to participate is a testament in itself. This year, 93 galleries took over the Fashion Industry Gallery, the fair's long-standing home; a step up from the 30 or so dealers who occupied the space in 2009. A substantial number of these came from outside of the United States, such as Beatriz Esguerra Art (Colombia), Eduardo Secci Contemporary (Italy), Galerie Frank Elbaz (France), Harlan Levey Projects (Belgium) and Whitestone Gallery (Japan). Similarly, there was great diversity among galleries from the same region. New York spaces included Allan Stone Projects, who showed strong works by George Deem and Wayne Thiebaud, and Luhring Augustine, whose booth included celebrated modernist Lygia Clark and the brilliant geometric paintings of Jeremy Moon. Los Angeles' growing gallery scene was represented by no less than seven spaces: Night Gallery showed the curious paintings of emerging artist Ross Caliendo, while Nino Mier Gallery's booth thrilled with a selection of new sculptures by Berlin-based Anna Fasshauer – hers were some of the most compelling works on view.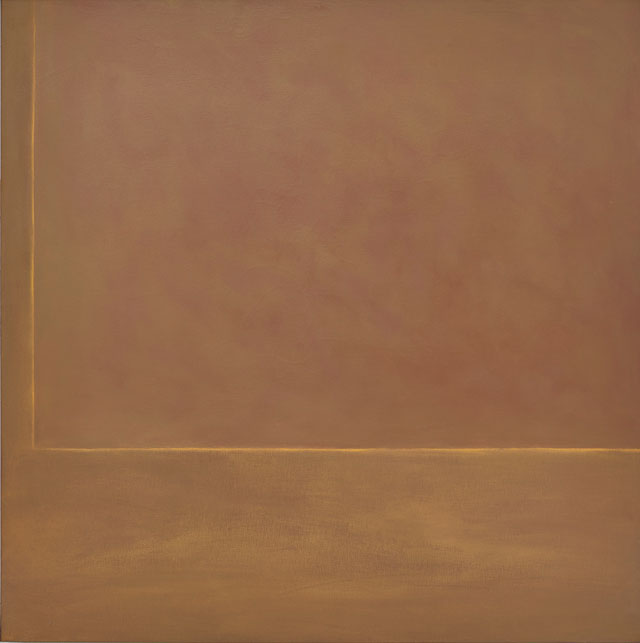 Virginia Jaramillo. Untitled, 1974. Oil on canvas, 152.4 x 152.4 cm (60 x 60 in). Courtesy of the artist and Hales Gallery.

The level of first-rate art seen at the fair was noticeable, as was a preoccupation with bringing attention to underrated, historical figures. Two booths easily stood out for their brilliance. Hales Project Room put the spotlight on rarely seen, richly stained abstractions created in the 1970s by American painter Virginia Jaramillo, whose practice has recently been rediscovered through important group shows such as Soul of a Nation: Art in the Age of Black Power and We Wanted A Revolution: Black Radical Women, 1965-85.
Casey Kaplan displayed the irresistible serous images of Turin-based octogenarian Giorgio Griffa, works that were also made in the 1970s. Like Jaramillo, the importance of Griffa has been restored of late through a couple of key exhibitons at Serralves Museum (2016) and Camden Arts Centre (2018). Griffa's loose canvases were put on view alongside the brightly hued, whimsical sculptures of Brooklyn-based Matthew Ronay (b1976). Displays such as these are typical of the overall approach seen at Dallas Art Fair, where the big and flashy works that often form the curatorial thread of other fairs are less visible. That a city known for its flamboyant wealth (the state of Texas has the second largest economy in the US after California) puts on an art fair that exudes a restrained ambiance is interesting in itself.
Similarly, the fair is not in any way dismissive of home-grown art and there was no eclipsing of galleries cultivated in Dallas with "heavyweight" names. The visual arts play a deep-seated role within Dallas and the fair has become a momentous part of a wider culture. The city is already recognised for its notable collectors, but public accessibility to art is equally impressive. At NorthPark Center's shopping mall, works by Roy Lichtenstein, Joel Shapiro and Andy Warhol are on view, while the Dallas Cowboys Art Collection consists of 16 site-specific works as well as 43 additional works that were acquired for its AT& T stadium collection.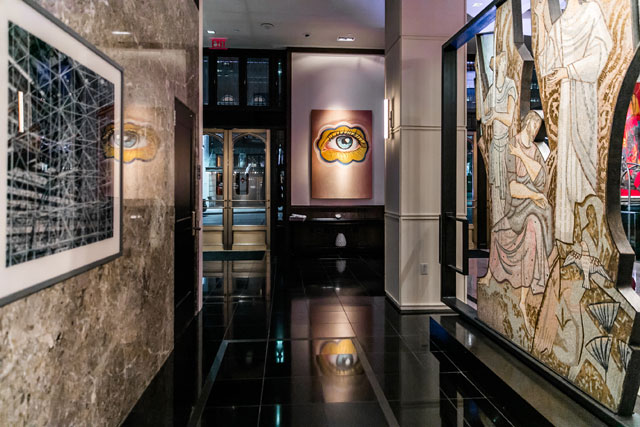 Eye Flower by Richard Phillips on display at The Joule, Dallas.

The Joule hotel, which revitalized the downtown area after establishing itself in 2008, has its own art collection that is a focal point of the property. Works by Richard Phillips, Roger Hiorns, Tony Cragg and Brian Calvin, among others, populate the lobby and dining spaces. Down the road, hand-painted wall murals form the backbone of the Deep Ellum neighbourhood, where several independent, DIY art spaces have set up shop.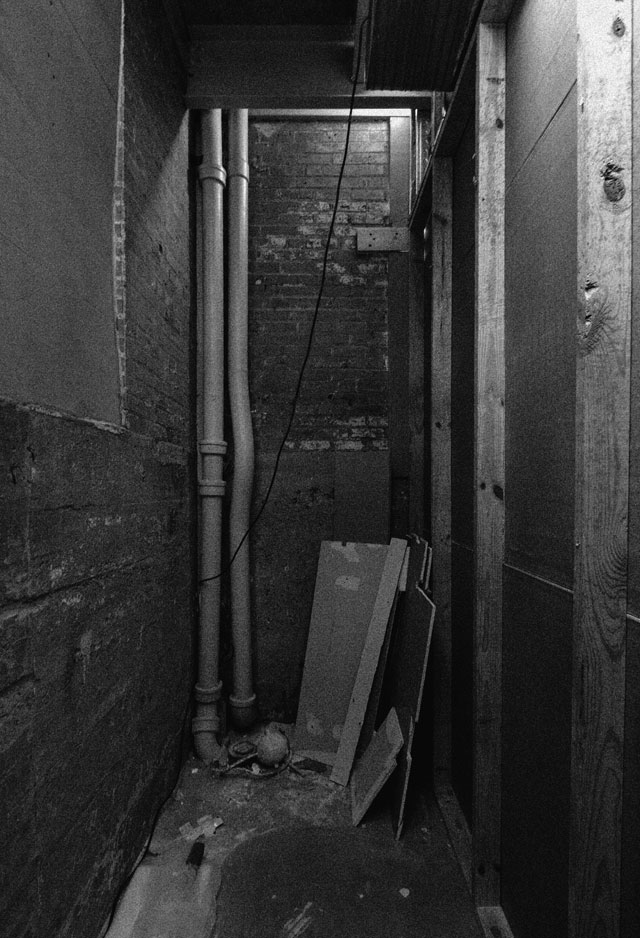 Adam Gordon. The Grey Room, 2018. Installation view. Image courtesy of The Power Station, Dallas and Adam Gordon. Photograph: Kevin Todora.

During the fair, exhibitions on Theaster Gates and Laura Owens were on display (at Nasher Sculpture Center and Dallas Art Museum respectively), while solo shows by Eric Fischl, Harry Nuriev and Sara Rahbar filled Dallas Contemporary. Most intriguing of all was an exhibition by Adam Gordon, entitled The Grey Room, which was presented by the Power Station. Signalling the artist's debut at an American institution, Gordon created various environments through five spaces within the gallery, which visitors experienced chronologically. The central portion of the installation demanded physical movement through rooms that were nearly pitch black, and which had been constructed to create a dilapidated, dungeon-like interior. A humidier was relied on to alter the atmosphere, and each room had its own scent, which the artist had formulated with a perfumer. Gordon has become known for drawing attention to the body's relationship to space, and the psychological repercussions of such experiences, through the creation of spaces that manipulate sensory expectations and emotional capacities. This arresting staging by the Power House, a not-for-profit organisation acknowledged for aiding ambitious contemporary art projects, underlined the calibre of art that is being supported in Dallas.