Art and Artifice: Fakes from the Collection
If there is one thing great art institutions usually try to avoid, it is fakes. The Courtauld has turned that on its head, with a show that tells the intriguing and instructive stories of the fakes in its own collection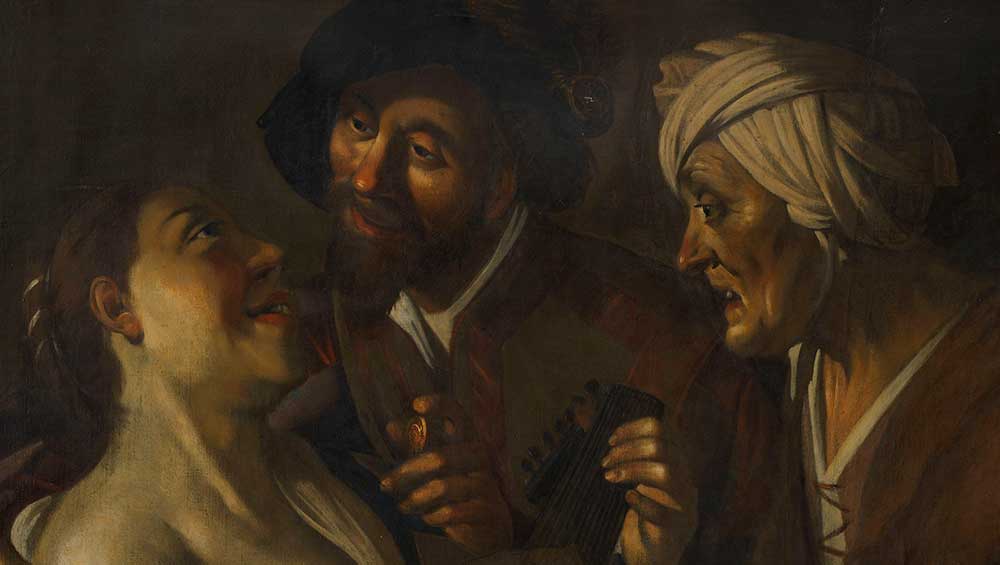 Han van Meegeren (1889-1947), Forgery in the manner of Dirk van Baburen (c1595-1624), The Procuress, around 1930, oil paint on canvas. The Courtauld, London (Samuel Courtauld Trust).
The Courtauld Gallery, London
17 June – 8 October 2023
by JULIET RIX
Sandro Botticelli, Pieter Bruegel the Elder, John Constable, Auguste Rodin … these famous names and more are represented in this intriguing exhibition – or not, depending on what you mean by represented.
I was once shown round the impressive art collection of a Florentine palazzo by a senior member of the family that had owned it for centuries. I asked who a particular painting was by. My hostess couldn't remember and added that she didn't think it was all that important. She knew what she liked, she said, and when pictures were lent to other institutions they sometimes, "went away by one artist, and came back by another".

Forgery in the manner of Auguste Rodin (1840-1917), Seated female nude, graphite and stumping. The Courtauld, London (Samuel Courtauld Trust).

The question of whether the identity of the creator of a work of art is relevant to the aesthetic experience of the viewer is open to argument. There is no doubt, however, that it matters to the history of art, and the curators of this exhibition have set out to show us that much can be learned – and enjoyed – by examining fakes.
It used to be that the only real tool at our disposal for judging a questionable, undocumented work was in-person connoisseurship (which was not always reliable). Times have changed. Technological advances, as well as swift global comparisons of images and opinions have made it much more likely that fakes can be definitively unmasked.
"It still usually starts with an expert sensing that something is not quite right," says Karen Serres, the Courtauld's curator of paintings and co-curator of this show, but this then leads to investigation and technical analysis.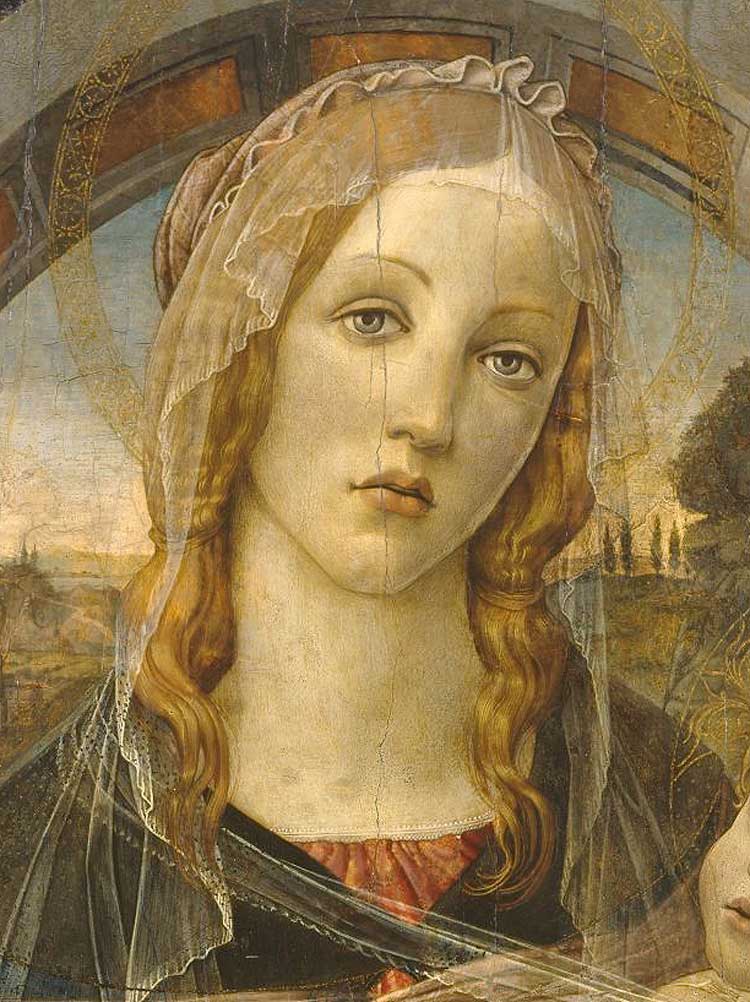 Umberto Giunti (1886-1970), Forgery in the manner of Sandro Botticelli (1444/1445-1510), Virgin and Child, 1920s (detail). Egg tempera on wood panel. The Courtauld, London (Samuel Courtauld Trust).

"Botticelli's" Virgin and Child (Madonna of the Veil) in this show passes very well at first glance for a masterpiece by the Italian Renaissance artist, and it was accepted as such when it was "rediscovered" in the 1930s. One scholar, however, noted that Mary reminded him of "a silent cinema star" and, having compared her with the photo of Lillian Gish provided here on the exhibition label, it is hard to ignore the 1920s pout of the Madonna's lips.
The work is now believed to be a 1920s fake by Umberto Giunti (1886-1970), who trained in the studio of known forger Icilio Federico Joni. Joni's much less convincing "15th-century" altarpiece hangs nearby and unlike the "Botticelli", has cartoonish figures that make it, as Serres says, "quite difficult to see how anyone was fooled by it". And she has dug up an amusing photo of the flamboyant Joni dressed in an equally cartoonish costume for a Renaissance re-enactment. Joni eventually admitted forgery in his 1932 book, Memoirs of a Painter of Old Paintings, but not before passing his skills to his more accomplished student.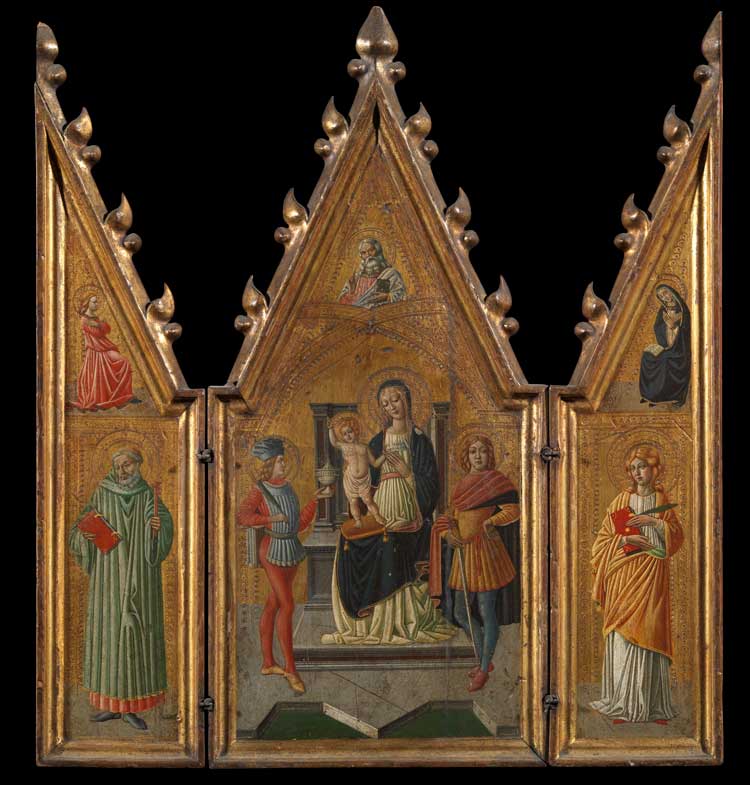 Icilo Fererico Joni (1866-1946), Virgin and Child with Saints, oil paint and gold leaf on panel. The Courtuald, London (Samuel Courtauld Trust).

Most impressive of all the "early" works here, however, is a "Duccio" (active 1278-1316) by an unknown hand. Serres says she would have been taken in, and I can only agree when she adds: "It is very believable, delicate and beautiful." Doubts were raised over the pattern of wear on the wood panel, and further investigation revealed a pigment that wasn't available until the mid-19th century.
Our recently improved ability to technically examine paintings, and especially paint, has identified, or confirmed, many late copies and forgeries (and there is, of course, a difference. Learning by copying has always been legitimate; selling those copies as the work of the master, not so much!). It used to be that a forger needed only to make the painting look old – by drilling "wormholes" in the wood, scratching the surface, painting thin black "cracks", baking it dry or yellowing the varnish (tricks technically revealed to us in a video in this exhibition) – but didn't need to worry much about the type of paint used.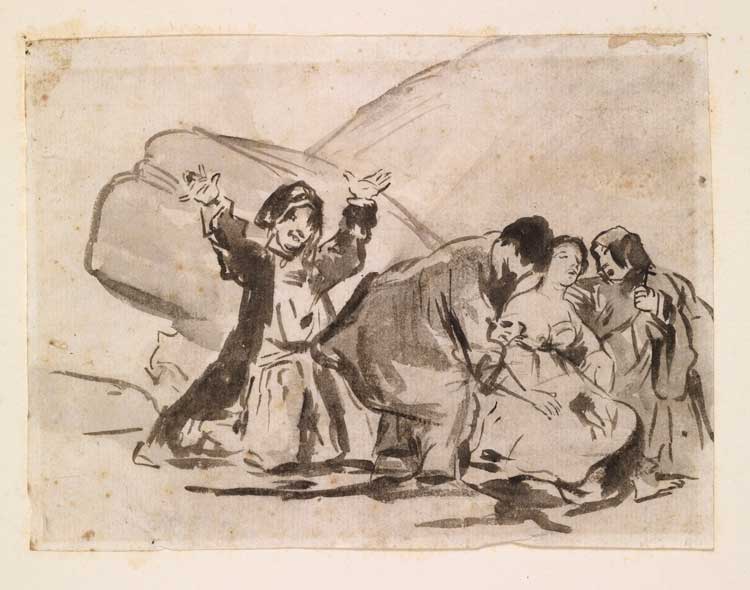 Forgery in the manner of Francisco de Goya y Lucientes (1746-1828), Figures seated by a rock, brush and brown wash. The Courtauld, London (Samuel Courtauld Trust).

Even once it was possible to chemically analyse pigments, it required a sample to be cut from the painting, something done with great reluctance and only in extremis. For the last decade or so, however, it has been possible to scan paintings and identify pigments without inflicting damage, so forgers of old master paintings now have few places to hide. There is still plenty of forgery going on, says Serres, but it is almost entirely of 20th-century artists using modern materials.
When The Procuress, a copy after Dirck van Baburen (around 1594-1625) by renowned Dutch forger Han van Meegeren (1889-1947), arrived in the Courtauld collection it was already known to be fake. It was given to a Courtauld professor in thanks for his help recovering art looted by the Nazis. It was an appropriate gift since van Meegeren famously sold one of his fake Vermeers to Nazi leader Hermann Göring, who treasured it as a rare piece by the 17th-century Dutch master.
The idea of the gift, though, was also that the fake would be useful for the Courtauld's students in learning to uncover forgers by understanding their techniques and because comparing genuine work and fakes is an excellent way of teasing out the essence of an artist's style and technique. Courtauld courses still employ such comparisons.
The exhibition includes a little puzzle for visitors: two pen and ink sketches, both at one time credited to the popular (and much forged) 18th-century Venetian artist Giovanni Battista Tiepolo. We are told a little about Tiepolo's style, then challenged to identify which is the genuine picture and which the fake. I was relieved to get it right, but it was how I got there that interested me. I found myself going first to "that one has it and that one doesn't" before working backwards towards why. No spoilers here, but the answer – with reasons – is provided, and, of course, once you know, it seems obvious, just as it does with some of the fakes that originally fooled top experts.
Five paintings are displayed in this exhibition out of 11 known fakes in the Courtauld collection. Might there be more? Among the paintings, Serres thinks probably not, or very few. Drawings, of which the exhibition includes more than 20, are different matter. There are many more drawings in the collection and the materials used for work on paper have changed far less over the centuries, making identification much more difficult.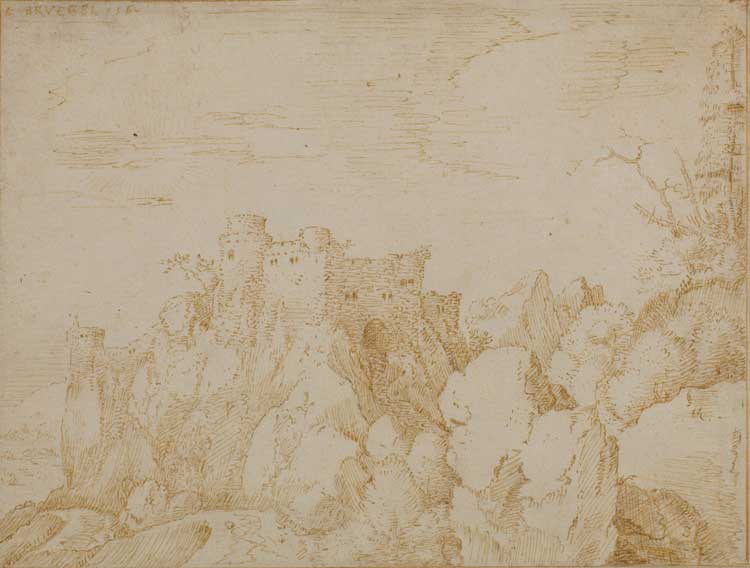 Jacob Savery I (1566-1603), Forgery in the manner of Pieter Bruegel the Elder (1525/30-1569), Rocky landscape with a castle, around 1590, traces of black chalk, pen and brown ink. The Courtauld, London (Samuel Courtauld Trust).

Part of the genesis of this show was a question mark that co-curator and Courtauld drawings cataloguer, Rachel Hapoienu, found hanging over a group of the collection's drawings when she started her job in 2016. A mysterious telephone caller in 1998 had asked the then curator what provenance there was for 11 named pictures, and the curator had had to admit there was nothing before 1970. The caller then suggested that all were the work of the notorious British forger Eric Hebborn, who had died two years previously, in 1996, and who had claimed to have sold many hundreds of fakes to top institutions.
What investigation had been done at the time, Hapoienu wanted to know. Not much it transpired, so she started digging. The caller remains unidentified. The curator who took the call thought it might be an ex-partner of Hebborn's but there is no direct evidence for this. Hapoienu says: "It's the sort of prank Hebborn himself would have enjoyed, the thought that he'd sent the Courtauld curators running around trying to find the provenance for these drawings."
Provenance for five of the drawings has now been traced to before Hebborn was born, so they are at least not by him. Two of these (still believed to be by Tiepolo and Francesco Guardi) are on show here along with a Michelangelo, or "Michelangelo", into which research is ongoing ("before that phone call nobody questioned it, after it everybody did," says Hapoienu, smiling). Man Asleep in an Armchair in the manner of British caricaturist Thomas Rowlandson (1757-1827) is ascribed to Hebborn, who boasted in his memoir about selling it as a genuine Rowlandson to the Courtauld.
Hebborn was careful to use appropriate materials, sourcing historic paper and saying that the paper chose the artist. Paper does, however, occasionally give away a careless, or opportunistic, fraud.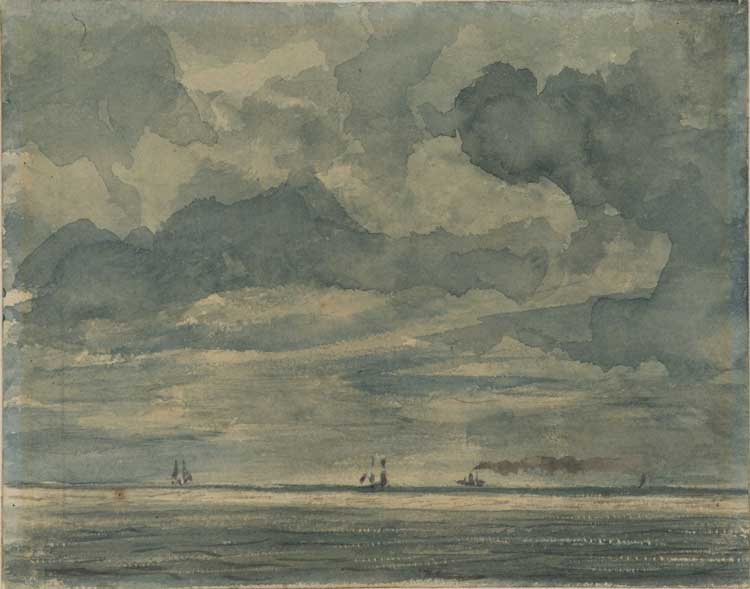 Forgery in the manner of John Constable (1776-1837), Seascape, watercolour. The Courtauld, London (Samuel Courtauld Trust)

A little watercolour sketch, a seascape, came to the Courtauld direct from the family of the artist John Constable (1776-1837) with his name firmly attached to it. Given its apparently perfect provenance, its authenticity was never questioned. In the course of her cataloguing, Hapoienu noted the watermark on the paper, 184- (the final digit was beyond the edge of the paper). Initially she thought nothing of it, until she was looking at John Constable's dates. Having died in 1837, he could hardly have painted on paper made in the 1840s.
The sketch is now attributed to his son, Lionel Constable (1828-87), and, although it is unclear exactly who was responsible, there is substantial suspicion that this misattribution may not have been entirely accidental – or indeed unique.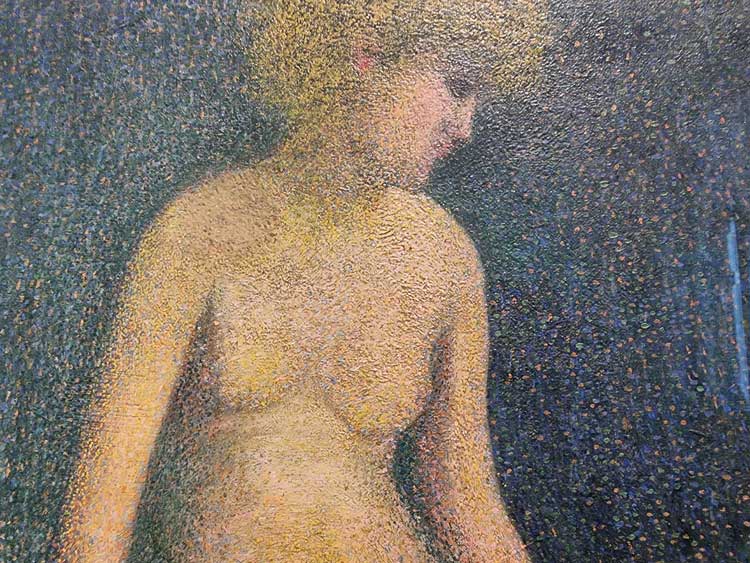 Detail of a fake painting purchased by Samuel Courtauld as a genuine work by Georges Seurat. Photo: Juliet Rix.

This is not the only case in the exhibition of experts being blinded by provenance. A painting now agreed by all to be a hideous fake was bought by none other than Samuel Courtauld as a genuine work by the inventor of pointillism Georges Seurat (1859-1891). Courtauld was lulled into a false sense of security by the picture having been listed among Seurat's works by the artist's friend and cataloguer, Félix Fénéon, who described it as a student work with later addition of experimental pointillism. Even great artists have off days (something sometimes overlooked by connoisseurs), but this work is particularly poor, shows little understanding of Seurat's colour-combining technique and has a clumsy, questionable signature. It is now firmly unattributed to Seurat.
Forgery has been going on for as long as art and particularly as long as the art market. Fakery follows fashion – another interesting angle for art history – and as prices rose in the second half of the 19th and the early 20th century there was a commensurate increase in full forgeries as well as value-adding additions (such as signatures). There are no doubt many forgeries left to uncover, although perhaps not as many as the more mischievous and self-aggrandising forgers like Hebborn might wish us to think.
Certainly, the detective work continues, and much is left to learn from the non-Botticellis, non-Bruegels, non-Constables and non-Rodins in our famous collections.
• All the images and labels from this exhibition will shortly go permanently online on the Courtauld's website for anyone interested in a virtual visit or revisit.