Tracey Emin and William Blake in Focus
While the similarities between the work of Tracey Emin and William Blake are tenuous, the latest instalment of Tate Liverpool's In Focus series is interesting for other reasons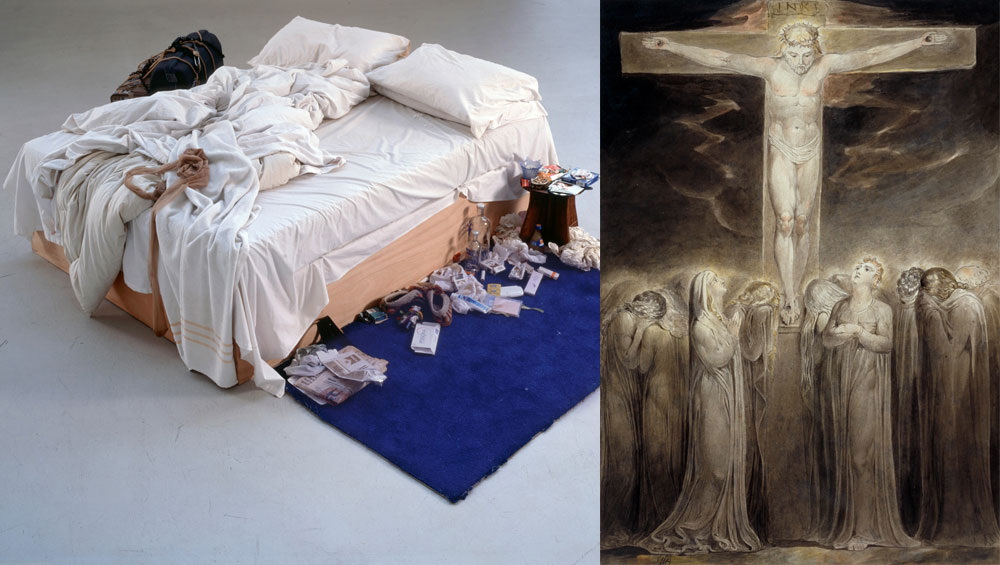 Tracey Emin. My Bed, 1998. © Tracey Emin. All rights reserved, DACS 2016. William Blake. The Crucifixion: 'Behold Thy Mother', c1805. Photograph © Tate 2016.
Tate Liverpool
16 September 2016 – 3 September 2017
by CHRISTIANA SPENS
Ostensibly a comparison of the work of William Blake (1757-1827) and Tracey Emin (b1963), particularly their similar thematic concerns of birth, death and spirituality, this exhibition at Tate Liverpool does not quite achieve its central goals. The themes are so grand and so vast that the fact that both artists were preoccupied with them at some point, and in some way, does not really provide cohesion or persuasive comparison points. It is simply hard to see how the work of Blake, the radical artist, poet and self-professed visionary of the 19th century, relates to the modern work of Emin – other than a shared use of figurative drawing and poetic writing at certain points in their careers.
According to Tate Liverpool: "Blake stood against the hypocrisies of his age, championing liberalism, sexual freedoms and, above all, freedom of expression." It is true that Emin does, too, to a certain point – but then, so do a great many artists, especially those tied to Romanticism or the past 50 years in western modern art. The Tate also notes: "This new display affirms Blake's Romantic idea of artistic truth through existential pain and the possibility of spiritual rebirth through art," and this point seems more compelling, and to suggest a more specific shared concern and method. Indeed, the often-visceral approach to art practice, and the use of personal experience to communicate existential concerns, is deeply embedded in the work of both artists. They do, therefore, seem to share a spirit and even an unwritten manifesto, if not very much in terms of similarities on paper.
Despite the shared spirit, however, it is still difficult to see why the two artists should have been exhibited together, as a duet, when each could easily have held an exhibition well enough alone, in a more focused manner. Conversely, a larger group exhibition on these themes (or another related theme, such as autobiography in art), involving a wider range of both Romantic and modern artists, could have been very interesting indeed, and less confining. Blake and Emin are, essentially, interesting enough without one another, and perhaps more interesting still in the context of their wider artistic eras. But whatever pitfalls of the curation (or rather, the initial decision to exhibit them together), thankfully the work remains compelling regardless. Considering both artists, I was taken with the interrelated ideas of autobiography, as well as recording time, in particular.
Emin's infamous 1998 work, My Bed, takes centrepiece in the exhibition, and has become, almost 20 years since its conception, possibly more fascinating with time. (Certainly its new owner thought so – it was sold to Count Christian Duerckheim in 2014 for more than £2.5m.) Surrounded by deep red and green walls, and the other works in the exhibition (including Blake's Pity (c1795) and The Crucifixion: "Behold Thy Mother" (c1805), as well as recent figurative drawings by Emin), it appears a hellish altar at first, eerily absent and yet lit up. The spotlight is on what is no longer there.
This is what seems most interesting, now: how dated all of the "props" or artefacts have become – from Polaroid pictures that can no longer be bought, to outdated branded packaging of contraception and vodka. A newspaper, now yellowed, gives the scene the look of a time capsule; the muddled sheets, smears of bodily fluids and cigarette butts, meanwhile, give the impression of a crime scene. That this "readymade" is autobiographical underlines and deepens that effect: it has been mythologised, by Emin herself mainly, that this piece is a record of a dark time in her life. It is a memoir as a wall-less room, a self-portrait without a person. And yet Emin, or who she used to be, haunts it still. It is the portrait of a ghost.
Created in her flat in Waterloo south-east London, at the tail-end of a romantic relationship, My Bedcharts a deeply unhappy time in which Emin spent four days in bed, crying (and, it would seem from the evidence here, a lot more besides). The work not only records this time of despair, but is a manifestation of her own attempt at rebirth and redemption through art – of putting the past behind her through transforming it into an installation that remains now as an enclosed time capsule, not only of the time period itself (the 90s), but of a series of emotions and experiences. The idea of transforming lived experience into these well-curated objects remains fascinating and eerie in equal parts. It is a form of memorialisation that is certainly not limited to this time (or rather to the 90s), but a process deeply embedded in all human societies, in some ways. To make that process at once personal and very public certainly seems original, even if Emin may not be the first to memorialise a lost love affair or a period of deep depression.
Perhaps it is there that having Emin's work in the same room as Blake's makes some sense: Emin chose this combination herself, presumably because she has been inspired by Blake's work in the past. In so doing, she frames her own work in his tradition. Regardless of whether or not their work is really compatible or similar, this framing of Emin's work in the Romantic tradition marks a departure, in some sense, from her contemporaries; her work, considered as a time capsule of a (recent) modern time, rather than part of a contemporary movement, elevates its concerns and gives Emin's work connotations that may have been overlooked otherwise. Exhibiting My Bed 20 years after its creation in itself transforms Emin's work into a more obvious meditation on the passing of time, and less a mere statement about fashionable excess and emotion. In this sense, Emin has cleverly elevated her work still further: she, more than Blake, is the star of this show. Blake has become, for now at least, a frame for Emin – a means of her rebirth and resonance. Thematically, at least, that makes sense.