Royal Academy Summer Exhibition 2014
Studio International visited this year's Royal Academy Summer Exhibition before the party began, and talked to some key figures behind the scenes, responsible for this eclectic display of over 1,200 works of art. Some of the works are by renowned Royal Academicians, some by honorary Academicians – and others by those whose reputations are yet unknown.
Royal Academy of Arts, London
9 June – 17 August 2014
And so this annual exhibition – first begun in 1769 – has become known as an example of democratic display, where those without reputation are exhibited alongside those who have, as Turner Prize-winner Grayson Perry explains with subversively playful wit, "got lucky and found an audience willing to pay for their work".
The recently appointed Royal Academy artistic director, Tim Marlow, spoke to us about his role and future plans for the Academy. Edith Devaney, head of Summer Exhibition and contemporary curator at the Royal Academy of Arts, gave us her thoughts on this year's exhibition.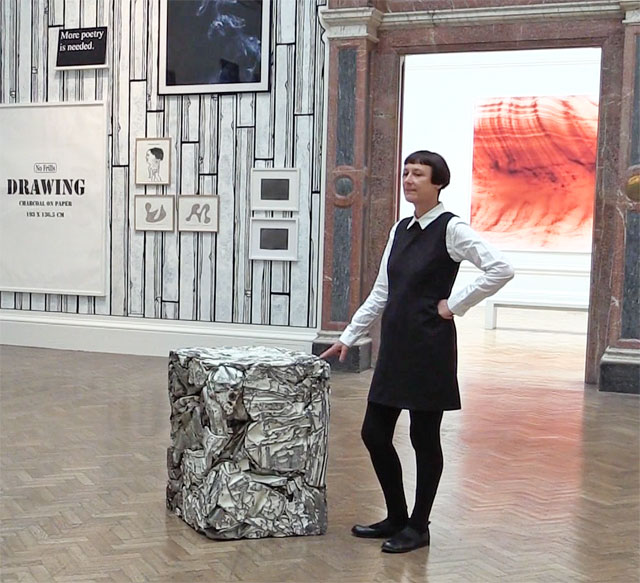 Cornelia Parker spoke to Studio International at the opening of the Royal Academy Summer Exhibition 2014. Photo: Martin Kennedy.

Royal Academician Cornelia Parker spoke about her thinking behind the black and white gallery that she's curated for this exhibition, and artist, Royal Academician and director of this year's selection and hanging committee, Hughie O'Donoghue, talked to us about the process of hanging the show, his thoughts on making and viewing paintings, and the condition of painting today.
Interviews by MK PALOMAR
Filmed by WILLIAM KENNEDY