Milan Triennale XXII: Broken Nature – Design Takes on Human Survival
Under the stewardship of MoMA's Paola Antonelli, the revitalised exhibition turns its eyes to our impending doom – and what design can do to make amends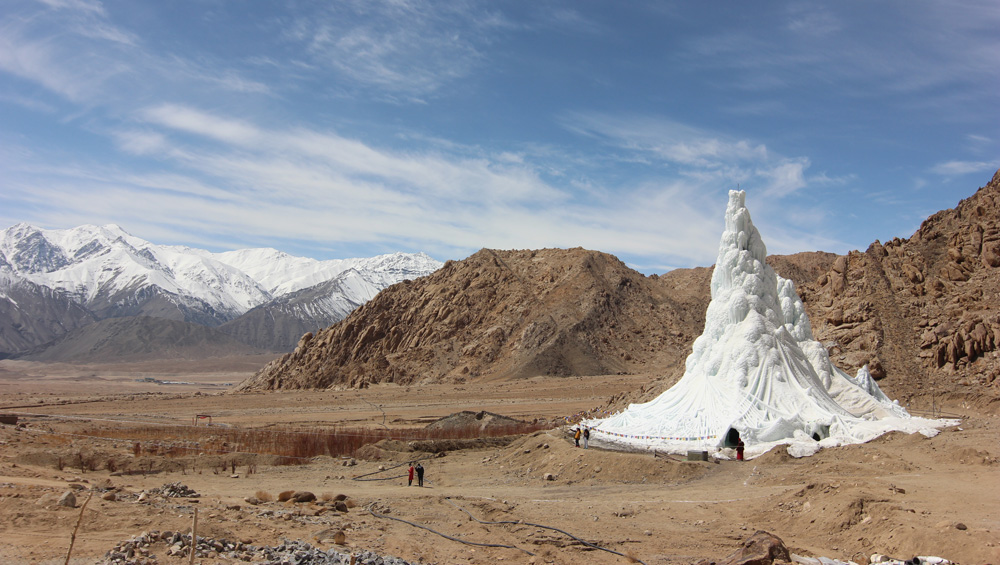 Palazzo dell'Arte, Milan
1 March – 1 September 2019
by JOE LLOYD
The world as we know it is coming to an end, and it is all our fault. The rampant march of human progress has destroyed flora, fauna and entire ecosystems. The landscape has been ravaged, resources gobbled up. Our belching emissions are sending us speeding straight towards climate catastrophe. We have both the natural world, and all-but-severed our connections to it. It is probably too late to make amends – but that is no excuse to bow to the inevitable. This is the starting point of Broken Nature: Design Takes on Human Survival, the 22nd edition of the Milan Triennale. Its curator, Paola Antonelli of New York's Museum of Modern Art, does not stint from signalling our probable extinction.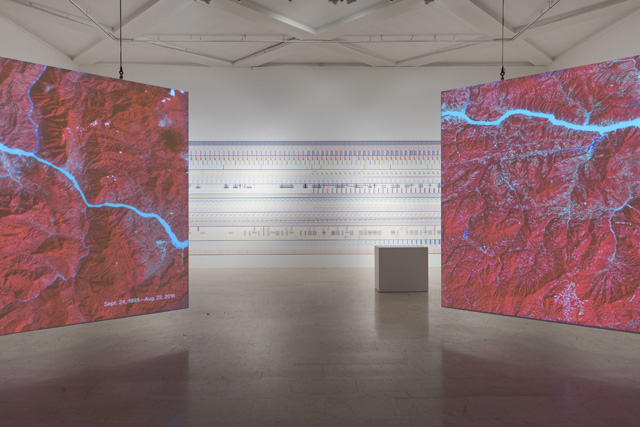 Installation view of Broken Nature, featuring Nasa, Images of Changes, 2014-17 (foreground) and Accurat, The Room of Change, 2019 (background). Photo: Gianluca Di Ioia. Courtesy of La Triennale di Mliano.

We begin in a room plastered with seemingly inscrutable abstract patterns, row upon row of triangles and lines. A legend beneath reveals them as data visualisations, by the design studio Accurat, which chart fuel consumption, epidemics, terrorist incidents, declining bee populations and other worrisome trends. Nearby, we see a selection from Images of Change, Nasa's terrifying collation of before-and-after satellite photographs showing waterlogged deserts, melting glaciers and the great gashes in the land caused by mining. It is an unusually urgent opening for a design exhibition.
There was a time when design expositions laid blueprints for a better future. The Milan Triennale was a paradigmatic example. There were editions on the wonders of prefabrication, on rational architecture and the future of the city; in 1947, it led to the construction of an entire experimental neighbourhood in north-west Milan. Organised in one format or another since 1923, the triennale unceremoniously stopped after 1996. When it was resuscitated in 2016, it came to in world with a markedly different conception of what design is and can do. Design today is broader than ever: Broken Nature contains video games, manga, photography, sculpture and yet-to-be relevant tools for potential futures. It is also more sceptical about the grandiose claims of social process that empowered many of its modernist protagonists.
Antonelli has been a major driver of this shift and, to no small extent, Broken Nature comes across as a summation of her interrogative, querying model for design, collecting about 100 projects, largely from the past decade. Some, including Accurat's contribution, are newly commissioned. Others, such as Christien Meindertsma's Pig 05049 (2007) – a book tracing the 185 uses of a single slaughtered pig, including cheesecake, bullets, medicine capsules, sandpaper, cigarettes and a train brake – have already acquired something resembling classic status in design circles. Throughout, Antonelli lets her selections converse, raising further questions. Meindertsma's book can be read as a harrowing account of the impossibility of living a life free of animal products; Victor Alge's Alces Alces chair (2017), on the other hand, proposes using the skins left by moose-hunting to create furniture. Which route should we follow?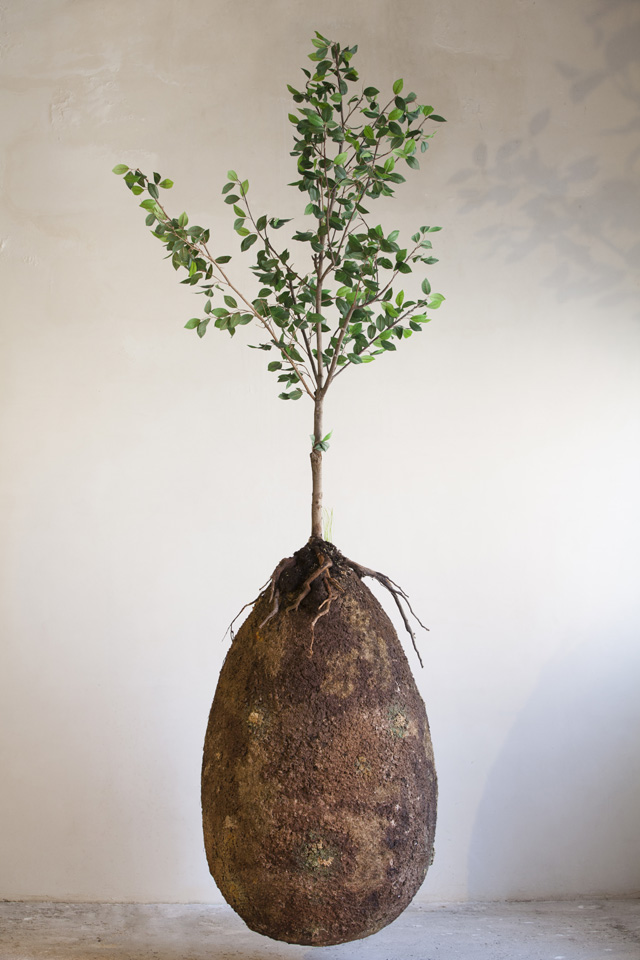 Anna Citelli and Raoul Bretzel, Capsula Mundi. 2003. Photo: Francesco D'Angelo. Courtesy the designers.

Rather than wallowing in apocalyptic anxiety, Broken Nature has a pleasing tendency towards the madcap. Several projects defy belief. Ai Hasegawa's Human X Shark (2017), documented here in a video, sees the designer douse herself in a fragrance developed to make her attractive to male sharks and plunge underwater to test it out, pre-empting the possibility of cross-species mating. Susanna Soares draws on scientific research to present Bee's (2007), a series of medical devices harnessing the diagnostic abilities of the bumblebee. Elsewhere, there are shoes that discharge seeds, courtesy of the artist Sputniko!; a biodegradable casket that allows a decomposing corpse to nourish a tree, from the design duo Anna Citelli and Raoul Bretzel; and the mechanism that allowed the designer Thomas Thwaites to spend several days in 2016 living as a goat. The show is closed out by a visualisation of whale song, from People + AI Research and Google's Creative Lab.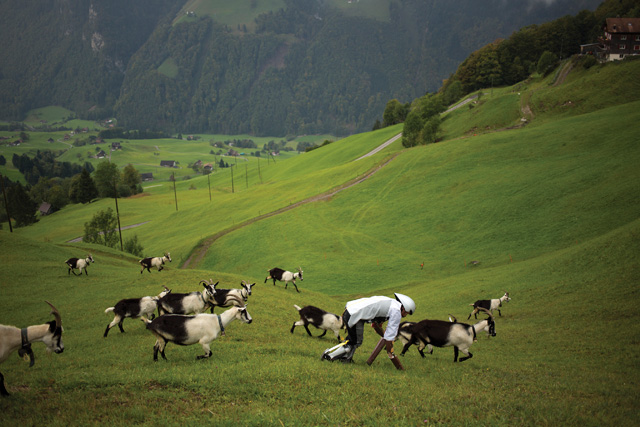 Thomas Thwaites, Goatman, 2016. Supported by Wellcome Trust. Photo: Tim Bowditch. Courtesy the designer.

To say design has become more sceptical is not to say that it does not aspire to benefit the world in specific, remedial ways, and the exhibition's more speculative projects are balanced with those that seek to help communities now. Lucy Jones's Seated Design Collection (2015) proposes clothes designed for those who use wheelchairs. Among the most impressive items on display are a set of objects for improving women's health, such as a $2 (£1.57) clean birth kit and the biodegradable Ruby menstrual cup (2011). One particularly astonishing endeavour, shown through backlit photographs, is the Ice Stupa of Ladakh (2013-14), an artificial glacier in the Indian Himalayas created by piping a mountain stream below the frost line and gushing it out of a spout. On contact with air, the stream freezes into a mountain-like plume of ice, which locals can use for water when the ice melts during the warmer months: a spectacular project, the triumphalism of which is undercut by the global warming that made it necessary.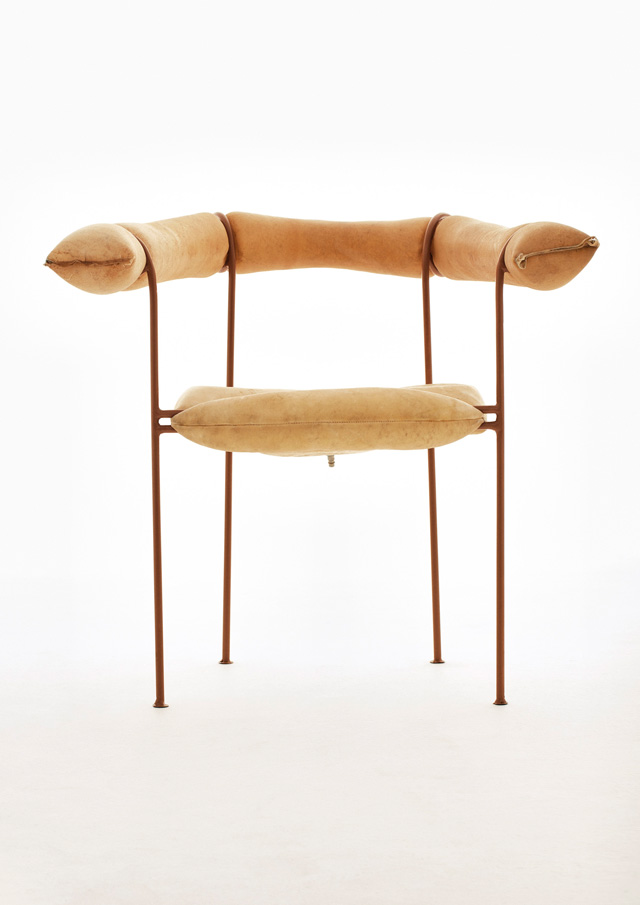 Victor Alge, Alces Alces #3. 2017. Photo: Hinke Tovle. Courtesy the designer.

Unsurprisingly for a design exhibition in Milan – the powerhouse of postwar furniture design – there are some chairs and homeware, but these come laden with ideas beyond the merely aesthetic. Martino Gamper's much-exhibited 100 Chairs in a 100 Days (2007) saw the London-based designer make a new seat each day for 100 days by collaging scraps from multiple discarded chairs. Similar discretion is exercised in Antonelli's choices of sustainable homeware, the creation of which has become a popular pursuit among designers. Kosuke Araki's svelte black tableware is made from recycled food waste, while the thinktank Atelier Luma, based in Arles, France, presents an astonishingly varied array of objects – from metallic hookahs to wicker-like baskets – that can be created using algae.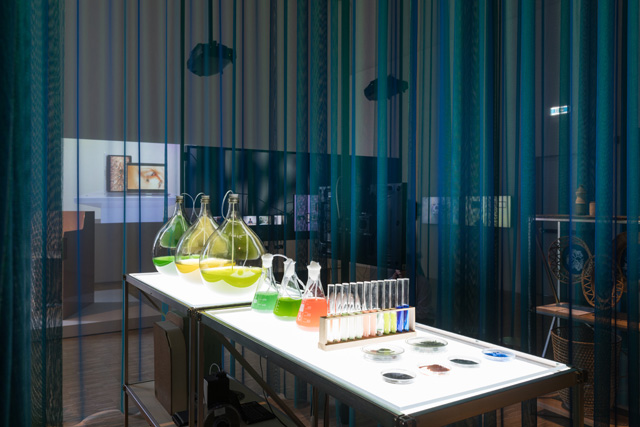 Installation view of Broken Nature, featuring Atelier Luma, Algae Lab, 2019. Photo: Gianluca Di Ioia. Courtesy of La Triennale di Mliano.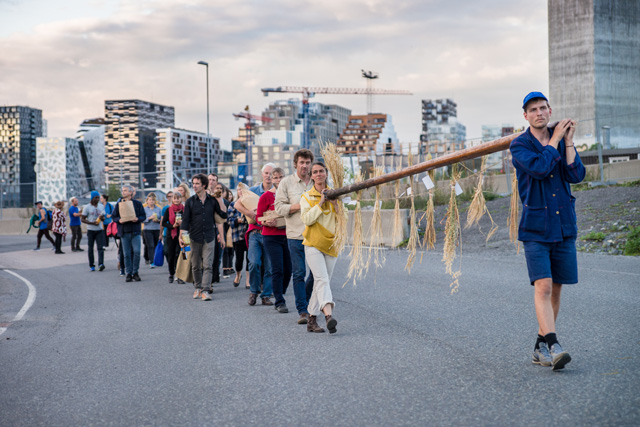 Amy Franceschini and Futurefarmers, Seed Procession, 2016. Seed Journey. 2016-ongoing. Photo: Monika Lovdahl. Courtesy Futurefarmers.

One thing that unifies almost all Antonelli's selections, from the most speculative to the most concrete, is the presence of stories. These can be overt – as with Amy Franceschini of Futurefarmers' Seed Journey (2016-18), a boat voyage that traced an ancient journey of seeds from Oslo to Istanbul, here represented with a literal set of written tales – or implicit, as in the case of Raising Robotic Natives (2016), a collaboration between three German designers that suggests ways by which young children can be acclimatised to a bot-filled society.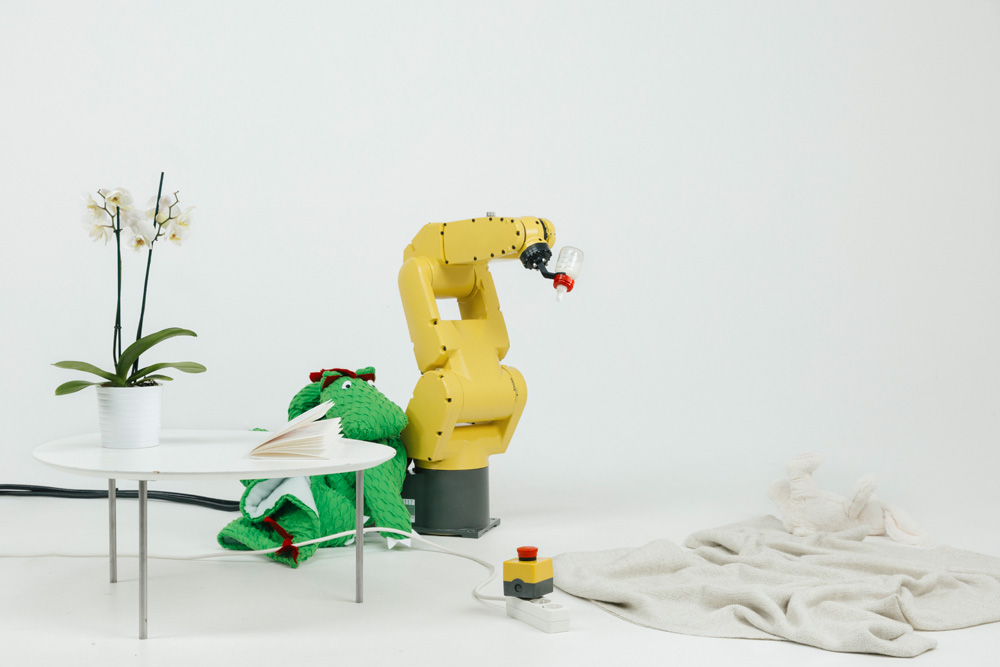 Stephan Bogner, Philipp Schmitt and Jonas Voigt, Raising Robotic Natives. 2016. Photo: Courtesy the designers.

Portrayed with a milk-bottle holding mechanical arm, a robotic cuddly toy and a picture book illustrating Isaac Asimov's Three Laws of Robotics, it encourages further imaginative engagement on the part of the viewer. This is ultimately Broken Nature's greatest strength, and the strength of Antonelli's approach to design: you will leave with your mind abuzz with ideas about the world as it is now and as it could be, even as we slide blindly towards extinction.