Clouds and Lights: Impressionism in Holland
This master class in Dutch art history demonstrates the strength of the artistic impulses that came from France, while highlighting how important landscape remained for Dutch artists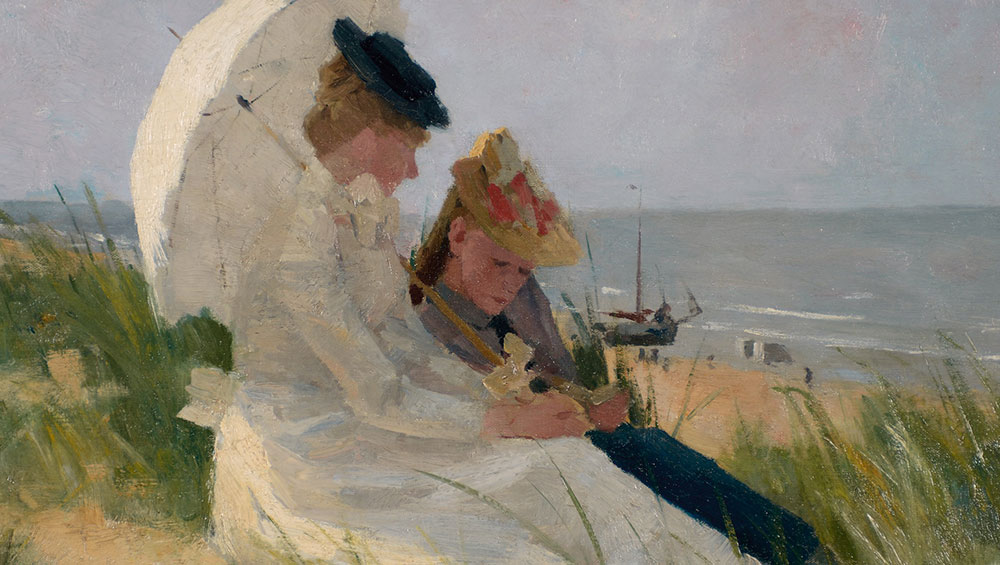 Ferdinand Hart Nibbrig. On the Dunes in Zandvoort, 1891-92 (detail). Oil on canvas, Singer Laren, Schenkung P. J. Hart Nibbrig 1981.
Museum Barberini, Potsdam
8 July – 22 October 2023
by SABINE SCHERECK
The sea, the sand, the sky – at times it is clear blue, then fuzzy grey. Images of the coast as captured in Holland now fill the halls at the Museum Barberini in Potsdam. The exhibition Clouds and Lights: Impressionism in Holland presents the way that pleinair painting, developed in 19th-century France, influenced Dutch artists – artists, whose country has had a long tradition in landscape painting.
Last summer, visitors to the Liebermann Villa in Berlin were transported to the seaside in Holland, when a small exhibition traced Max Liebermann's time in Noordwijk on the Dutch North Sea coast. It had gathered about 30 paintings and drawings the German impressionist artist produced there during his summer holidays between 1905 and 1913. Earlier this year, the Gemäldegalerie, too, directed its attention to Holland when it dedicated a small room to graphics and drawings from the 17th and 18th centuries that recorded observations of the weather, such as ice, storms, a tempestuous sea, or the sun breaking through clouds. Now, the Museum Barberini is showing Dutch art on a much larger scale. Spanning the 1840s to 1920, the exhibition reaches way beyond the impressionist period in the title and is a master class in Dutch art history. In cooperation with the Kunstmuseum Den Haag, this exhibition brings about 100 works by 40 artists to Potsdam, not far from Berlin; among them works that have never been seen here before.
When entering the exhibition at the Museum Barberini, strangely, there is no coast in sight and no clouds to be seen. Instead, there are paintings of trees, trees and more trees. It feels like walking through any European forest. The story behind this motif is the lead-up to the Hague School, whose members picked up what their French fellow artists started at the Barbizon school by the Forest of Fontainebleau in the 1830s: taking their easels outdoors and capturing the changing light in nature, including its reflection on lakes and rivers. Here, only a few images manage to draw the passing visitor into their world. They are the ones in which the phenomenon of natural light keeps mesmerising the viewer, such as Gerard Bilders' Woodland Pond at Sunset (c1862). There, the warmly lit sky shines through dark trees with rich foliage and is reflected in a small pond – the sight emanates a calming peace after a long day. Another painting that captivates also shows the evening sun on the horizon: here, it is glowing through a crack in the clouds; this is Autumn Landscape in the Evening (1884). Like other images in this section, it is painted in a naturalist style and if the label were not there, it would be hard to guess that it is by Vincent van Gogh. Yet, his picture differs from the others as overwhelming trees are not centre stage, but line the sides and open up the view into the fields.
Then, when entering the second room, the familiar imagery of Dutch landscape unfolds with its flat lands, vast skies and billowing clouds – and, of course, its windmills. Most pieces depict everyday views of the countryside without any distinct lighting.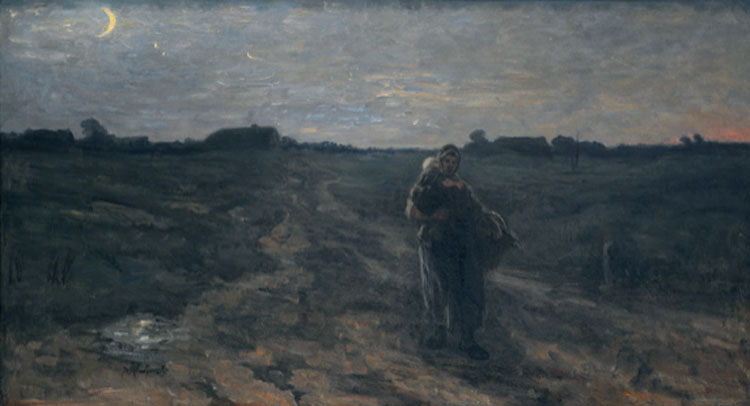 Jozef Israëls. After Dark, 1880-96. Oil on canvas. Singer Laren, Collection Cultural Heritage Agency of the Netherlands.

An exception is Jozef Israëls' atmospheric After Dark (1880-1896), in which a woman walks through the meadows carrying a child in one arm and a basket on the other. Behind her are the dark grey-purple clouds of a sky at dusk; at the top left, the crescent moon. Yet, it feels as if the moon were added later, as its light is not mirrored in its surrounding clouds. A perfect example of spellbinding moonlight is Johan Barthold Jongkind's Cityscape of Rotterdam: Canal à Rotterdam (1873). There, the bright moonlight is masterfully reflected in the hugging clouds as well as in the silvery shimmering water of a canal.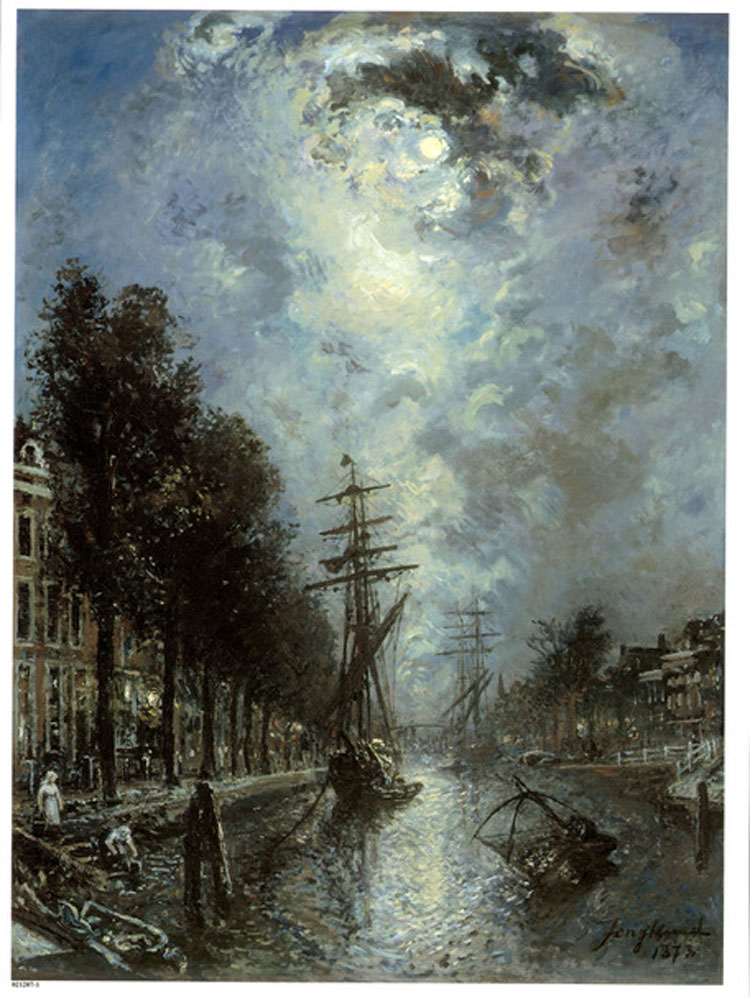 Johan Barthold Jongkind. Cityscape of Rotterdam: Canal à Rotterdam, 1873. Oil on canvas. Museum Rotterdam.

This eye-catching image hangs in the adjacent room, which takes the visitor finally to the coast. However, the large paintings show not a sea that beckons you to swim, but one that is a place of work. Here are ships at a port or on the shore, where it seems to be eternally November: a drab sky above a dull sea that laps a greyish deserted, windswept beach. Only a few small figures brave the place. Jacob Maris's Shell Fishing (1885) and Fishing Boat (1878) stand out, as a small detail brings his pictures to life, making viewers feel as if they are right there: the seagulls that glide through the air.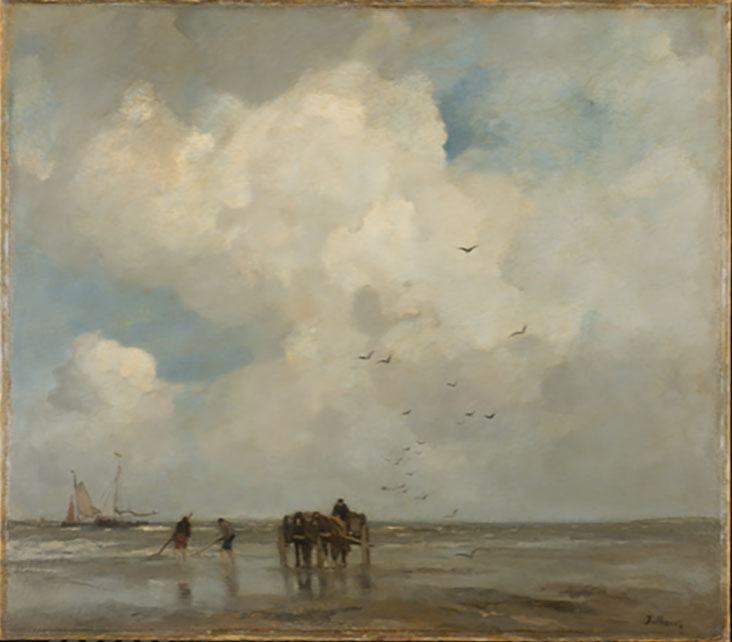 Jacob Maris. Shellfishing, 1885. Oil on canvas. Rijksmuseum, Amsterdam, Mr and Mrs Drucker-Fraser Bequest, Montreux.

In stark contrast to this, and prominently positioned on the last wall of this section, is Hendrik Willem Mesdag's Sunset with Crab Fishers (undated). A cream-coloured sky spreads over the calm sea, where two tiny figures drag through the bright water. It reminds the viewer of the majestic splendour that nature can offer.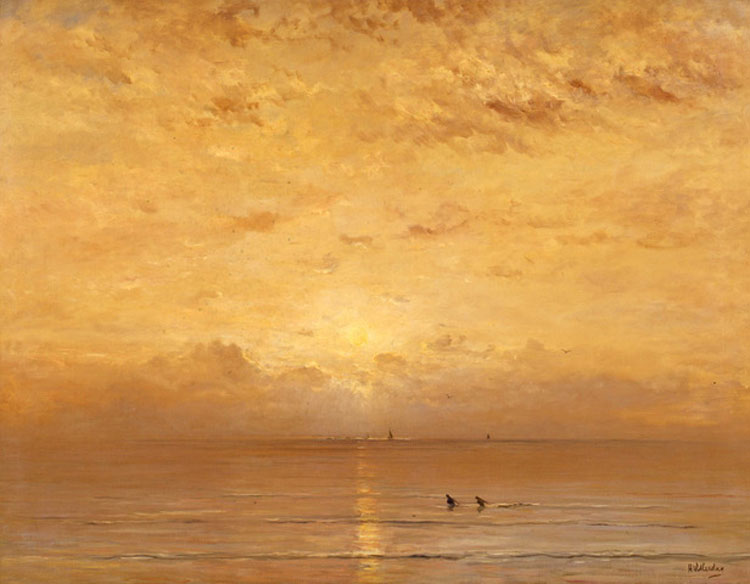 Hendrik Willem Mesdag. Sunset with Crabfishers, without year. Oil on canvas. Dordrechts Museum, art exchange with the artist 1902.

The exhibition, curated by Michael Philipp, continues on the second floor. There it follows another path, creating a journey through seasons and locations as experienced by a different set of people, mainly the middle class. Its painters formed the second generation of the Hague School and left the woodlands and fields behind to turn to the buzzing life of Amsterdam. They also adopted an impressionist style, hence they became known as the Amsterdam impressionists. George Hendrik Breitner's View of Keizersgracht, Corner of Reguliersgracht (c1895) leads into this section. It is autumn in the picture and, as in the other images in the room – primarily depicting winter or night scenes – brown, grey and murky colours dominate. If light lifts the mood with a cosy glow, then it is produced by electricity as in Jacobus van Looy's Café (1890-95).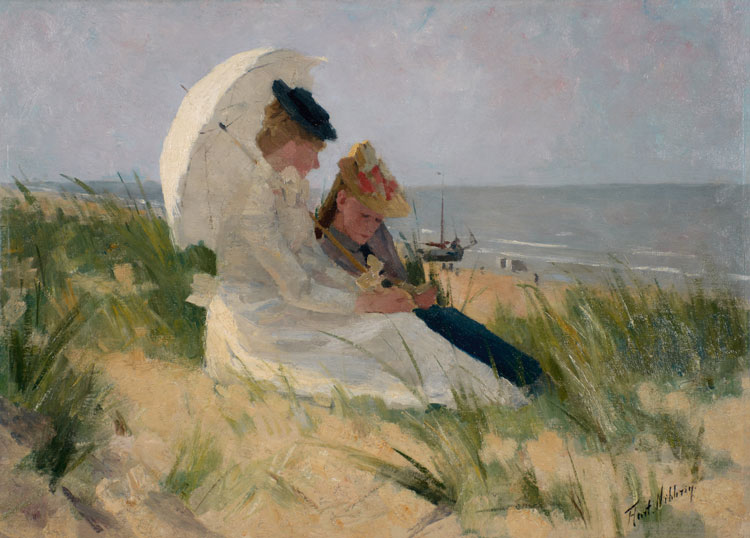 Ferdinand Hart Nibbrig. On the Dunes in Zandvoort, 1891-92. Oil on canvas, Singer Laren, Schenkung P. J. Hart Nibbrig 1981.

Leaping through the seasons, the next room is given over to paintings depicting the pleasures of the summer, where leisure seekers populate sandy beaches. Among the works is Ferdinand Hart Nibbrig's On the Dunes in Zandvoort (c1892), showing his fiancee and her friend sitting on a dune with the blue sea and a blue sky stretching out behind them. Jozef Israëls' son, Isaac Israëls, produced At the Beach (1898-1902). The painting captures children lost in their own thoughts gazing into the distance. It could easily be a work by Liebermann; the similarity is no surprise as the artists were friends.
The colour pallet of the paintings becomes much brighter, a trend that partly continues in the following room, which opens up to gardens. In the chosen works, two approaches become evident. Some artists direct their view at the dark, earthy colours of vegetable gardens, which involve manual labour. Anton Mauve, for example, in his In the Vegetable Garden (1887) observes a woman at work. Others present the garden as a refined sanctuary with flowers, in which the privileged in society takes refuge.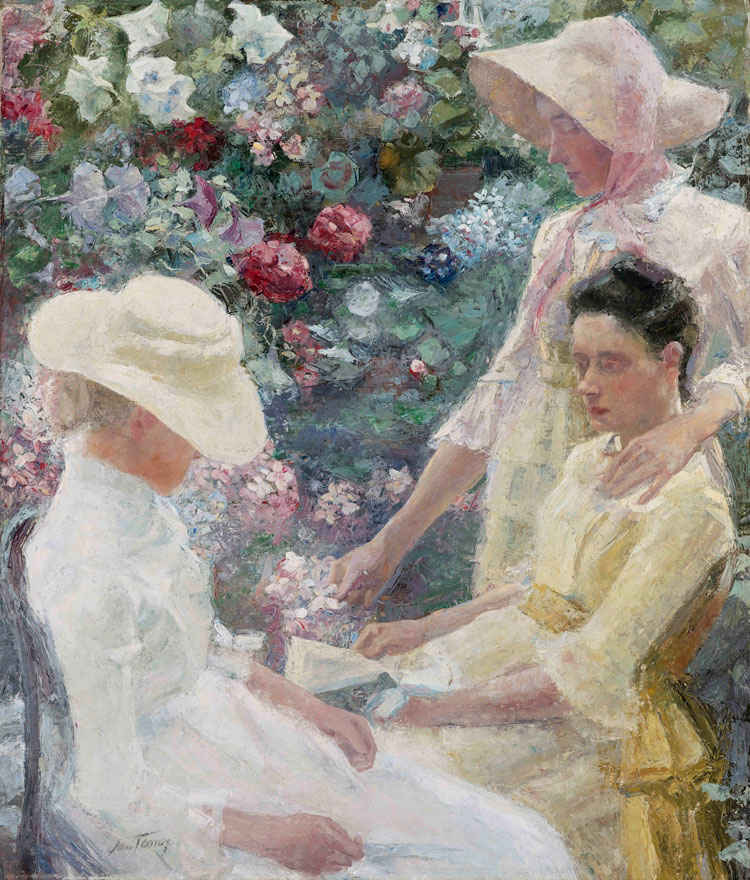 Jan Toorop. Trio fleuri, 1885-86. Oil on canvas. Kunstmuseum Den Haag.

Jan Toorop's Trio Fleuri (1886) shows a summery garden with three young ladies in pastel-coloured dresses in a pensive mood. Van Looy's large painting July (Summer Luxuriance) (1900) closes this section. At the same time, with its intense blue lupins in full bloom, it is a herald for what is to come: the embrace of lighter as well as luminous colours, combined with a radical departure from realism.
Pointillism emerging from France found many followers in Holland, among them Nibbrig and Toorop, whose earlier works the visitor encountered as part of the Amsterdam impressionists. Trees, fields and the coastline envisioned in gentle greens, purples and blues evoke a sense of springtime.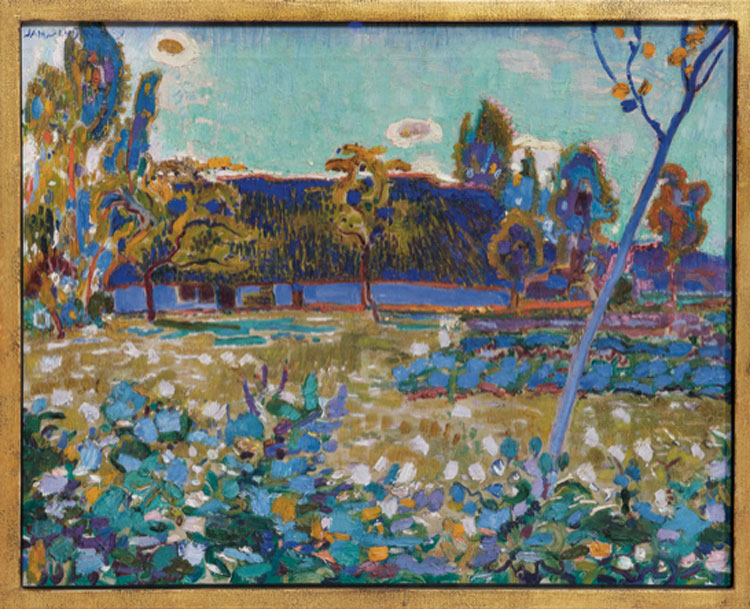 Jan Sluijters. Farmhouse in a Landscape, 1909. Oil on canvas. Singer Laren, gift of Nardinc Collection, VG Bild-Kunst, Bonn 2023.

The most striking sections of this exhibition, which journeys through Dutch art history, are at the end. There, colour and shape dominate the imagery, and artists are introduced who should be more present on the international stage, such as Jacoba van Heemskerck, Leo Gestel and Jan Sluijters. They are contemporaries of Piet Mondrian, whose early works hang alongside theirs. They form the Dutch avant garde and are a true revelation. Sluijters led the way by bringing fauvism from France to Holland.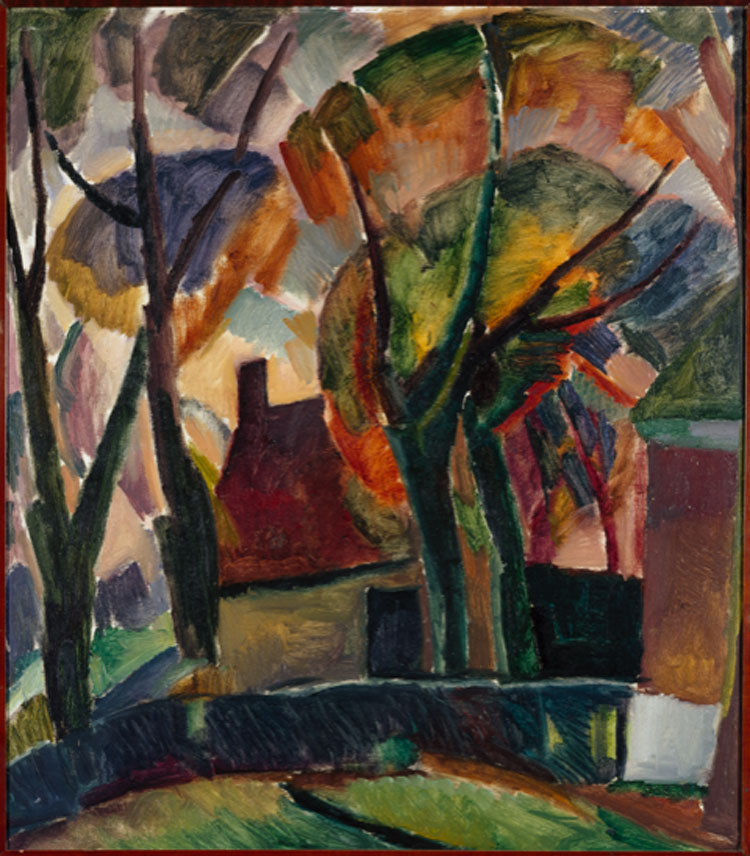 Leo Gestel. Farm in Beemster, 1915. Oil on canvas. Groninger Museum, on loan from Rijksdienst Cultureel Erfgoed.

His Farmhouse in a Landscape (1909) has a particular charm, with greenish-blue tones and fluid lines that form trees, while rose-tinted dots sketch flowers on a meadow. Van Heemskerck, who was a student of Nibbrig, and Gestel stand out with a series of trees that reflect the multiple artistic movements that then ran parallel, including expressionism and cubism. Gestel's expressionistic Farm in Beemster (1915) emanates a gloomy mood – at the time, the first world war was raging in Europe. Yet, the broad and bold brush strokes not only pick up green for the trees, but also blue, red and hints of yellow for them, which makes viewers lose themselves in the picture. In Woodland I (1913), Van Heemskerck experiments with cubism and creates a vision of a forest unlike any other: it combines geometric forms to shape the trees, while using tiny brushstrokes to mark the leaves. Her preferred style, though, was expressionism and she was regularly invited by Herwarth Walden to exhibit in his gallery, Der Sturm in Berlin, which championed expressionist works. Her aim was also to break away from the French influences and pursue artistic movements coming from elsewhere, in this case Germany.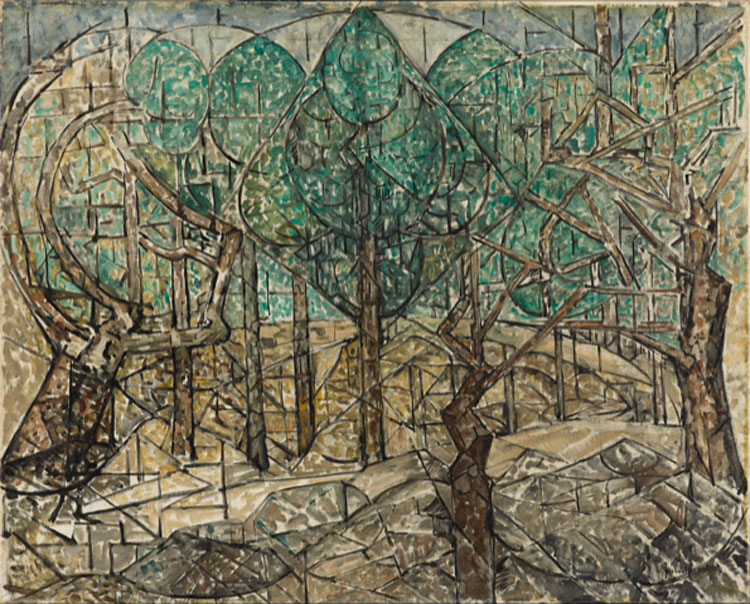 Jacoba van Heemskerck. Woodland I, 1913. Oil on canvas. Kunstmuseum Den Haag, The Hague.

The final artistic statement in this exhibition is given to Mondrian's Composition with Grid 8: Checkerboard Composition with Dark Colours (1919), manifesting abstract art in Holland.
This comprehensive journey through Dutch art history sheds light on an area that hasn't been given much attention in Germany so far, and thus clearly fills a gap. It also demonstrates the strength of the artistic impulses that came from France, while highlighting how important landscape remained for Dutch artists. In addition, this show neatly complements the exhibitions Secessions: Klimt, Stuck, Liebermann at the Alte Nationalgalerie in Berlin and, until recently, After Impressionism: Inventing Modern Art at the National Gallery in London, which both portray the multiple artistic movements that developed since French impressionism sparked off new trends across Europe.