Conceptual Art Now
Three exhibitions of conceptual art in Germany shed some light on the elusive genre. Taryn Simon's Dresden show is an example of a type of contemporary conceptual art that relies on craft, material and concept, while two exhibitions in Berlin revisit early pioneers Hanne Darboven, Charlotte Posenenske and Ian Wilson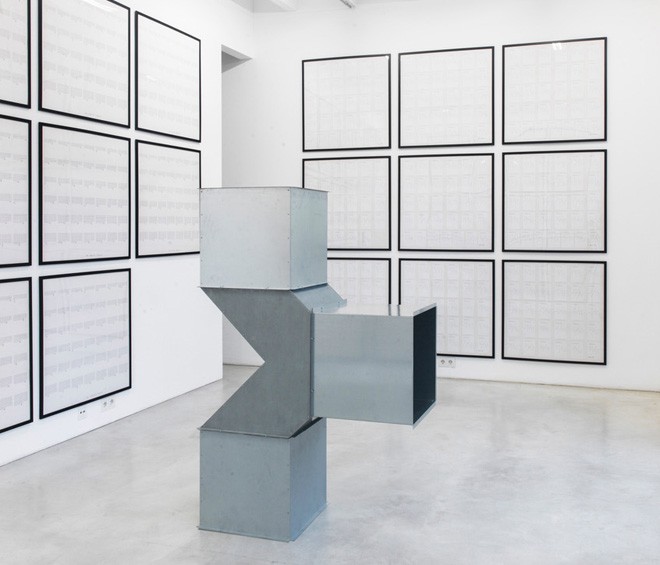 Taryn Simon. A Soldier is Taught to Bayonet the Enemy and not Some Undefined Abstraction
Albertinum, Dresden
27 October 2016 – 15 January 2017
Hanne Darboven: Wunschkonzert and Charlotte Posenenske: The Same but Different
Konrad Fischer Galerie, Berlin
13 January – 18 March 2017
Ian Wilson
Kunstwerke, Berlin
20 January – 14 May 2017
by KRISTIAN VISTRUP MADSEN
Clearly, not all art is conceptual, although, if pressed to designate the limits of conceptual art, the boundaries become blurred. Practically speaking, all art since modernism comes with a story or an explanation, which, depending on how far the work strays into illegibility, could be called a "concept". The difference is that, where modernism to a certain extent became the reason for criticism, conceptual art, as Joseph Kosuth, once said, "annexes the functions of the critic, and makes a middleman unnecessary". Conceptual art was born in the 1960s, with artists such as Kosuth at its centre, in a muddle of similar yet contradictory movements.
The distinction of conceptual art hinges on its rejection of materials; it is an art of the mind, not the senses. But its demarcations were never quite clear. Yves Klein's blue canvases, for example, are new realist in the French sense – not depictions of blue, but the very essence of blue itself, much as, in the US, Carl Andre's minimalist brick is nothing more or less than exactly that, pure material. But what about selling empty space in Paris for the price of gold, which was then thrown into the Seine, as Klein also did, or the endpoint of Andre's marxism, which was for the art object not to be distinct from other objects at all? At once obsessed with material andwith dematerialisation, highly aestheticised as well asdecidedly anti-aesthetic, the "art of the mind" was always a grey zone. And this looseness of the initial premise anticipated the slide into what conceptual art has come to mean: anything from simply "good" or "intellectual", to describing work in which the process is foregrounded, or work that actively engages critical theory. In art schools, it is not uncommon for students to be asked to come up with concepts for their work, giving birth to such confusing terms as conceptual painting – the dreadful bourgeois of canvas and frame being the very reason for conceptual art to begin with.
To help me reflect on what conceptual art is, and what it can do for us, I visited three exhibitions. The first was US artist Taryn Simon's show at Albertinum in Dresden, an example of a type of contemporary conceptual art that relies, with equal weight, on craft, material and concept. In Berlin, two exhibitions revisit conceptual and minimalist pioneers from the 1960s to new effects: Hanne Darboven and Charlotte Posenenske at Konrad Fischer Galerie, and Ian Wilson, the first exhibition by new director Krist Gruijthuijsen at Kunstwerke.
The Albertinum sits on Dresden's famously elegant Brühl's Terrace, overlooking the Elbe. I arrived there to catch the final day of Simon's retrospective, A Soldier is Taught to Bayonet the Enemy and not Some Undefined Abstraction. A "pocket companion" to her epistemology, available at the exhibition, contained writings about the works and an essay by curator Michal Nanoru that introduces their relation to conceptual art. "It would be easy," writes Nanoru, "to use Simon's work to illustrate a textbook for liberal-arts curricula." There is an uneasy relationship here between the works as illustration, and the booklet of texts as explanation: to follow up on Kosuth's point, which came first?
The title of the exhibition is a quote from the 1942 annual report of the New York public library's picture collection, explaining why that year had seen so many requests for pictures of "The Enemy". Simon's understanding of photography seems to sit in between what the quote implies of the photograph as evidence of a real thing out there in the world and Susan Sontag's assertion in On Photographythat it is "the only art that is natively surreal": totally non-indexical. Simon sets up the pretence of using photography as evidence, to make a stage of the world of images on which to exhibit the ultimate instability of any truth. Simon had access to the New York public library picture collection, and, at Albertinum, her exhibition opens with a series of collages each made from pictures filed under a single word or phrase, such as Behind or Swimming Pool. Like a more charming Google image-search, the result is sometimes surprising, sometimes funny, but mostly beautiful: layers of vintage azure like a perfect dry martini. As Simon also admits, photography is a means to seduce, but what happens to the concept in that swimming pool of seduction – does it float or sink?
Other works rely, perhaps a bit too heavily, on the odd absence of any material outcome to achieve balance between object and concept. An American Index of the Hidden and Unfamiliar (2007) is a series of photographs of fascinating locations, unseen and unheard of by the public: the set of orange cables that connect the servers that make up the world wide web, the art collection of the CIA, the original Death Star II spaceship from Star Wars (actually less than two metres wide), and an empty space on the wall with no frame, just a text to say that Simon was not allowed to photograph the underground facilities at Disney World. Dwelling on this challenge to her "index" is a nod to classic conceptual art: an insistence that this work would have been made with or without the photographs; to say, the work is the idea behind it, perhaps even the places themselves, or the process Simon had to endure to gain access to them; to elevate, at least, the meta-texts of all the works to the status of artworks. As opposed to earlier conceptual art, which used, or at least pretended to use, photography only as a utility for documentation, Simon's eye is razor sharp. Her pictures are precise to a point that almost renders her subjects illegible – a pile of confiscated fruit at the airport looks like a Dutch still-life, truly "not some undefined abstraction" – this is photography, not concept.
Paperwork and the Will of Capital (2015), my favourite in the show, unsettles this assessment. It consists of reproductions of flower decorations present at the signing of various historical treaties. Simon reconstructed the decorations using flowers from all over the world, photographed them, and pressed the dried flowers on paper for conservation, leaving them in a big stack in the middle of the room. The success of this work is a conceptual one, I think, because the mass of material present with us in the room (the photographs, the flowers) doesn't represent any knowledge. Instead, the flower decorations have the same relation to their historical event as, say, gold thrown into the Seine has to portions of empty space: hardly any relation at all. Here is an earnest but helpless attempt to harness something such as history or hope by an immense effort and the dried leaves of hundreds of crumbling flowers. The materialisation of the concept hits the bull's eye: it does not merely make me interested; it makes me shudder.
In Berlin, to mark Konrad Fischer Galerie's 50th anniversary, a joint exhibition of works by Hanne Darboven and Charlotte Posenenske restages a show from 1967, when the two German artists followed Carl Andre as the second exhibition at the then newly opened gallery in Düsseldorf. Like Andre, Darboven and Posenenske belong at the forefront of the artistic developments of the 60s, and represent two different uses of material in early conceptual art: as a step on the way to complete immateriality in the case of Posenenske, and as an absurd physical rendering of immaterial matter in the case of Darboven.
Posenenske's contribution is the same as in 1967, or, at least, The Same but Different, as her part of the exhibition is called. Vierkantrohre Serie DW (Square Tubes, DW Series) is a ventilation shaft made out of corrugated cardboard, in which each square module is considered the work of art itself. With no designated relation between the modules, yet unable to stand by themselves, with each new presentation of the work, the way in which they are assembled is left up to whoever installs it. At Konrad Fischer, it crawls through the room, towards the ceiling and around the corner to striking effect, but Posenenske has denied us the divine touch of the artist – she had nothing to do with it. In 1968, she announced on the pages of Art International that she would stop making work. The social function of art had withered, she argued: having come to formalism through communist ideals, she had no more faith in its political potential. Her serialised works are last-ditch pleas to the consumer not to let her concepts become commodities, but, of course, she knew that they already were.
In Darboven's typical style, frames cover the walls of the gallery like tapestry. In these frames is a work called Wunschkonzert: notes for a concert composed by a system developed by Darboven, and organised around a collection of old greetings cards, in an effort to materialise the affects of a radio request programme. This concept was explained to me by the gallerist. Looking at the work, it is as if written in lemon juice, almost impossible to decipher, and, I believe, purposely so, with a restlessness akin to that in Posenenske's sculpture – always changing and looking for new shapes, never arriving anywhere – we could search for ever for meaning in Darboven's systems. In her work, there is irony, absurdity even, and definitely humour. There is also a search for a new language, or a new way of manifesting certain concepts, such as time and affect, but the distinct sense that a) this intended manifestation is, in essence, impossible, and b) the very search, however fruitless, is an end in itself.
Wunschkonzert is from 1984, so was not at the original 1967 exhibition, but in the liquid flow of Darboven's work, each exhibition could be considered as an arbitrary pause, or like Posenenske's work, a mere practical interpretation. But precisely because of this unstable, open-ended nature of the works, the restaged, contemporary context is able to produce new and daring interpretations. The effect of Darboven's conceptualism, when experienced today, for instance, is not slick or concise, but camp. Not in the sense of a self-conscious performance, but in that proposed by Eve Sedgwick: a frantic accretion of material as nurture and protection; hundreds and hundreds of frames reinforcing the walls, saying: this is real. Likewise, Posenenske's is not a cold formalist experiment, but a testimony to a time when radical ideas had radical consequences, and she had had enough of capitalism. The immaterial is not just empty space, but space made empty for something else.
Also in Berlin, at Kunstwerke (KW), is an exhibition of works by the South African artist Ian Wilson. When the institute's new Dutch curator, Krist Gruijthuijsen, was asked by the art journal Spike to give a talk about the works, Gruijthuijsen focused on how he himself came to conceptual art and to Wilson – thereby embedding the personal in the conceptual, and stressing reception as part of the work. I read this gesture as a highly deliberate one; a recognition of the subjective in everything. Conceptual art is quite a surprising stage to choose for such an emphasis, preoccupied as it has been with pared-down truths. But this is exactly Gruijthuijsen's point: paring down is opening up.
The exhibition is striking in precisely this regard. It is as close to not being there as it could be – on show in the hollow halls of KW is truly the pure heart of conceptual art. Two vitrines exhibit invitations for discussions at various locations, and instructions to write the words "Ian Wilson" in a catalogue and a newspaper advert. Circle on the Floor (1968) is just that, drawn in chalk so as to slowly disappear over the course of the exhibition, as the visitors walk through it. I will admit to a slight gasp as I saw Circle on the Wall (1968) in grey pencil, like the ghost of a blueprint, just so fine. There is an intense fragility to these objects that testifies to the ironic scramble by art institutions to preserve bits of material from the early days of conceptual art's venture into immateriality. Here, the frailty of the material begins to make sense as a framework that gives space to other things, conceptual art as a flypaper for affects and intentions and relations. As with Darboven's work, we are not seeing minimalist elegance and conceptual economy, but an attempt to assemble nurture, the creation of a platform.
Not frame as in limit, but framework as in scaffolding: something to help or support a structure, while keeping it somehow in construction.Quite literally, Wilson's exhibition is the framework for three other solo exhibitions and a programme of events at KW, as well as for the renovated building itself and what Gruijthuijsen intends to do with it. More metaphorically, and perhaps in response to the problem of its loose definition, conceptual art could be something like this: a circle to stand in that slowly disappears, simply an enabler. Something to keep the space free, as Posenenske would have wanted, of commodities, to enable discourse and to enable other kinds of art.