Yuki Kihara: Paradise Camp – Venice Biennale 2022
The artist, who is of mixed Japanese and Samoan heritage, talks about showcasing queer rights and revealing the toxic influence of colonialism in her works
The artist Yuki Kihara (b1975), who is of Japanese and Samoan descent, brought some tropical sunshine and more than a flash of gender political heat into the gloomy depths of Venice's Arsenale, with a presentation that foregrounds queer rights, small island ecologies and decolonisation, among other hot topics.
As the first artist to represent New Zealand in Venice who identifies as Pasifika, Asian and fa'afafine (Samoan for someone who is born male but presents "in the manner of a woman"), Kihara is pulling no punches. Her installation, Paradise Camp, was inspired by an essay by Ngahuia Te Awekotuku that was presented at a Paul Gauguin Symposium in 1992, at the Auckland Art Gallery, drawing attention to the sexual ambiguity of some of the characters so vividly evoked by Gauguin. Kihara has repaid the compliment by staging photos inspired by Gauguin's Tahiti paintings, using sites and people of Samoan origin, to reflect those similarities and celebrate Gauguin's recognition of non-western and non-binary beauty.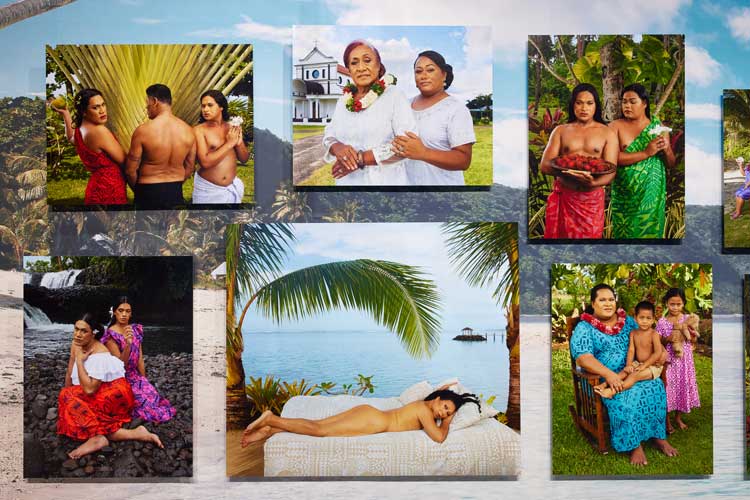 Yuki Kihara, Paradise Camp, curated by Natalie King. Installation view, New Zealand Pavilion, Venice Biennale, 2022. Photo: Luke Walker.

These are on show in Venice, as is a new film, also called Paradise Camp. Shot on location in Upolu Island, Samoa, it features a local cast and crew, mostly drawn from the the fa'afafine community, and its various chapters include one segment that playfully interrogates indigenous v colonial attitudes to art and culture, featuring a group of "ordinary Samoans" who end up mocking and deconstructing the kind of white cultural tropes that are taken for granted in Europe, but are unfamiliar in Samoan art education.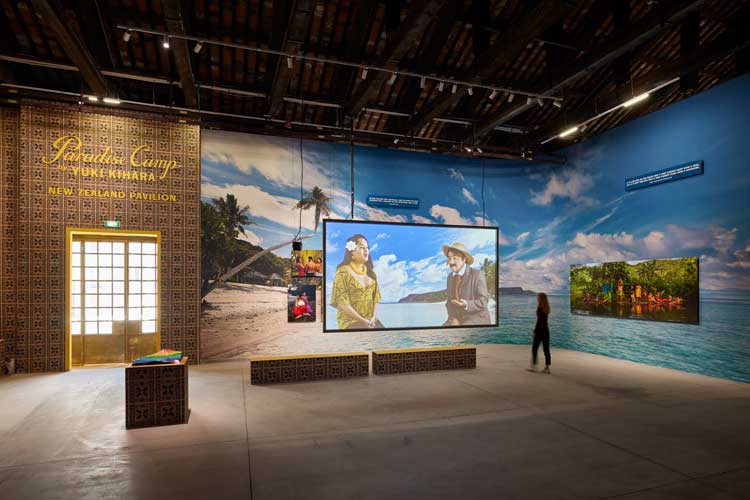 Yuki Kihara, Paradise Camp, curated by Natalie King. Installation view, New Zealand Pavilion, Venice Biennale, 2022. Photo: Luke Walker.

Kihara, who works across photography, film, performance, curation and installations, studied fashion design at Wellington Polytechnic (now Massey University). While she was still a student, the national museum of New Zealand, Te Papa Tongarewa, purchased a work of hers, a rare accolade. The work was Graffiti Dress – Bombacific, which blended 26 T-shirts featuring corporate logos into one fabulous creation. In 2008, she had a solo show at the Metropolitan Museum of Art, New York. Entitled Living Photographs, it explored the exotic poses and tableaus captured by 19th-century colonial and non-indigenous photographers, such as Thomas Andrew and Alfred John Tattersall, which had helped to spread inaccurate stereotypes about Pacific islanders and their culture, many of which still prevail.
Kihara's work is now in the MoMA collection, the Te Papa Tongarewa Museum, Queensland Art Gallery & Gallery of Modern Art, Los Angeles County Museum of Art, the British Museum and Kaohsiung Museum of Fine Arts, Taiwan.
Yuki Kihara: Paradise Camp
New Zealand Pavilion, Arsenale, Venice
23 April – 27 November 2022
Interview by VERONICA SIMPSON
Filmed by MARTIN KENNEDY