The Armory Show 2014 – The "Secondary" Market
First things first. The art came out from the gate running. Overflow was the word for this year's iteration of the annual display of wares from 205 galleries and 35 countries at Piers 92 and 94 that is titled the Armory Show (confusing even New Yorkers, given that the Art Dealers Association of America runs concurrently at the actual Armory)
Piers 92 & 94, New York City
6-9 March 2014
by JILL SPALDING
There was no shortage, either, of people who came to look at it all. As ever, talk in the booths was of sales (strong), prices (high), competing art fairs (too many), which artists were trending (Alexandre Singh, Ryan Martin, Andrew Salgado), and which booths were the most visited (Sean Kelly, Sprüth Magers, Thaddaeus Ropac). The nagging irritant was the holdout for the Frieze art fair – coming in May for its third year, but still viewed as an interloper – of several big guns (Gagosian, Perrotin, Hauser & Wirth). All noted, however, that David Zwirner had signed on and was in residence himself for the VIP opening, albeit in a cramped booth (where is clout when you need it?).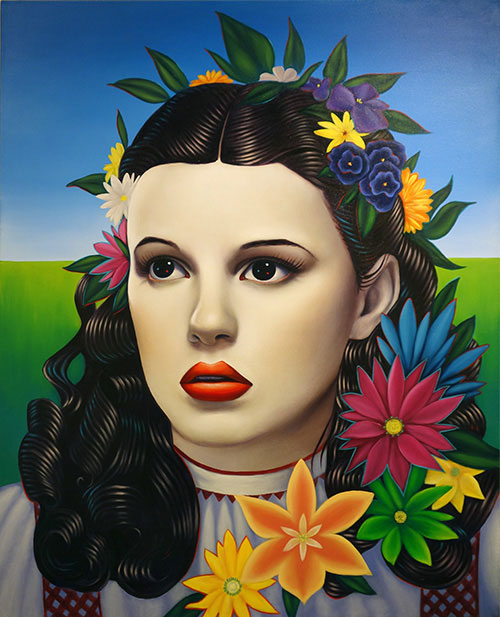 Ryan Martin. Optimistic Voices II, 2014. Oil on canvas, 50 x 40 in. Mark Wolfe Contemporary, VOLTA NY.

Though fairs by definition are not themed, they generally reflect the zeitgeist, which, in past years, has been Aids, drugs and political repression. This year's overarching preoccupation, ranging from accusatory and satirical to complicit, was with conspicuous consumption. There were a lot of shiny presentations: glittered compositions such as Yves Klein's famed Table d'Or, a coffee table stacked with gold leaf at Armand Bartos, and objets de luxe either fabricated (Timothy Harris's outsize pearl drop earrings) or portrayed (Kerry James Marshall's gold necklace-decked portrait), while concept artists weighed in with irony in every medium imaginable – in neon, "Sales Suck"; punctured through wood, "I'm expensive"; painted on canvas, How To Be OK with the Contemporary Art Market; and lettered on a bank stanchion, "conversation like this doesn't come cheap" – crowd-pleasers all, though their collecting power was leeched by channelling such been-theres as Richard Prince and Tracey Emin. Marrying shine and concept, Thomas Schulte's gorgeous show of Iñigo Manglano-Ovalle's Cloud Prototypes.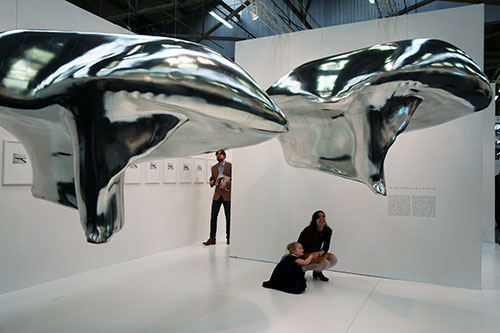 Iñigo Manglano-Ovalle. Cloud Prototype No. 2, 2006. Galerie Thomas Schulte.

Trending down was art pooled on the floor and dangled from the ceiling (though possibly for fear of accidents and ensuing litigation, since downtown, at the what's-next satellite fair, Independent, pooled art sucked up the floor space). Minimalism took a back seat to de trop; whole or pieced objects thrown together for cumulative effect lost power in translation from workbench to sculpture and, fronted by Monica Cook's eviscerated pig at Postmasters Gallery, were the usual 50-shades of kitsch.
Much talked about was the dramatic increase in "product" (the term only marginally less palatable than "stuff" that has come to denote art), which is forcing dealers to accept low-ball offers on work by artists who peaked last season and risk being muscled out by the hot kids coming up. "Better move a piece than get stuck with it and have to drop the price further to where the artist's entire career will come up for review," explained a dealer who did not wish to be named. Art fair fatigue was palpable but not dampening: "We were at MACO [Mexico] and ARCO [Brazil] last week, but this one is better," said a couple from Houston, who had five things on reserve. The question of the moment was: "What did you buy?" (no one thinks you just come to look). The invariable answer was: "I have a couple of things on reserve." Comments gleaned here and there reflected expectations: "There was a lot of happy art," said a couple who had come to look not to buy. "It sucks, no standout work," was Miami collector Donald Rubell's way of saying he found nothing that provoked him to acquire it. New York collector Raymond Learsy thought it stimulating: "So much information!" Gallerist Mary Ryan said: "It's all good. I love that this fair draws so many new people; the material may be familiar to us, but for them it's the first time." There was the usual see-be-scene vibe sprung off uncomfortably high heels that trawled the aisles for pals to hook up with. Some had a hard time negotiating Pier 94, but even those who found the layout confusing seemed not to mind: "I have a map that I don't look at – I just wander around," trilled one happy first-timer.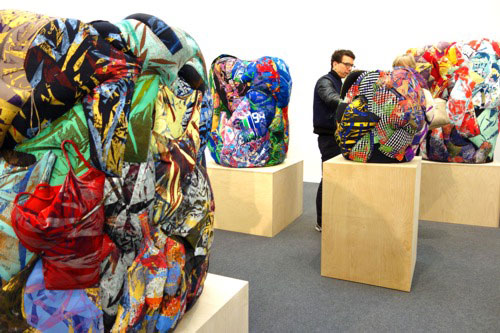 Aiko Hachisuka. Five hand-sewn bundles of clothes. Eleven Rivington.

As ever with a fair of any size, the range of creative expression seemed infinite; from large scale (Jason Martin) to miniature (Lyonel Feininger), from ceramics (Rosemarie Trockel) to plywood (Tom Sachs). No material was off-limits – casually juxtaposed works fashioned from lacquer, crushed copper, hair or dog's skulls called on close viewer attention. Introducing a measure of fun, the Focus China section, curated by the Ullens collection's Philip Tinari, showcased "both the dynamism of a new generation of Chinese artists and the vigour of the country's home-grown gallery scene: alongside revered ink artists, the collective Double Fly invited you to scratch a lottery ticket at the installation – winners were given a photograph. Among the predominating tendencies were co-mix collaborations involving multiple artists as well as elaborate installations whose construction the artist consigns to a team. Still raging is the transformative urge, stemming from the Jasper Johns maxim, "Do something to it; do something else to it", achieved with what my mother called hodge-podge, my son calls mash-up and the art world calls assemblage – objects created and grouped to invoke a new meaning. A few succeeded, such as the hanging installation that Michelle Grabner (one of the three curators of the Whitney Biennial) worked from metal garbage cans, photographs and lumber into a scrapbook of lost childhood. Beginning to look stale – even lazy – reimagined appropriation of time-tested work; collages made from, say, copies of ancient manuscripts, marked with paint, overlaid with branches, photographed, studded with diamonds, food or found images, re-photographed, cut up and pieced. As at the satellite fairs, painting abounded, in sophisticated applications of acrylic on fabric, oil paint on wood, gouache on canvas. Abstract painting is securely back in fashion, with collectors valuing the artist's brushstroke; though much of it is derivative of masters such as Joan Mitchell, Adolph Gottlieb, Helen Frankenthaler and Pat Steir, whose work is well-represented at Pier 92, some, such as Alex Kroll, are impressive on their own.
The in-your-face statement replacing yesterday's politics, both here and at the satellites and galleries around town, was sexually exploitative, across-the-board frontal male nudity, in photographs, sculpture, and a performance piece stringing Wilmer Wilson IV's naked body into an undulating parcel.
Cameras inevitably clicked, though it was hardly the shock of the new – indeed, divorced from the throbbing explorations of a Mapplethorpe or a Coplans, the placid poses, pretty bodies and veiled paedophilia seemed asexual. Still, sex was their context, leading one to ponder the complaint of Eric Fischl to the Financial Times just last month that "museums are afraid of sex". Does the reason for his perceived rejection lie elsewhere? Or have art fairs stepped in where museums fear to tread?
The bifurcation of Modern and Contemporary, linked only by a stomping staircase that some thought a sound-piece, was even more marked this year, because the preponderance of good art upstairs on Pier 92 represented by pristine Braques, Picassos, Wilfredo Lams and a standout Lee Krasner was muted by the presentation of good stuff below – a champagne bar! VIP lounge! Brooklyn's famed Mile End diner! The crowd buzzed around them, leaving the storied upper-pier dealers like castoffs on a roomy hushed raft that floated forlornly between two baked-bread cafeterias. Clearly, upstairs prices were not the issue, since a shiny Tony Cragg had sold downstairs for $1m (around £600,000). Sales were made – David Smith, Tom Otterness, Juan Genovese – but mostly small works. None admitted to more than "slow business" and the hope that return visits would provide their digital address book with new contacts and an ultimate sale from the now well-established exchange with such as below-the-radar collector Joseph Cohen of "Here's my card, send me a jpeg".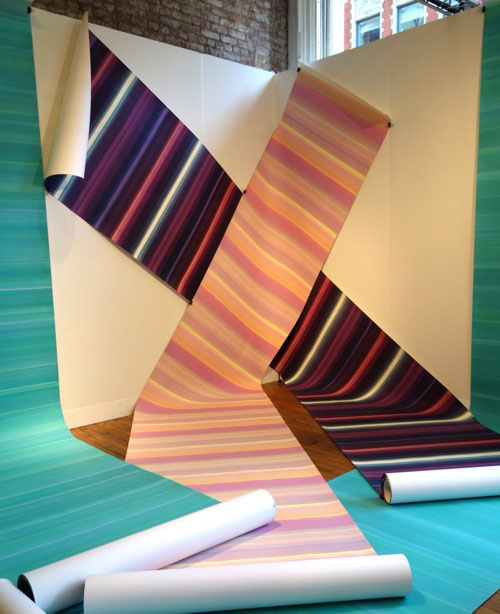 Elisabeth Sonneck. Untitled. Oil on paper. Brunnhofer Gallery, VOLTA NY 2014.

For an overall take, I found it instructive to compare the piers' offerings with those that surrounded them; at VOLTA, the live presence of Ultra Violet and intimate spaces that encouraged a tell-me-more interaction with the dealers; at Independent, underrepresented art that was curated to give off a not-for-profit vibe; at the Art Dealers Association of America, Ann Hamilton in residence, making soft-focus portraits of all who signed up; and at the yearly Masters of Fine Arts viewing, work still being thought out (thought being the operative word in Mary Corman's delicate watercolours on stretched paper). Marked, in contrast, was the Armory Show's gravitation to technology, that fast-moving beast that has put our lives on fast-forward. Someone I overheard asking whether an object was 3D-printed seemed disappointed to learn that it was, in fact, cast in bronze.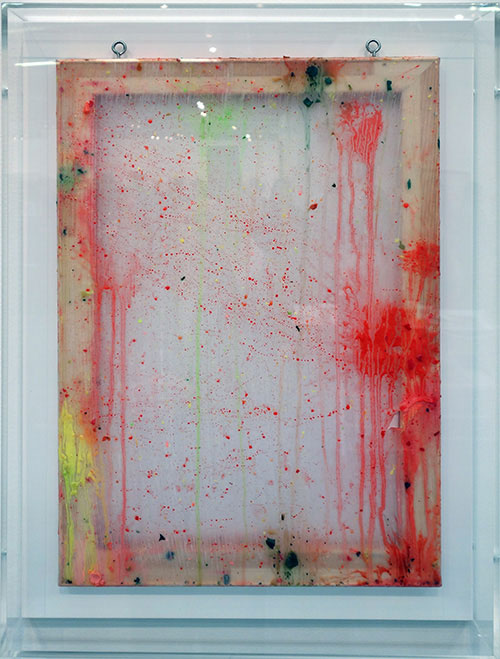 Ken Okiishi. Robot-assisted splatter paintings behind Plexiglass. Pilar Corrias Gallery.

The stately plug-in George Rickeys that manned Pier 92 were outgunned downstairs by robots, specifically Ken Okiishi's robot-assisted splatter paintings behind Plexiglas at Pilar Corrias's space: a quote from her in the Blouin Artinfo journal said it all: "His work is really about what it means to make art. There's nothing emotional about it." Those new to the post-CD method of delivering art crowded around Nicholas Logsdail at the Lisson Gallery as he explained the "fast-moving technology" relating to Julian Opie's light boxes, whose image is retained on a memory stick: "Therefore, there's no maintenance; should the box break, $3,000 buys you another one." Moot is the question of how long stored memory will last (certainly not as long as Michelangelo's David) and how often such memory can be backed up before vanishing.
Of more impact was the ever-more digitally conditioned approach to art appreciation. Smart phones were as ubiquitous as the shoulder bags they were never returned to; clutched in whichever hand was not shaking another, they were whipped out, as their owners, heads down, charged past carefully curated displays, to vet prices, view incoming emails and, most disturbingly, to snap a glimpsed image, zero-in to record its accompanying caption, and move on. Nothing revolutionary, you might think, except that, in a technology-driven universe, there is very little cushioning between experiencing a work and documenting it.
Digital addiction and art
What results? The close observer will notice a shift in the interaction between viewer and display that is affecting, as I see it, the very membrane of the fair-going experience. If an art fair's primary purpose is understood to be sales, traditionally its latent mission has been exhibition: first look at this art, and then possibly you will buy it. Technology seems to be skewing this relationship, down to the very vocabulary. I am thinking specifically of "looking" and "art", both of which have been put on the endangered list by the smartphone. The ability to research everything in depth about a work you are standing in front of is marvellous, but disaffecting. Art that is experienced, captioned and stored on the memory card of a mobile phone can have but a half-life; preserved in the cloud, it can't reside in the soul. Posted, tweeted, texted, filed, it is, indeed, art become product. What happens to such art? More critically, what happens to you? Like that little piggy, art can be taken to market, but will it stir your soul, bring joy, change your world, remain in your memory if, without the resources to own it, you experience it secondhand? Or should we welcome as a fourth dimension this new way to view art, and not question that there's nothing emotional about it?