The Armory Show 2019
From historical displays to recent works by relatively unknown artists, from performance to installation, from politically provocative and conceptual pieces to ornamental presentations, this year's Armory presented a well-measured display of opposing – even conflicting – trends within the art world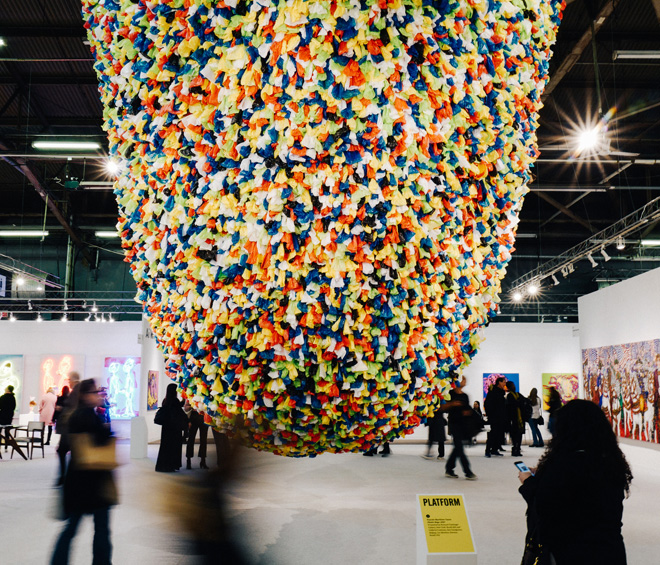 Pascale Marthine Tayou, Plastic Bags, 2019. Presented by Richard Taittinger Gallery, New York, and Galleria Continua, San Gimignano, Beijing, Les Moulins, Havana. Photo @ Mike Vitelli.
Piers 90, 92 & 94, New York City
7-10 March 2019
by NATASHA KURCHANOVA
This year marks the 25th anniversary of the Armory Show, which started off on a much smaller scale in 1994 in the Gramercy Park hotel as the Gramercy International Art Fair. Perhaps as a tribute to this momentous date, the show was unexpectedly easy to navigate. Even though the number of galleries was the same as last year – 198 – the curators created an atmosphere that enabled viewers to process vast quantities of information instead of making them feel overwhelmed by its onslaught. The guiding word, then, to describe the overall impression of the show was "balance". From historical displays to recent works by relatively unknown artists, from painting and photography to performance to installation, from politically provocative and conceptual pieces to ornamental presentations, this year's Armory presented a well-measured display of a variety of opposing – and even conflicting – trends within the art world.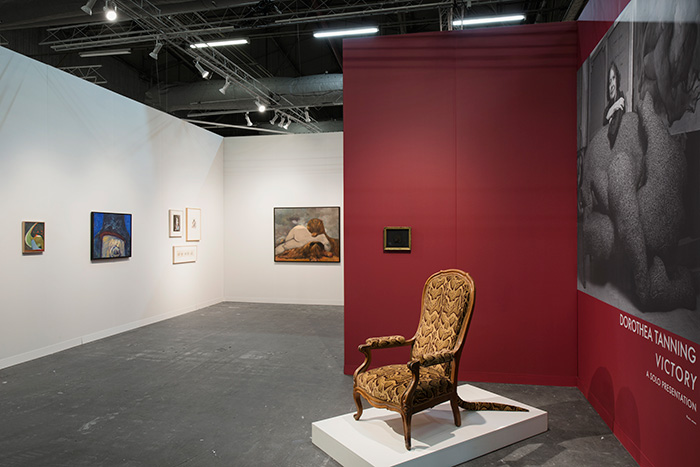 Dorothea Tanning, Victory. Installation view, Alison Jacques Gallery, Booth 924, Pier 94, The Armory Show, 2019.

Evidence of this considered, thought-out approach was the inclusion of a significant number of women and artists of colour and their prominent placement. Participation of these frequently overlooked demographic subgroups was not overblown; they simply took part in the exhibition on a par with men. The booths that stood out drew attention to individual female artists. Alison Jacques Gallery, for example, staged an impressive tribute to the prominent American surrealist Dorothea Tanning (1910-2012). This homage to Tanning created an immersive environment for the display of her work by including things belonging to the artist, such as a dining room chair conspicuously placed at the entrance to the booth. ACA Galleries curated a striking display of the colourful works of Faith Ringgold (b1930), which celebrate the cultural achievements of the black population in the United States and simultaneously convey hard truths about its experience. Ringgold's works are very familiar to us, but always look surprisingly new and vivid.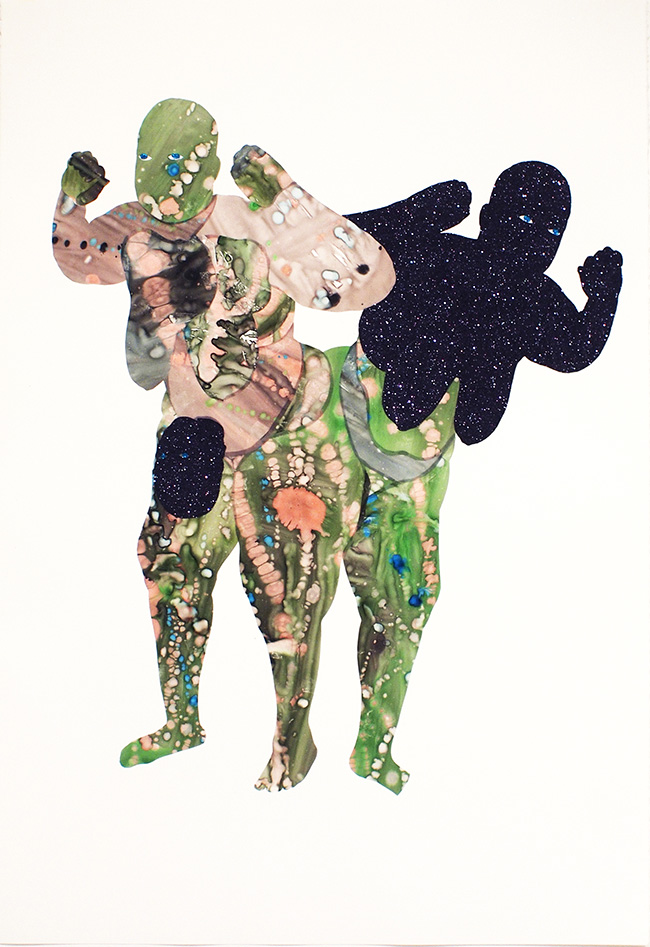 Florine Demosthène, The Premonition, 2019. Collage on paper (ink, mylar, pigment stick, pigment, metal leaf and glitter) 44 x 30 in (111.8 x 76.2 cm). Courtesy of the artist and Mariane Ibrahim Gallery.

Other memorable displays include Florine Démosthène's motley collages of a large naked female body depicted as a multiplying silhouette in various positions, as if caught unawares in the middle of a fun, playful movement, often appearing on the verge of teetering; as if about to lose its balance and fall down. Sometimes the body duplicates itself; sometimes it is attached to a child by a tether or appears giving birth to a baby – but at all times it looks generously endowed, playful and out-of-control – the impression emphasised by the technique of collage. Like the image itself, the pieces composing it multiply and procreate, blending content and process, and blinding us with sheer and seemingly instantly reproducible material abundance.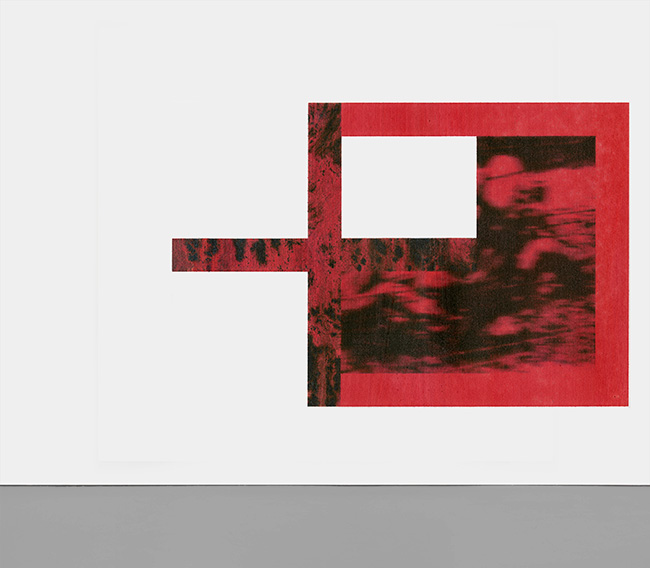 Darja Bajagić, Work in Progress, 2019. Acrylic and UV print on canvas. Courtesy of the artist and Ramiken Gallery.

Ramiken, this year's winner of the Armory's inaugural Gramercy International Prize, has also joined the fray with two impressive female artists from the Balkans, the Montenegro-born Darja Bajagić and the Romanian-born Andra Ursuţa. Their works relate to passions stirred by political events. Bajagić's photographed collages recall the last century's tragedy of fascist invasion during the second world war, still vivid in the country's memory. Ursuţa's large, dark sculptures made of resin, and sometimes inscribed in Arabic, refer to political violence in today's world as reflected in western media. Her foreboding sculptures attempt to translate the news received from media outlets into a visceral experience.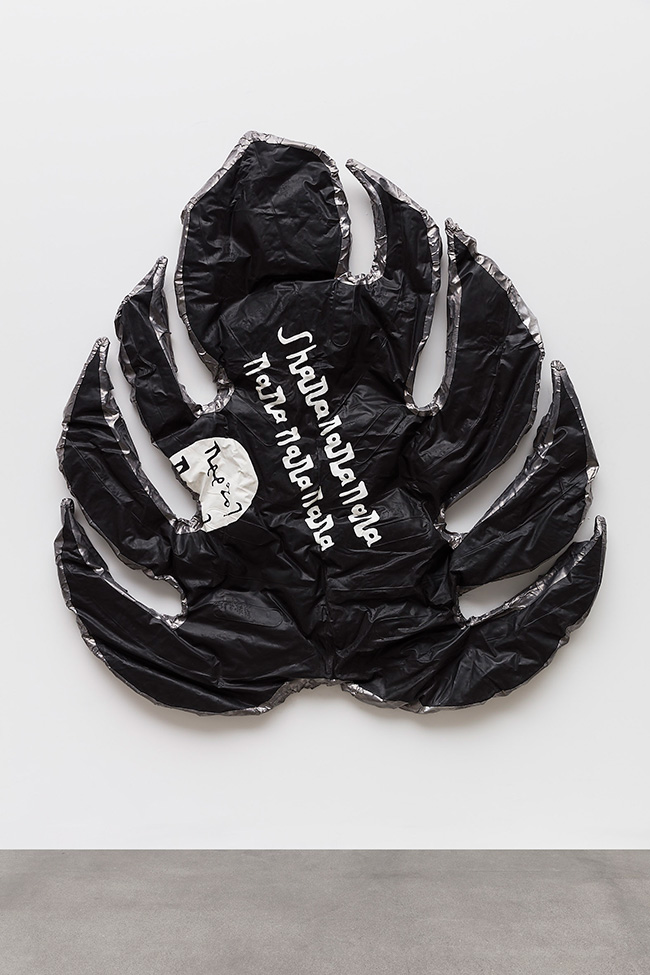 Andra Ursuţa, Vanilla Isis (Leaf), 2018. Aqua resin, pigment. Courtesy of the artist and Ramiken Gallery.

As has become customary with this fair, the general gallery pool contained specially curated sections, which were dedicated to specific contemporary artists; new galleries that opened within the past 10 years, 20th-century thematic installations, and large-scale works. This year, each of these sections offered several pleasant discoveries. In Focus, dedicated to galleries presenting "today's most relevant and compelling" individual artists, we could admire whimsical ceramic sculptures from the Belgian artist Eric Croes, represented by Sorry We're Closed from Brussels.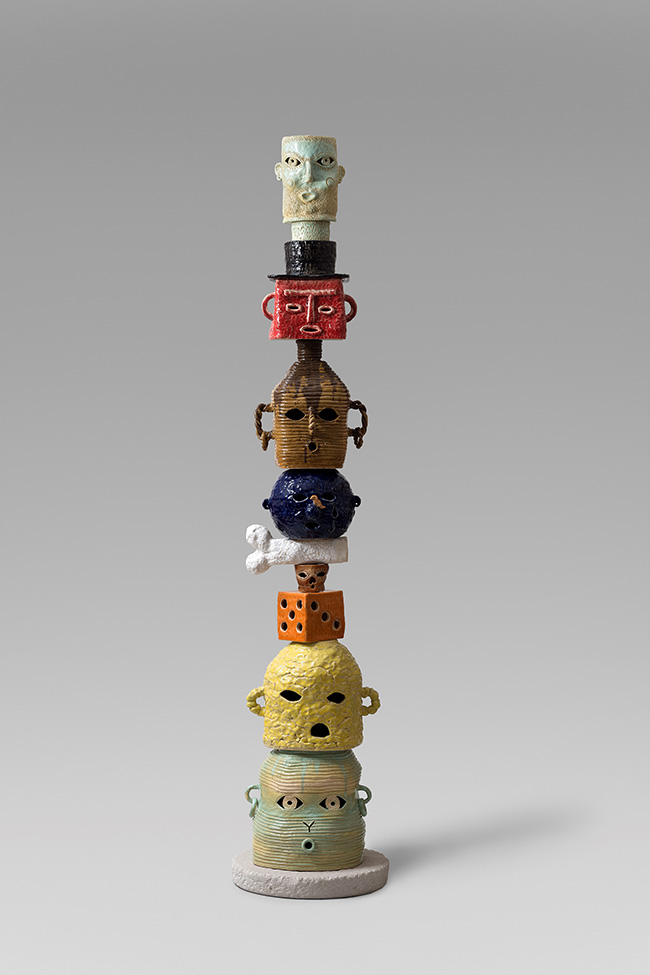 Eric Croes, Totem, Geronimo et Colin, 2018. Glazed ceramic. Photo: Hugard and Vanoverschelde, courtesy of Sorry We Are Closed Gallery, Brussels.

Looking like oversized toys, Croes's emphatically absurd accumulations of objects resemble both our body parts – faces, heads, fingers, arms, legs, torsos – and inanimate objects that we consume or use in daily life – fruit, cups, hats, dice and so on. In his hilarious and touching creations, Croes manages to lampoon both the high-art modernist legacy and the heavy-handedness of surrealism. It is an apparent absurdity of juxtaposition of images and his skill at working in ceramics that makes his work come alive. If Croes has a modernist predecessor, it would be Paul Klee, because he is obviously interested in investigating a seemingly undeveloped, humorous, child-like idiom.
In the next booth, we were faced with a completely different approach to making art from Stephanie Syjuco (b1974), originally from the Philippines and now based in Berkeley, California. Ryan Lee Gallery fashioned an impressive installation of her work, including a display of her photographs, many of them portraits, that explore questions of cultural identity and the meaning of American citizenship for a first-generation immigrant. In Syjuco's portraits, sitters' faces are usually obscured, either covered by veils or masks or turned away from the viewer. An austere black-and-white banner reading "I am an American" is installed in the middle of the gallery in the form of a curtain. The lettering is likewise obscured by the curtain's folds and is impossible to read unless the banner is fully unfolded. Referring to a famous Dorothea Lange photograph of a Japanese-owned store, taken before the shopkeeper was transported to an internment camp after the bombing of Pearl Harbor, the installation comments on the precariousness of immigrants' existence in their newly adopted country.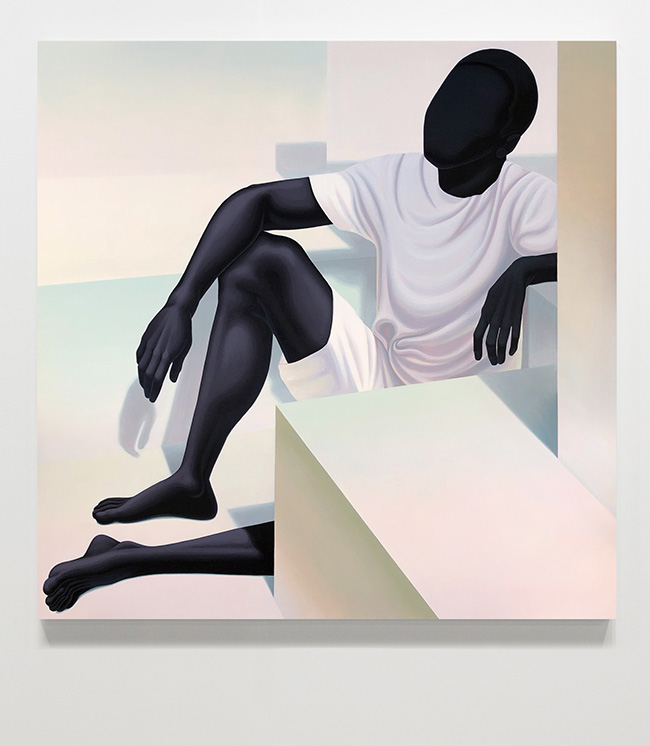 Alex Gardner, Law Ambition as Defense Mechanism, 2018. Acrylic on linen. Photo courtesy The Hole, New York.

Syjuco is one among several contemporary artists working in the medium of photography who was represented at the fair. The adjoining booth, hosted by The Hole, New York, featured Alex Gardner's beautifully painted canvases celebrating blackness in the form of emphatically black, faceless figures wearing white clothes hibernating in pastel or off-white settings. Gardner uses acrylic on linen to create his works; even though the white-and-black contrast is usually thought of as stark and sterile, in Gardner's work it looks soft and appealing, inviting us to take part in the visual delight of his work. Another body of works that stood out in this section of the fair was that by the Pakistani-born Abdullah M I Syed (b1974), shown in the Aicon Gallery booth. Syed's provocative work on the theme of money uses currencies from around the world to create collages, sculptures and entire installations.
Nine large-scale installations were included in the Platform section of the fair. Of these, the feathery blue sculpture Het Spel (My neotonic ovoid contribution to Modernism) (2019) by Ryan Gander (b1976) won the inaugural Pommery Prize. My personal favourite in this section was Plastic Bags (2019), a giant elliptical compilation of seemingly thousands of plastic bags, by Pascale Marthine Tayou (b1966). The colossal multicoloured balloon extended from floor to ceiling of the central pavilion of the fair and reminded visitors of the joys and perils of our civilisation.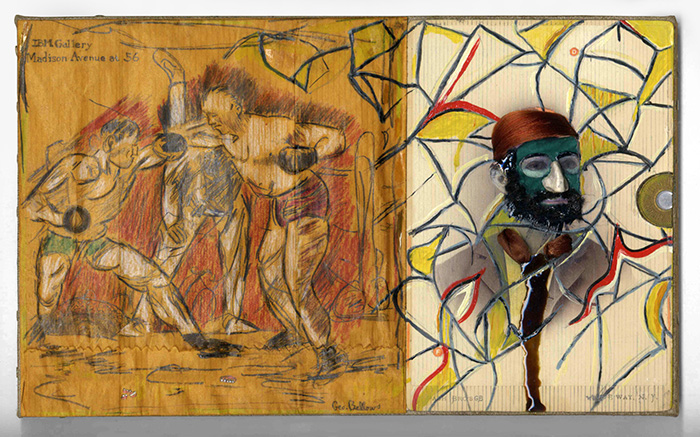 Gary Brotmeyer, Irving Berlin's Nose, 1988. Photo-based collage with drawing. Copyright Gary Brotmeyer, Courtesy Laurence Miller Gallery.

In the Insights section, dedicated to modern and postwar art, Laurence Miller Gallery exhibited the work of Gary Brotmeyer (b1946), an artist whose eccentric collages can puzzle viewers and hold their attention for a considerable amount of time while they try to figure out their latent meaning. His collage Air Circulating Through a Leonardo Da Vinci Drawing with Bonus Picture Live from the Met (1988) consists of two parts, a reproduction of Leonardo Da Vinci's drawing and a weathered photographic portrait of a man made ridiculous by the addition of bunny ears and a pig's nose. There is something about making fun of famous art and history in particular, because several of Brotmeyer's works include references to works by celebrated artists or old photographs of unknown men or women, lampooned by the addition of large noses, usually glued to the images of men, feathers sprouting out of women's mouths or other funny incongruities. All the portrait photographs Brotmeyer uses look as if they were made in the 19th or early 20th century. The reference to history, then, is unmistakable, as is his desire to measure himself up to this history.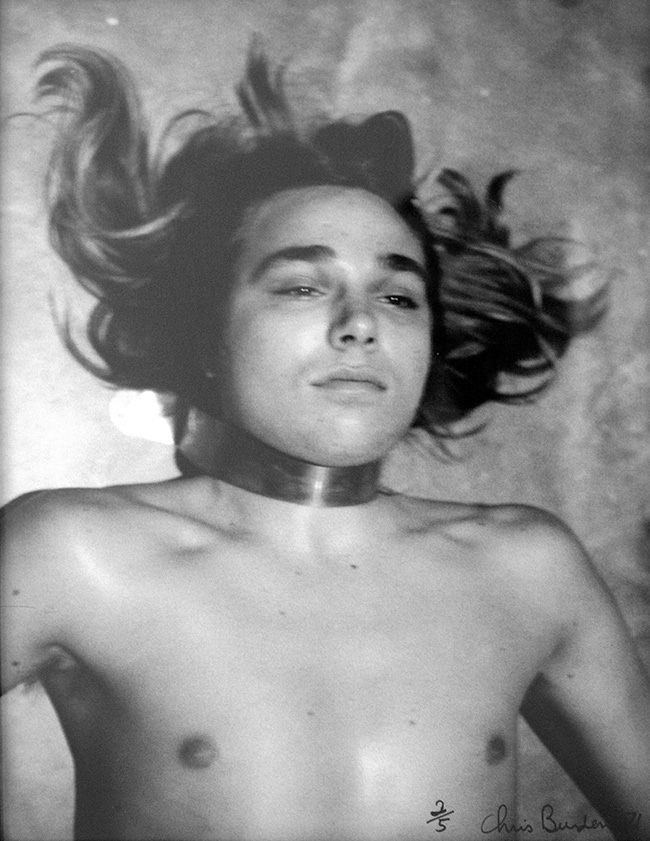 Chris Burden, Deluxe Photo Book, 1971-1973. 53 photos (nine colour photos, 44 b/w photos. All photos with explanatory texts in loose-leaf binder with hand-painted cover, in cardboard storage box). Photo courtesy of the artist and Galerie Krinzinger.

The visitor to the fair encountered striking references to both well-known and not-so-well-known history, as in a tribute to Chris Burden (1946-2015) by Galerie Krinzinger, which displayed photographs of the artist's life-threatening performances staged between 1971 and 1973, accompanying them by typewritten explanations by the artist. Ceysson & Bénétière devoted its entire booth to powerful paintings by Claude Viallat (b1936), who was an important participant of the Support/Surface group in France. As far as 20th-century painting is concerned, strong displays were fashioned by West Coast galleries, in particular Hackett Mill, which exhibited an international roster of artists, such as Howard Hodgkin (1932-2017), Richard Diebenkorn (1922-1993), Raimonds Staprans (b1926) and Larry Poons (b1937). Marc Selwyn showed Remembrance Saturday with Marcia Scott (2013), a luminous painting by Frank Bowling (b1934).
A noticeable, although perhaps incidental, feature of this year's fair was the abundance of excellent drawings. In the Presents (new galleries) section, Selma Feriani Gallery from Tunis showed drawings by Massinissa Selmani (b1980, Algiers), from the series No Plan is Foolproof. Selmani's delicate silhouettes of people, animals and things placed in barren surroundings show his figures as if caught unawares in the middle of some action, the meaning of which escapes us. Temnikova & Kasela from Tallinn presented the graphics of Olga Chernysheva (b1962, Russia), well-known for her humorous and masterful sketches of everyday-life events. In the main gallery section, Stephen Friedman included inimitable flower drawings by Jim Hodges (b1957, US), which stood their own against large-scale works by Yinka Shonibare (b1962, UK), Kehinde Wiley (b1977, US), and Ged Quinn (b1963, UK).
Galerie Ludorff showed a few drawings by Andy Warhol (1928-1987), which are also a highlight of his current retrospective at the Whitney Museum. Mexican gallery Proyectosmonclova dedicated a wall to the Clearwater Drawings (1967) by Robert C Morgan (b1947). This series of 38 works on paper were made under the influence of Japanese calligraphy. These drawings, made in Chinese ink, graphite and Conté on paper, hover between representation and abstraction as well as between script and image, leaving the viewer in an intentionally ambiguous space.
Perhaps my only disappointment with the fair was the relatively scarce representation of new media and video art, with a few notable exceptions. Pace Gallery was most prominent among them in co-sponsoring Star Ceiling (2019), a 75-foot long LED work by Leo Villareal (b1967, New Mexico), installed in the walkway connecting Piers 92 and 94 on Hudson River, where the Armory Show took place. Walking along this pitch-dark walkway illuminated only by a Milky Way of LED lights on the ceiling was an unforgettable experience, which felt transformative, like taking a magic passageway into a qualitatively different space, different from the noise and bustle of the street.
Once inside, next door to Pace Gallery, in the booth of the dealer Bryce Wolkowitz, we could find works by Jim Campbell (b1956), another American artist working with LED lights. In fact, Campbell's work Eroding Wave (2016) looked very much like it might have been an inspiration for Villareal's walkway installation. Gallery Hyundai showed early work by the pioneer of video art Nam June Paik (1932-2006).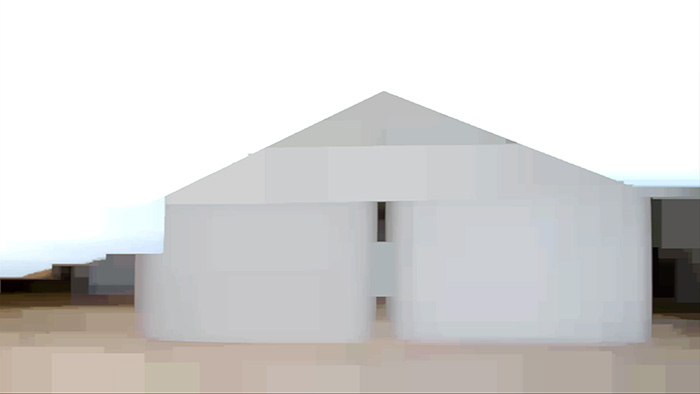 Peter Campus, Barn at North Fork, 2010. Videograph. Photo courtesy the artist and Cristin Tierney Gallery, New York.

Cristin Tierney Gallery's one-person display of Peter Campus's "still" videos was a more recent example of video art. By freezing his video image and making it appear still, Campus forced the medium to compare itself to photography and painting. The viewer is faced with a decision on how to absorb these images, either as a conveyer of factual information or of experience, which is coded by the screen simultaneously as "live" and "artificial" at the same time.
With a few glitches, year's Armory was impressive in its organisation and curatorial vision. One would hope that subsequent editions of the fair include more new media and video art to bring them into line with contemporary creative explorations in the realm of visuality.