Rachel Whiteread Retrospective
In the most substantial survey of Rachel Whiteread's work to date, the Tate looks back over 30 years of her sculptures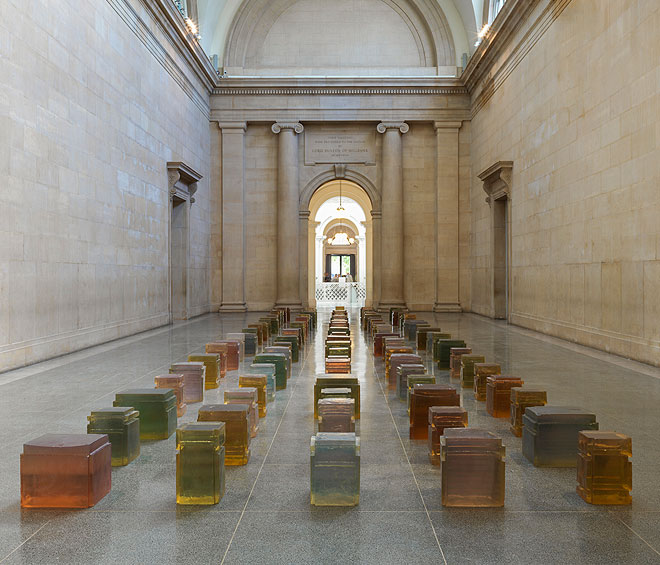 Tate Britain, London
12 September 2017 – 21 January 2018
by VERONICA SIMPSON
Rachel Whiteread (b1963) has made a career out of memorialising space, but a very particular kind of space, of the type that the vast majority of people ignore or would prefer not to think about. Her works make solid and tangible the air under household tables, below kitchen chairs, between the racks of books in a library; it is the stale oxygen of long-abandoned homes; or the peculiar, crackling and musty interiors of chicken sheds.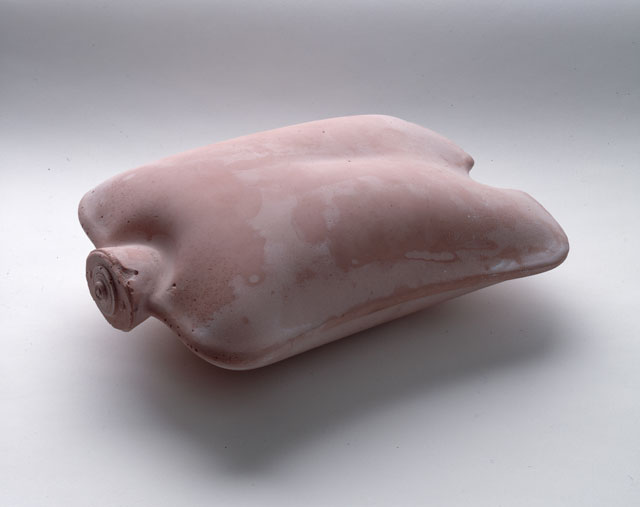 Rachel Whiteread. Untitled (Pink Torso), 1995. Pink dental plaster, 10 x 17.5 x 27.5 cm. Courtesy the artist and Gagosian. © Rachel Whiteread. Photograph: © Tate (Seraphina Neville and Mark Heathcote).

Her preoccupations have been consistent, as this retrospective at Tate Britain – the most substantial survey of her work to date – demonstrates. There are four sculptures from her first 1988 show, including: a cast hot-water bottle (Torso, 1988); cast sections of the space under a mantelpiece (Mantle, 1988); and, rendered into dense, black cubes, the storage partitions of a cheap modern wardrobe (Closet, 1988). It is fascinating to see her signature style and preoccupations present at such an early stage. Only five years later, she came to national fame (not all of it celebratory) with House (1993). Here, she took the interior of a condemned Victorian terraced house, scheduled for demolition, sprayed liquid concrete into every millimetre of every room, and then picked off the outer bricks and mortar in order to render apparent, in ghostly white, the lived dimensions of this family home. This endeavour won her the coveted Turner prize in 1993, and many public art commissions followed.
And it is this Rachel Whiteread we meet first, for some reason: the established artist, practising her sculptures' strange and silent alchemy on public spaces around the globe, from Vienna to New York. In the large hall, which precedes the temporary exhibition gallery, documentary videos, showcases full of drawings and clippings, and models on plinths explore and celebrate these major commissions, including a model of one of the most prestigious – and controversial - commissions of its time. The 2000 Holocaust Memorial for the Judenplatz in Vienna is a sealed "temple" to lost knowledge and wisdom in the form of an inverted concrete library, the books' spines positioned inwards so that the thick corrugations of their leaves confront you first, evoking all the long-lost fingers of long-dead people who touched, leafed through and read them.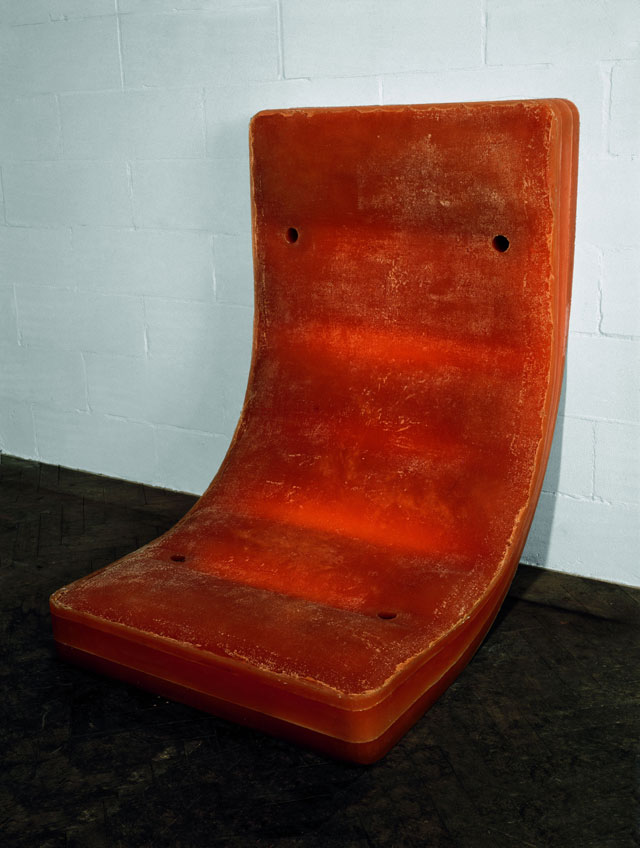 Rachel Whiteread. Untitled (Amber Bed), 1991. Rubber, 51 x 36 x 40 cm. Carré d'Art, Musée d'art Contemporain (Nimes, France). © Rachel Whiteread. Photograph: Courtesy of the artist.

Inside the main exhibition her works are placed, almost free-range, around a vast, barn-like space. The multiple wall sections that usually configure Tate Britain's temporary exhibitions have been removed and and a hangar-like, "white cube" gallery emerges. At a glance, your eye can roam over and enjoy the variety of her works in scale and form, and her enduring fascination with everyday objects and places. It allows "conversations" to emerge between similar pieces, like an inspired grouping of three of her mattress castings: the ochre one, made of rubber, Untitled (Air Bed II) (1992) propped sideways seems watchful, while its reddish resin sibling Untitled (Amber Bed) (1991) slumps against the back wall as if drunk or knackered; meanwhile, their black companion Untitled (Black Bed) (1991) lies flat out, as if scorched and dead to the world.
We also see at a glance the continuity of materials – plaster, resin, concrete. Against an overwhelmingly orthogonal assortment, curves stand out. I particularly enjoy the louche and rounded "tongue" of palely glossy rubber – Untitled (White Slab) (1994-2017).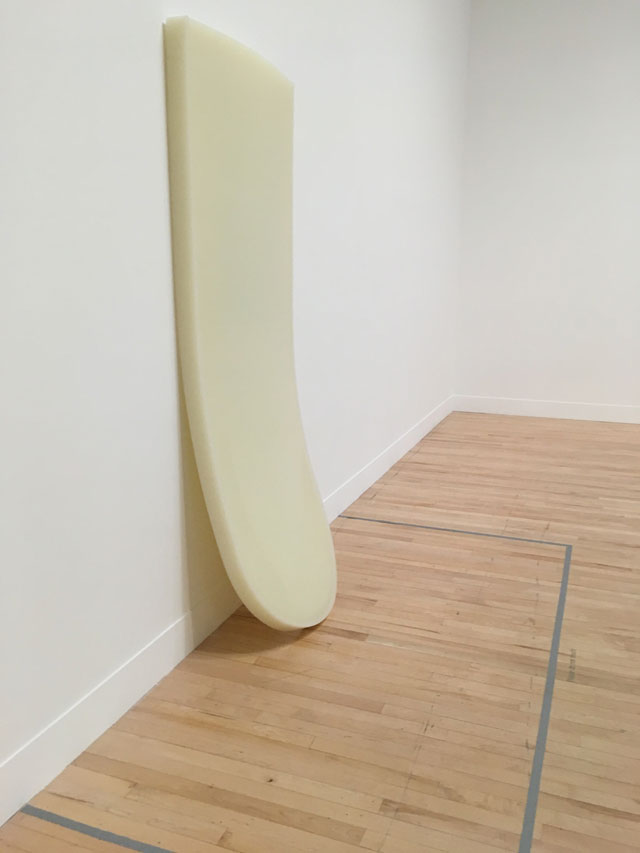 Rachel Whiteread. Untitled (white slab), 1994/2017, installation view, Tate Britain, London, 2017. Rubber, dimensions, 206 x 80 x 14 cm. Photograph: Veronica Simpson.

Written throughout all this material is a profound and silent evocation of what is not there. With Untitled (Floor) (1994), polyester resin casts of floorboards are laid out, conjuring the dimensions of a room. But while their colour evokes the grain and knotty permanence of the wood they represent, their clustered strips, their texture and translucency make of them something almost edible and transient, like slabs of toffee.

Rachel Whiteread. Untitled (Room 101), 2003. Plaster, wood and metal, 300 x 643 x 500 cm. National d'Art Moderne, Centre Pompidou, Paris, France. Purchased with the support of the Friends of the National Museum of Modern Art and the Clarence Westbury Foundation 2009. © Rachel Whiteread. Photograph: © Tate.

The room is on such a scale that the larger pieces do not dominate. One of them is Room 101 (2003): a plasticised cast of a studio in BBC Broadcasting House – the very room that is supposed to have been occupied by George Orwell during his time as a correspondent in the second world war. It is this room that allegedly inspired Orwell's "Room 101", the torture room in Nineteen Eighty-Four. The monumental bulk and blankness are intimidating, even without intimate knowledge of that novel and its oppressive political landscape.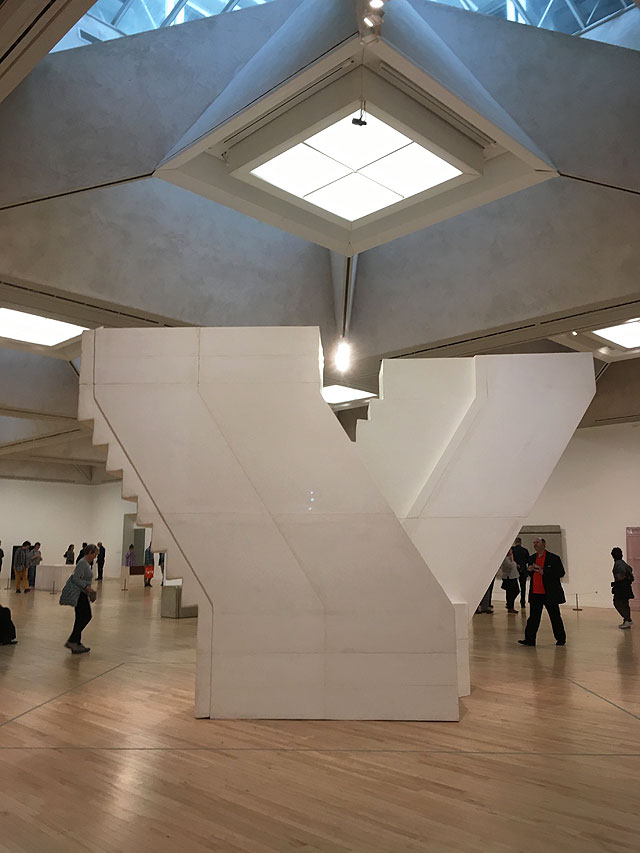 Rachel Whiteread. Untitled (stairs), 2001, installation view, Tate Britain, London, 2017. Plaster, fibreglass and wood, 375 x 220 x 580 cm Photograph: Veronica Simpson.

The biggest work here is Untitled (Stairs) (2001). Whiteread decided to cast the interior of a former textile warehouse and sometime synagogue before converting it and moving in with her family. She was drawn to this staircase as a place that would have had the hardest use, revealing its daily traffic in chips and scratches. Its structure forms an almost triumphal, white V shape in the centre of the gallery, commemorating the diverse inhabitants of the building and the waves of migration through its East London site.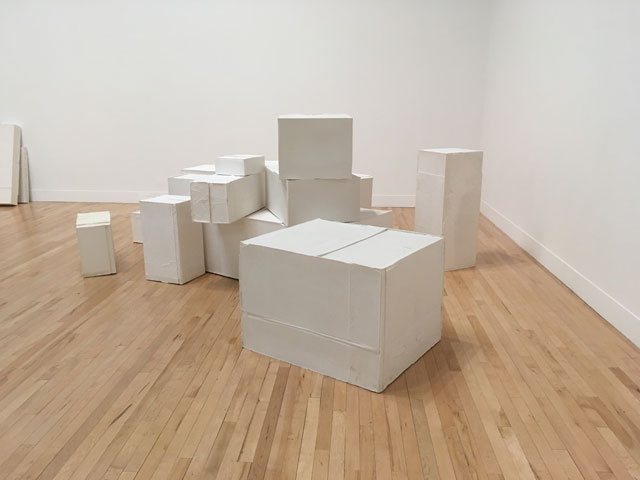 Rachel Whiteread Retrospective, installation view, Tate Britain, London, 2017. Photograph: Veronica Simpson.

Her boxes are here, too. But the very flat lighting of this room does them no favours. These plaster-cast interiors of cardboard containers seem to have had the life, the air, the very history sucked out of them in the casting. This series evolved out of her 2005 Turbine Hall commission for Tate Modern. She cast thousands of cardboard boxes in polyethylene and piled them high and wide throughout that cavernous space. They relate to the mundane and universal experience of moving house, and were inspired by the discovery of boxes of her childhood possessions, which had been stashed away, while sorting through the contents of her late mother's house. There is no doubting the poignancy of the experience of sorting, storing and saving stuff for sentimental or other reasons. But, for me, they lose something in their translation to these dead, white cubes.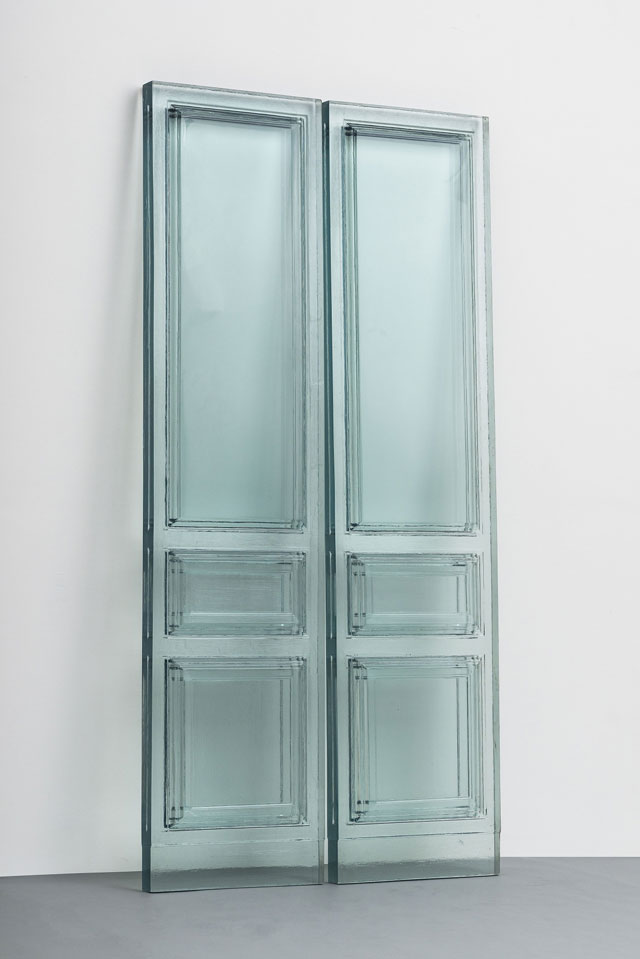 Rachel Whiteread. Due Porte, 2016. Resin, 247 x 124 x 8 cm. Galleria Lorcan O'Neill, Rome. © Rachel Whiteread. Photograph: Courtesy of Galleria Lorcan O'Neill, Rome.

Nearby, the door series, which she began in 2004, leans against the farthest walls of the gallery. They look fairly uninteresting from afar, but – as with most of Whiteread's material interrogations – repay closer scrutiny. The very leaden quality of the plaster doors provokes an intense awareness of the vital character of their wooden counterparts, in their facilitation of blocking human traffic, their "portal"-ness. However, the resin doors are objects of beauty in and of themselves. And, here, Whiteread moves momentarily away from the mundane to explore grandeur: an elegant pair of vintage French doors, Due Porte (2016), cast in a translucent blue resin, are magnificent. An evolution of this series, into window castings, also investigates both vintage and modern, with one work a particularly lovely rendering of the kind of window that any modern bathroom or loo might present. In amber resin, it becomes a gorgeous, jewel-like thing.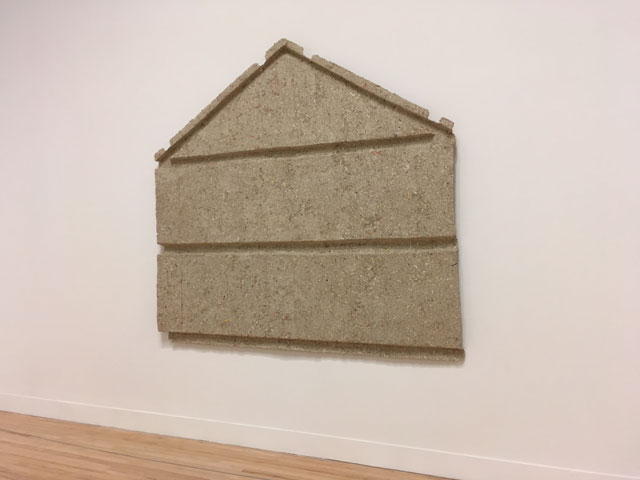 Rachel Whiteread. Wall (Apex), 2017. Cast from pulped paper, detritus from Whiteread's studio. Installation view, Tate Britain, London, 2017. Photograph: Veronica Simpson.

Her most recent materials foray is also here: papier-mache. Wall (Apex) (2017) is one of several shed sections cast from pulped paper. Up close, it becomes apparent that its grubby, grey matte appearance actually contains a multitude of coloured flecks of paper, many of them representing exhibition invites salvaged from Whiteread's studio bin. While that touch of richness in the detail is pleasing, what is more enveloping is the sense of simultaneous lightness and weight that these paper works achieve, in celebrating the most utilitarian and accessible of amateur work structures.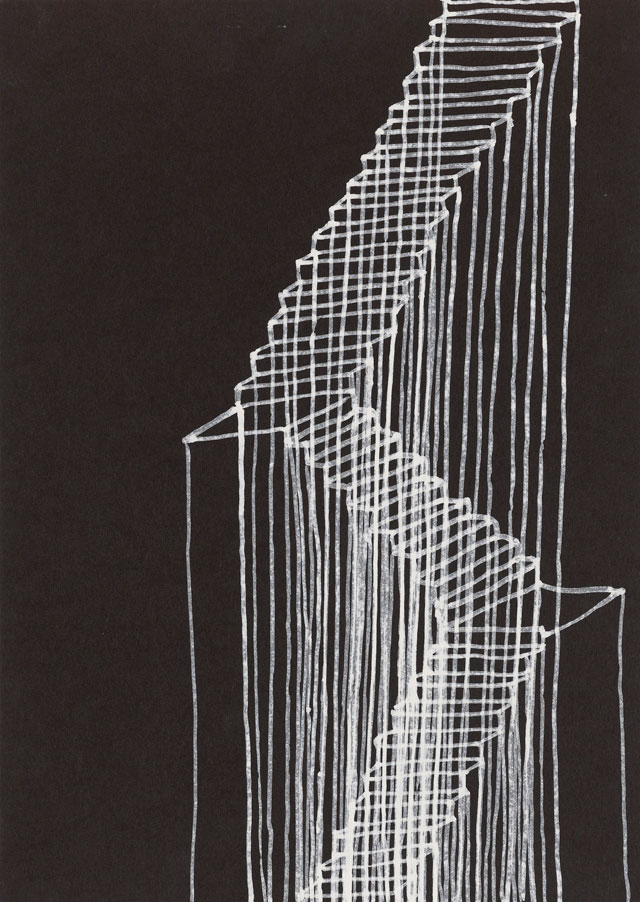 Rachel Whiteread. Stairs, 1995. Correction fluid on black paper, 66.2 x 51.3 x 38 cm. Courtesy the artist and Gagosian. © Rachel Whiteread.

While the expanded gallery space allows visitors to roam around the exhibits, or follow the trail of sculptures more chronologically around the wall, it does disadvantage one of the best discoveries – a small selection of her sketches and collages. Mostly preparations for her sculptures, they are striking in their playfulness: there is such delicate draughtsmanship, such tone and colour, elements of glitter and gloss that are never seen in her actual work. These are tucked around a far corner, making them easy to overlook.
However, there is something very Whiteread-ish about what this stripping out of customary walls reveals: the wooden floorboards are a patchwork of different shades, variously bleached or scuffed according to light conditions or usage of the individual rooms. And huge, concrete lightwells have been revealed in the ceiling, which highlights the underappreciated scale and architectural coherence of this entire wing. I like the way their unlovely pale and utilitarian forms resonate with the bulk and density of the larger works.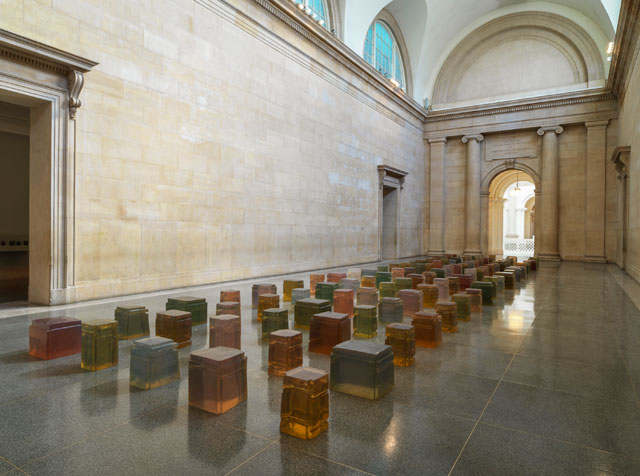 Rachel Whiteread. Untitled (One Hundred Spaces), 1995. Resin, various dimensions . Pinault collection. © Rachel Whiteread. Photograph: © Tate (Seraphina Neville and Andrew Dunkley).

However, the most compelling work – for me – is the one that sits outside this room, in the Duveen Galleries. Her Untitled (One Hundred Spaces) (1995) comprises a field of resin blocks, cast from the underside of assorted household chairs, and tinted in delicate shades of pistachio, rose, coffee and amber. As a mass, from afar, they appear grey and dusty. But the nearer you are, and the longer you spend with them, the more the colours and translucency of individual blocks intensify, picking up on the gloss and shine of the marble underneath as well as random shifts in lighting from above, until they are glowing as if lit from within. They become quite luscious, like lumps of Turkish delight. (As that analogy occurred to me, standing near them, my mouth literally began to water.)
There is a quote of Odilon Redon's - that he wanted his art to "place the visible at the service of the invisible" – which seems particularly apt in the case of Whiteread's work. Over three decades, she has made the territory of the invisible her own, exploring, with forensic precision, the significance and poetry within those dust-filled layers of breath and light.
The Tate has provided further enrichments in our understanding of Whiteread's influences and inspirations. In the Duveen Galleries, there is also a small selection of works that Whiteread has chosen from the Tate's collection. There are obvious choices – a Barbara Hepworth, a Richard Deacon – and some less so: a cascading pile of black felt by Robert Morris (b1931), Untitled (1967-8); the uncoiling sensuality of Rope (gr 2sp 60) 6 '67, (1967) by Barry Flanagan (1941-2009); Education (2012), a stack of concrete boards that summon up the qualities of both slate and wood, by Michael Dean (b1977); and the saucy, playful assemblage of domestic oddments, Beyond the Pleasure Principle (2000) by Sarah Lucas (b1962).
There are also some favourite books she has chosen, on sale within the inevitable shop attached to the show, which open up some additional insights into what moves her. Poet Mark Waldron's whimsical, witty meditations on universal moments (from washing up to watching the sea), titled Meanwhile Trees, are exquisitely honed paeans to the parochial. I was delighted to see Marilynne Robinson's sublime novel Gilead, a novel about time, legacies, emotional turmoil and the wonders of the material world; and two of Henning Mankell's thrillers. Of course: why wouldn't Whiteread appreciate this masterful storyteller, with his genius at generating tension, drama and insight through strategic concealments and revelations.