Peter Howson: A Survey of Prints
This retrospective of prints produced over four decades by Scottish artist Peter Howson, one-time member of the New Glasgow Boys and a former war artist, provides an interesting parallel with his paintings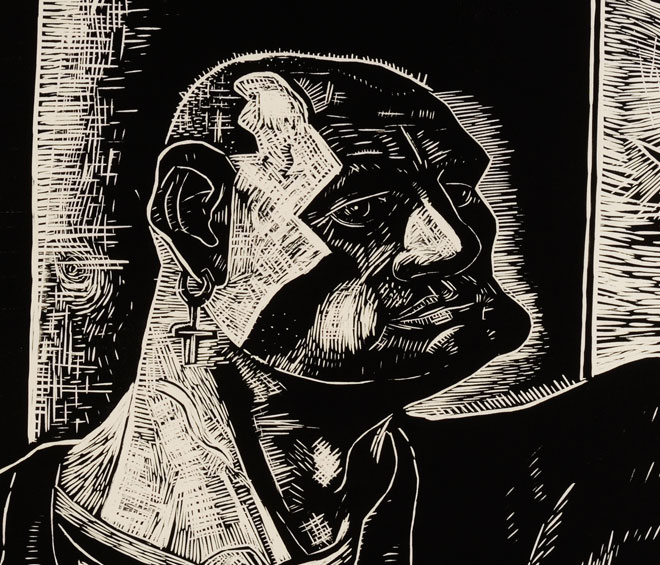 Peter Howson. The Noble Dosser, 1988 (detail). © Peter Howson, Courtesy of Flowers Gallery London and New York.
Flowers Gallery, Cork Street, London
6 July – 6 August 2016
by MATTHEW RUDMAN
A stony-faced man is guarding the Flowers Gallery window. Legs wide apart, mournfully leaning into the wind, he stands in front of a dark industrial building partially submerged by dune-like ground. This two-part woodcut possesses many of the hallmarks of Peter Howson's work: a vast male form, distorted muscular frame dramatically backlit, and a harsh, impassive rectilinear face.
Titled Heroic Dosser (1988), this artwork is one of many in this exhibition, a retrospective of prints produced over two decades by Howson, which seek to portray working-class men as heroic figures. One might term them his "dosser series" – also shown is The Heroic Dosser (1988), a mirror image screenprint based on the woodcut, and two prints titled The Noble Dosser, lithograph (1987) and two-part woodcut (1988). Howson, who spent a year living on the streets of Glasgow before forging ahead with a career in art, has, for much of his working life, been preoccupied with those on the edges of society, whether that be the poor, the unemployed or victims of sectarian violence.
Howson was born in London in 1958 and moved to Scotland as a young child. He studied at the Glasgow School of Art, and rose in the 80s to become a leading member of a grouping of young artists called the New Glasgow Boys. This new generation of Scottish artists responded to the dominance of conceptual, abstract and pop art through figurative painting, yet each of them worked with different ideas: while Adrian Wiszniewski and Steven Campbell tended towards environmental themes, Ken Currie and Howson explored the face, flesh, and, particularly with Howson, the male form. Howson today is an enduringly popular Scottish artist whose work is held in public collections around the world, and has turned up in such disparate places as David Bowie's private art collection and on Alex Salmond's Christmas cards.
A painter as well as a printmaker, Howson often uses printmaking as a preparation for works that are later brought to canvas. It is interesting to see this collection of prints as a look into the raw fundamentals of his ideas and practice, and in many cases the heightened contrast of light and shadow produced by print serves to accentuate Howson's distinctive style: vast, almond-shaped knuckles glow hot white, and sharp chiaroscuro draws the eye to musculature and bone structure.
Two collections, published 10 years apart, form the backbone of this exhibition. Saracen Heads (1988) and The Underground Series (1998) are both made up of predominantly male heads, rendered in an arresting grotesqueness that calls to mind the drawings of Goya. Howson gleaned subjects for both series from life: Saracen Heads are based on regulars at the Saracen's Head pub near Howson's Glasgow studio, while The Underground Series is derived from quick sketches he drew while travelling around London, and named after the tube stations at which the subjects were seen. Yet despite these sources and the warped, craggy nature of the final prints, these images resist interpretation as mere cruel caricature. In each print, the eyes remain resolutely visible and expressive, as if challenging the viewer with their exaggerated naturalism.
In 1993, Howson was selected by the Imperial War Museum to serve as the UK's official war artist in Bosnia. This was undoubtedly a highly challenging period of his career, emotionally and physically, and the output of these 1993 trips to the conflict area are among some of his best-known works. The painting Croatian and Muslim (1994) depicts two men raping a woman while pushing her head into a lavatory; it gained notoriety after it was initially banned from view by the Imperial War Museum, and then purchased by Bowie. This exhibition includes a preparation for that work, a lithograph titled Rape (1994). While many of the prints here are painstakingly and delicately composed, in Rape, Howson's sense of duress at his subject matter is plain. Thick lines scramble chaotically across the rapist's body, rendering him at points difficult to distinguish from the background, sharply contrasting with the stark whiteness of his victim.
These Bosnian prints are creations of speed and opportunity, snippets of what experience Howson was able to gather while on the ground in a warzone. Cleansed (1994) and Muslim Woman (1994) stand out as etchings of great poignancy; Howson again draws our eye up to the face, where he uses a surprisingly few number of lines to illustrate in detail the sorrow of a victim of ethnic cleansing. Compared to his great set-piece paintings on subjects of war and violence, these prints are understated, restricted to more human scales.
Howson, who converted to Christianity in 2000, frequently depicts biblical topics in his art. A set of chine colle etchings, The Stations of the Cross (2003) is placed in the centre of the gallery, yet sadly not all are displayed. A selection is posted online, alongside monotypes of Jesus's face that are quite unlike Howson's previous work in their abstraction. Indeed, Howson's monoprints in general stand out as particularly compelling, with some, such as the chaotic Au Bar (1990) or the apocalyptic Torrance 6 (1992), a riot of colour and melding forms, a stark contrast to the predominantly monochromatic prints. It is tempting to compare these to Blake's prints, a comparison we know from Studio International's 2013 interview with him that Howson would regard as high praise. This collection showcases a wide variety of printmaking techniques, from lithographs to etchings, drypoint to screenprints. Anyone familiar with Howson's painting will find this a fascinating insight into his parallel output in print.