Pedro Cabrita Reis – interview: 'Through all these years, I've always done what I wanted. I intend to stay like that'
In the run up to his exhibition in Venice during the 59th Biennale, the internationally renowned Portuguese artist talks about the museum he keeps in his mind, and why he will never be pinned down to a particular form of art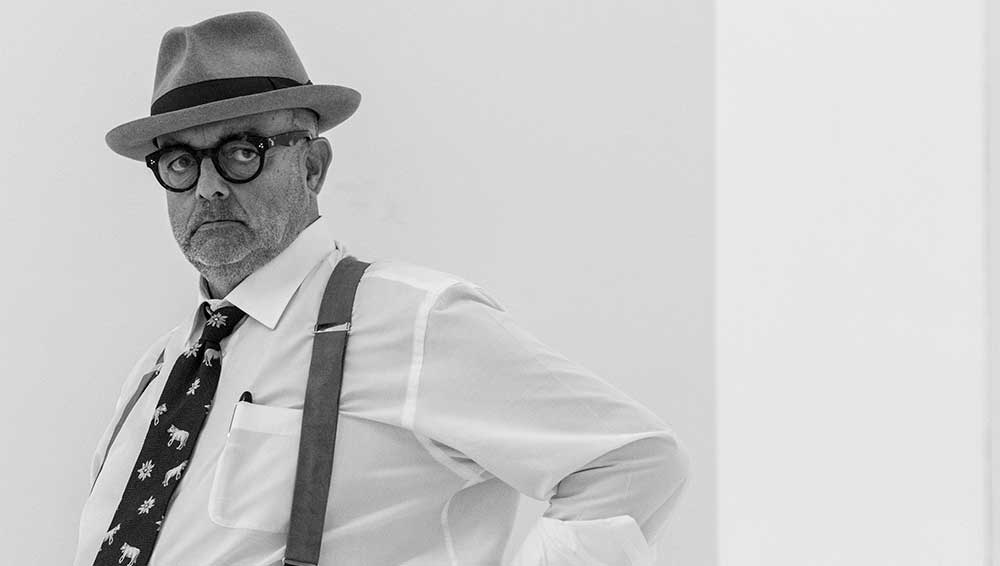 Pedro Cabrita Reis. Photo: João Ferrand.
Pedro Cabrita Reis was born in 1956 in Lisbon, where he still lives and works. The leading Portuguese artist has featured in many international exhibitions. He participated in Documenta 9 in Kassel in 1992 and represented Portugal at the 50th Venice Biennale in 2003. His artworks are held in major public collections, including the Mumok in Vienna, the Pompidou Centre in Paris and Tate Modern in London. The chair of Arts Council England, Nicholas Serota, has described him as "one of the most important European sculptors working today". This spring, Cabrita is exhibiting Field (2022) at Chiesa di San Fantin in Venice, and is showing The Three Graces (2022) at the Tuileries Garden in Paris. As a place of reflection, he has created a permanent artwork, entitled Assembly (2022), comprising 21 benches made with bricks, into which pairs of words are engraved, like a form of poetry, situated in a forest in Poppendorf in Gnas, Austria. Unveiled last March, the artwork is the result of a partnership with the Institute for Art in Public Space Styria, affiliated to the Universalmuseum Joanneum.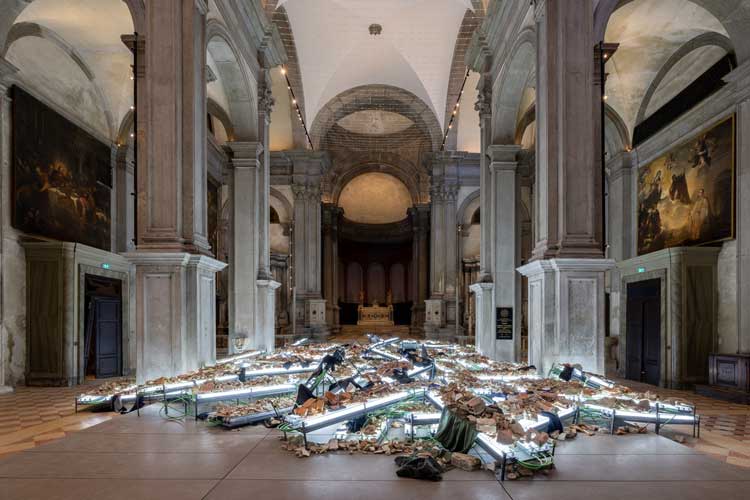 Pedro Cabrita Reis. Field, 2022, Chiesa di San Fantin, Venice. Photo: João Ferrand.

Elisabeth Fiedler, the chief curator of the Institute for Art in Public Space Styria and the Austrian Sculpture Park, appreciates the artist's engagement with memory. "Pedro Cabrita Reis knows the region of south-west Styria quite well. He had a solo show in Kunsthaus Graz in 2018, invited by Peter Pakesch, and visited this part of Styria in this time." She says Cabrita was impressed by the material and special brick lattices in the region and so they invited him to realise his idea of Assembly. "From his investigations into space, architecture and cultural memory, into collective and individual memory, he goes beyond the visible and initiates a poetic discourse with Assembly," she says.
On a cultural theme, Cabrita was invited by the Louvre to exhibit his interpretation of The Three Graces while the museum was working in partnership with the Institute Français for the 2022 France-Portugal Season. "I find it interesting to reconsider themes, myths and stories that form the basis of art history. The Three Graces, which run through our European history since before classical antiquity, fit into this framework of action that interests me particularly," he says.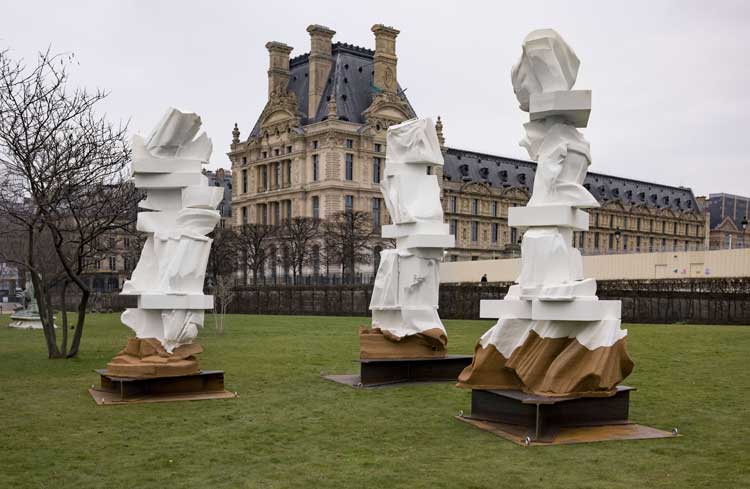 Pedro Cabrita Reis. Les Trois Grâces, 2022, dans le jardin des Tuileries, Paris. © CABRITA Studio, Miguel Nabinho.

The impressive sculpture, made from environmentally friendly cork, features three elements, each about 4.5 metres tall, supported on an iron base. Fittingly for the Tuileries Garden, created in 1564 for Catherine de Medici's Palace (then redesigned by André Le Nôtre for Louis XIV), The Three Graces explores a story that inspired Florentine humanist philosophers, a personification of grace and beauty, seen in the Greco-Roman art of the Louvre's collection. This public garden stands witness to the revolutionary history of France. Such is its significance that the Tuileries was classed as a Unesco World Heritage site in 1991. The Louvre has managed the garden bordering the Seine and the rue de Rivoli since 2005. Cabrita's artwork is presented to moving effect in this museum of outdoor sculptures. João Lima Pinharanda, art critic and the curator of The Three Graces, succinctly sums it up as a "powerful work". In the run up to his exhibition of Field, which will be installed at Chiesa di San Fantin during the 59th Venice Biennale, Cabrita spoke to Studio International via email about his life and work.
Nicola Homer: How and when did you get started as an artist?
Pedro Cabrita Reis: In 1973, at the age of 17, when I entered Lisbon Fine Arts School, I already used to make paintings and sculptures at home, where I had a small studio. Since then, I never hesitated about what I wanted to do or to be. So, I think I've been always an artist.
NH: What or who has inspired your work over the years?
PCR: Nothing or no one, in particular, had any special kind of influence on my practice as an artist. But, as any other artist, I like to spend hours in museums, sometimes just to look at one single work for an entire afternoon. I have an endless museum in my memories. In there, I have Giottos, Caravaggios, Tintorettos, Delacroix, Courbets, Picassos and some Barnett Newmans, Ad Reinhardts, and I could go for hours. My museum stays open all night long …
NH: How do you feel to have a sculpture in Paris's Tuileries Garden?
PCR: The Louvre Museum does not need to be introduced. It's a place of confirmation for any artist, and I'm no different. Having been invited by the Louvre to propose a sculpture for the Tuileries Garden, showing there my Three Graces, was quite a challenge as well as a pleasure.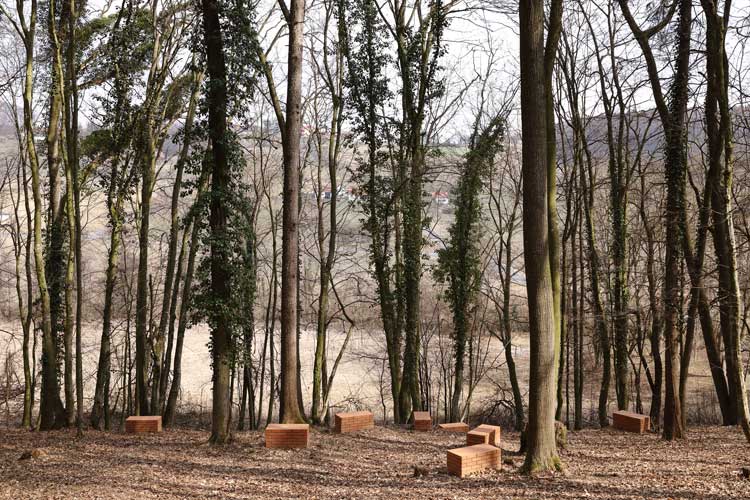 Pedro Cabrita Reis. Assembly, Poppendorf in Gnas, Austria. Universalmuseum Joanneum/J.J. Kucek.

NH: Why are you exhibiting a permanent artwork in south-east Styria in Austria?
PCR: I was invited by Peter Pakesch, a long-time friend. Together, we have seen several possible places to install Assembly, until I finally decided with Peter that the Poppendorf Woods had the right context for my work. I've always wanted to create a sculpture for a forest. This was the perfect moment.
NH: What direction do you feel that your work will progress in?
PCR: I've always done many different things, from painting to sculpture, from drawing to photo-based works, either for private or public contexts and, through all these years, I've always done what I wanted. I intend to stay like that day by day. A painting now till the next sculpture, back to painting again or perhaps a couple of drawings, day by day, every day, till the end.
NH: What is the greatest achievement of your life until now?
PCR: I guess that for artists there are no "greatest achievements". Their own art, it's a life commitment and nothing can be larger than that.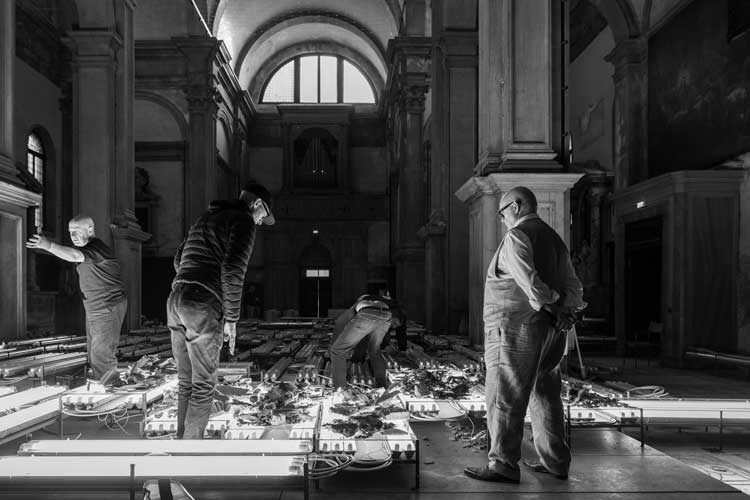 Pedro Cabrita Reis. Field, 2022, Chiesa di San Fantin, Venice. Photo: João Ferrand.

NH: I can appreciate that Field, your sculpture in Chiesa di San Fantin, Venice, is made of a grid of steel platforms, calling to mind the passerelle (walkways), which appear during times of acqua alta (high water), a type of flooding in the city that is becoming more common as sea levels rise. Indeed, the exhibition takes place in a context where climate change, as well as the pandemic, poses a threat to humanity on this planet. Would you agree that Field follows an environmental theme?
PCR: No, I don't think so. My sculpture Field, installed at Chiesa di San Fantin, is about the eternal conflict/fight between light and darkness, something that has been, since ever, part of the history of humankind. Such violence and tension, embodies all conflicts that built the history of humankind and, in that sense, it's a testimony to all the contradictions, fears, horrors, moments of interrogations, doubt, and anxiety on which our history has, since ever, been built.
Field is at Chiesa di San Fantin, Venice, until 30 September 2022. This exhibition is organised with Kewenig, Magazzino, Mai 36 and Sprovieri. A catalogue with texts by the curator Michael Short and Nicholas Serota will be published by Skira to accompany the exhibition.
The Three Graces is on display in the Tuileries Garden, Paris, as part of the 2022 France-Portugal Season, until 7 June 2022.
Assembly is situated in a forest in Poppendorf in Gnas, Austria.