Niamh O'Malley: Gather – Venice Biennale 2022
O'Malley says she wants her Irish Pavilion installation to be a welcoming space, for visitors to 'feel the power and the height and weight of things'
Niamh O'Malley's elegant sculptures sit quietly in the concrete-floored, timber-roofed, high-windowed space that the Irish Pavilion occupies in the Arsenale, at a turning point in this huge medieval-shed complex where the lapping waters of Venice are finally visible through the doors. It is a visually and sensorily rich setting for an artist so intent on revealing the poetry within ordinary, domestic and urban materials, especially glass.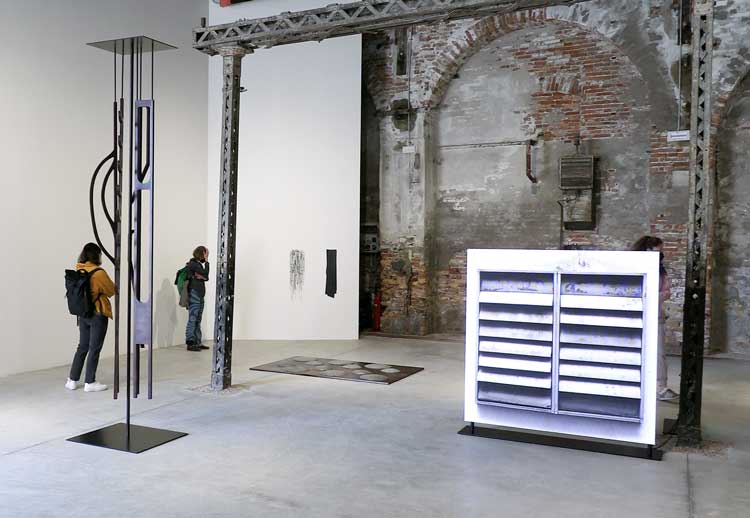 Niamh O'Malley: Gather, installation view, Irish Pavilion, Venice Biennale 2022. Photo: Martin Kennedy.

And here they are, one glass work layered against a wall, another delicately carved into drooping, lacy, weed-like fronds each edged in metal. Yet another hovers vertically above us, a delicate, art-deco semi-circle awning of leaf-embossed glass inviting us to enjoy its shade and the fragile patterning it casts on the wall below, while at the same time disrupting that sense of shelter or safety with the slices of glass that are scattered, seemingly loose, on its upper surface.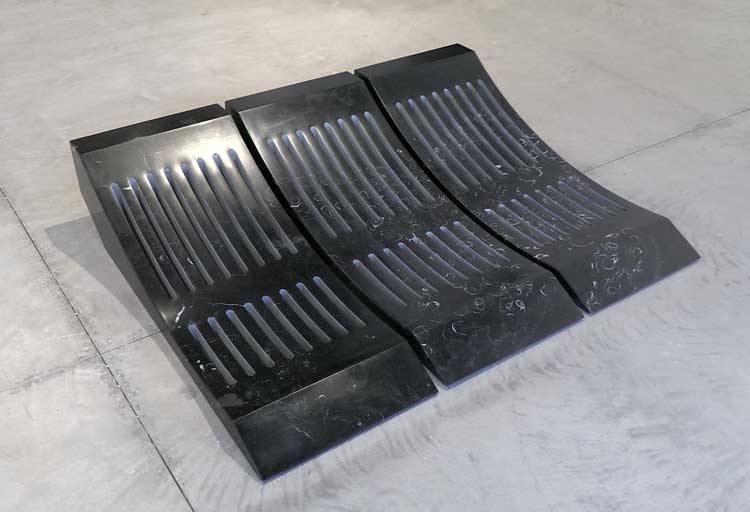 Niamh O'Malley: Gather. Drain, 2022. Limestone, 30.4 x 155 x 120 cm. Installation view, Irish Pavilion, Venice Biennale 2022. Photo: Martin Kennedy.

O'Malley uses steel, limestone, wood and glass in ways that disrupt expectation, but the manner in which she does so makes you acutely aware of the material, its properties and typical contexts. One work that resembles an everyday, urban drain – albeit one smoothly curved and neatly edged, as if designed to cover a small stream - is made of limestone, expertly carved, its cold, contoured and fossil-flecked planes inviting touch and appreciation. A freestanding metal structure fans out overhead, its slender stems morphing into flat, cold, palm leaves. Another tall metal stand is hung with pendulous wooden shapes that drape down to the floor, but whose upward and outward curves invite the eye towards the roof, all the better to appreciate these playful timber gestures against that grid of rigid, rugged, structurally crucial beams.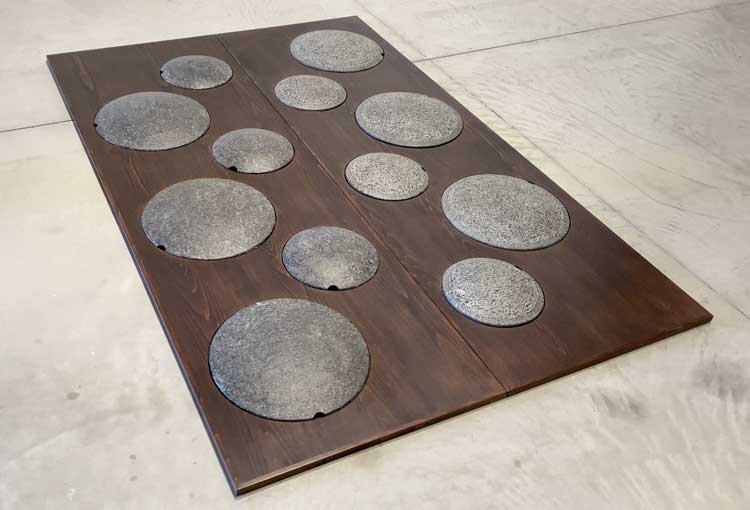 Niamh O'Malley: Gather. Covers, 2022. Limestone, beech veneered MDF, 5 x 193.5 x 127.5 cm. Installation view, Irish Pavilion, Venice Biennale 2022. Photo: Martin Kennedy.

A smooth oblong of carved and polished wood lies on the floor, supporting several large discs made of what looks like rough concrete but could be limestone: slightly curved in their wooden frame, they evoke pools of water. Nearby is a short film that O'Malley made during lockdown, of a crow dipping its head down to gather water from a small pond she made with her young son and husband in her Dublin back garden. The bird is at its most fascinating as it tips up its beak to let the water roll down its throat, and as the action of dipping and drinking is repeated, something mechanical in its manner jars with the naturalistic setting, revealing the slippages between nature and our constructions and expectations of it. Beside this film is another, larger screen, displaying the flickering, fluttering louvres of a metal fan, whose rhythmic, nervous movements suggest a breathing, pulsing, living entity at play.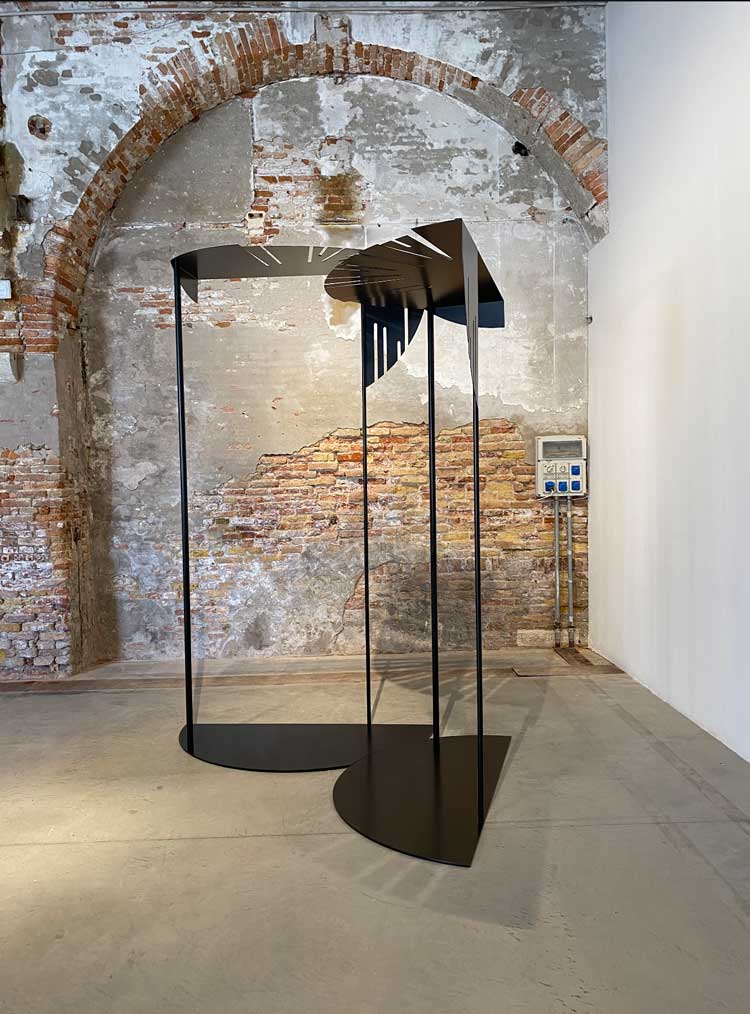 Niamh O'Malley: Gather. Double Canopy, 2022. Steel, aluminium, 303 x 267 x 165 cm. Installation view, Irish Pavilion, Venice Biennale 2022. Photo: Martin Kennedy.

O'Malley and the curatorial team from Temple Bar Studios + Gallery had this room stripped back to its antique essentials, revealing windows and the crumbling brickwork around their frames, all the better for these objects and their explorations of that continuum between construction and deconstruction to become part of the room's physical choreography. O'Malley calls the installation Gather, she says, because it felt like a gathering. "I wanted it to be a welcome and an invitation to stand together in the space, with things, with objects to touch, as opposed to a virtual relationship to forms and artworks."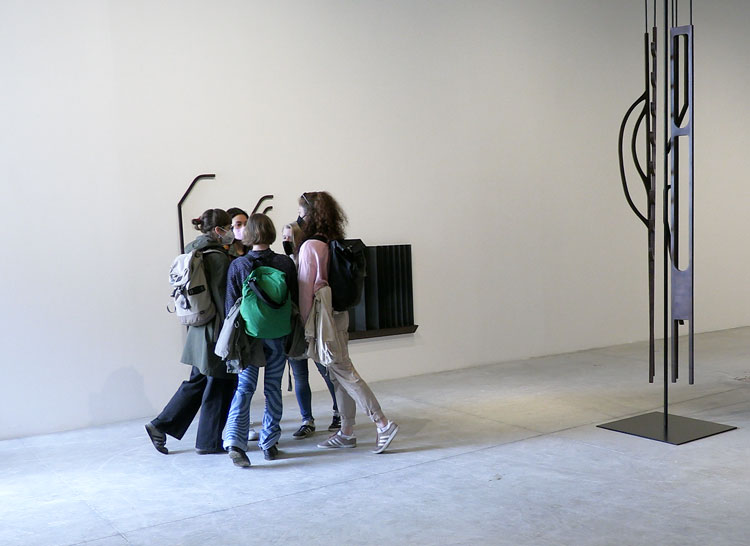 Performance from the Croatian Pavilion. Niamh O'Malley: Gather, Irish Pavilion, Venice Biennale 2022. Photo: Martin Kennedy.

She tells us she has not only been enjoying the natural responses of visitors, but also a performance from the Croatian Pavilion, which for this biennale takes the form of six dancers, responding to other biennale spaces and structures, as well as a complex system of algorithms devised from the day's news headlines.
O'Malley, who was born in County Mayo in 1975 and studied at the University of Ulster, Belfast, gaining a PhD in 2003, is based in Dublin's Temple Bar Studios. She participated in Dublin Contemporary, 2011, with her film Quarry (2011) capturing the barren landscape of a stone quarry. Her solo installation at The Douglas Hyde in 2015 brought further critical acclaim. Her work is held in the collections of The Hugh Lane, the Irish Museum of Modern Art and the Arts Council of Ireland.
Niamh O'Malley: Gather
Irish Pavilion, Arsenale, Venice
23 April – 27 November 2022
Interview by VERONICA SIMPSON
Filmed by MARTIN KENNEDY