Manifesto (by Julian Rosefeldt with Cate Blanchett)
This superb cinematic production, in which Cate Blanchett brilliantly conjures 13 varying personas, takes us on a rapid tour through 20th-century avant-garde culture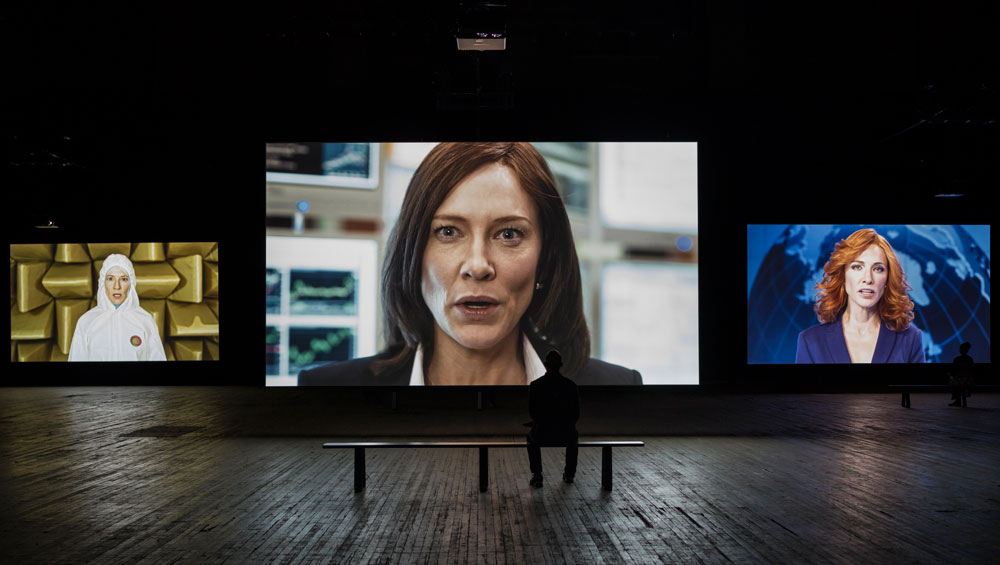 Park Avenue Armory, New York
7 December 2016 – 8 January 2017
by LILLY WEI
Manifestos excerpted and spliced together from writings by more than 50 artists, writers, thinkers, architects, and film-makers – some well known, others more obscure – make up the text for a series of short films brilliantly performed by Cate Blanchett. Captivating audiences at New York's Park Avenue Armory since early December, the Blanchett variations conjure 13 vastly different personas succinctly, intelligently and irresistibly (she plays both television newsreader and reporter in one video), up there with Meryl Streep and Tilda Swinton in a shape-shifting league of their own.
The often idealistic, if also occasionally overblown, statements – which the press release calls an (angry) young man's game – are frequently confrontational and revolutionary, but their content is somewhat dimmed, even contradicted by the mega-wattage of the production. And, indeed, the pronouncements are nearly all by young men filtered ironically through representations of women – starting with an excerpt from Marx and Engels, the earliest in date, then jumping headlong into the 20th century (the Age of Manifestos) with snippets from constructivists, dadaists, futurists, surrealists, cubists, pop, minimalists, conceptualists and a gaggle of other "ists". A few comments hover around the turn of the millennium, from Werner Herzog, Jim Jarmusch, and Sturtevant; and, in addition to Sturtevant, four other women are cited, Olga Rosanova, Yvonne Rainer, Mierle Laderman Ukeles, and Adrian Piper.
Julian Rosefeldt, an artist and photographer, is the mastermind behind Manifesto, writing, directing, and producing this wizardly tour de force, which was filmed in Berlin and its environs. While manifestos are not usually the public's preferred entertainment, the length of each video is an easily digested 11 minutes. The projections are arranged strategically throughout the colossal hall and can be viewed in any sequence, the venue's vastness perfectly accommodating the 13 giant screens. They form a kind of open multiplex, with seating for viewers located at a cinephile's distance – that is, close enough to feel enveloped, to breach the divide between filmic and actual space.
Rosefeldt creates various scenes for his reconstituted theses, as Blanchett struts her considerable stuff with flair and attentiveness, her characters quickly, cannily sketched, with telling, nuanced gestures, accents, expressions, dress and hair – from a tightly wound mother saying grace at the family dining table to a scientist in a grand futurist laboratory, an efficient stockbroker at her desk, and a sophisticate in a black dress absurdly addressing the gathered mourners at a funeral with Dada dictums in polished, forceful tones, her listeners taking no notice. The most transmogrifying role was that of a tattered, dirty homeless man, shuffling through the abandoned site of the Stasi complex in Berlin, although the gleam in the character's eyes belies his downtrodden status, as he ferociously declaims credos in the situationist chapter patched together from the thoughts of Lucio Fontana, Alexander Rodchenko, and Guy Debord, among others.
It is a binge-watching experience, a rapid tour through 20th-century avant-garde culture, attesting to the power of Blanchett, Rosefeldt and the production team. It certainly helps that the cinematography by Christoph Krauss is absolutely ravishing: the production on every level is superb (reeking of big bucks), the richly coloured images are of a sharp, crystalline beauty, including a number of sweeping aerial shots that seem to survey the Earth from the free-ranging perspective of a drone. Startlingly luminous, the screens are the only light source, emphasising the sense of magic. And in one winking touch, all the projections at a certain moment in each loop are synched, Blanchett turning to gaze at the audience full-face, her harangue echoed by the other Blanchett harangues like a dissonant choir – or a glitch – linking the disparate parts for a few moments before the production continues onwards. This is one film project you won't see streaming online. But yet, is it just sugar or is it cleverly sugar-coated to make the manifestos go down, in the most delightful way? Is it, as Debord might ask, just empty spectacle or is it a "détournement"?