LA roundup 2023
To know the art scene in Los Angeles calls on a lifetime of cruising its streets, storefronts, museums, galleries and riverbanks. All are stages for creative expression, every neighbourhood is fair game for pop-up display, and now that LA artists are drawing world attention, nowhere is it clearer that there is art and there is Art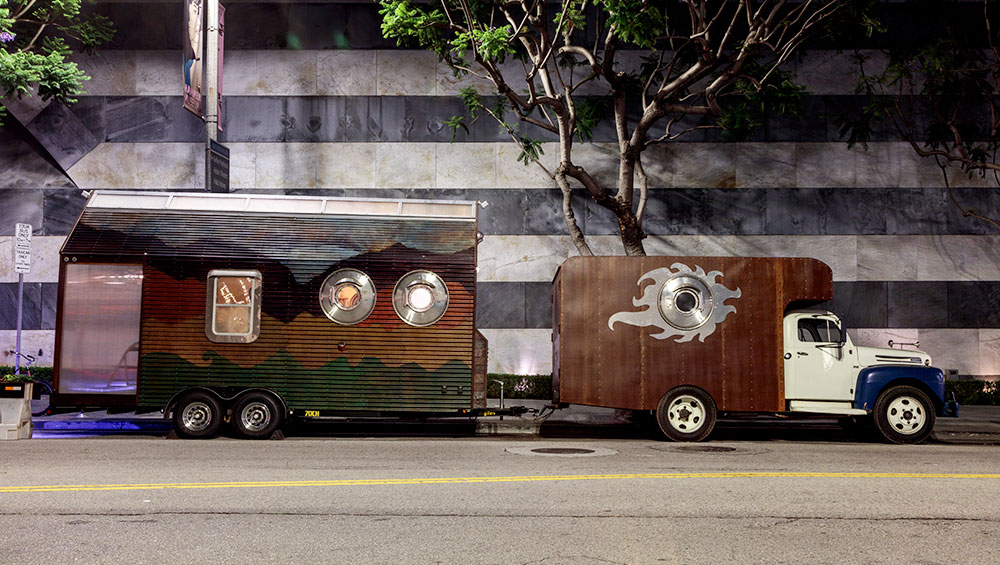 Dominique Mood. NOMAD exterior. Photo: Joshua White.
by JILL SPALDING
Rely on the Getty Center and the Los Angeles County Museum for deep holdings of the capital A "fine art" that still reads as culture – masterworks distinguished by exquisite workmanship, emotional impact, a breakthrough vernacular, or sheer beauty. Currently at the Getty, with major loans from the Tate, is a ravishing exhibition of poet/illustrator William Blake's subversively biblical critiques of repression, and across town, still in the throes of its controversial remodel, LACMA is showcasing a scholarly grouping of more than 300 objects and paintings assembled into a fictive 17th-century Dutch collector's cabinet of curiosities.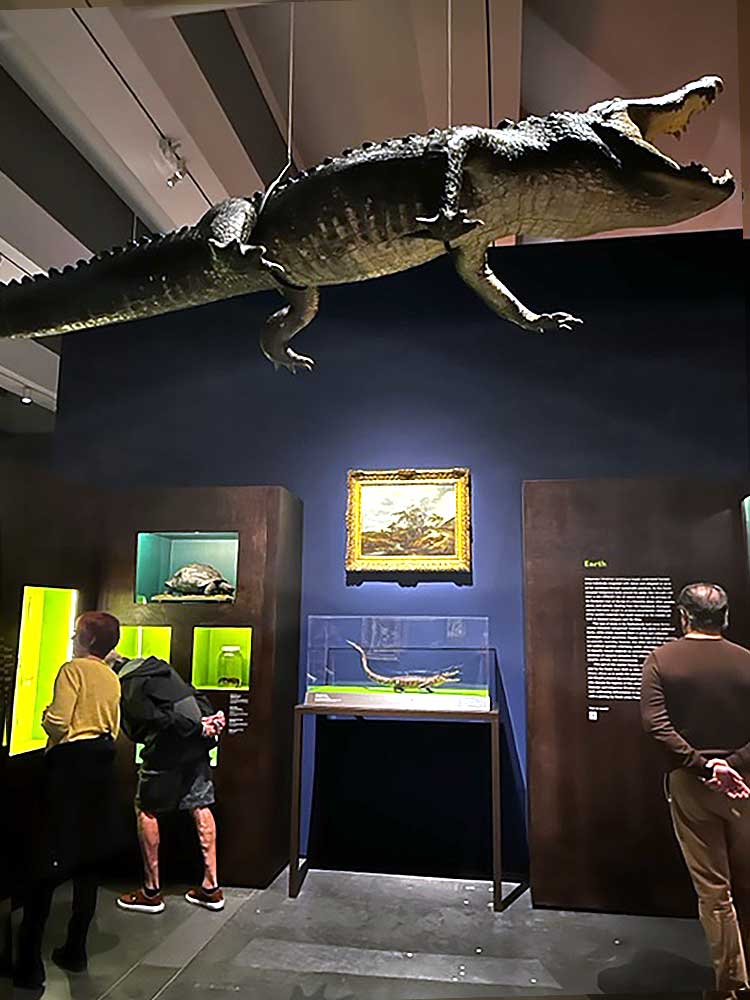 Installation view, The World Made Wondrous: The Dutch Collector's Cabinet and the Politics of Possession, LACMA. Photo: Jill Spalding.

Flagging LA as a newly hot collecting hub, five top New York galleries – Pace, Sean Kelly, David Zwirner, Matthew Marks and Marian Goodman have recently opened vast show spaces here. Judging by their initial exhibitions, they are profiling a safe, Eurocentric stable of star artists; at Zwirner, a 35-year survey of Franz West's wittily lopsided papier-mache sculptures succeeds Rose Wylie's overblown compositions of pictographs relating to life lived in and out of her home. Marian Goodman has followed Sunshine State film-maker Steve McQueen's epic conflation of racial stereotypes with a massive, trellised pavilion engineered by Spain's London-trained public sculpture artist Cristina Iglesias to cast shadows that move with you. Sean Kelly is showing familiar work by the late Ilse D'Hollander. All strong artists, but too well-established to feel of the moment.
Look elsewhere for the drumbeat. Known for scrappy shows committed to material bordering on the scatological, The Hole – albeit inclined to flash over substance – is the only new Manhattan outpost with its ear to the ground. At its autumn showing of pop-culture Palm Springs artist Eric Yahnker, so enigmatically coded were his graphite and coloured-pencil images sourced from Hollywood magazines that viewers were handed recorders to decipher them – a gimmick that failed to deepen the material.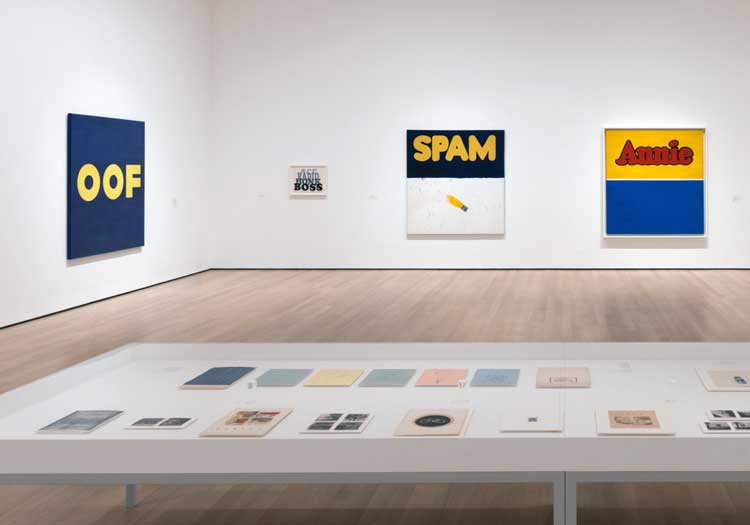 Installation view of Ed Ruscha / Now Then, Museum of Modern Art 10 September 2023 – 13 January 2024. Photo: Jonathan Dorado.

Of course, Los Angeles art has long been the big story here, but it has erupted into a movement as thrusting as Black Art. Ed Ruscha rules at the Museum of Modern Art and Henry Taylor at the Whitney. Larry Bell's reflective, red walk-around glass cubes are irradiating the Museum of Contemporary Art. The Broad, best known for in-depth presentations of international art stars (Keith Haring the latest) is showcasing Desire, Knowledge, and Hope (with Smog), more than 60 works addressing pain, loss and displacement by midcareer artists in dialogue with each other and a far-flung diaspora.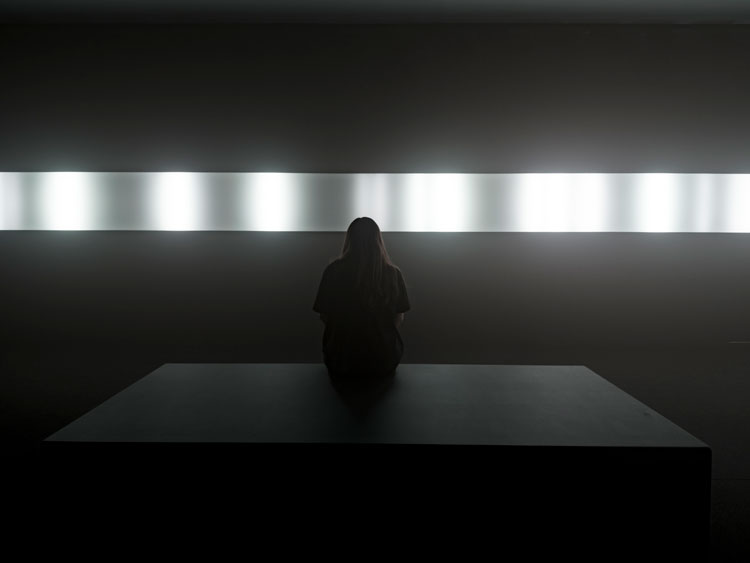 Jónsi. Installation view, Vox, Tanya Bonakdar Gallery, Los Angeles, 11 November 2023 – 3 February 2024. Photo: Jeff McLane. Courtesy the artist and Tanya Bonakdar Gallery, New York / Los Angeles.

Telling, too, is the number of high-profile home galleries showing LA-based artists. At Tanya Bonakdar, the interdisciplinary artist and musician, Jónsi [Jón Þór "Jónsi" Birgisson] engineered one installation, Silent Sigh II, to change the physical state of 100 speakers and another, Vox, to transform his AI-distorted voice into light and project the visualised sound on to large LED screens.
At Shrine, a show aptly titled Cohort presents eight LA-schooled artists – Claire Colette, Allison Miller, Nick Aguayo, Math Bass, Heather Brown, Megan Reed, Gracie DeVito and Pui Tiffany Chow – whose otherwise disparate takes on abstraction dialogue with their shared academia and individual social networks.
At Shulamit Nazarian, Ken Gun Min marks his move from San Francisco to Koreatown with roiling oil paintings that work Japanese tidal waves, Hawaiian exotica and tempestuous night skies into searing images of threatened extinction, male ecstasy and futile longing.
Sow & Tailor's second iteration of LA's imprint on the art world partners with a Hong Kong gallery to profile the innovations in craftsmanship that each brings to the other.
Jeffrey Deitch, who has ever had his finger on the pulse via such LA-based extremophiles as Mr Wash and heroic installations such as the large section of a massive mural realised by Judy Baca now up at LACMA, is showing work by three well-established LA artists – Sonya Sombreuil, Peter Shire and the irrepressible Haas Brothers – that involves the trending materials and themes of repurposed clothing, ceramics, folk art and community-driven narration.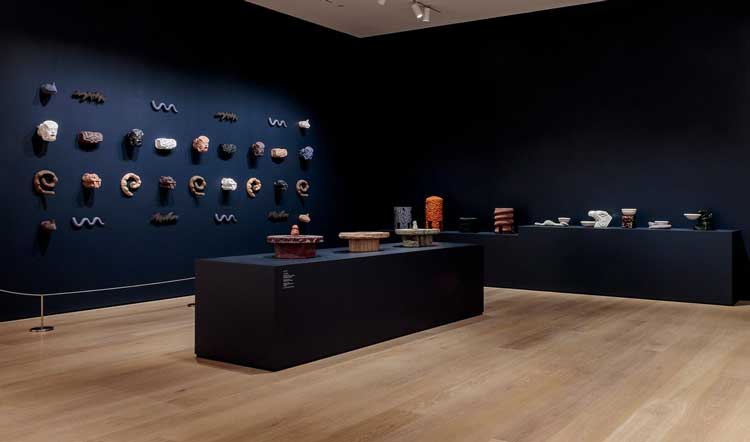 Luis Bermudez. Installation view, Made in L.A. 2023: Acts of Living, Hammer Museum, Los Angeles, 1 October - 31 December 2023. Photo: Joshua White.

For new directions, look to the Hammer's highly anticipated sixth edition of its Made in LA biennial. Director Ann Philbin's last hurrah (she is bowing out after steering its grand expansion), Acts of Living Presents work by 39 local artists, selected from more than 200 studio visits for their in-depth takes on life around them and the way they communicate what they feel matters most. Resolved – as stated in a catalogue that reads as manifesto – to "observe and listen", not act as "arbiters of value", curators Diana Nawi and Pablo José Ramírez rethought the entrenched biennial model of hot and unique. Challenging the concept of the western canonised artist as sui generis, the entries propose the inverse: art by the people, for the people. Artists shaped by ancient culture, by community, by everyday life. Art discovered at its source, not through galleries award lists and the collecting elite.
Reception has been mixed – largely, I believe, because prioritising vision over excellence doesn't appeal to seasoned biennial viewers ever on the lookout for what to collect next. Mistake. What renders this edition essential viewing is less the "product" than the struggle, less a work's finish than its relevance to a broader definition of art that values creative expression over polish, and less the art world's token diversity-artist popping up everywhere (cf Jaune Quick-to-See Smith) than the artist excelling in one of three acts of making: canvas as textile; assemblage skilfully worked of found, harvested, manufactured, or synthetic materials to communicate what we live off and live on; and social practice artfully fashioned to develop bonding relationships and create new forms of interaction.
Proposing more radically that prioritising novelty and individuality as the artist's defining value is not sustainable in a world made interdependent by climate and migration, thoughtful curation presents art from the ground up, palimpsests of ancestral and indigenous heritage composed of elemental materials, layered imagery and reworked tropes to convey the communal activities and everyday interactions that sustain life as it once was and again must be lived.
Less clear is why certain fields have been sidelined. The only nod to performance art is Roksana Pirouzmand's haunting installation Between Two Windows (2023), which embeds the artist periodically into a furnished aperture cut into a wall between galleries, as a fan scatters the curtains and magazine clippings that she had been trying to hold on to.
Why, too, is photography, still evolving, so summarily represented? More understandable is the absence of time-swallowing videos, yesterday everywhere and now looking so dated, and the gutsy shut-out of work encoded on the blockchain. Bucking a trend led by the Whitney Museum's designated curator for the metaverse and the glowing reception of Refik Anadol's Unsupervised, now showing at MoMA, AI-generated art has no place here.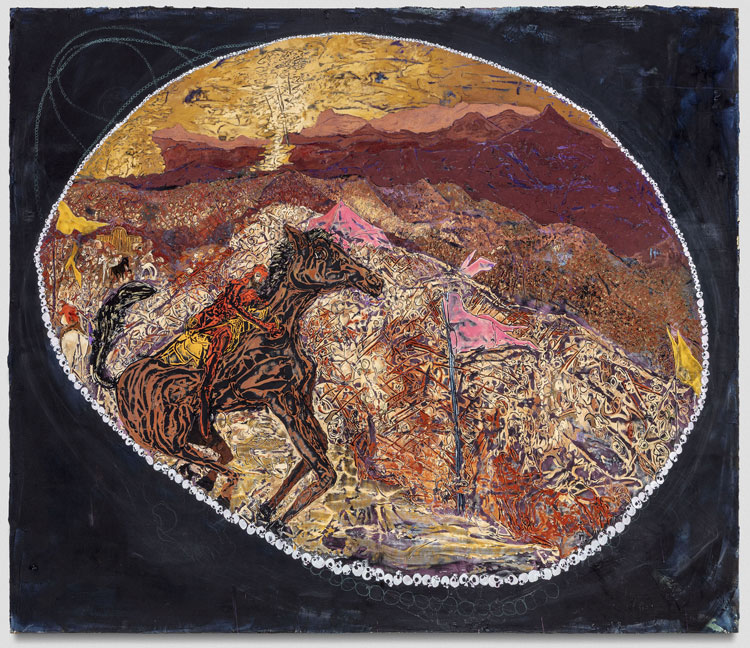 Kyle Kilty. Mars, 2017-19. Acrylic and oil on canvas, 72 × 84 in (182.9 × 213.4 cm). Courtesy of the artist.

Painting, in keeping with the show's multidisciplinary focus, is largely given over to textured canvases, as with Mars (2007-19), Kyle Kilty's parabolic, densely webbed battlefield strewn with corpses, a faltering horse and flags still proudly waving. Notable exceptions are two striking portrayals of work and home by the Cambodian American Tidawhitney Lek that belie a violence and despair even a security gate and white picket fence can't keep out.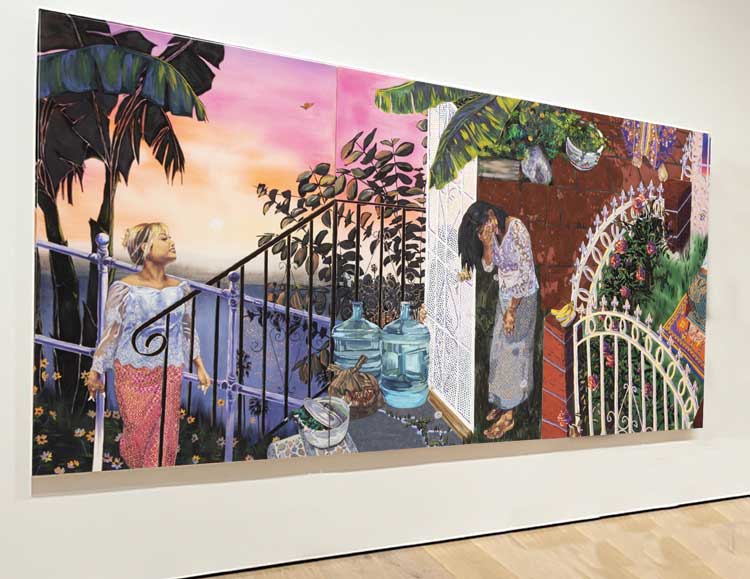 Tidawhitney Lek. Relatives, 2022. Acrylic and oil on canvas, 72 x 144 in (182.9 × 365.8 cm). Photo: Jill Spalding.

Most poetic are two small paintings by Paige Jiyoung Moon (Rose Bowl Loop, 2023) and (Towards LA, 2021), showing people strolling alongside a golf course against a background of the San Gabriel Mountains and traffic winding down the Pacific Coast Highway. Seemingly rendered with a one-bristle brush, they are as intimate yet distant as scenes viewed from a balcony window.
The show's primary focus, however, remains craft, materials worked to communicate beyond language. Scorched wood (Emmanuel Louisnord Desir), wired steel (Chiffon Thomas) and patched leather (Esteban Ramón Pérez) lament and protest the destruction of a planet in peril. Masterful ceramics that raise utilitarian materials to fine art include four by Luis Bermudez suggestive of Mesoamerican altars purposed to collect the blood from ripped out human hearts, and a grouping of ferocious blackened clay-mounted wall reliefs extolling figures of West African resistance by the Yoruba artist Akinsanya Kambon (better known as Mark Teemer of Black Panther fame).

Ishi Glinsky. Inertia - Warn the Animals, 2023, installation view, Made in L.A. 2023: Acts of Living, Hammer Museum. Photo: Jill Spalding.

Most marking is the focus on antecedence, on art that folds the zeitgeist issues of diaspora and racial disparity into the larger one of what made or unmade us, and art that derives its emotional power from the memory and materials of ancient cultural practice. Standouts are the mesmerising abstract geometries evoking the vivid Northern Plains landscapes of her ancestors that Teresa Baker, a member of the Three Affiliated Tribes, composed from sections of synthetic spray-painted turf interjected with yarn, twigs and buckskin; Maria Maea's lilting "future ancestors", fashioned from seeds, leaves and corn cobs that defy collecting; and a massive ghoulish totemic head (indigenous shaman or pop icon of the Scream series?) constructed by Ishi Glinsky of the Tohono O'odham Nation out of synthetic turquoise tiles, cowbells strung into dreadlocks, a sculpted salamander, and butterflies fluttering above the exhortation: "Your ancestors support your outrage and revolt."

Abstract geometry by Teresa Baker. Photo: Jill Spalding.

At least a third of the work shown involves family, neighbourhood and the larger community. Touching, Michael Alvarez's floated documentations of a working-class day composed of graphite, oil, spray paint, local detritus and subtly superimposed family photographs. Tour de force, Vincent Enrique Hernandez's Talk of the Valley, which documents his drive, in a car lettered Valley Tours, down America's highways, documenting life along them with banal post-Ruscha photographs of gas stations, motels, diners, hiking trails, warehouses and – the biennial's core message – community centres.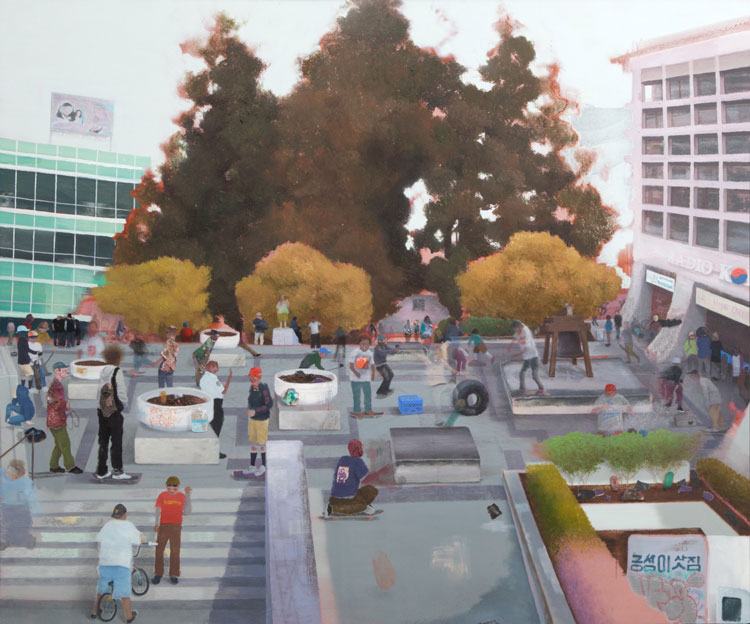 Michael Alvarez. Gnarmageddon (Ode to JKwon), 2016. Oil, spray paint, oil pastel, pencil, and collage on panel, 60 x 72 in (152.4 x 182.9 cm). Courtesy of Rodger Gastman.

Still, there are weaknesses. Ryan Preciado's indigenous-styled handmade furnishings seem to have wandered in from a design fair. (For furnishings that are high art, head up to the Friedman Benda gallery to view the cabinets that Hamed Ouattara wrought out of oil cans into dazzling geometrics).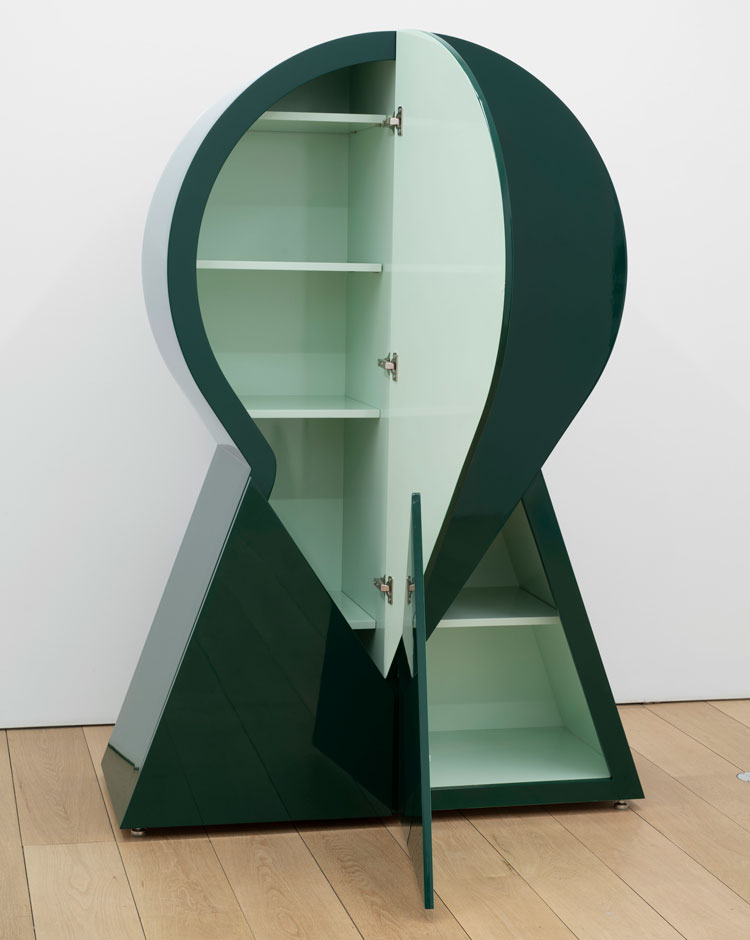 Ryan Preciado. Pope Cabinet, 2021. MDF, plywood with bench, auto paint, 70 × 48 5/8 × 20 5/8 in (177.8 × 123.5 × 52.4 cm). Collection of Christina Heekyung Kang.

That four female artists aged over 70 are included speaks as much to what is trending as to what each brings to the table. Yes, Pippa Garner's gender-probing action-selfies and wacky lettered parodies of consumerism ("I'd rather butter myself than better myself") are still relevant; Teresa Tolliver's whimsical wired ceramic riffs on Voodoo African doll works are enchanting; and self-taught octogenarian Jessie Homer French's faux-primitive takes on threatened animal kingdoms are beguiling, but none moves the needle. And better to have shown fewer of Nancy Evans's mystical abstractions after Hilma af Klint's dazzlers claimed the field.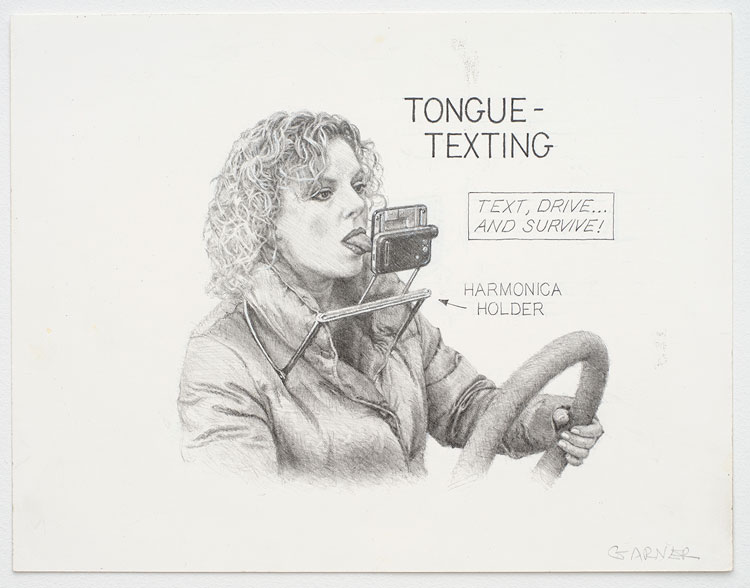 Pippa Garner. Tongue-Texting, n.d. Pencil on paper, 9 x 11 ½ in. (22.9 x 29.2 cm). Courtesy of the artist and STARS, Los Angeles.

Questionable, too, the sprawling installation by the Los Angeles Contemporary Archive, essentially a conceptual work: although laudable for its walk-in acceptance of all artists' contributions, it was sparsely attended, less for its off-grid location than that, left unopened, its stacks of boxes holding the ephemera – bills, spreadsheets, scribbled notes and discarded sketches that fill artists' lives – remain largely unviewable.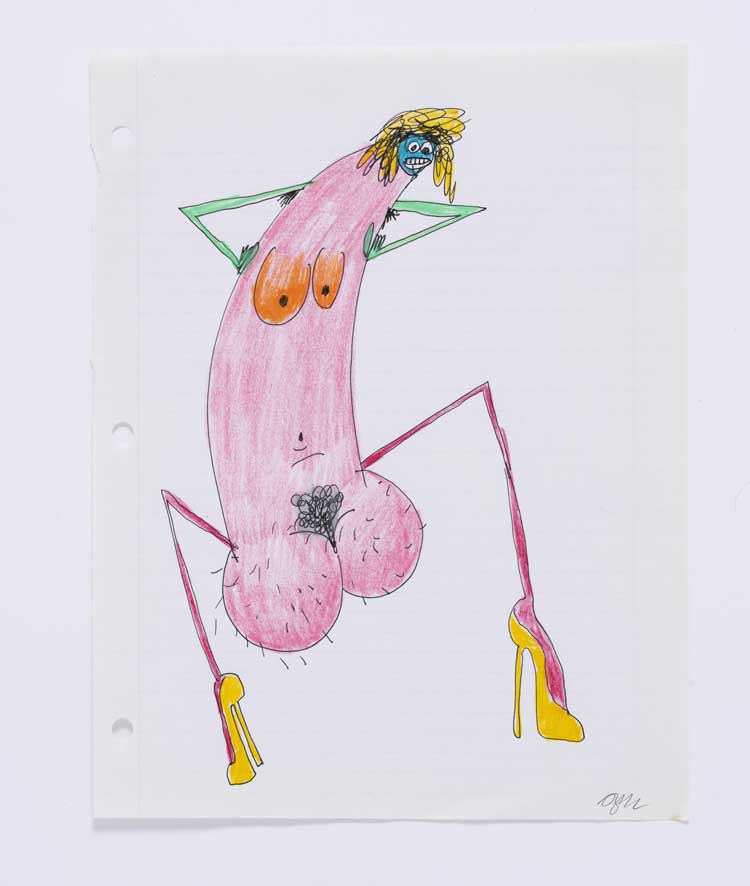 Jibz Cameron. Me, 2021. Coloured pencil and ink on paper, 11 × 8 1/2 in. (27.9 × 21.6 cm). Image courtesy of the artist.

And I wonder whether artists who "investigate the visual material of gender" still speak to an era that is moving on from categorisation. More specifically, Jibz Cameron's in-your-face queer send-ups of white feminism, Victor Estrada's "dick and balls" self-portraits, and Joey Terrill's Aids-fuelled Chicano cartoon confessionals.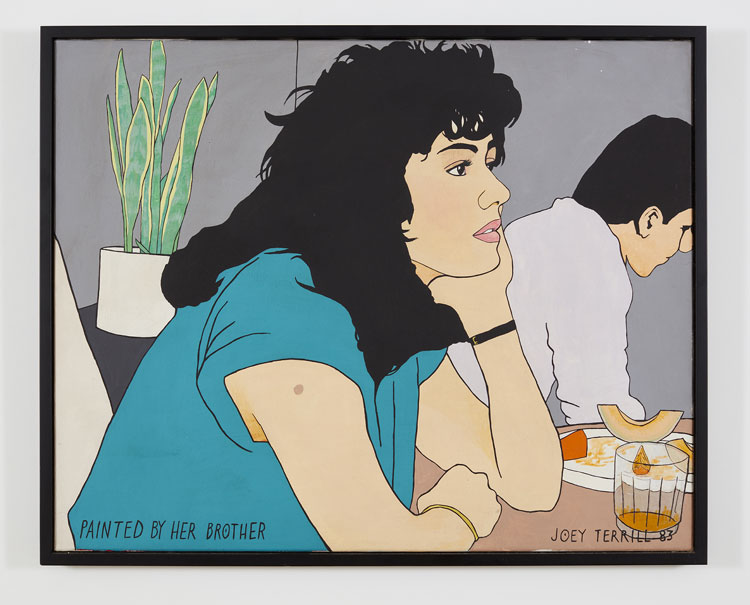 Joey Terrill. Painted by Her Brother, 1983. Acrylic on canvas. 25 ¼ x 31 ¼ in (64.1 x 79.4 cm). Private Collection.

Small caveats, though, given this biennial's overarching achievement, best visualised by Dominique Moody's outside installation of an RV titled N.O.M.A.D. (2015-23). Refitted as lodging, it served as home, studio and transport after circumstances had reduced her to living on the streets and is a tangible testimony to this edition's proposition that the artfully conveyed acts of living define the art we should be searching out now.