Julie Greve: 'I don't like shooting models. They are taught so quickly to pose'
The recent art-school graduate, who was selected to photograph this season's campaign for standout British fashion label JW Anderson, discusses her approach to commercial projects and the importance of forming a rapport with her subjects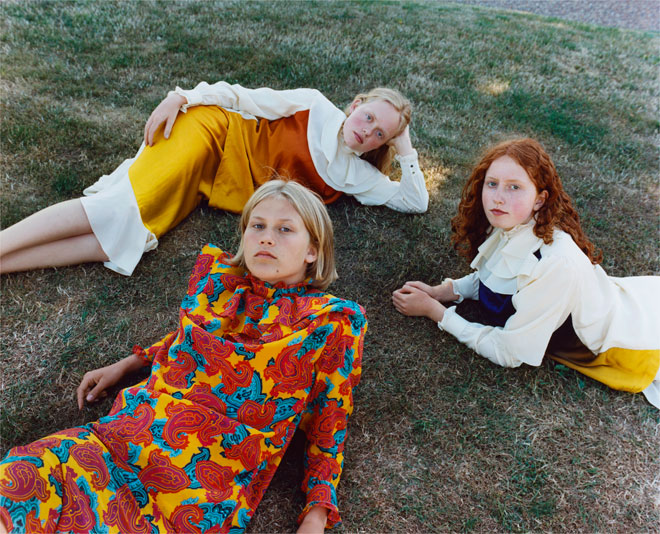 JW Anderson Autumn Winter 2018 campaign. Photograph courtesy of Julie Greve.
by ALLIE BISWAS
Julie Greve entered a major photography competition earlier this year after a friend casually mentioned it. Still a student, at the time completing her final year at Central Saint Martins, Greve ended up as one of three winners selected from more than 2,000 international applicants. The Your Picture/Our Future initiative was launched by fashion designer Jonathan Anderson, an avid art collector and patron, who founded the Loewe Craft Prize in 2016. Anderson, who directs his namesake label as well as the luxury Spanish house Loewe, wanted to provide emerging talents with an unprecedented opportunity to showcase their work: the prize was to shoot imagery for JW Anderson's autumn/winter campaign. Greve, along with Simons Finnerty from the US and Yelena Beletskaya from Russia, each created three contrasting visions for the brand. Their pictures are now being seen around the world, appearing in print and digital publications.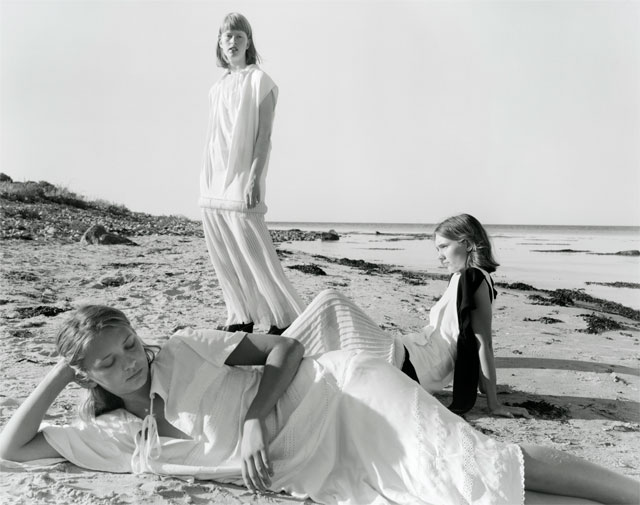 JW Anderson Autumn Winter 2018 campaign. Photograph courtesy of Julie Greve.

In her short career, Greve, who is based in London, has done editorial shoots for Man About Town magazine and Pringle, but her interest is less focused on commercial enterprises. The project to which she is currently dedicated is her ongoing portrait series, which she exhibited as part of her degree show in the summer. She takes pictures of young women, often still teenagers, who are depicted closeup against plain backdrops. Greve's approach is largely informed by the relationship she is able to create with her subjects, many of whom she finds in the rural part of Denmark where she grew up. Tonally, the images she produces border on documentary, but, as Greve explains: "It's not about showing the lives of my subjects, but rather the fiction that I want to create."
Allie Biswas: You received your BA earlier this year. How would you say your studies helped in terms of getting you to where you are with your work now?
Julie Greve: I didn't actually study photography: I come from a fashion course – fashion communication and promotion. Although as people always ask what that is, I tend to say I studied photography. I used to think I would become a stylist. In the first year, I changed my mind. Some people have these very romantic stories: "I took my first photograph and the sound of the camera made me fall in love with photography", or: "I started taking pictures when I was six years old." For me, it was really slow. For my placement, in the third year of college, I was at Man About Town. I took some pictures for the magazine. Afterwards, people said to me, you must be so proud to have your photographs published in a magazine. But I didn't like them that much. After that, I thought, OK, I'm going to take some time off and focus on what I do like. Sometimes you get lost in what other people think you should do or the idea of success. I realised that I didn't want to work at a magazine, so I went to New York for three months and took some courses at the International Center of Photography, including learning how to print and take large-format pictures. I started to focus on what I wanted to do. I also assisted a fashion photographer during that time.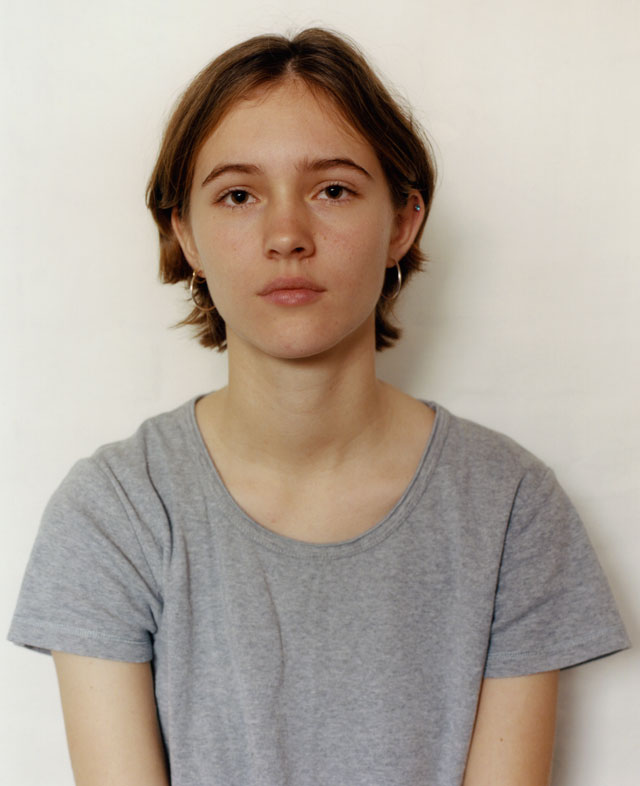 Emma, 2017. Photograph courtesy of Julie Greve.

AB: Did these experiences in the fashion industry prepare you for the campaign you shot for JW Anderson?
JG: It's interesting because JW Anderson gave me complete freedom to do what I wanted. Because I had been shooting a lot in Denmark, where I'm from, I thought to do the shoot there. It was easier for me to be there, in terms of getting around and so on. I picked the girls myself. A lot of them I have shot before, so I knew them already and how they work. They are all Danish. I find them on Instagram or I see them on the street. Just normal girls. I don't like shooting models. They are taught so quickly to pose.
AB: Do you feel as though you end up with an image that you think is artificial in some respect?
JG: I think so. I do a lot of portraits and I ask the people I photograph to be natural. Although I appreciate that is sometimes actually harder than if somebody tells you what to do.
AB: These portraits of young women that you are referring to formed part of your graduation project earlier this year. How did this series evolve?
JG: Often at art school you ask strangers to sit for you, but they are still strangers at your school – different from complete strangers. At the beginning, it was also a mix of friends and family. I realised that the pictures were good because the subjects had this anticipation about what the photograph would look like. It was really about what the person in front of the camera felt. I was often shooting these portraits in interior spaces, but then I started to focus more on the girls themselves, taking the interior setting out of the frame. A house, for example, implies something about the girl. Their bedroom says a lot about them. When you are outside, I think it is more that the girls are in their own world, and it is less specifically personal. Everyone knows what it's like to sit on a bench, for instance.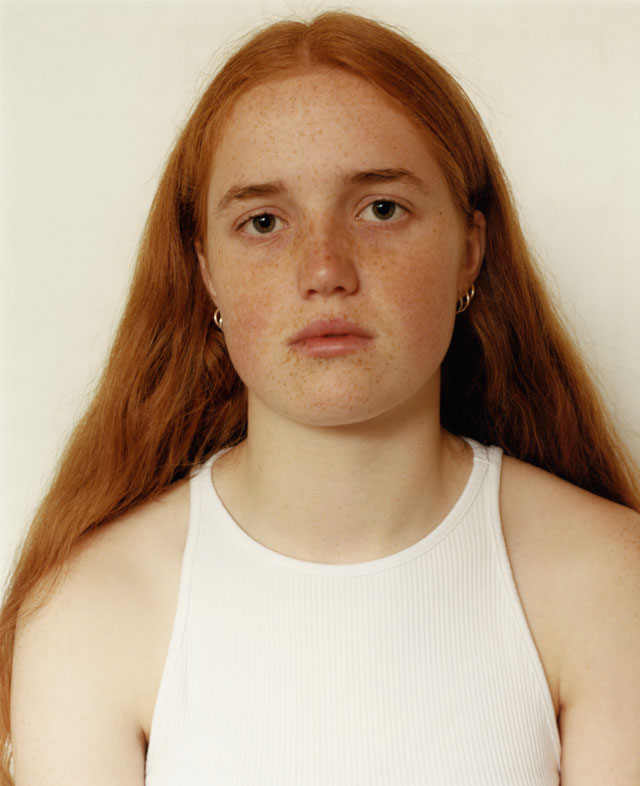 Martine, 2017. Photograph courtesy of Julie Greve.

AB: Is the intention to create a documentary image? You mentioned that you ask your subjects to be natural, but presumably some direction on your part is involved?
JG: It's a mixture of planning something and being spontaneous. If you have something in mind, you often don't get the picture. It's not about showing the lives of my subjects, but rather the fiction that I want to create. Compared to a picture of someone doing something – when there is this stillness and introspection, you tend to think, what is she thinking? There's a projected narrative that you can make yourself. There is a depth to the picture. I think this also comes back to me only using daylight, which means that only a very slow shutter speed can be used.
AB: In terms of the girls you choose to photograph, do you tend to be attracted to a certain type? Do you think there is a "look" that interests you?
JG: This sounds like a cliche, but in certain ways I think there's always a kind of recognition – seeing myself in these girls. But it's unconscious, and just very intuitive. I see someone and think there is potential. I do prefer to see them in real life, rather than Instagram, because that way you are able to get a real sense of them. I think that is what is missing from a lot of fashion photography – there is this kind of personification, rather than a real interest in the person being photographed.
AB: Having a rapport with your subjects is important to you.
JG: Yes, but I don't want to be intrusive – to ask them too much about themselves. As I work with the same girls a lot, I get to know them through that process, which I like. And it's important to me that they are having a good time, and keen to participate. I want it to be a really positive experience for everyone involved in the shoot. I also think that when I do the more staged pictures, like the JW Anderson campaign, I do need to know the models to some extent, to make the picture look more organic.
AB: Winning the campaign provided an opportunity to work on an extremely high-profile commercial project. Do you see yourself continuing to seek out these kinds of initiatives?
JG: Being selected definitely gave me a boost, in terms of people looking at my work and seeking me out. I'm grateful for that. Following graduation, a lot of my classmates wanted to sign up straightaway with an agency. But I think it's very easy to drain the way you are working. Putting your work into a fashion context, and doing it over and over again – it gets boring.