Giorgio Armani: A Retrospective
Burlington Gardens, The Royal Academy of Arts, London.
18 October 2003 - 15 February 2004
The question posed by numerous critics in response to Giorgio Armani: A Retrospective has been, 'is it art?' - and, if not, then what is it doing at the Royal Academy of Arts? In the newly opened space at Burlington Gardens, Armani is sumptuous and grand. The gallery, acquired by the Royal Academy in January 2001, has been brought to life by this current exhibition organised by the Solomon R. Guggenheim Foundation, New York and due to travel on to Rome, Tokyo and Los Angeles. It is sponsored by Mercedes-Benz.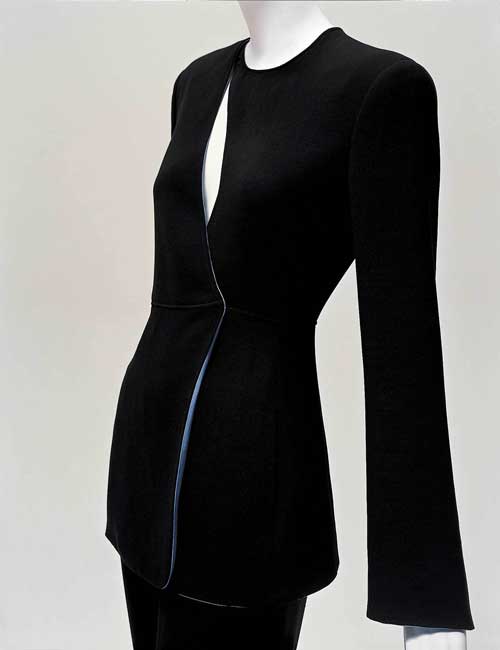 Woman's trouser suit (detail), fall/winter 1999-2000. Photo: David Heald

Burlington Gardens is directly behind the Royal Academy in Piccadilly and was previously used by the British Museum to house the Museum of Mankind. These rooms have been opened up and a continuous circuit of exhibition spaces have been created with the construction of a bridge over the mezzanine gallery. In front of the perimeter windows, five metre high screens covered with fabric ceilings have been erected to provide a minimalist backdrop for this dazzling collection of over 400 Armani garments. The entrance hall and large stairwell have been painted white, accentuating the decorative plasterwork. Within the dramatically cast space, the acclaimed Artist and Theatre Director Robert Wilson has created a dramatic piece of installation for Armani's work. Architectural elements, dramatic lighting, music and hundreds of mannequins wearing Armani gowns, custom-made outfits for the rich and famous as well as scores of outfits previously seen in Armani's high street boutiques.
If one enters this experience unaware that an artist/designer of repute was responsible for the installation, one is struck not so much by 'is it art?' but by the observation that, if a curator is convincing enough in the presentation of work, as viewers we have little choice but to accept that it is art. One feels coerced by the spin, the glamour, the glitz. The presentation, like packaging, overwhelms. Individual dresses, exquisitely created, get lost in the crowd of headless mannequins; it is a surreal and not entirely pleasant experience. The lighting is often too theatrical, making it extremely difficult to examine a single garment or group of pieces properly. There is no natural source of light in the Burlington Galleries and this seems to be the main problem. Indeed the dramatic dark spaces are cavernous and spooky, the exits are hard to find and it is difficult to go from one part of the exhibition to another. Curator Robert Wilson's description of his collaboration, however, reveals the absolute integrity of the project:
When designing the Giorgio Armani exhibition for the previous venues, I had to take into consideration the architecture of Frank Lloyd Wright, Frank Gehry and Mies van der Rohe. Within these spaces I have always tried to make use of, or control, the natural light supply. At the RA's venue in Burlington Gardens, I am working with a space, which is completely enclosed, with no natural light. In order to create a sense of light I have used, in addition to artificial sources, the concept of rays created with threads of different materials.

In 1973, I produced a 12-hour theatre work 'The Life and Times of Joseph Stalin'. In one scene entitled 'Temple of Light' there were golden rays of threads spanning the set from the top right to bottom left of the stage. I have used this idea throughout the Giorgio Armani exhibition, to lead visitors through the various narratives of the collection - from bright red lacquer to steel, from gold to white to black - and to create visual unity within the different rooms of the exhibition.
One cannot help feeling that had the exhibition not been dogged by a defensive attitude regarding art versus design, haute couture versus commercialism, a simpler and more accessible exhibition might have resulted. It is inevitable that this Armani retrospective is compared with the Versace exhibition held a year ago at the Victoria and Albert Museum (and reviewed here by Studio International). But whereas the Versace was glitzy and fabulous, as an exhibition the Armani does not succeed to the same extent, despite the fact that he is one of the most influential and iconic designers since the early 1980s. Armani has been universally recognised as having changed the rules of fashion and for having created a new vision of the modern dress.
Armani's relaxed designs are the product of his desire to remove excess ornamentation from clothing. The exhibition explores Armani's relationship with the entertainment industry, both in designs for films such as American Gigolo, to a series of dramatic and extraordinary evening gowns for Oscar ceremonies.
Born in 1934 near Milan, Giorgio Armani attended a local school and developed a love of theatre and film. After a brief spell at medical school, in 1957 he took a job in a department store. In 1964, with no formal training he designed a menswear line for Nino Cerruti and soon after became a freelance designer and consultant. He got himself noticed for the way in which he used materials such as expensive or exclusive fabrics for everyday clothing. In 1975 Armani and his partner Sergio Galeotti established their own company. His jacket designs, without lining or traditional structure, created a sensation. They departed from the restrictive formality of most men's suits and yet they did not abandon sartorial elegance in the process. Women's clothing too was emancipated by Armani, from pretty or classic styles to a form of power dressing that reflected the economic boom of the 1980s and women's confident new position in the boardroom (and beyond). Armani did not relinquish sensuality, however, using widened lapels, padded shoulders and elegant wrapped waistlines that were reminiscent of the 1940s.
Armani approached celebrities to wear his clothes - including many Hollywood stars to show his outfits at the Academy Awards. Armani has absorbed design elements from African and Eastern design: minimalist stitching and styling from kaftan-like dresses, and beading and embroidery from China, graphic elements of the Japanese kimono. There are allusions to ethnic sashes or cummerbunds and to an androgynous understatement in many of the garments. Perhaps less typically Armani - certainly from the boutique image - are the ultra feminine garments inspired by lingerie, using delicate, flamboyant florals and dramatic colours.
The exhibition leaves one in no doubt as to Armani's very great talent, vision and achievement. It is possible to establish an iconography in his work, for while neutral colours and black and white are Armani's trademark, he uses colour in a subtle and intelligent manner, absorbing a knowledge of the work of artists such as Ad Reinhardt (1913-1967) and Mark Rothko (1903-1970). Armani's works are sensual, informed and elegant.