Hiroshi Sugimoto
This survey spanning 50 years of the celebrated photographer's works sees him bringing Madame Tussauds waxworks and stuffed animals back to life, freezing scenes in time and recreating seascapes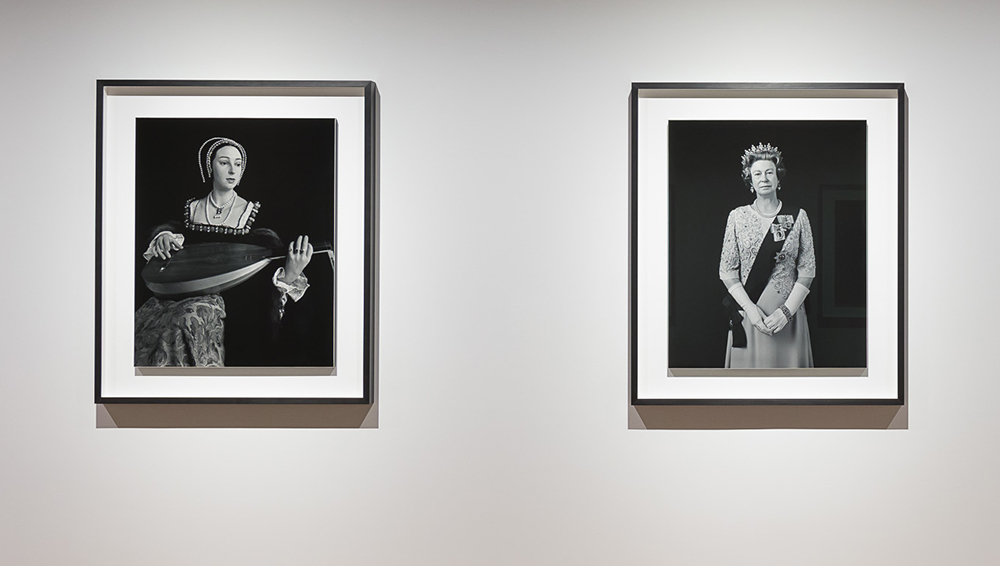 Hiroshi Sugimoto, Portraits series. Gelatin silver prints. Installation view. Photo: Mark Blower. Courtesy the artist and the Hayward Gallery.
Hayward Gallery, London
11 October 2023 – 7 January 2024
by VERONICA SIMPSON
Given the extraordinary rigour and range of his experimentation and the power and poetry of his output, it is remarkable that this Hayward retrospective is the first UK survey of Hiroshi Sugimoto (b1948, Tokyo) and the largest international one to date.
Scattered around the Hayward's austere concrete and terrazzo galleries is a mostly monochrome feast of work from the last 50 years, with all his major photographic series represented. The show, according to the Hayward, "highlights the artist's philosophical and yet playful inquiry into our understanding of time and memory and the ambiguous character of photography as a medium suited to both documentation and invention". It certainly does that.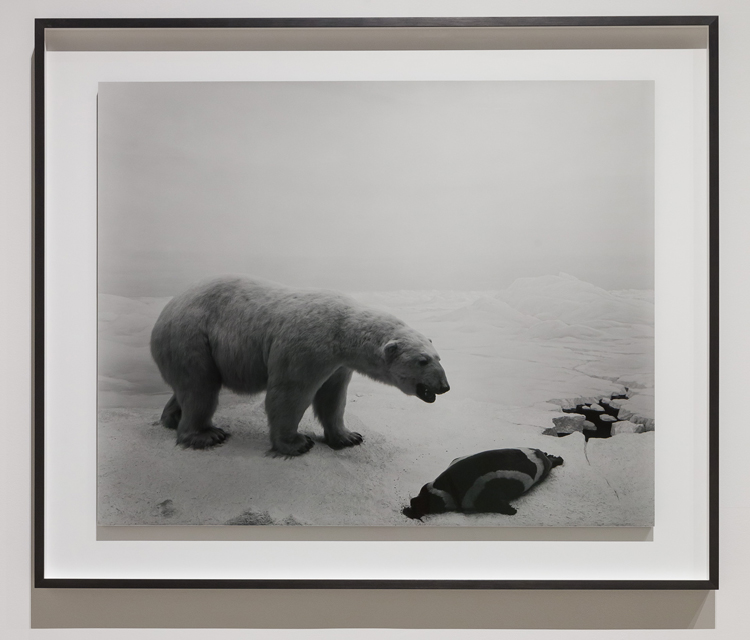 Hiroshi Sugimoto, Polar Bear, 1976. Silver gelatin print. Installation view. Photo: Mark Blower. Courtesy the artist and the Hayward Gallery.

We start in 1970s New York, when Sugimoto, newly arrived from Japan, becomes mesmerised by the stagey, Victorian dioramas at the American Natural History Museum – wild animals stuffed and posed in naturalistic groupings against artificial, painted backdrops. Here, he is inspired to create his first work of translation between the real and the fictional: Polar Bear (1976). By setting up in the museum at night, using a large-format camera, carefully controlled lighting, black-and-white film and a 20-minute exposure, Sugimoto was able to capture the bear's fur and features in pin-sharp detail while blurring the background, to render the scene completely realistic. Sugimoto has said: "My life as an artist began the moment I saw I had succeeded in bringing the bear back to life on film." That photo of the bear is joined by subsequent, similarly atmospheric and seemingly plausible tableaux, including wolves, a manatee (in a convincing aquatic setting) and vultures crowding menacingly around fresh kill (Hyena-Jackal-Vulture, 1976). The latter, he said, reminded him of "the atmosphere of the New York art scene".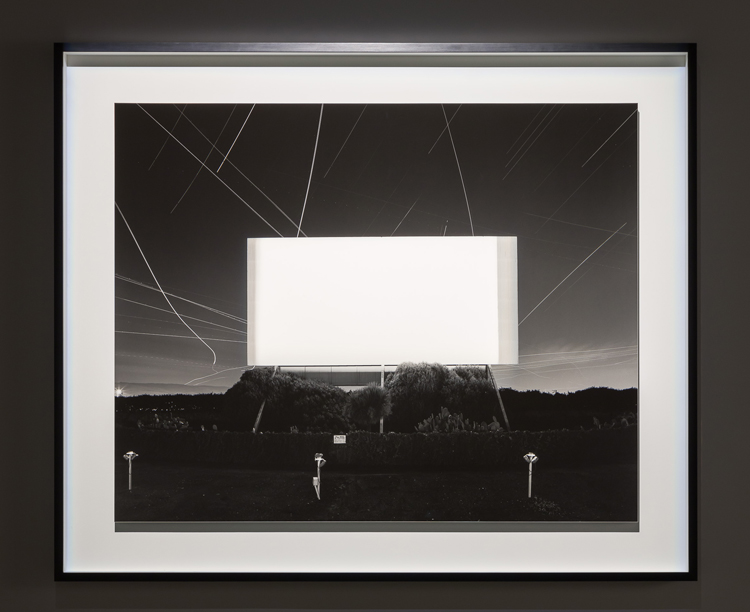 Hiroshi Sugimoto, Union City Drive In, 1993. Gelatin silver print. Installation view. Photo: Mark Blower. Courtesy the artist and the Hayward Gallery.

Heading up the ramp to the mezzanine gallery, we are treated to possibly my favourite series, one inspired by the magic of the movies. Sugimoto was inspired to set up his camera in an empty New York cinema to see what happens if you capture an entire film reel in one shot. He was so pleased with the result that he repeated the exercise many times in subsequent decades, travelling around the US and Europe recreating that event in abandoned cinemas, theatres (where he had to bring his own projector and lighting rig) and drive-ins. With extraordinary skill, he captures the dark, grainy, sometimes ruined decorative details of these once opulent performance spaces along with the dazzling, almost extraterrestrial glow of light across the screen. You might think he would tire of the experiment, given that you can see nothing of the two-hour movie (comprising 172,800 still images, as Sugimoto calculated) on the blank, luminous oblong at each photograph's centre. But the atmosphere of each venue is so vivid and present, it is as if time has been frozen in this two-hour "instant", while illuminating the building's history (some still filled with chandeliers, frescoes and gilt-edged balconies) as well as its current status. A time machine indeed. Such effects were only possible because of Sugimoto's care and craftsmanship; he used the finest gelatin silver paper and mixed his own developer solution (from a recipe devised by Ansel Adams).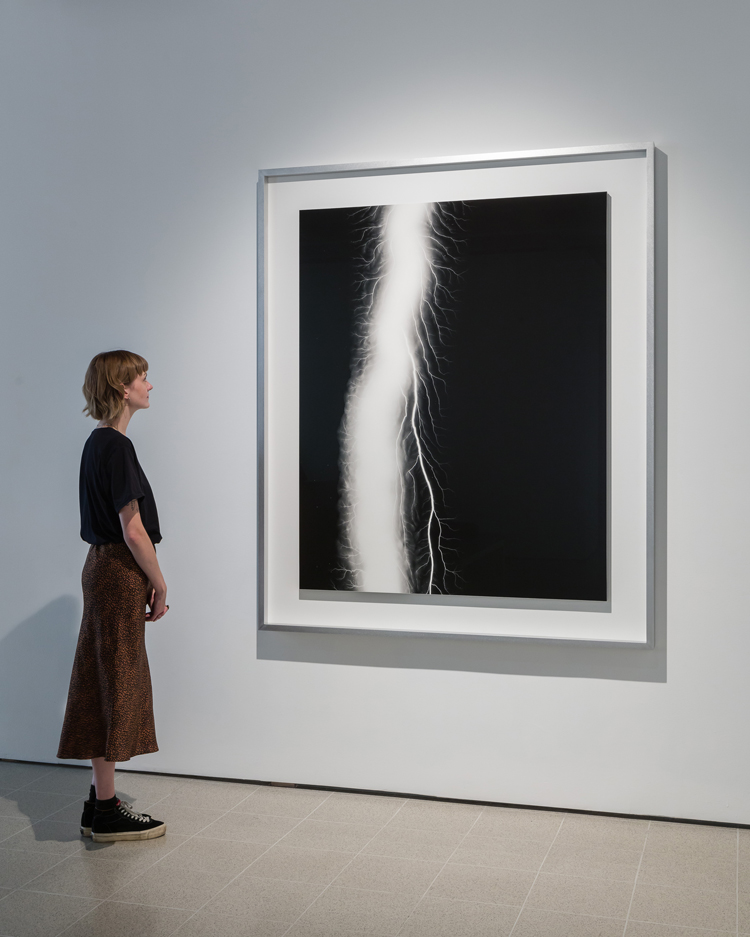 Hiroshi Sugimoto, Lightning Fields 163, 2009. Gelatin silver print. Installation view. Photo: Mark Blower. Courtesy the artist and the Hayward Gallery.

Turning out of the Hayward's mezzanine to wind up the curving concrete stairs, a different experiment with light is revealed, in three of his Lightning Fields prints in the stairwell, which then continue in the first upstairs gallery. This series evolved from his accidentally releasing an electric charge as he processed his photos. Intrigued by the way these sparks "ruined" his prints, he acquired a Van de Graaff generator to release electricity on to photosensitive paper. These flashes of vital energy writhe and arc, reminiscent of nerve pathways as much as trees struck by lightning.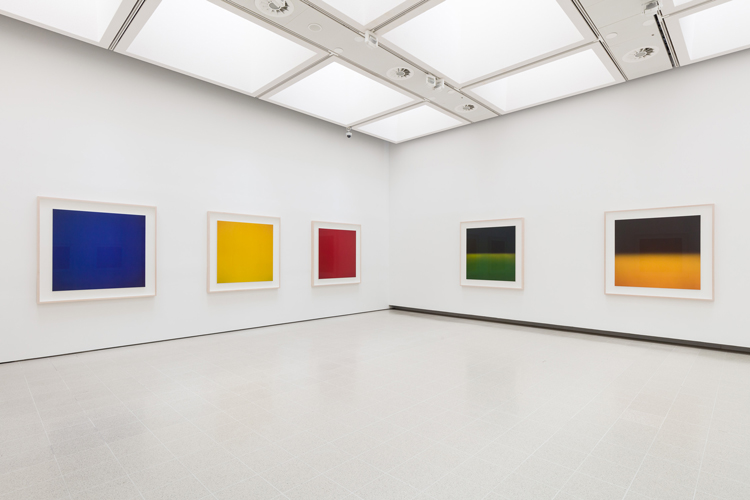 Hiroshi Sugimoto, Opticks series. Chromogenic prints. Installation view. Photo: Mark Blower. Courtesy the artist and the Hayward Gallery.

There is one gallery where he breaks gloriously free of his self-imposed monochrome straitjacket: the far upstairs gallery, where he shows his Opticks (2018 – ongoing). Inspired by Newton's research into the properties of light, he captured in closeup the colours displayed through a glass prism and magnified them (for once using digital technology rather than analogue) to create large, saturated colourfields. Some shift in tone mid-section, others are flecked with different hues at their edges; they recall the meditative works of Mark Rothko and seem to exist in a dimension beyond their seemingly flat surfaces.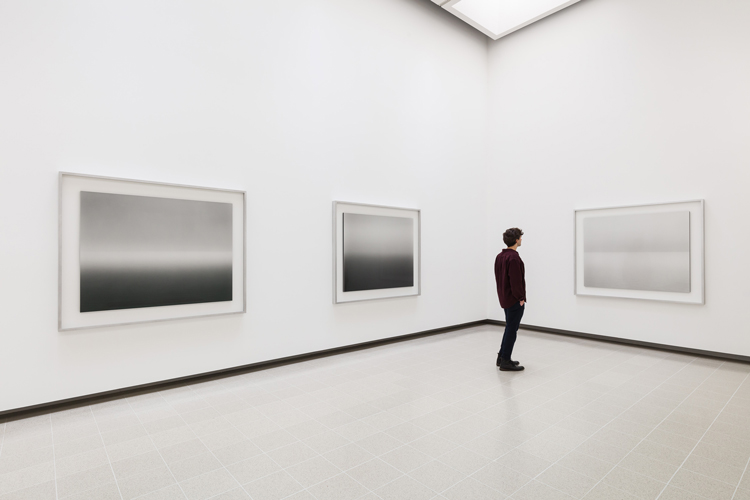 Hiroshi Sugimoto, Seascapes series. Gelatin silver prints. Installation view. Photo: Mark Blower. Courtesy the artist and the Hayward Gallery.

Sugimoto is most famous, perhaps, for his Seascapes, a series begun in the 80s, and these are provided in abundance in the upstairs rooms. At dawn or dusk, he would place a large box camera high on a cliff, facing out to sea, positioning the lens so that the horizon line appears at the halfway point. Though half-sea, half-sky, the images are rarely recognisable as such. More often they are dominated by dense, graphite greys or silvery whites. Yet, despite their long exposure, if you look up close you will almost always see the crease of a wave, the ripple of tides under the surface. The experience is visceral, mystical, unbalancing even. Peering into a particularly opaque, almost entirely grey Seascape, I nearly fell into it.
One more upstairs room is dedicated to a series of 49 photos he took in a 12th-century Buddhist temple in Kyoto. This shadowy temple is crowded with 1,001 carved and gilded figures representing Kannon, the bodhisattva of compassion. Only a handful of these photos – each taken at the precise moment when the sun penetrates the temple and lights up the gilded detailing - are shown here, but the faces of these multitudes of identical figurines seem strangely, eerily, individual.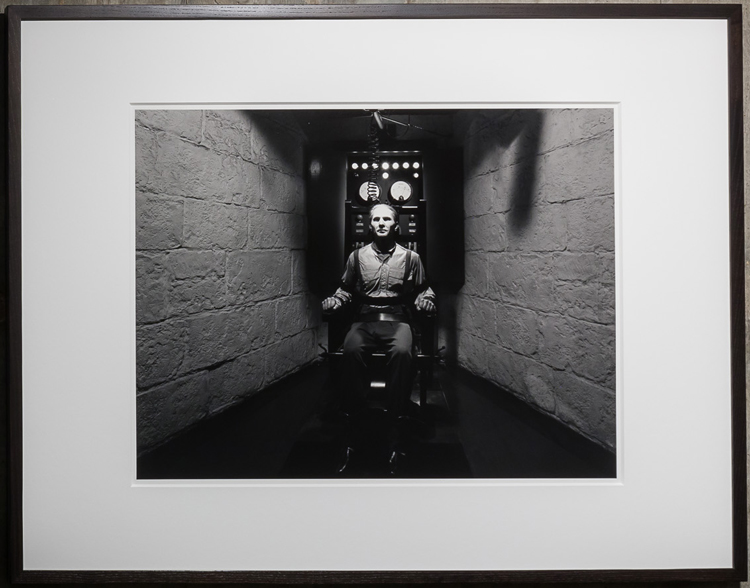 Hiroshi Sugimoto, The Chamber of Horrors series. Gelatin silver print. Installation view. Photo: Mark Blower. Courtesy the artist and the Hayward Gallery.

Down to the rear galleries on the ground floor, as well as a rare display in the lower-ground floor, we have a series of very strange portraits. Sugimoto was fascinated by the lifelike features of the wax dummies at Madame Tussauds, and decided to make them even more lifelike by placing them against dark backgrounds and lighting the skin so that it appears to glow; creepy and disturbingly lifelike. On the lower ground floor are some of the more macabre, mass-murderer wax figures (captioned "chamber of horrors", it is not for the fainthearted).
More riveting by far are the architectural photos as well as the geometric experiments further back in the ground floor galleries. Capturing some of the world's most famous buildings, Sugimoto's blurred treatment turns them into ephemeral, mist-shrouded things of light and shade. Even the heaviest creations of concrete and glass can appear to be paper light, made of tissue and tinsel – such as his Chrysler building.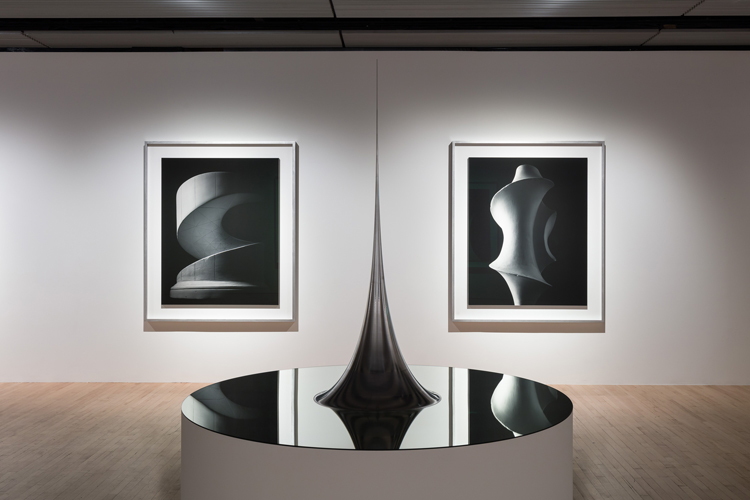 Hiroshi Sugimoto, Conceptual Forms and Mathematical Model 006. Gelatin silver prints, aluminium and steel. Installation view. Photo: Mark Blower. Courtesy the artist and the Hayward Gallery.

Situated in the gallery beyond his buildings are some of Sugimoto's mathematical models. Stemming from a 2005 Conceptual Forms series (also represented here), he was inspired to make his own mathematical models in stainless steel and aluminium, using high-tech computer-controlled milling machines. Surface of Revolution with Constant Negative Curvature (2006) is an astonishing shape, a circular spill of steel rising to the sharpest, elongated point. He thought it reminiscent of Mount Fuji, but with its peak continuing upwards to infinity.
Given the ambition and lasting allure of Sugimoto's later forays into architecture and landscape design, it is strange that this work is overlooked in favour of the macabre waxwork photographs. But it is a timely show, full of marvels, celebrating a master of his art - and a reminder that the true art of photography does not lie in the verisimilitude or slick seductiveness of the image, but the imagination, technical knowhow and dedication of the person behind the lens.