Hew Locke – interview: 'A lot of my work has to do with the burden of history and … how history affects us today'
Hew Locke discusses monarchy, nationhood, bigotry, boats, Brexit and the seductive silliness of TV's historical dramas, before the opening of his show at the Ikon Gallery, Birmingham
Born in Edinburgh in 1959, Hew Locke was taken by his Guyanese/British parents to live in Guyana in 1966 – just before independence. "I saw a nation being born," he says. "I saw a flag being designed. I saw the money literally being designed." Small wonder that the icons, myths and individuals that come to represent a country's notion of nationhood have always fascinated him.
After returning to the UK to study fine art at Falmouth School of Art, he went to the Royal College of Art for his MA and has lived in London ever since. As an artist, his themes include the visual language of colonial and postcolonial power, which he explores with a keen eye for the visual and emotional resonances between ancient and current affairs.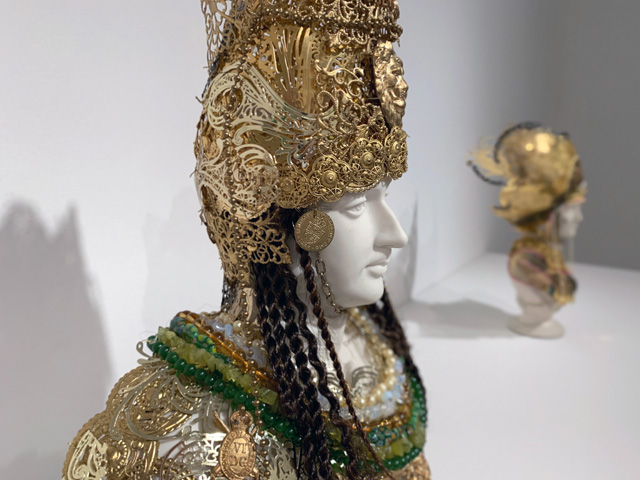 Hew Locke, Here's the Thing, installation view, Ikon Gallery, Birmingham, 2019. Photo: Martin Kennedy.

He has said: "If I wasn't an artist, I would be a historian." And it is through the careful, considered layering, collaging or sculpting of the trinkets, statues, costumes and military and royal paraphernalia that people see as representative of authority or aspiration, that he exposes what is going on above and below the surface. The pieces are always steeped in painstaking research, much of which, he says, is thanks to the input of his wife, the artist and studio curator Indra Khanna.
Here, Locke discusses pieces he has created – and hopes to create - for the new Ikon Birmingham show, plus many of his past highlights, including Sikandar, which was shortlisted for the fourth plinth in Trafalgar Square in 2010, plus a performance piece he was commissioned for at Tate's Turbine Hall, Give and Take (2014), as part of the Up Hill Down Hall event curated by Claire Tancons.

Hew Locke, The Jurors, 2015. Photo: Martin Kennedy.

The Jurors, Runnymede (2015), curated by Claire Doherty, is perhaps his most high-profile commission to date, the centrepiece of a celebration of the 800th anniversary of the Magna Carta: a circle of 12 bronze chairs, placed around an invisible table, each chair is richly layered with the stories of those who have stood up for a range of human rights issues. A fair few royals were in attendance at its opening, including Queen Elizabeth II, who clearly bears no grudge against Locke for the exuberant, voodoo-esque representations of her and her family he has created, often made up of plastic trinkets he has salvaged from pound stores and Brixton market. In 2017, Locke was one of the artists chosen as mentors for the Diaspora pavilion – encouraging the work of young artists whose pieces were shown alongside theirs – for the 57th Venice Biennale (2017).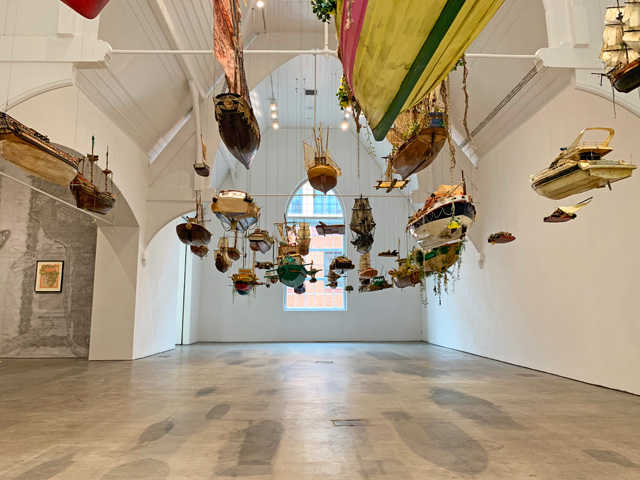 Hew Locke, Armada, installation view, Ikon Gallery, Birmingham, 2019. Photo: Martin Kennedy.

In 2000, Locke won both a Paul Hamlyn Award and the East International Award. He has had several solo exhibitions in the UK and US, and his work is in many international collections, including that of the Tate Gallery, the Metropolitan Museum of Art, New York, the V&A, the British Museum and the Henry Moore Institute.
Hew Locke: Here's The Thing
Ikon Gallery, Birmingham
8 March – 2 June 2019
Interview by VERONICA SIMPSON
Filmed by MARTIN KENNEDY