Harald Sohlberg: Painting Norway
Harald Sohlberg's paintings of Norwegian houses and snowy mountains are saturated with colour and mystery, making Dulwich Picture Gallery's exhibition of his work the perfect way to see out the winter months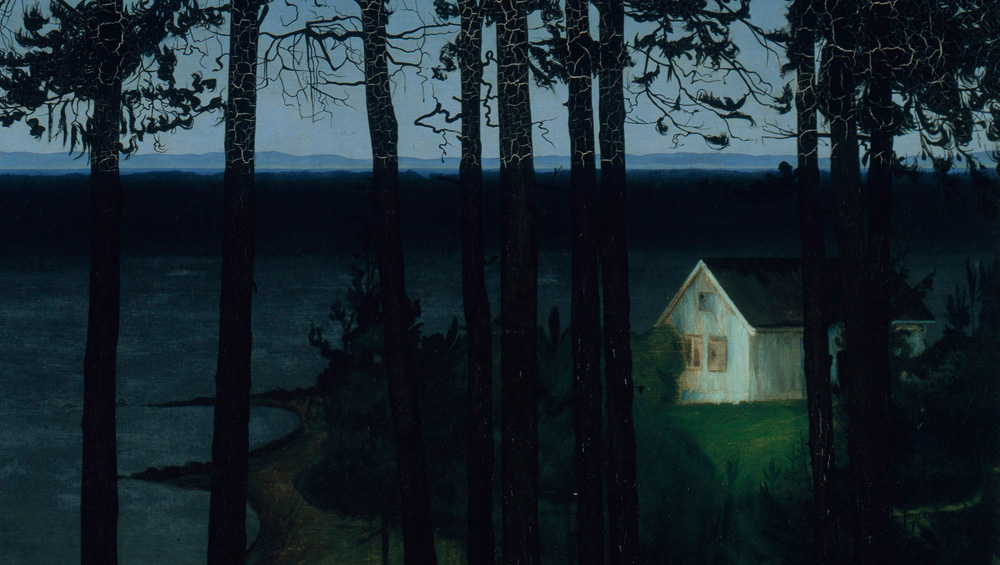 Harald Sohlberg. Fisherman's Cottage, 1906 (detail). Art Institute of Chicago, Gift of Edward Byron Smith.
Dulwich Picture Gallery, London
13 February – 2 June 2019
by EMILY SPICER
You might be unfamiliar with the name, but Harald Sohlberg (1869-1935) is one of Norway's most treasured artists. He was a painter of cold starry nights and unpopulated clapboard towns, who imbued his landscapes with a sense of the joyous and the melancholy and a symbolist's love of mystery. The Dulwich Picture Gallery specialises in bringing such painters to London audiences and it always does it so well.
This exhibition marks the 150-year anniversary of Sohlberg's birth in Oslo. He knew early in his life that he wanted to be a painter, but his father insisted that he first learned a craft, so he was apprenticed to the master scene painter Wilhelm Krogh. Sohlberg went on to study in Copenhagen and a great deal is made of his exposure to the work of Paul Gauguin at this time, but he insisted that his influences came from within., claiming inspiration from the hard, clear light of the north and the folklore of his native Norway.

Harald Sohlberg, Self-Portrait, 1896. Private collection.

The exhibition begins with his self-portrait of 1896. At 27, he is every bit the intense, moustachioed painter, with a gloomy landscape behind him and a serious frown on his face. At the same time, Edvard Munch, Sohlberg's friend and rival, produced a lithograph in which his own likeness floats against a black void, and it seems as though the two are competing for who can produce the most forbidding likeness. Nearby, Sohlberg's Fisherman's Cottage (1906) keeps up the sense of drama. A little white house beside the water glows with an ethereal, even eerie, blue-green light, behind a row of spindly pine trees that are silhouetted against a dimly lit sky. The water darkens to an inky blue towards the horizon, which is capped by a pale and distant mount range. It is full of atmosphere. The trees, with their hair-like curls, seem almost to have personality and stand guard, protecting the strange little home. Next to this painting hangs a mermaid – a popular 19th-century subject – rising out of the sea, a pale apparition with a blood-red halo. She is a siren, as beautiful and threatening as the landscape itself.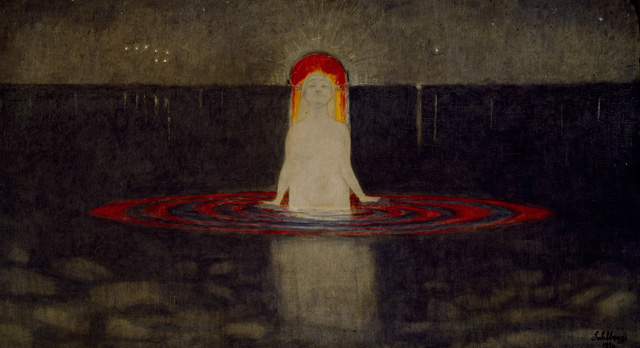 Harald Sohlberg. The Mermaid, 1896. Private collection.

In 1902, Sohlberg moved to the 17th-century copper mining town of Røros with his new wife, Lilli Hennum. He went intending to paint traditional workers against the setting of Norway's iconic red wooden buildings, but instead found a town undergoing 20th-century transformations. New roads lined with telegraph poles still awaiting their cables were carved into the surrounding landscape. In his melancholy The Country Road (1905), Sohlberg painted just this, with a track leading through a dark forest towards the bright blue mountains beyond. Nature dominates, but progress is coming.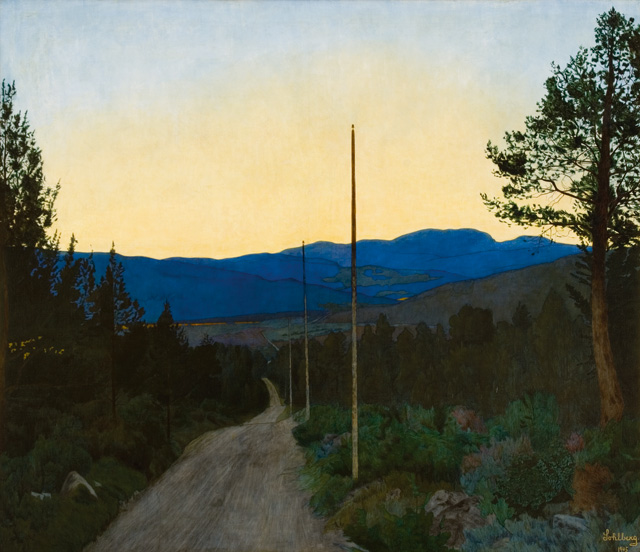 Harald Sohlberg. The Country Road, 1905. Private collection.

At this time, he also made detailed images of the streets of Røros, with snow creeping up the outsides of crooked houses lined up under oppressive skies. These scenes are empty of people – the characterful homes seem almost to take their place and this would become a common theme in his work. A building, tree or road stands in for humanity and the dwindling spirituality, or lack of humanness, of the modern age.

Harald Sohlberg. Winter Night in the Mountains, 1914. The National Museum of Art, Architecture and Design, Norway.

This exhibition culminates with Sohlberg's obsession with a single view that he first experienced while skiing in the Rondane mountains. "The longer I stood gazing at the scene," he wrote, "the more I seemed to feel what a solitary and pitiful atom I was in an endless universe … The scene was the grandest and most full of fantastic quiet that I have ever witnessed." The richest version (Sohlberg painted several) is considered to be Norway's national painting. It depicts a bright star shining between two glowing blue peaks, framed in the foreground by the silhouettes of twisted pines. At the highest point, a little white cross is etched into the mountainside. He claimed that the small crucifix was a coincidental mark formed from crevices in the rock, but it is so perfectly placed that it is hard to believe he didn't intend some religious, or spiritual comment by its inclusion. Here we have a modern Caspar David Friedrich, a Scandinavian neo-romantic.

Mariele Neucker. And Then The World Changed Colour: Breathing Yellow, 2019. Photo: Emily Spicer

Halfway through this exhibition, in the cool of the gallery's small mausoleum, is an installation by Mariele Neudecker, commissioned to complement Sohlberg's paintings. And Then the World Changed Colour: Breathing Yellow is the latest in her series of vitrine landscapes. A glass box contains an eerie pine forest, submerged in a jaundiced atmosphere, which changes as the solution inside settles. A low mist gradually falls and the light from the mausoleum's yellow windows alters the shadows of this strange, post-apocalyptic scene from one minute to the next. Neudecker's work, just like Sohlberg's, is indebted to Romanticism, but the clear, cool air that the Norwegian painter so celebrated has become polluted. Neudecker says her installations are not a comment on environmental issues, that she isn't a climate change artist. Still, captured in her haunting diorama, Sohlberg's fears of industrial progress seem realised to a nightmarish extent.