Reflections from Frieze Los Angeles 2022
From Betye Saar's recreation of her famous 1983 Los Angeles public mural to work shown by young, emerging galleries, Frieze Week sprinkled its magic over the city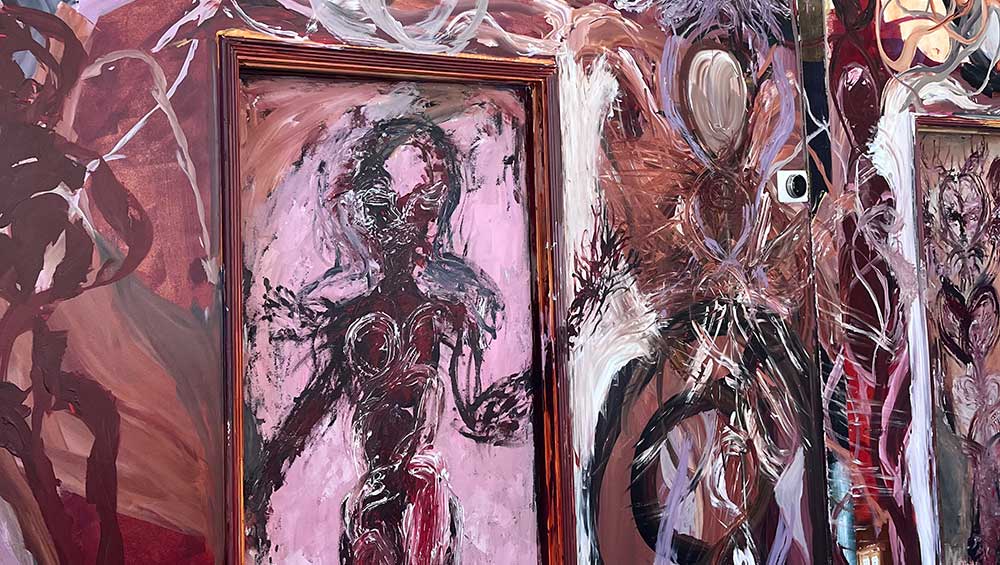 Samuel de Saboia in collaboration with jewellery design studio Alighieri. Mural, 2022. Photo: Christiana Spens.
Frieze Los Angeles
17-20 February 2022
by CHRISTIANA SPENS
In its third edition, under the fresh leadership of director Christine Messineo and in a new venue outside the Beverly Hilton hotel, Frieze Los Angeles was a whirlwind of the best new contemporary art, revealing, as ever, a vibrant and interconnected global scene. But what really stood out this Frieze Week were the grounded, dynamic and often moving collections shown by the LA galleries, revealing a deeper engagement with the spiritual and cultural state of the city and the art world that had set up camp here, under a particularly golden full moon.
In a section of the fair called Focus LA, curated by Amanda Hunt, a collection of young, emerging galleries was given the spotlight, from Bel Ami and In Lieu to the Baert Gallery and Parker Gallery. The Gattopardo Gallery showed work by Gabriel Madan, large-scale, vibrant canvases with an electric, neon palette, creating a free and expressive vision that offset Dirk Knibbe's sensual sculptures in sky-blue, yellow and off-white plastics. At Stanley's, the ethereal and monstrous sculptures of Amia Yokoyama showed sensuous figures who seemed to possess movement and charged spiritual energy, writhing and yet static. Recalling the ancient mythology of Medusa and the Sirens, this time they were luring in collectors.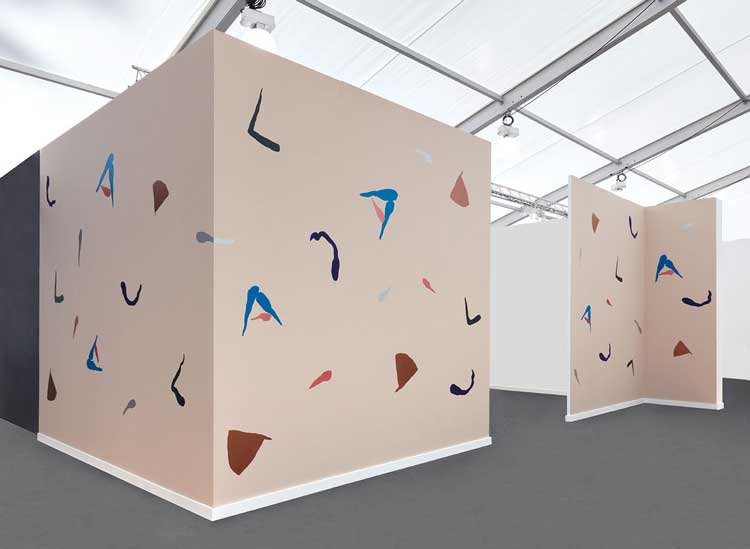 Betye Saar. L.A. Energy, 1983/2022. Mural, 35 x 153 ft (10.7 x 46.6 m) 1983 iteration, 12 x 36 ft (3.7 x 11 m) 2022 iteration. Courtesy of the Artist and Roberts Projects, Los Angeles.

Elsewhere in the fair, LA artists and galleries were well-represented, from Chris Burden's immense architectural sculpture, Dreamer's Folly (2010), which was on show at Gagosian's booth, creating a mesmerising vision with connected cast-iron gazebos draped with antique lace, to a recreation of Betye Saar's famous 1983 Los Angeles public mural, LA Energy, which was shown by Roberts Projects. Although Saar's original mural was destroyed in 1987, this new manifestation represented an engagement with the city's cultural history and its decidedly public foundation and relevance. Saar said she was excited about recreating it, adding: "The colours and shapes of the original mural were intended to showcase the vitality and spirit of the city of LA and my hope is that this iteration, 39 years later, will bring that same feeling of joy and energy to those who visit Frieze." Certainly, it was an inspiring and exciting addition to the fair that makes the past present and adds a sense of identity that is grounded in key artists and the mythologies they help to keep alive.
On this note, Tanya Aguiñiga, the founder of Art Made Between Opposite Sides, organised BIPOC (Black, Indigenous and People of Colour) Exchange. In a communal space in the Wilshire Garden at the Beverly Hilton, 10 Los Angeles-based groups presented artist-led social-impact projects. Los Angeles Poverty Department, a collective who make art on Skid Row, exhibited Walk the Talk and performed excerpts from The New Compassionate Downtown, exploring people's experiences of living in poverty. Another collective, Urban Voices Project, also looked at Los Angeles residents experiencing poverty and homelessness, using music education and workshops, as well as performance. Focusing on these grassroots, the communal relevance of contemporary art and culture more widely, and the transformative effects of art practice, this pop-up brought a refreshing balance to the more glamorous and consumerist side of the fair, highlighting the gross inequalities that exist in LA.
On show at Bel Ami were Ben Sakoguchi's powerful satirical paintings from the Orange Crate Labels series, which he began in the mid-70s and reprised in the mid-90s. These expose the complex and often tragic problems – racism, militarism, slavery – that have dogged America. Revealing the exploitative and corrupt practises and the human victims that become their collateral damage, Sakoguchi has created a truly breathtaking critique of American culture and its political structures, with his wry, uncompromising and yet humorous point of view.

Danielle Mckinney. OCD and O'Keeffe, 2022. Acrylic on canvas, 24 x 18 in (61 x 45.7 cm). Image courtesy the artist and Night Gallery, Los Angeles. Photo: Pierre Le Hors.

At Night Gallery, Danielle Mckinney's OCD and O'Keeffe (2022) is an especially arresting work, showing a woman in a bikini smoking a cigarette while lying on a red rug, with a cream sectional sofa behind her. Enigmatic and quietly passionate, it is a beautiful piece, invoking the atmospheric painting of Edward Hopper or the subtle sensuality of Edgar Degas. Her other paintings, Hermit (2022), First Glance (2022) and Fly on the Wall (2022), meanwhile, reveal intimate, moving scenes of solitude and interior doubts, beautifully captured.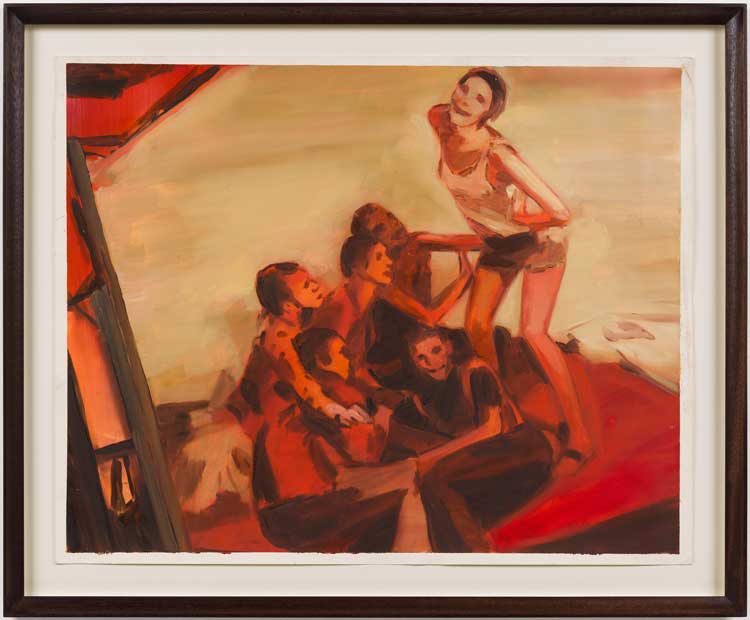 Kaye Donachie. First the revolution and then the pleasure, 2004. Oil on paper, 41 x 51 cm (16 1/8 x 20 1/8 in). © Kaye Donachie, courtesy Maureen Paley, London.

The moody and beguiling paintings of Kaye Donachie at Maureen Paley – such as First the Revolution and Then the Pleasure (2004), Study for Now is Forever Lasting, Constant in the Mind (2003) and Strangers Smiled Hello (2005) – also stood out in their sensuality and structured decadence, showing dark party scenes with minimal palettes, and grinning, clown-like faces shrouded in shadows.
Frieze Week, of course, extends far beyond the central fair itself, and some of the most inspiring works and artists were to be found elsewhere in the city. There were concurrent art fairs such as Felix and Spring Break, as well as many other exhibitions that opened across the city to coincide with Frieze Week. At Prada Mode, the two-day exclusive, experiential art club hosted by Prada at the Genghis Cohen restaurant in West Hollywood, Martine Syms created a beautiful, vibrant and provocative space in which to discuss issues of authority, resistance and personal freedom.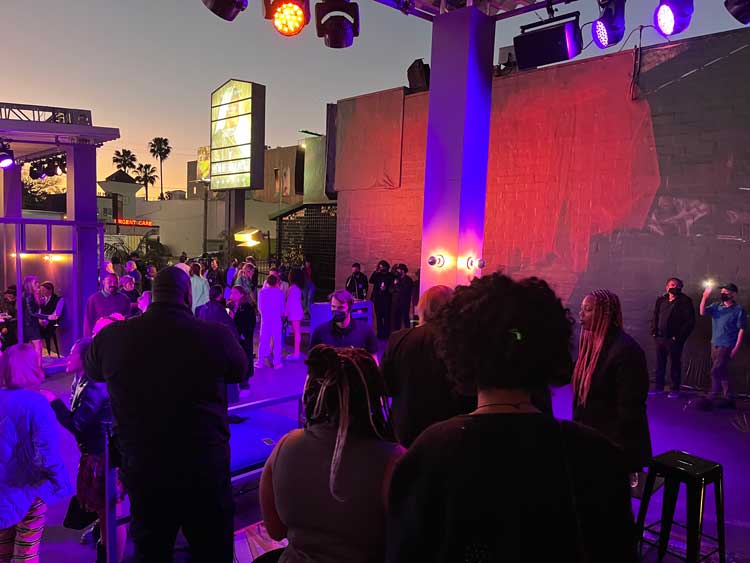 Martine Syms, Prada Mode, Genghis Cohen restaurant, West Hollywood. Photo: Christiana Spens.

In the space, which was shrouded in purple light (recalling Alice Walker's novel The Color Purple and the film adaptation), guests sat in booths in the restaurant watching Syms' interactive installation HelLa World (pronounced "Hell-ay World"). Large screens outside the restaurant captured the images of visitors while, inside, screens running along each wall displayed "texts" that visitors had sent to Syms during the event. Syms explained that she wanted to play on the idea of Los Angeles consisting of myriad personal and political hells – an entrancing, intoxicating world – "a hellscape, as I like to call it" – made up of screens, cameras, and fashionable people milling around moodily with endless glasses of complimentary champagne.
In Armour of Light, Heart of Clay, the Brazilian artist Samuel de Saboia collaborated with the jewellery design studio Alighieri to create a huge mural that responded to Dante's Inferno, and the talismanic, ritualistic works by Rosh Mahtani, creating a vision of transformative feminine energy that heals and emboldens. In this interpretation of Dante's Inferno, the soul's journey into the rings of "the bad place" is nevertheless a hopeful and healing one – despite, or because, of the hellfire.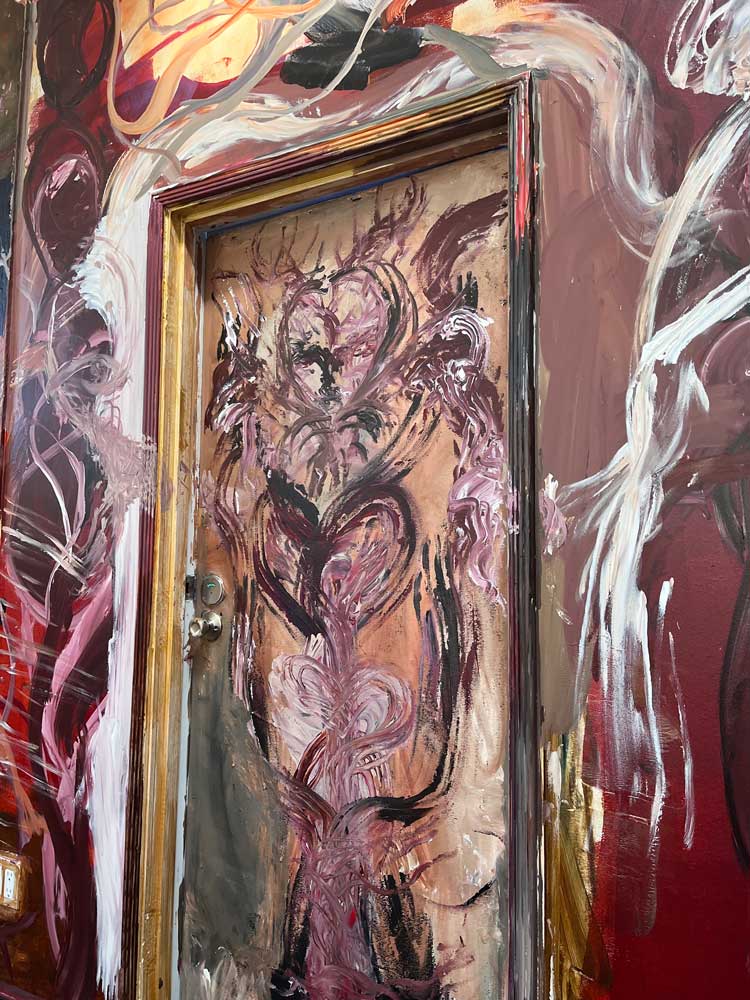 Samuel de Saboia in collaboration with jewellery design studio Alighieri. Mural, 2022. Photo: Christiana Spens.

Los Angeles is a mesmerising city – decadent, fun and beautiful. Frieze Week seems to lend it an unwavering and darkly comic self-awareness about its more toxic traits, its communal shadow sides and corruption and the inevitable vanity fair that characterises the global art world's regular outings – and Hollywood for that matter – but which is also a beacon of hope and aspiration. The artists here, whether living in LA or just passing through, and especially those I have mentioned, held a mirror to this beautiful, troubled city, and all it represents. They made sure it cannot forget itself – all of itself – even as it continues to sell the mythologies at the heart of its identity and its draw. As the Russian film director Andrei Tarkovsky wrote: "The artist, too, is driven by a kind of instinct, and his work furthers man's search for what is eternal, transcendent, divine – often in spite of the sinfulness of the poet himself."
In LA, even Frieze Week is a spiritual journey, and one that is difficult to leave. For all the difficulties and complexities that the art here illuminates, the willingness to communicate and to engage on a communal, spiritual level makes this cultural moment, and this city of angels, a truly special one.