Ed Atkins: interview
Anna McNay spoke to Ed Atkins about his current exhibition at the Serpentine Sackler Gallery, where his film Ribbons (2014) is showing alongside related installations of text and image
Serpentine Sackler Gallery, London
11 June – 25 August 2014
Since graduating from the Slade School of Art in 2009, artist and film-maker Ed Atkins has been busy. He's been selected for New Contemporaries and short-listed for the Jarman award. He's co-curated at the ICA, been commissioned by Frieze Film and Channel 4, and had a solo show at Tate Britain – among other things.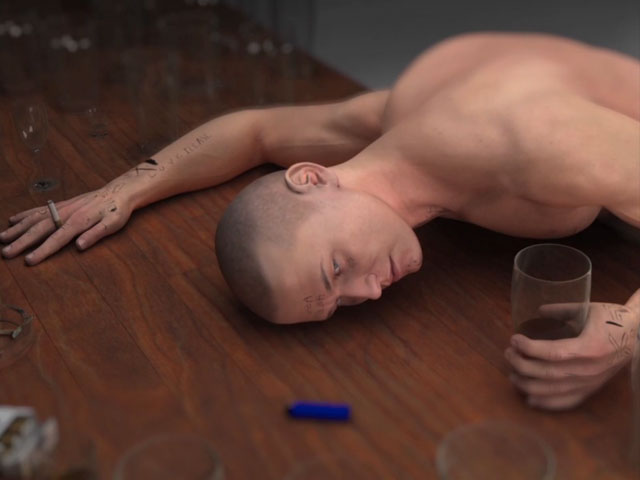 Ed Atkins. Ribbons, 2014, film still. © the artist.

We spoke to him about his current exhibition at the Serpentine Sackler Gallery, where his film Ribbons (2014) is showing alongside related installations of text and image. The entire gallery, previously a 19th-century gunpowder store, reverberates with the film's soundtrack: music as diverse as Bach's Erbarme Dich and Randy Newman's I think It's Going to Rain Today, along with swearing, shouting and exaggerated sounds of drinks being put down and cigarettes being rolled – noises of everyday life writ large.
The exhibition is described by the gallery as "part musical, part horror and part melodrama". Atkins told us why he finds such categorisations interesting, but limiting. He explained why we should dislike the character (as if we wouldn't) and why there are recognisable features of him, the artist, in the avatar.
Interview by ANNA McNAY
Filmed by MARTIN KENNEDY