Balenciaga: Shaping fashion
The V&A presents an exhibition exploring the abstract and architectural shapes of Cristóbal Balenciaga's work in the 1950s and 60s, drawing out connections between his legacy and contemporary fashion designers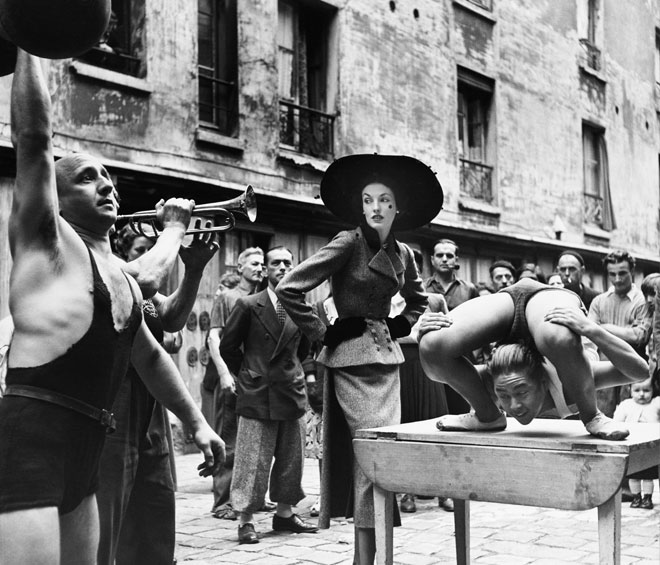 V&A, London
27 May 2017 – 18 February 2018
by HARRIET THORPE
A master of his art, a perfectionist, yet also a keen collaborator with an almost artisanal approach, Cristóbal Balenciaga Eizaguirre (1895-1972) was born in Getaria, Spain, at the beginning of a century that would see everything change for Spain, Europe and fashion. Balenciaga: Shaping fashion has a focus on the Spanish designer's skill and the construction of his garments, drawing from the V&A's Balenciaga archive of dresses, sketches, patterns and photographs that Cecil Beaton initiated in the 70s.
While remaining traditional in his approach to couture, by the 50s and 60s, the period on which the exhibition focuses, Balenciaga was designing bold abstracted looks and eliminating the waist from his signature designs. In the midst of the popularity of Christian Dior's New Look, with its cinched waists and flared skirts, it was a confident move that would predict the loosened and relaxed shapes that became widespread by the late 60s. During this time in his career, Balenciaga employed nearly 500 staff in Paris, and his collections showed between 150 to 200 looks.
As well as being a maverick, Balenciaga was a businessman. After opening his first self-titled fashion house in 1917 in San Sebastian, the centenary of which this exhibition celebrates, he opened his sister line, Eisa, in Madrid in 1933. Eisa was pitched at a lower price point, a more accessible line of slightly more traditional styles, like ready-to-wear lines today, which was a shrewd move, especially during the 1936-39 Spanish civil war and the second world war, when the brand could easily adapt to the conservatism of Franco or the limited availability of imported material. In Paris in 1956, he delayed press viewings of his shows to ensure that counterfeit copies could not be made that reduced the value of his own original designs.
Trained as a tailor, Balenciaga worked directly with the material from the beginning of the design process, preferring to drape the cloth on a mannequin instead of making sketches. He was influenced by his mother, a seamstress who altered dresses for high-society ladies, and by Madeleine Vionnet and Madame Grès, leading couturiers of the 1930s. It was this draping technique that led Balenciaga to become so acquainted with the materials that he used, and enabled him to develop designs using few seams, which hung on the body, naturally falling in a shapely way. A black cape dress from 1967 rotates in a cabinet, showing off its double-layered design, sculpted with a single piece of material joined at the back and without side seams. An x-ray by artist Nick Veasey is displayed behind the dress, revealing small weights that were sewn into the hem to ensure the dress fell correctly.
Balenciaga's swatch palettes from 1968, on loan from the Balenciaga Archives in Paris, are on display, showing scores of small rectangular patches of materials and colours labelled with a number and the name of a model. It was the fabric named gazar that allowed Balenciaga to develop such modern and architectural shapes. The stiff, yet lightweight material held its own shape. His choice was a silk gazar made by Swiss manufacturer Abraham. Later, he also favoured light mohairs made in small-scale Scottish mills by London-based manufacturer Zika Ascher. Balenciaga worked with Ascher to develop a multicoloured synthetic-mix mohair named Papacha, that, like gazar, had more structure because of its synthetic content. Balenciaga used a colourful version of this fabric for a coat featured in a photograph by Helmut Newton on the cover of French Vogue in 1964, showing the same attitude to material and volume as the silhouettes he was creating in other styles.
Balenciaga sourced lace from Swiss manufacturer Brivet, as shown at the exhibition in an evening gown of black lace and nude chiffon from 1968. Experimenting further with texture, he began dying the tips of ostrich feathers and struck up a collaboration with Paco Rabanne, who was the son of his head seamstress in San Sebastian and had studied architecture for 10 years, creating plastic, metal and leather embroidery with Parisian manufacturer Lesage, which reflected the modern aesthetic of the 60s and 70s.
V&A curator Cassie Davies-Strodder perhaps chose this new angle on the shape and materiality of Balenciaga's designs bearing in mind two historic landmark shows that focused on Balenciaga and black, Balenciaga: L'Oeuvre au Noir, at Musée Bourdelle in Paris in 2016, and Balenciaga's Spanish heritage, Balenciaga: Spanish Master curated by Hamish Bowles at the Queen Sofía Spanish Institute in New York in 2010.
These two themes, "black" and his Spanish heritage, were hard to avoid, being central to his designs and character. A line up of black dresses includes the taffeta silk balloon hem dress from 1950, a wool sack dress from 1957-8, and the "envelope" dress from 1967, that is almost theatrical in shape, designed a year before Balenciaga retired. The progression shows the gradual elimination of the waist and the increasing abstraction of the figure.
His Spanish heritage is also explored through his earlier designs from the later 1940s and 50s. A bright pink dress on display with a layered flounced skirt echoes the traditional "bata de cola" flamenco skirt, and a tasselled cropped jacket from 1949 echoes the traditional "chaquetilla", a jacket worn by bullfighters. These traditional styles held a sense of nostalgia in a period of change for Spain, after the monarchy fell in 1931, and also drew attention internationally – a Harper's Bazaar cover shows a photograph by Richard Avedon of one of Balenciaga's full red-and-black flamenco-style skirts.
Balenciaga's contemporary influence is shown upstairs in the fashion gallery on level one just beneath the impressive domed ceiling of the building. Titled Balenciaga's Legacy, this section occupies about half of the total exhibition space. Dresses from the 1960s onwards, by a mix of international designers, are displayed alongside video interviews with Molly Goddard, Gareth Pugh and Josep Font, director of Delpozo, who credit Balenciaga as their inspiration.
It was in 1986, 14 years after Balenciaga's death, that Balenciaga relaunched under new direction. There is little context given about this development and the legacies of Nicolas Ghesquière, who was creative director from 1997 until 2012, and that of the current creative director, Demna Gvasalia. A couple of their dresses are displayed, yet the exhibition curation always returns to the remit of "shape" at the expense of further contextual detail. Similarly, Emanuel Ungaro, Hubert de Givenchy and Oscar de La Renta are introduced as "disciples", but we must take the curator's word for it as the label is not unpacked beyond a caption of a few sentences. In general, this section of the exhibition is filled with impressive Instagrammable quotes, but not much information, archive material or context.
Yet visual information is strong. One display shows a beautiful progression of minimalism through to Rick Owens, Calvin Klein and Phoebe Philo for Céline. A comparison of Balenciaga's designs with those of Spanish designer Sybilla's "biomorphic" shapes and Issey Miyake's use of material from the 70s, using pleated polyester and a single piece of material to create abstract shapes, is interesting, yet the connection between Alexander McQueen and Balenciaga's tailoring seems to fall short of a valuable point beyond a visual connection.
There are some surprises in the exhibition that add unexpected flavour, including a display of surreal and obscurely shaped hats from Balenciaga's millinery atelier designed by Franco-Russian Wladzio d'Attainville and Ramon Esparza, a hand-painted silk Chinese dress from 1955-6, whose patterns recall those from Chinese wallpaper, and a colourful mantilla, a style of shawl worn by Spanish flamenco dancers that was inspired by a traditional shawl imported from China through the Philippines, when it was under Spanish rule from 1565-1898. There are also references to Balenciaga's Catholicism, which surface in an exquisitely embroidered pattern of thorns and a superbly dense black hooded cape.
The transfixing beauty of the garments acquired for this exhibition is a credit to the V&A, and while the texts in between are less exciting, with the language sometimes feeling vague or repetitive, the exhibition does successfully tell a very visual story of shape. The exhibition opens with a bulbous dress and cape from 1961, in a rich green silk gazar showing off the abstract and architectural beauty of Balenciaga at his best, like a couture flag, and it is the first part of the exhibition, when the visitor uncovers what exactly what happens underneath and inside the garments, and how they were made, that is most revealing.