Artes Mundi 10
The biennial art prize for international activist artists celebrates its 10th birthday with seven nominations. The work of each artist will feature in the AM10 exhibition, which continues to February 2024 in five locations around the prize's home nation of Wales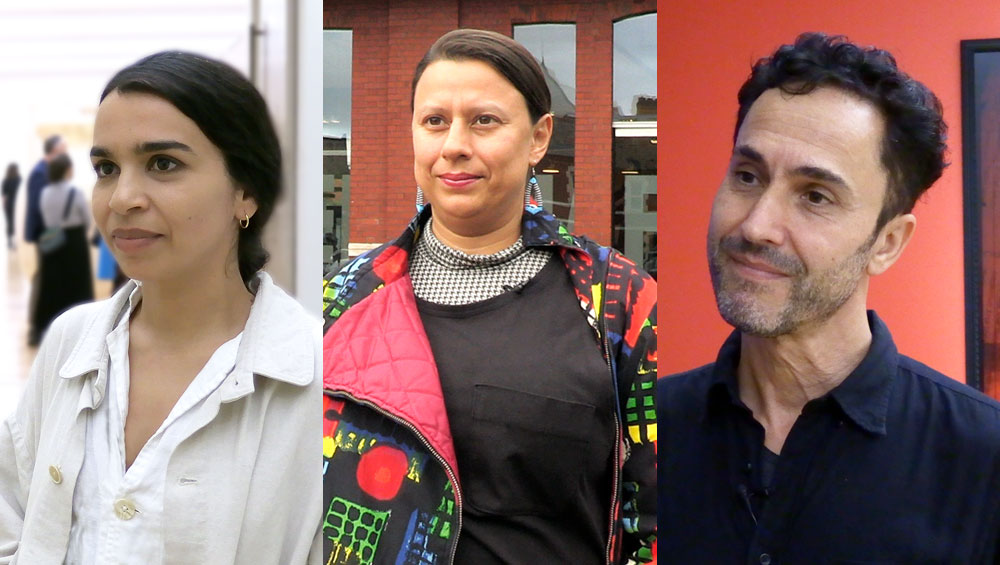 Studio International spoke to three of the nominated artists – Alia Farid, Carolina Caycedo and Rushdi Anwar – at the opening of Artes Mundi 10.
Artes Mundi, the biennial art prize that gives £40,000, the UK's biggest financial award to international artists working to raise awareness of ecological, cultural and human rights issues, has turned 10. To mark the event, it has shortlisted seven artists and staged immersive exhibitions of their work across five venues in Wales, its home base, including at Chapter Arts Centre in Cardiff and Mostyn in Llandudno.
The shortlisted artists for AM10 are: Mounira Al Solh, Rushdi Anwar, Alia Farid, Nguyễn Trinh Thi, Taloi Havini, Carolina Caycedo and Naomi Rincón Gallardo. While all will have work on show in Cardiff, there are additional solo presentations at the two galleries mentioned above, as well as: Glynn Vivian Art Gallery, Swansea; Oriel Davies Gallery, Newtown; and the National Museum Cardiff.
When the award began, 20 years ago, it may have been seen as something of a random outlier, though many of its shortlisted and winning artists have gone on to great things. Nominees are often known on their home turf, but the Artes Mundi exhibition usually provides their first exposure in the UK. Many past winners are now global players, including Theaster Gates, Ragnar Kjartansson, John Akomfrah and Anna Boghiguian. Otobong Nkanga, shortlisted in 2019, was one of the star artists in this year's Dear Earth exhibition at the Hayward Gallery.
In 2021, Artes Mundi followed the Turner prize's 2019 initiative and, instead of giving one prize to the overall winner, awarded £10,000 to each of the six shortlisted artists, Firelei Báez, Dineo Seshee Bopape, Meiro Koizumi, Beatriz Santiago Muñoz, Prabhakar Pachpute and Carrie Mae Weems (subsequently the focus of a major Barbican retrospective this summer).
The European/US art world's pivot towards more global and more politically engaged work now means that the selection reflects that of many mainstream galleries and institutions, whether UK or international.
The founding chair, Sir Watkin Williams-Wynn, always intended the prize to have a Wales-wide presence. And his ambitions have been realised over the last two decades with a roster of additional commissions, partnerships, exhibitions and residencies, thanks to additional support from Arts Council Wales and Cardiff city council.
Studio International spoke to three of the nominated artists at the opening of the AM10 exhibition in Cardiff.
Rushdi Anwar: 'My work is a reflection on the hypocrisy of politics and politicians'
Spread across two rooms in the National Museum Cardiff, Anwar's installation is haunted by the soundtrack of early-20th-century jingoistic songs and news broadcasts, most of which are English but some of which are from his home regions of Kurdistan and Iraq. The soundscape emanates from a replica of an early-20th-century gramophone, its "horn" cast in metal, painted black and embellished with traditional decorative motifs of the Middle East. The seemingly cheerful refrain of Pack Up Your Troubles in Your Old Kit Bag and Smile, Smile, Smile switches to a more sinister mantra as you interrogate the surrounding materials. These include striking portraits of two aristocrats, the British diplomat Sir Mark Sykes and his French counterpart François Georges-Picot. During the first world war, the pair presided over the carve-up of territory in the Middle East known as the Sykes-Picot agreement. In front of these inflated portraits – one coloured in the exact blue of the union jack, the other in the exact red taken from the French flag – is a prayer mat, whose textile patterns reveal the territorial carve-up, while the room next door bears witness to some of the horrendous violence that has followed.
We Have Found in the Ashes What We Lost in the Fire (2018) consists of 12 decorated boxes, containing burnt photographs, taken by Anwar on a visit to a church destroyed by Isis. The lids of the boxes are embossed with delicate Islamic patterns, taken from the period when the Muslims occupied Spain (711-1492).
Behind these there are three large photographs of the ruins of the Al-Nabi Yunus mosque in Mosul that was used as an HQ by Isis during its occupation, and later destroyed. These are overlaid with photographs representing the many religions outlawed by Isis and its followers. Even more chilling is the adjacent display of photographs of Halabja, Anwar's hometown, which the artist has treated with soot to evoke the chemical attack in which thousands of civilians died, including Anwar's friends and family.
The work on display provides a window on to Anwar's preoccupations, drawing from his art historical studies as well as his experience as a person displaced from his homeland by war and his sensitivities to the violence and degradation that divisive ideologies and colonialism can wreak.
Anwar has a PhD in fine art from RMIT University, Melbourne, and is a senior lecturer in the painting department at the faculty of fine arts at Chiang Mai University. He lives between Melbourne and Chiang Mai. Recent notable exhibitions include the Sharjah Biennial (2023).
Rushdi Anwar: Artes Mundi 10, National Museum Cardiff, 20 October 2023 – 25 February 2024.
Carolina Caycedo: 'There are struggles that are connected worldwide. Hopefully my work becomes a bridge between these struggles'
Carolina Caycedo was born in the UK in 1978 to Colombian parents and now lives and works in Los Angeles. She has spent the last two decades researching and documenting environmental abuses, through public engagement projects, ranging far and wide in her research and interventions, including in Bogotá, Toronto, Madrid and São Paulo.
She had her first solo UK show at the Baltic Centre for Contemporary Art, Gateshead (2022-2023), and appeared in the group show Back to Earth at the Serpentine Gallery in 2023. In Gateshead and London, she showed elements of her constellation of works Be Dammed (2012-ongoing), about the devastating consequences on environments and communities of huge infrastructural dam-building projects.
For Artes Mundi, Caycedo presents a new work from this series in a lightbox above the entrance of Chapter, Cardiff, as well as a major installation of works at Oriel Davies in Newtown. These include a new video piece, Fuel to Fire (2023), which draws viewers into a Colombian ritual intended to restore the balance of life cycles and equilibrium between species. Also on show are: Fuel to Fire: Mineral Intensive (2022-ongoing), a series of huge pencil drawings depicting extractive practices and their impact on the land, and My Female Lineage of Environmental Struggle (2018 to present), a textile that offers more than 100 portraits of female environmentalists, including indigenous activists and the UK women who camped outside a US nuclear missile base at Greenham Common through the 1980s. These are displayed alongside protest banners from local women, calling themselves Women for Life on Earth, which were also carried to Greenham Common.
Her photographs and printed works are often reproduced on a huge scale and installed dynamically, from the ceiling and across the floor, to disrupt the classical European landscape tradition of tidy, framed display.
Caycedo's work is in many collections, including the Guggenheim, New York, Los Angeles County Museum of Art, California, and the Muzeum Sztuki, Lodz, Poland.
Carolina Caycedo: Artes Mundi 10, Oriel Davies Gallery, Newtown and Chapter, Cardiff, 20 October 2023 – 25 February 2024.
Alia Farid: 'The vessel shapes speak of the different cultural and trade networks in the Arabian and Gulf peninsula'
Several of the large, pale and glowing vessels by Alia Farid (b1985) line one of the upper galleries at the National Museum Cardiff. Looking for all the world like marble monuments from some ancient era, they are referencing the problematic issue of drinking water in her native Kuwait. Before this young nation discovered oil, its drinking water had to be fetched from the rivers in the south of the region. With the nation's rapid wealth, industrial development and "advancement", desalination plants were set up to repurpose water from the sea, but with devastating impacts on wildlife and the environment. These sculptures are replicas of public drinking fountains, some scaled-up and reimagined from classical ceramic vessels of the region, others conjured from a commercial catalogue of public drinking fountains typically spread throughout Kuwaiti cities. The giant polyethylene terephthalate (PET) bottle in their midst, however, is a universally recognised vessel – now a symbol of mounting plastic waste, as well as shrinking natural resources.
Farid's work seeks to expose the mismanagement of resources in her home region, as well as the impacts on place and people of extractive capitalism. In a darkened room beyond, there are two films showing from the same series, Chibayish (2022), commissioned by the Whitney Museum of American Art for the 2022 Whitney Biennial, exploring fluvial bodies and oil. Filmed at the confluence of the Tigris and Euphrates rivers, and made collaboratively with residents of the surrounding marshlands, the second film is an update on the first.
Farid's work is underpinned by a continuing research project mapping Arab and South Asian migrations to Latin America and the Caribbean. She traces not just the movement of people, but also adaptations in everyday designed objects, architectural styles and ornamentation.
Farid has a master's in museum studies and critical theory from the Museum of Contemporary Art Barcelona, an MSc in visual studies from the Visual Arts Programme, Massachusetts Institute of Technology, and a BFA from the Escuela de Artes Plásticas de Puerto Rico. She has appeared in numerous solo and group exhibitions, including at the Witte de With Centre for Contemporary Art, Rotterdam, in 2020, and has a solo show coming to the Chisenhale Gallery London in December, which will travel to CAC Passerelle, Brest, in early 2024. She received a Creative Capital Award in 2022.
Alia Farid: Artes Mundi 10, National Museum Cardiff, 20 October 2023 – 25 February 2024.
Interviews by VERONICA SIMPSON
Filmed by MARTIN KENNEDY