Alia Farid: 'The vessel shapes speak of the different cultural and trade networks in the Arabian and Gulf peninsula'
The industrialisation of water infrastructure and its damaging environmental impacts underpin Alia Farid's work. At the opening of Artes Mundi 10, she talks about hervast sculptures in the shape of water vessels that speak of different trades, cultures and eras
Several of the large, pale and glowing vessels by Alia Farid (b1985) line one of the upper galleries at the National Museum Cardiff. Looking for all the world like marble monuments from some ancient era, they are referencing the problematic issue of drinking water in her native Kuwait. Before this young nation discovered oil, its drinking water had to be fetched from the rivers in the south of the region. With the nation's rapid wealth, industrial development and "advancement", desalination plants were set up to repurpose water from the sea, but with devastating impacts on wildlife and the environment. These sculptures are replicas of public drinking fountains, some scaled-up and reimagined from classical ceramic vessels of the region, others conjured from a commercial catalogue of public drinking fountains typically spread throughout Kuwaiti cities. The giant polyethylene terephthalate (PET) bottle in their midst, however, is a universally recognised vessel – now a symbol of mounting plastic waste, as well as shrinking natural resources.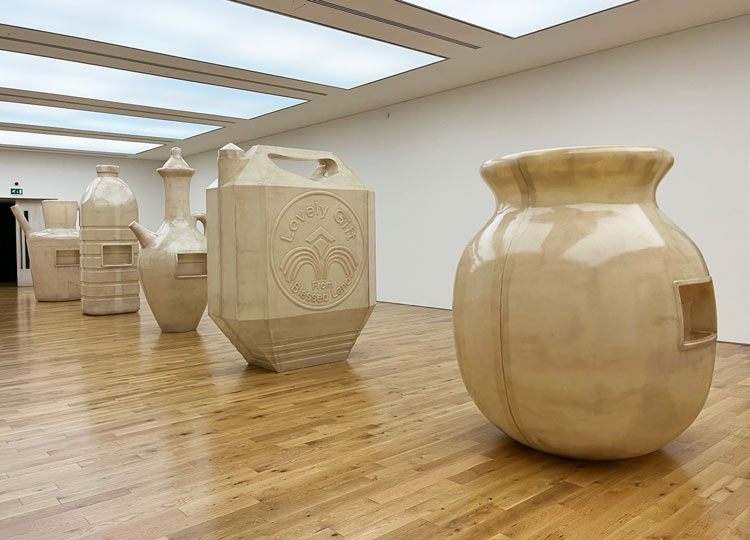 Alia Farid, installation view, Artes Mundi 10, National Museum Cardiff, 2023. Photo: Martin Kennedy.

Farid's work seeks to expose the mismanagement of resources in her home region, as well as the impacts on place and people of extractive capitalism. In a darkened room beyond, there are two films showing from the same series, Chibayish (2022), commissioned by the Whitney Museum of American Art for the 2022 Whitney Biennial, exploring fluvial bodies and oil. Filmed at the confluence of the Tigris and Euphrates rivers, and made collaboratively with residents of the surrounding marshlands, the second film is an update on the first.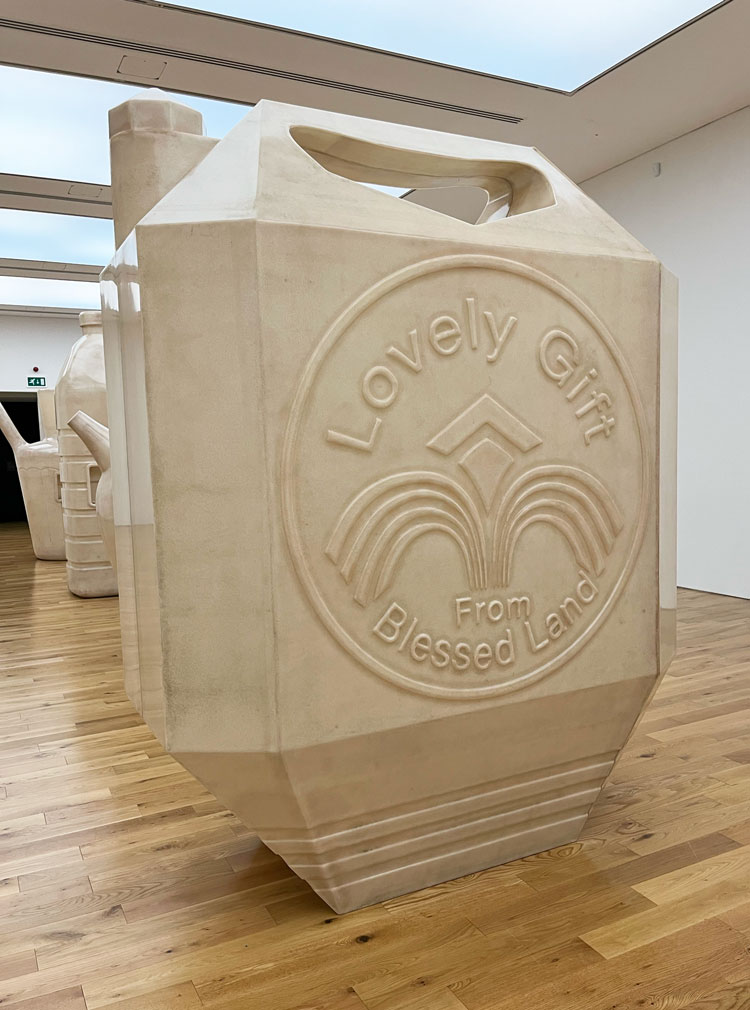 Alia Farid, installation view, Artes Mundi 10, National Museum Cardiff, 2023. Photo: Martin Kennedy.

Farid's work is underpinned by a continuing research project mapping Arab and South Asian migrations to Latin America and the Caribbean. She traces not just the movement of people, but also adaptations in everyday designed objects, architectural styles and ornamentation.
Farid has a master's in museum studies and critical theory from the Museum of Contemporary Art Barcelona, an MSc in visual studies from the Visual Arts Programme, Massachusetts Institute of Technology, and a BFA from the Escuela de Artes Plásticas de Puerto Rico. She has appeared in numerous solo and group exhibitions, including at the Witte de With Centre for Contemporary Art, Rotterdam, in 2020, and has a solo show coming to the Chisenhale Gallery London in December, which will travel to CAC Passerelle, Brest, in early 2024. She received a Creative Capital Award in 2022.
Alia Farid: Artes Mundi 10
National Museum Cardiff
20 October 2023 – 25 February 2024
Interview by VERONICA SIMPSON
Filmed by MARTIN KENNEDY