Art Basel Miami Beach 2018
Trend-spotting is over, but lacking, too, was the buzz. In the end, what ABMB brought to fair-goers was less an agglomeration of work for sale than an indelible, fully sensory experience of art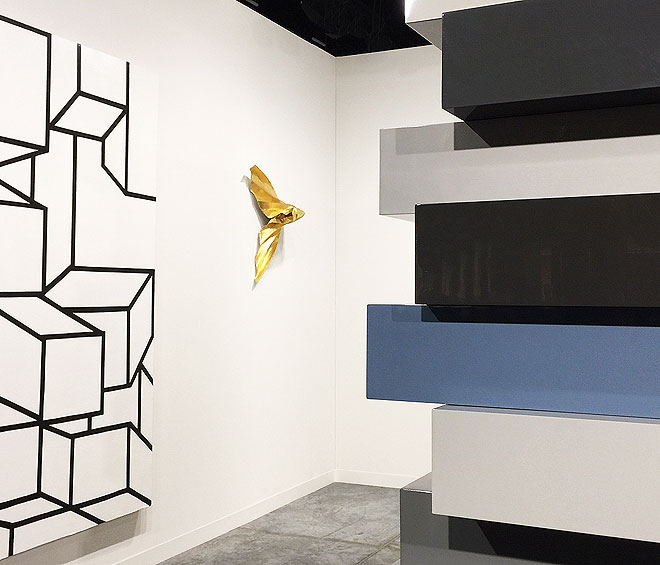 Art Basel Miami Beach 2018, Al Held, B/W XIV, 1968 (left), Lynda Benglis, NAR, 1980 (centre), Sean Scully, Stack Greys, 2018 (right). Installation view, Art Basel Miami Beach 2018. Photo: Jill Spalding.
Art Basel Miami Beach
5 – 9 December 2018
by JILL SPALDING
Oblivious to dealer fears of slim sales in a climate roiled by the trade war, a plunging stock market, a declining real-estate market, an imminent and complicated US state-to-state sales tax and – horrors – a cold snap, the market positioned as art fair, known as Art Basel Miami Beach, opened to long lines, 268 galleries from 34 countries and, despite a glitch that denied the gallerists their half-hour prep time, a starting-gate turnover that saw backroom stock replacing items carried off before noon.
With much to see and little time to see it (given the 26 other satellite fairs, pop-ups and beach and park installations announced by flyers distributed catch-as-can on street corners and cafe tables), the VIP crowd grabbed a map, inked in galleries of interest and set out to connect the dots with mobile phones in hand and advisers in tow. Their obsession with market value was audibly paramount – less decipherable was whether they were buying for new walls, for soon-to-open private show spaces or for a status reply to the reflexive intra-collector query: "What have you bought so far?"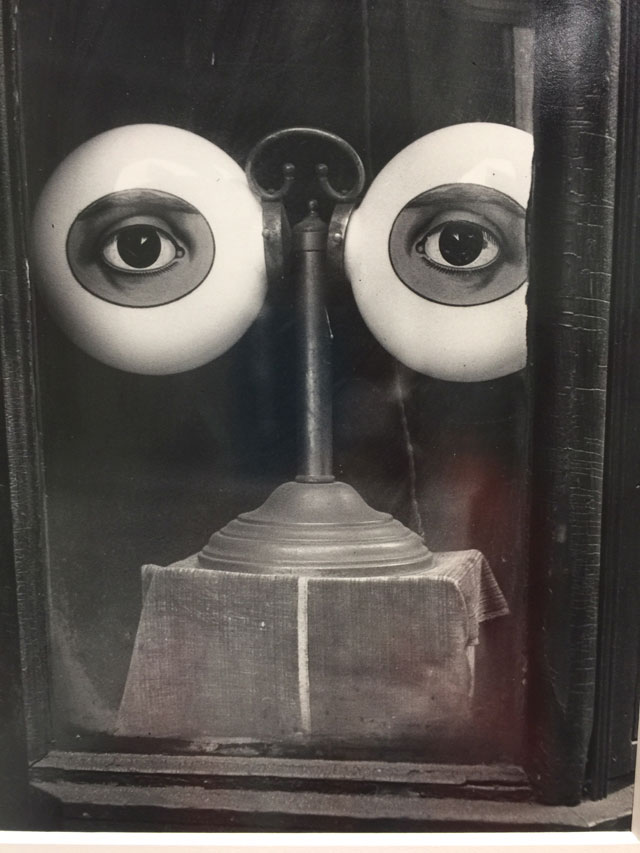 Irving Penn. Optician's Shop Window (B), New York. Gelatin silver print, 34 x 24 cm (13 ¼ x 9 ½ in). Photo: Jill Spalding.

Gone, though, the race down the aisles, obviated by the Convention Center's new airy makeover, and the frantic "We'll hold it for 30 minutes", averted by forbidden but tolerated preselling via jpeg. Gone, too, less happily, the buzz. Whether due to a dulling high level of quality, low threshold of surprise or zero amusements, fair fatigue set in early. "Do I need to come to Miami to see a great Rothko," I overheard near the stunning $50m orange/yellow offering at Helly Nahmad. Complaints about this year's pricing ("irresponsibly high", "unrealistic", "ridiculous") didn't deter buyers of the $6.5m Sam Francis, the $3.6 million Lee Krasner or the $7.5m Philip Guston. High valuation, the dealers tell you, is not only essential to sustaining desirability (let blue-chip prices languish and the work feels passé) but allows for discounts to favoured collectors who then believe they got a bargain.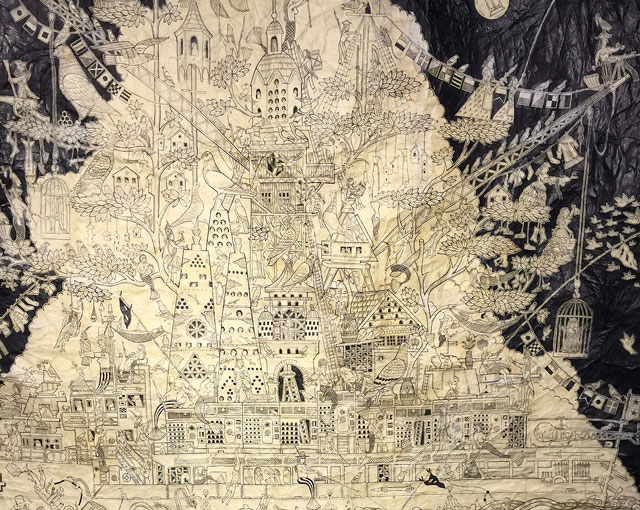 Duke Riley. It's Coming Through a Hole in the Air, 2017 (detail). Ink on paper, 130 x 99 in. Installation view, Art Basel Miami Beach 2018. Photo: Jill Spalding.

First impressions: a preponderance of vivid painted canvases – many applied thickly, some bedding small objects. Showing alongside, works on paper were paired by artist, theme or era; a graphite work by Kara Walker and Duke Riley's large 2017 ink work It's Coming Through a Hole in the Air drew particular attention. Coming off the Whitney Museum's blockbuster Warhol show, a refocus on pop, revisited first in Miami's Moore Building at this year's Deitch/Gagosian presentation titled Pop Minimalism: Minimalist Pop, and at ABMB with the Warhol screenprints that dominated Gagosian's space and surfaced in 17 other galleries; a slew of Tom Wesselmanns ­(replacing Alex Katz as the artist seen everywhere) and, yanked off the wall before I could photograph it, a large print by KAWS (in a limited edition of 100) that Pace Prints sold by lottery (yikes!) to meet the demand, which netted it $6.5m.
Video material was scarce (blame maintenance, obstructive wiring and the long viewing commitment), but resonating with young viewers were Michael Rovner's TV activations and an interactive work by Tabita Rezaire that is accessed by smartphone.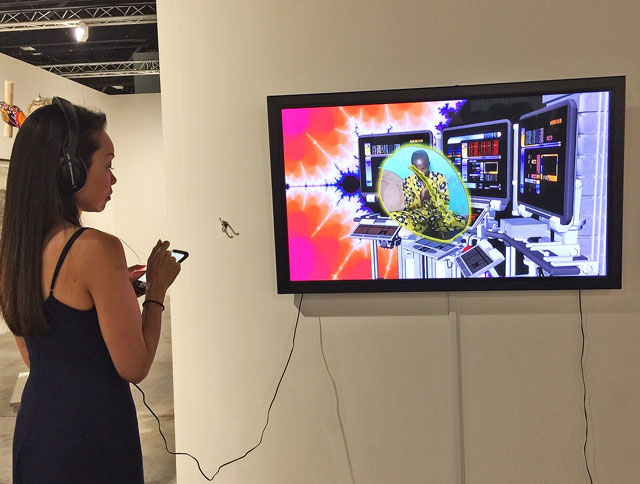 Tabita Rezaire. Premium Connect, 2017. HD Video, 13 min. Installation view, Art Basel Miami Beach 2018. Photo: Jill Spalding.

Photography, thinly scattered throughout, was best represented at 303 Gallery by a Rodney Graham lightbox, Unused Prop; French Telephone (2018) and at the Howard Greenberg, Edwynn Houk, Alison Jacques and Pace MacGill spaces, with work, respectively, by Edward Burtynsky, Valérie Belin, Hannah Wilke and Irving Penn.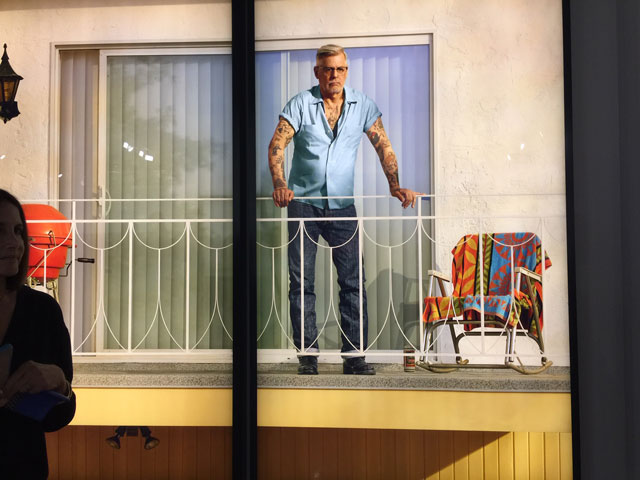 Rodney Graham. Tattooed Man on Balcony, 2018. Painted aluminium lightbox with transmounted chromogenic transparency, 278.6 x 164.2 x 17.8 cm (each panel). Installation view, Art Basel Miami Beach 2018. Photo: Jill Spalding.

Several viewers remarked on the fewer than usual grandstand installations (too expensive to transport), with the magnificent exception of the grouped George Segal sculptures at Galerie Templon.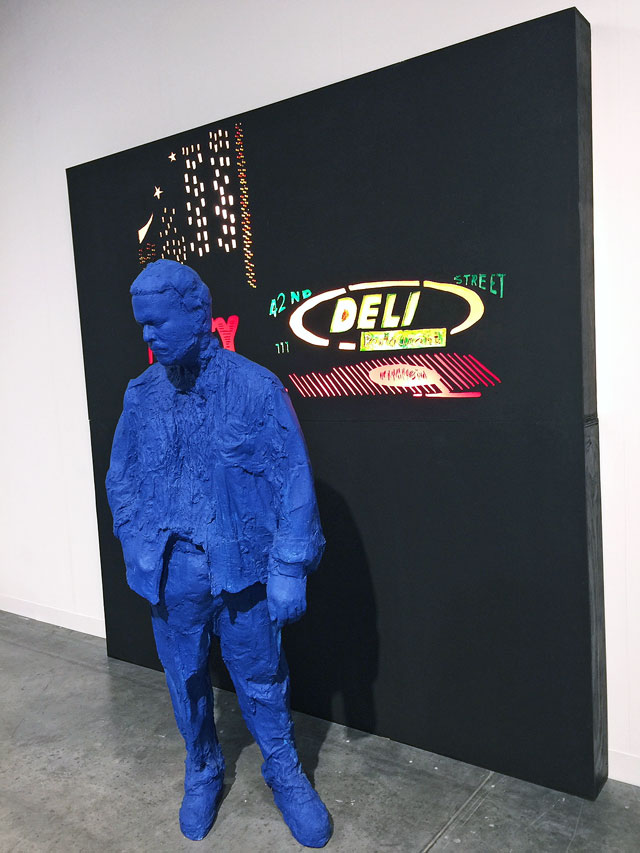 George Segal. 42nd Street Deli, 1999. Plaster, paint, plastic, wood, Lie-Brite pegs, light bulbs and sockets, 244 x 244 x 81.5 cm (96 x 96 x 32 in). Photo: Jill Spalding.

But sculpture presented frontally at galleries Lelong, Thomas Schulte, Sean Kelly and Peter Freeman with strong works by, respectively, Ursula von Rydingsvard, Alice Aycock, Antony Gormley and Thomas Schütte, and at booths showing secondary market Cor-Ten steelwork by the ubiquitous Harry Bertoia and market stalwart Joel Shapiro. At David Zwirner a bronze by Franz West swallowed so much footage that the dealer had to rescue a viewer who tripped over it.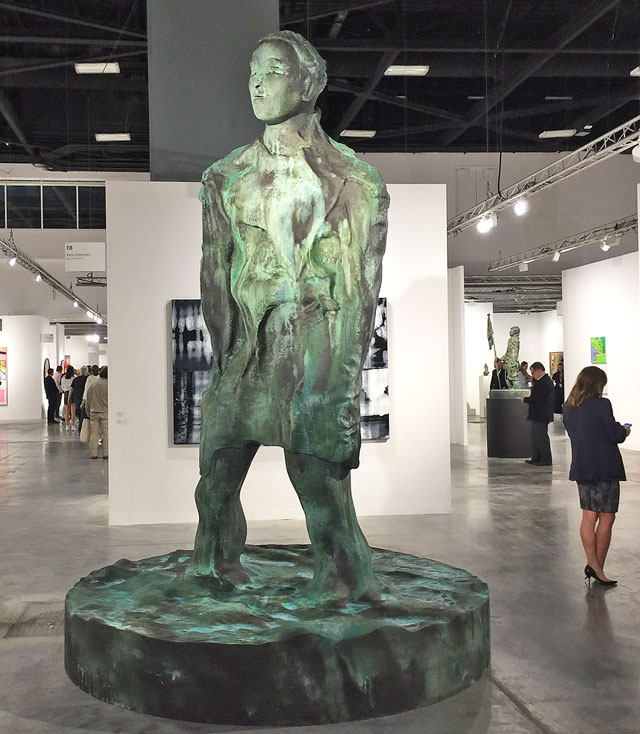 Thomas Schütte. Mann im Wind III, 2018. Cast patinated bronze, 344.8 x 236.2 cm dia (135 ¾ x 93 in dia). Photo: Jill Spalding.

Ceramics, a newly collectible investment-art class, muscled in with commanding works by Betty Woodman, Ruby Neri, Sterling Ruby and, at Marianne Boesky, a cluster of playful clay creatures by the Haas Brothers.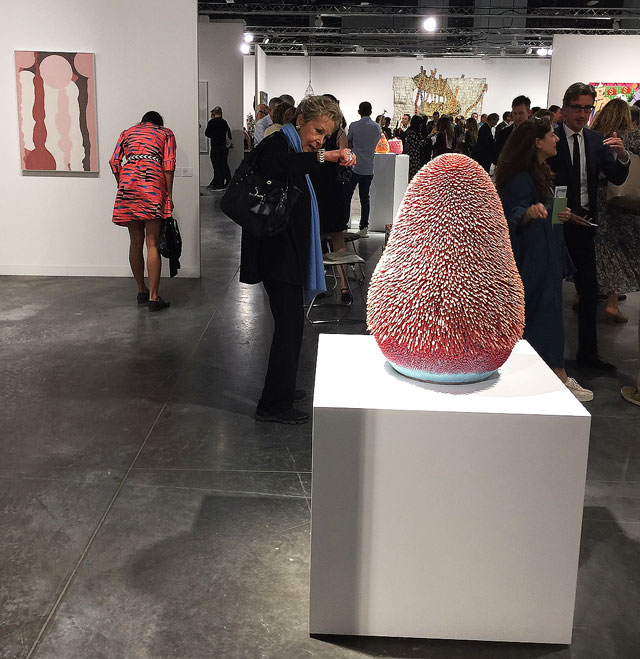 The Haas Brothers. Tequila Sunrise, 2018. Porcelain, 91.4 x 61 x 61 cm (36 x 24 x 24 in). Photo: Jill Spalding.

As expected, Cuban and Latin American artists made the A-list with quick sales led by the storied Wifredo Lam and closely followed by Carmen Herrera, Augustín Cárdenas, Hernan Bas, Beatriz Milhazes, Alexandre Arrechea, Federico Herrero, Jesús Rafael Soto and Enrique Martinez Celaya. Not expected, despite the closing of the Asia fair and with the exception of Lee Ufan, a paucity of Asian artists, so commanding until now, although it is too early to suggest they have peaked.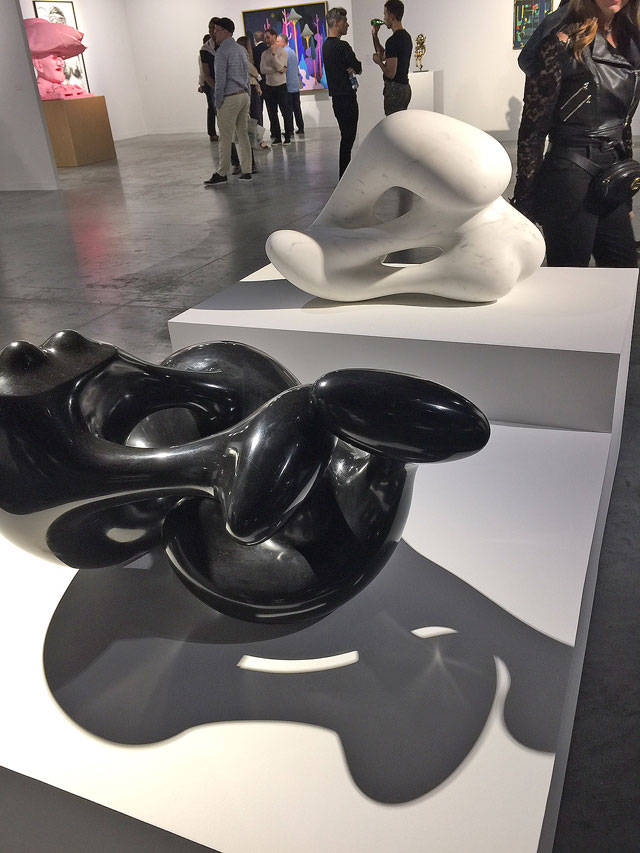 Augustin Cardenas. Siréne antillaisé, 1978. Belgium marble, 50 x 70 x 83 cm (19 5/8 x 27 ½ x 32 5/8 in). Photo: Jill Spalding.

There was something for everyone; word paintings, mirrored constructions, street art and worked textiles. With such a muchness of everything, no salient theme or medium stood out. The moment I jotted down "maximalism" in response to the rise of vividly wallpapered booths (Keith Haring's at Gladstone Gallery a standout), I came across Barbara Mathes's museum-level minimalist lineup of Josef Albers et co, and the empty, but for gold-leafed walls and seated monk, artificially spiritual Beyeler Foundation installation.
Across mediums, sensing, perhaps, a vibe low on the energy generally sparked by tough art, dealers were talking up "narrative", that mildly irritating catchall for works powered by "struggle", "passage" "actualisation" and "transformation". Missing for the most part, however, was "collision" – I counted confrontations with immigration and gender confusion on the fingers one hand. Even Yael Bartana, whose searing videos address issues of violence and intolerance, chimed in here mildly with a rhetorical neon-lettered sculpture titled What If Women Ruled the World? The work by emerging artists in the traditionally scrappy Nova and Positions sectors hugging the periphery was equally sunny; with sales ever the factor, anguish and anger manifested, rather, at the lower-risk satellite fairs.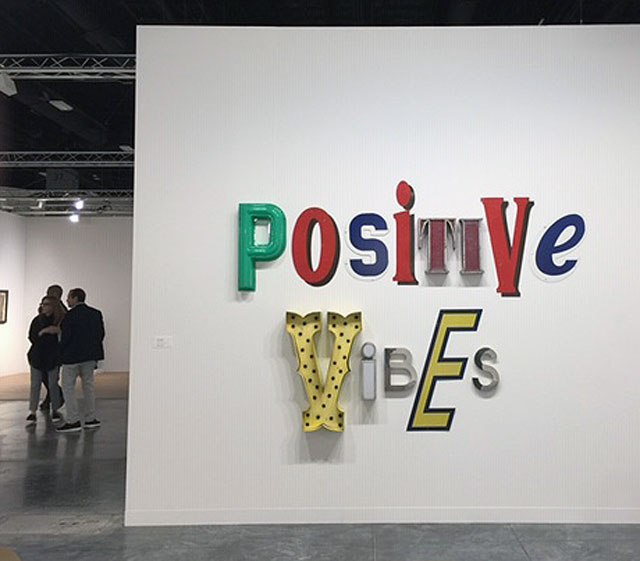 Jack Pierson. Positive Vibes, 2018. Plastic and metal, 178.4 x 251.5 x 12.7 cm (70 1/4 x 99 x 5 in). Photo: Jill Spalding.

Female artists (Teresita Fernández, Sue Williams, Shinique Smith, Lynda Benglis, Mary Corse, Mary Weatherford, Kara Walker, Pat Steir, Sheila Hicks, Huma Bhabha) were plentiful and integrated into each gallery's presentations. The same held for artists of colour – Sam Gilliam, Henry Taylor, Zanele Muholi, Nari Ward, Chris Ofili, Robert Colescott, Derrick Adams, Sanford Biggers. Still, an overheard comment attacking white Dutch photographic artist Viviane Sassen's black material recalled the recent Whitney Biennial Dana Schutz/ Emmett Till protest and spoke to an anger not calmed.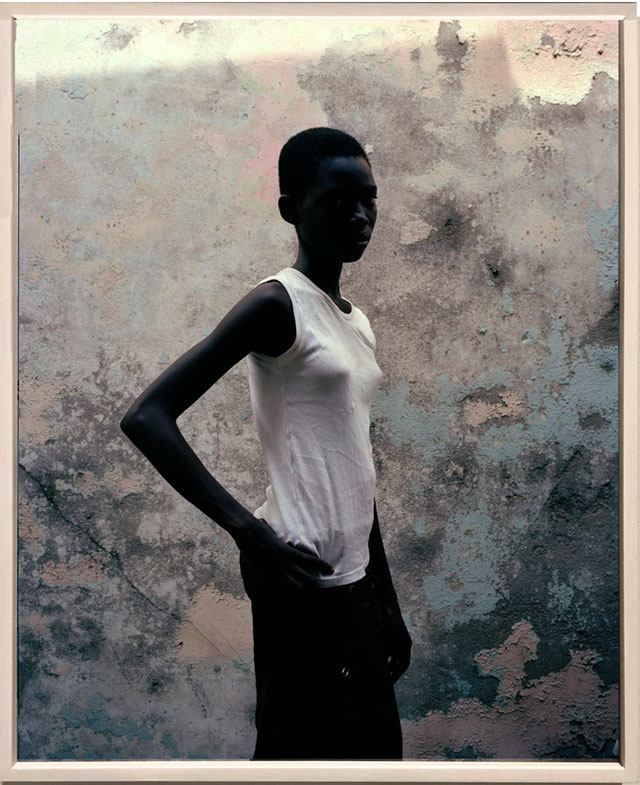 Viviane Sassen. Faro, 2007. Chromogenic print mounted to aluminium, 50 × 40 cm (19 1/2 × 15 3/4 in). Photo: Jill Spalding.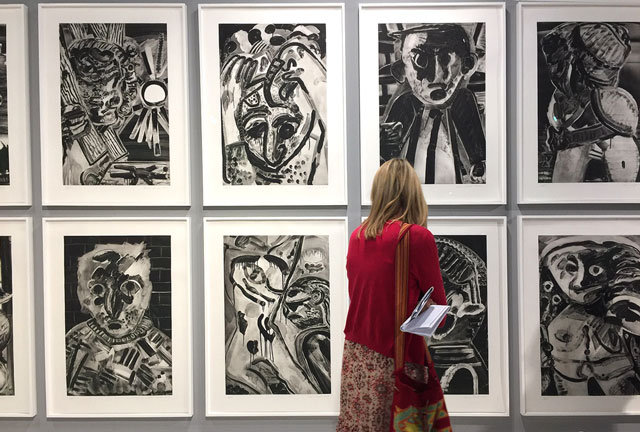 Dana Schutz. Set of 10 etchings, 2018. Etchings with aquatint, 43 1/4 x 30 5/8 in (109.9 x 77.8 cm) each. Photo: Jill Spalding.

As for what is trending, happily, trend-spotting is over for now and the swift cooling of yesterday's sought-after artists (case in point, Tal R and, most recently, Jonathan Meese, pushed to produce new work too fast) has given collecting "hot" art a pause.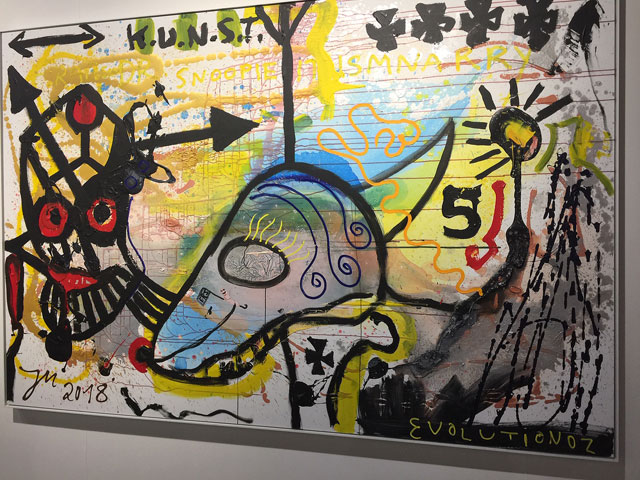 Jonathan Meese. Ich Will Immer 'Schatzinseln'!', 2018. Oil and acrylic on canvas, 180.1 x 270.3 x 4 cm (71 x 106 1/2 x 1 1/2 in). Photo: Jill Spalding.

More happening was work that museum directors were scouting; I saw a collector put in a quick bid for another of the $16,000 Gillian Wearing C-type prints the Guggenheim Museum's Richard Armstrong was considering.
Also, new-to-the-pantheon luminaries such as Mark Bradford, Mark Grotjahn and – spotlit by her portrait of Michele Obama – Amy Sherald, whose auction prices have soared. And artists coming off of, or anticipating, a museum survey or solo mega-gallery exhibition. Scooped up by Pace and Hauser & Wirth, and showing until March at Miami's new ICA museum, Larry Bell led the California light and space art revival that also brought (and sold) work by Peter Alexander and John McLaughlin; ahead of his Met Breuer retrospective, the ripped canvases of Argentina's Lucio Fontana dotted four fairs; two small sculptures by Pedro Reyes, the featured artist at Design Miami, sold quickly, as did work by Dorothea Rockburne, recently profiled at Dia Beacon, and Nari Ward, extensively exhibited at the Pérez Art Museum Miami.
Strong interest, too, in work by Adrian Piper, coming off his retrospective at MoMA; by the Haas Brothers, currently showing at the Bass Museum, and by George Condo, one of only four artists featured in the current must-see art documentary, The Price of Everything. "Crazy," said one viewer I came across, of $25,000 for a Hockney print, edition of 25, who then (with the artist's $90m swimming pool painting sold at Christie's still fresh) bought it.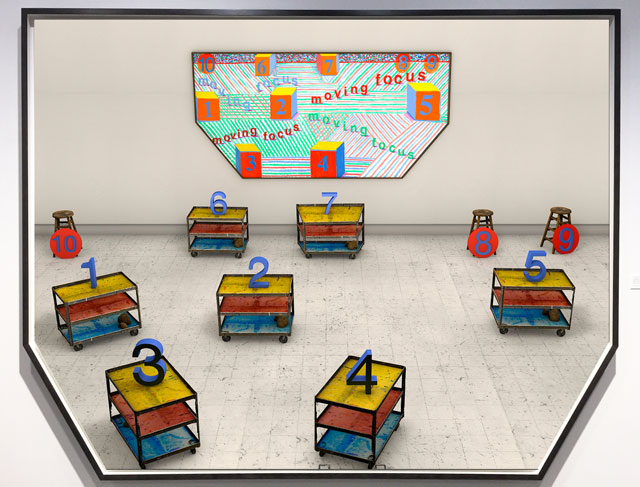 David Hockney. Focus Moving, 2018. Photographic drawings printed on two sheets of paper and mounted on two Dibond panels, 170 x 218 cm (67 x 85 ¾ in). Photo: Jill Spalding.

For the most part, name artists did well; a Picasso, a Robert Motherwell, a Marc Chagall, a Franz Kline, a Bridget Riley and a Sean Scully all sold on opening day. There were, nonetheless, fallouts; the stunning orange/yellow Rothko at Helly Nahmad – a true beauty – will find a client elsewhere, because its $50m price tag was too high for a fair; the shine of the magenta/orange Jeff Koons Smooth Egg with Bow at Edward Tyler Nahem space dimmed by the failure of his Cracked Egg (Blue) to sell in London in October this year; and, doubly ignominious because Chuck Close himself was cruising the fairs, post-scandal the only works of his showing anywhere were some permanently installed portraits in the Setai hotel lobby.
In the end, what ABMB brought to fair-goers was less an agglomeration of work for sale than an indelible, fully sensory experience of art. Art-making sprouted pop-ups like corn popped from heat. As back-dropped against the soundscape projected on to the adjacent wall of the New World Center and the musical beat pouring from Miami's simplest eatery, the fair environment played out as theatre.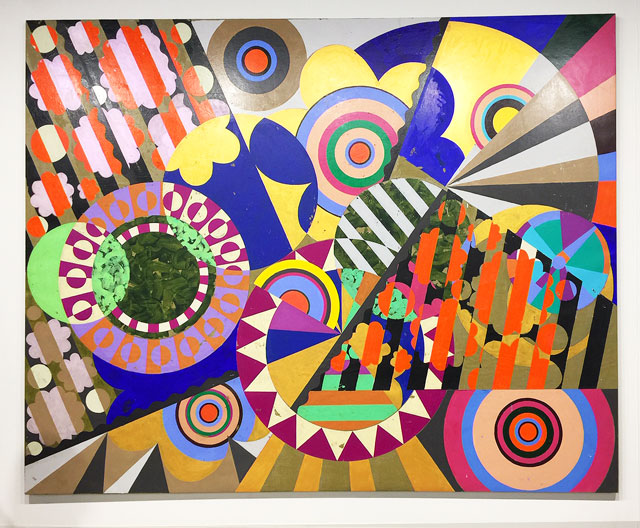 Beatriz Milhazes. Pó de arroz, 2017-18. Acrylic on canvas, 280 x 353 cm (110 1/4 x 139 in). Photo: Jill Spalding.

The froth may have bubbled off the blue-chip/return-on-investment/advance-loan-on-guarantee/third-party-guarantee surface, but the explosion of live artist input has given even the main fair a new thrill. Climaxing twice daily in the newly built, second-story Grand Ballroom at the Miami Beach Convention Center, Autorreconstrucción: to Insist, to Insist, to Insist …, a collaborative installation-performance by Argentinian choreographer Bárbara Foulkes and Abraham Cruzvillegas (the Mexican artist whom you may remember for shovelling soil from London parks into the Tate Modern's Turbine Hall), stunned all who saw it with a suspended dance sequence staged to dialogue with sculpture improvised from trashed objects. I came across Cruzvillegas engaging a crowd of enthusiasts: "I don't want to show my own taste, my sculptures are constructed from things brought to me – shoes, chairs, ropes, carts … and it's not about poverty, it's about the human tradition of making something with nothing … when Bárbara asked me to work with her like a choreographer, I saw how space, objects and movement could be manipulated to give shape to hope and how self-construction could be made into a living experience."
As I experienced iteration 2018, the dynamic interaction between product and creator saw ABMB et al satellites turn a corner. Both fringe and established artists showed up front and centre, virtual docents eager to flesh out work they were showing with back stories, detailed explanations of ideas and process, mimeographed articles on past projects and invitations to future ones. A short hop up to the Nina Johnson Gallery brought you face to face with living legend Judy Chicago, dangling blue earrings, elaborating on a never-before-seen early photoprint series and later feminist pronouncements built from fire and smoke, and, at the young age of 79, announcing a forthcoming show to be staged by the equally irrepressible Jeffrey Deitch.
A tour of the offerings at the neighbouring Aqua hotel found Uruguayan-born Vicky Barranguet, Charles Saatchi's catalogue cover-girl artist, holding forth on her stirring scaled-up abstract canvases. Had you run across Raúl de Nieves at the inaugural annual Faena Festival where he countered Alfredo Jaar's floated disclaimer "This Is Not America" with a glittering carousel, bought in Brooklyn and covered in his signature plastic beads, he would have laid out for you how he altered an historic artefact to transpose his dreams. Had you spent time with husband and wife duo Carla Fernández and Pedro Reyes at Design Miami, you would have learned firsthand about the ancient Mexican weaving techniques informing Fernández's laborious textiles and the shovels fashioned from donated guns to plant trees for Reyes's ongoing project, Palas por Pistolas, as well the significance of the tripod, a pre-Columbian technique designed to sit firmly on the ground and thought a design error until revisited with his furniture.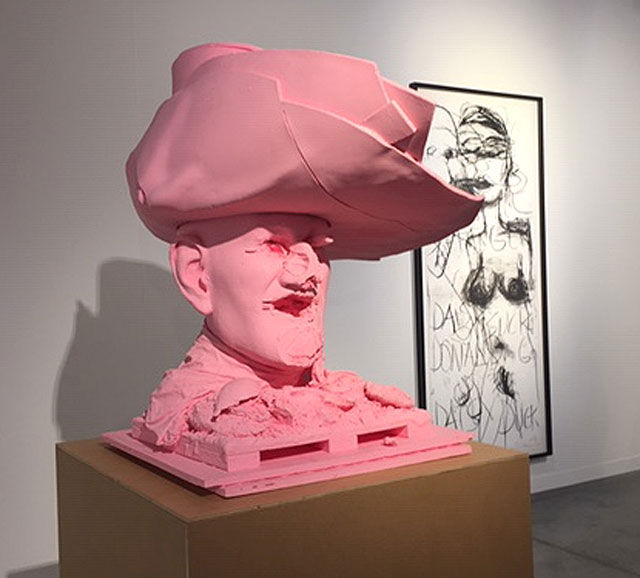 Paul McCarthy. SC Western John Wayne, pink, 2016. Silicone, 60 x 42 x 60 in (152.4 x 106.7 x 152.4 cm). Photo: Jill Spalding.

Scheduled visits to the studios of locals Adler Guerrier, Maria Martínez-Cañas and the great Los Carpinteros defector Arrechea opened insights into concept and craftsmanship. Incredibly, in nearby Doral, the greatest living Cuban artist, José Bedia, was expounding on a show of new work, tracing the sinews of his imaginary creatures to ancient myth and ritual. Most indelibly, I ran across a local street artist, Jose Garza, fabricator of sculptures for Burning Man and ABMB and now thrust by his own telling into spotlight attention by Miami Art Week's extravaganza. Turning fair fatigue on its head, Garza calls the ripple effect of the hyped action a win-win – hotels, restaurants, purveyors are all booked to the max, and the least artist with talent who affiliates with the least aspect of production, design or installation, be it on the beach, streets, plazas, walls or storefronts can parlay that connection into a gig, gallery show or design commission. True, the aspiring artist may find herself flown round the world to produce under the moniker of a more established artist, but she has got her foot in the door and cash for the rent and the connections to return to Miami and set out on her own. "And that's a very Miami thing, man," Garza said, to a local reporter; "however you can get it, get it! We're built on that."