Art Basel Miami Beach 2017
It was all systems go – quality art, media buzz, more space, more work – but with a lower attendance and many big collector names absent, America's premier art fair had a last hurrah undertow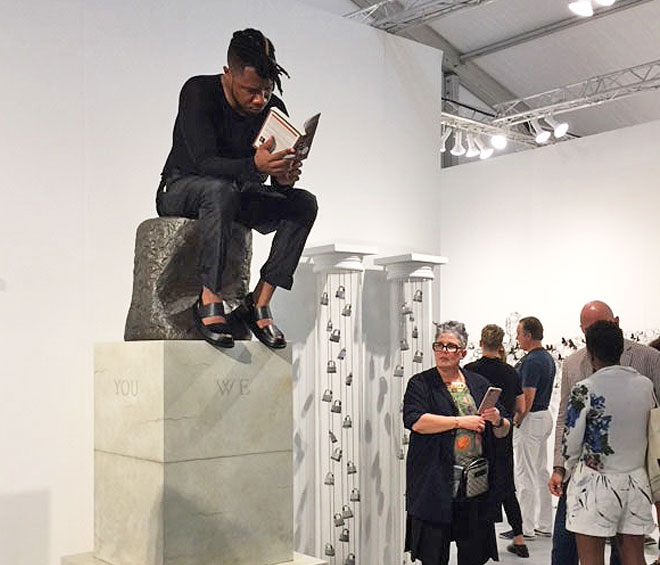 Art Basel Miami Beach
7-10 December 2017
by JILL SPALDING
It is a wonder that such a fragile ecosystem – Miami Beach is wrought from sand after all – can sustain the weight that Art Basel Miami brings to bear on it each first week in December. The rental car traffic, upped this year by a shortage of Ubers, the football-field tents, the trampled beaches and the catered parties spilling down to the tideline imprinted more than gravitas on the already tenuous construct. That, nonetheless, so much on offer came off as compelling speaks to a model still seen as useful. Miraculously, the main event was again held in the Convention Center despite a dramatic makeover rendered close to inaccessible by construction delays laid to hurricane fallout. Freed by the expanded space to spread their wares, the 268 gallery booths sparkled like holiday windows.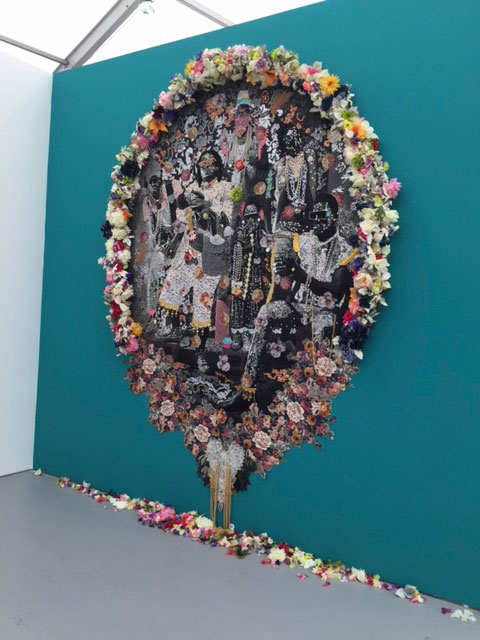 Ebony G. Patterson. Wi oh so clean. From the Family Series, Mixed media photo tapestry, with flowers. Installed at Untitled. Photograph: Jill Spalding.

With sales foremost in mind, much that was brought was by artists who were fresh off a solo exhibition (Yayoi Kusama), or were preparing for one (Ebony G Patterson), or were currently showing at a museum (David Hockney, Dara Friedman, Frank Stella, Ugo Rondinone); or were riding their celebrity moment – as with Dana Schutz, surfing the controversy of her Whitney Biennial Emmett Till submission, Lubaina Himid, this year's Turner Prize winner, and Amy Sherald, the officially anointed portraitist of Michelle Obama.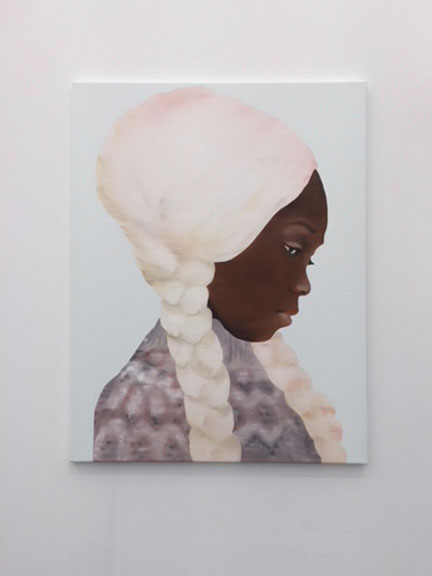 Amy Sherald. Portrait of a young girl. Photograph: Jill Spalding.

The curation should have had its own catalogue; following the Basel brief that denies entry to galleries not committed to bringing significant work, each booth was edited to a fare-thee-well. The one-person Kabinett stalls presented like small museum shows, and even disparate pairings, such as Yinka Shonibare's hand-painted fibreglass figures with Kehinde Wiley's portrait of Margaret Woffington, were placed in deliberate dialogue.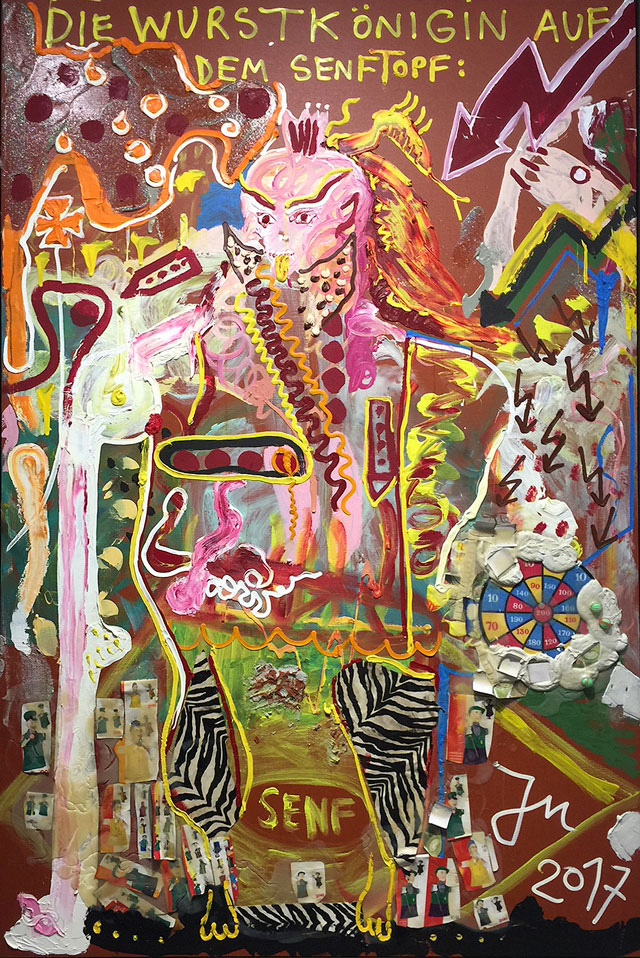 Jonathan Meese. Dr. Loch Nessie Lebt Auf Dem Mond, 2017. Oil, acrylic, acrylic modelling paste, Caparol-dispersion binder, acrylic gel, acrylic paste and mixed media on canvas, 106 7/16 x 71 x 1 5/16 in. David Nolan, New York. Photograph: Jill Spalding.

Naturally, reporting on trends at an art fair – in contrast with what the museum curator turns up on a nations-wide scout of artist studios – relates little more than what the dealers think is trending. Black, last year beautiful, this year was urgent. Selling out at David Nolan and prominently featured in the de la Cruz house tour, Jonathan Meese is being positioned as the new Jean-Michel Basquiat. Brisk sales, too, for Carrie Mae Weems and for newly sought-out old-timers Henry Taylor, David Driskell and Sam Gilliam, whose prices have doubled. Am I the only one, though, who hopes to move on from the "black artist" designation as their work becomes mainstream?
The same holds for "women artists", now fully mainstream as witnessed by needlessly in-your-face "artworks" – in the streets, Michele Pred's Parade Against Patriarchy; at Pulse, the Pussy Photo Booth; downtown at Juxtapoz Clubhouse, crochet artist Olek's 20ft-tall, eight-legged Spider-Woman; at ABMB's Gavlak booth, a selfie line formed by the outsized boxing gloves that Zoë Buckman upholstered with wedding dress scraps, and sales were brisk for Xaviera Simmons, Hannah Wilke, Lynda Benglis, Louise Fishman, Betty Tompkins, Teresa Margolles, Andrea Bowers, Catherine Opie, Ana Mendieta and Judith Bernstein.
Newly mainstream (thanks largely to astute exhibitions at her Miami Institute of the in-depth Ella Fontanals-Cisneros collection, to generous loans and funding by former sister-in-law Patricia Phelps de Cisneros, and to the full commitment of the Perez Art Museum of Miami), Latin American artists such as Carmen Herrera and Julio Le Parc showed here front and centre, taking their rightful place in the western canon alongside Diego Rivera, Gabriel Orozco, Frida Kahlo and Wifredo Lam.

Installation view. Photograph: Jill Spalding.

Ceramics surfaced at all the fairs, worked into totems and oversized pots. Sculpture furbished a great many booths, the majority figurative with the intervention of found objects (Nick Cave) and others abstracted to present as columns and form dividers.
Text, first shaped into a contemporary aesthetic by Mel Bochner, manifested everywhere – as wordplay, codified parable, or political statement – signing in neon, on canvas, on T-shirts and across tote bags.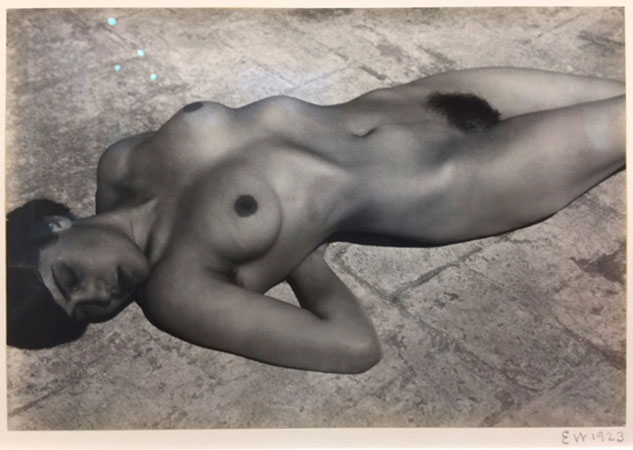 Edward Weston. Nude (Tina on the Azotea), 1923. Gelatin silver contact print, 6 5/8 x 9 3/8 in. Edwynn Houk Gallery. Photograph: Jill Spalding.

Gratuitous shock was notably absent; the only frontal image I encountered – a shocker no more – was a historic Edward Weston photograph. More pertinent to the mood, activism abounded, although mostly at the satellite fairs and the pop-up installations tripping pedestrian traffic. Distressingly, such is our daily immersion in the tragedies of abandonment, assault, forced migration and environmental disaster that lines did not form in front of the trenchant works addressing them.
The moving image took a hit at the main fair this year as a forewarning that the revamped electrical grid was not yet fully functioning ceded video material to still photography. The standouts broke new ground; most were heavily manipulated, saturated with a digitally altered palette to give the everyday a new aesthetic, or layered with mixed media then rephotographed to deepen the message. At Athr, Ahmed Mater's symbolic cities opened windows, doubled rooftops and injected gardens to construct new Babels and lost Isfahans; Tony Gum's large-scale images of South African working women added paint to indelibly mark their postcolonial limbo.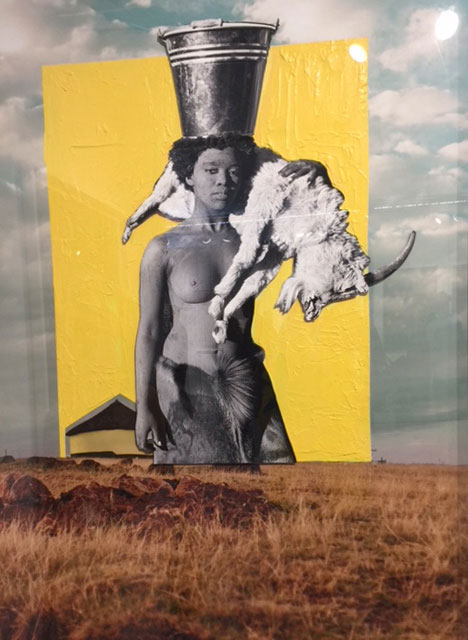 Tony Gum. Milk the Bok. Installation view. Photograph: Jill Spalding.

Textile claimed its place as a fine art with woven wall hangings and stitched portraits; at the Kukje booth, the oil-painted hemp paintings of South Korean Ha Chong-Hyun and, in the Pulse tent, Jeana Eve Klein's searing fabric-worked take on immigration. Attracting an audience prepped at last year's Kabinett showing by Irena Haiduk's refractive candy exchange counter, an evolved generation of mirrored works pieced to function as reflectors, identity checks or the quantum particle existing in two places at once attained the come-hither sophistication of an interactive technology.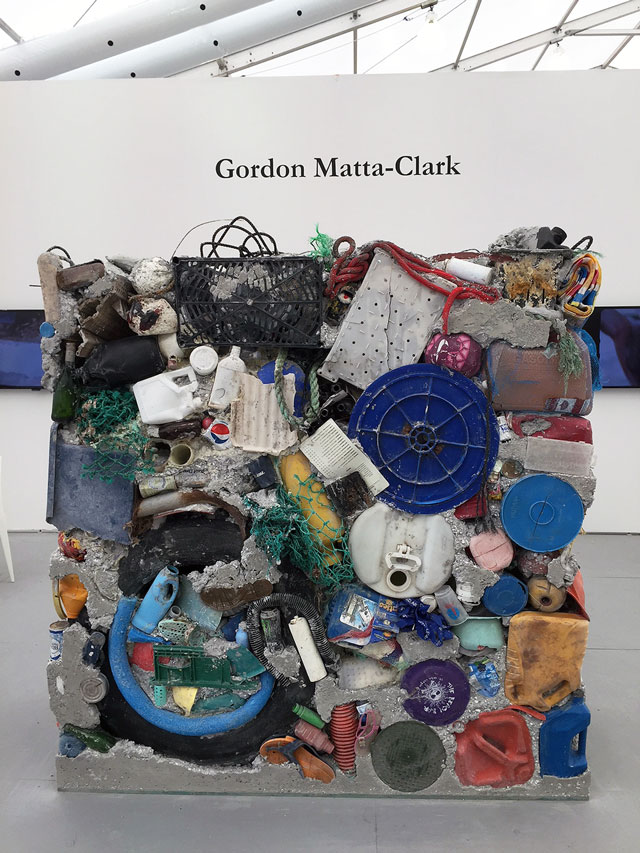 Gordon Matta-Clark. Garbage Wall (installation at David Zwirner Gallery), 1970/1999. Photograph: Jill Spalding.

Significantly, this year's showstoppers were not the flamboyant installations and outrageous performance pieces of the past. There was no avoiding the spun steel atom with massive rocks for electrons, an outsized beach ball, and the live pastiche on a pedestal of a Rodin thinker thumbing a book. But that the object-saturated efforts agglomerated from arte povera materials – glued, braided, spun, suspended, appended – to project from the wall, dangle from crossbars and swallow the floor space didn't draw the attention of past fairs suggests a been-there boredom with cluttered assemblage.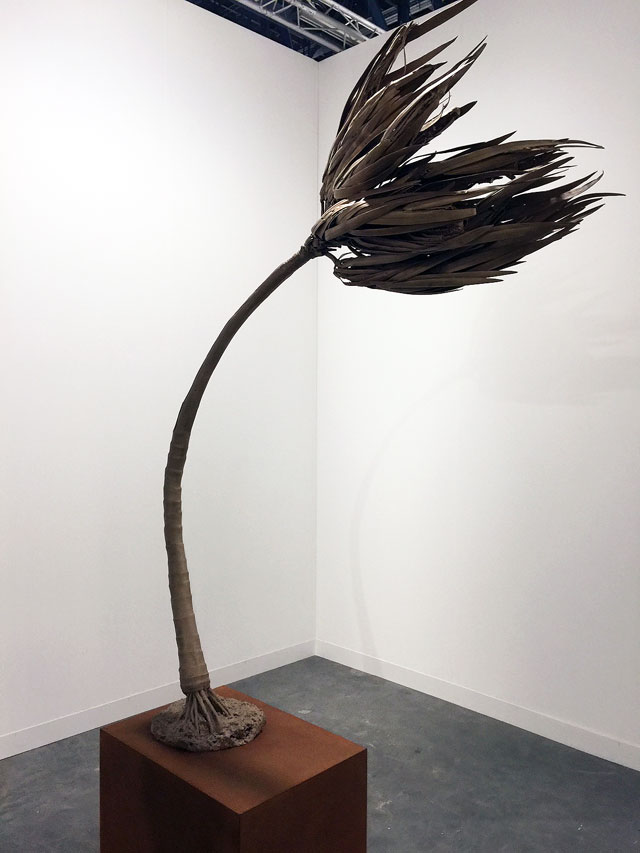 Los Carpinteros. Huracán (Hurricane), 2017. Bronze, 210 x 160 x 40 cm. Galerie Peter Kilchmann, Zurich. Photograph: Jill Spalding.

With the exception of a storied Gordon Matta-Clark Garbage Wall sculpture at Untitled (which made news less for its symphony of washed- up plastics than for his widow's homage to her husband of spraying his favorite tequila on the artefact as she circled it) viewers were more attracted to crisper statements – a hurricane-blown palm tree in bronze by Los Carpinteros; a João Maria Gusmão drawing that read both as a nude and a face.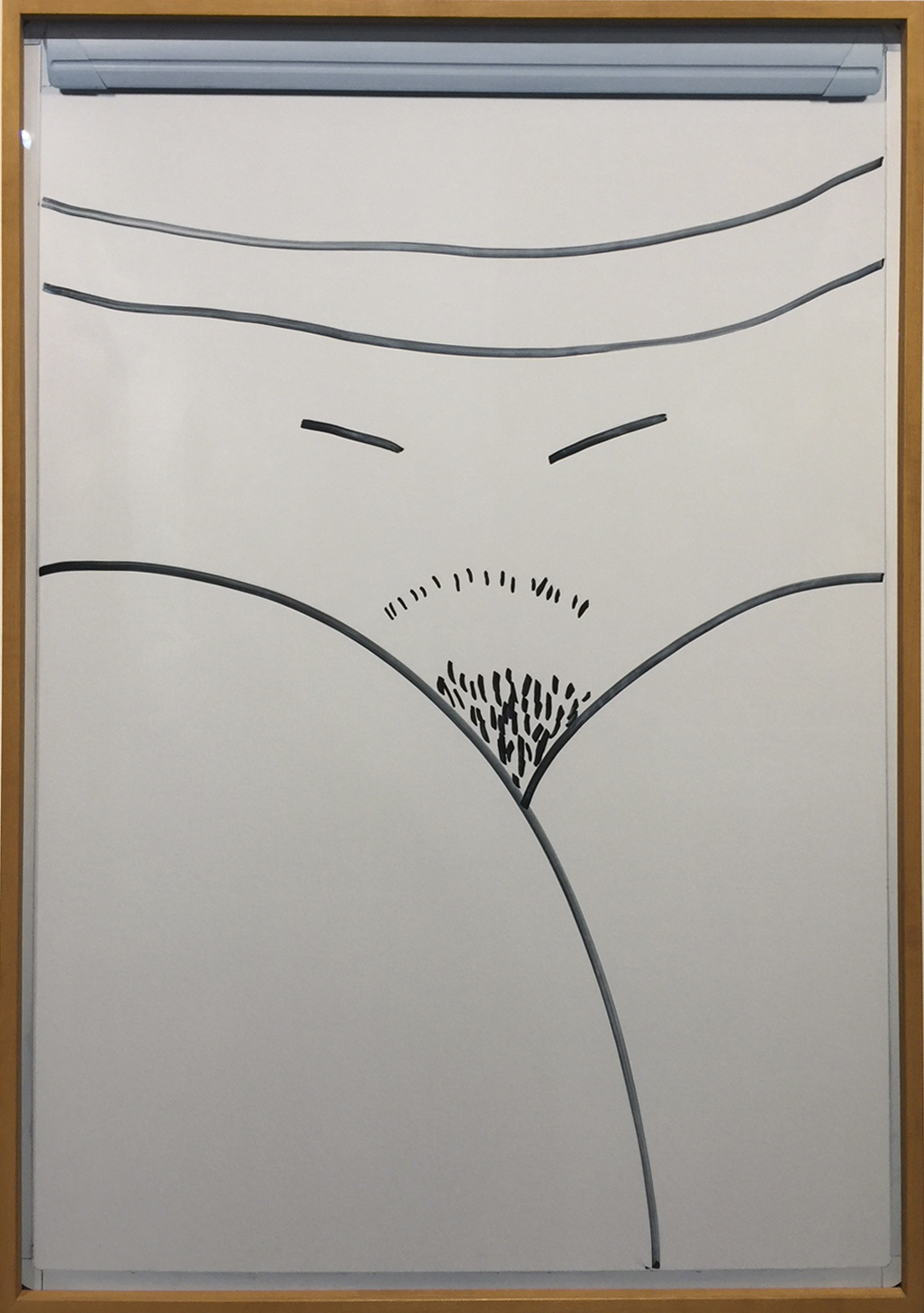 João Maria Gusmão + Pedro Paiva. Sleeping Eskimo, 2016. C-print, 107 x 75 cm. Fortes D'Aloia Gabriel. Photograph: Jill Spalding.

Although noted, Mairead Delaney who rolled around in wet concrete to make a sculpture of her body, Thea Duskin who set up a tattoo parlour to offer her watercolour designs for a bargain $500 (£370) each, and the Satellite fair's ploy of a free haircuts to pull viewers down to its abandoned hotel site, did not mark – victims of overload, as when an excess of detritus floats up on the beach. Nor did political irony, even the well-executed Trump caricatures by Peter Saul and Manuel Ocampo, retain last year's fresh appeal. More gripping were pristine works of modern art pioneers; a flight of Beverly Pepper's rarely shown sculpture, a passionate Picasso, a vigorous Fernand Léger, a throbbing Joan Mitchell, a cool Carmen Herrera and an elemental Mary Corse.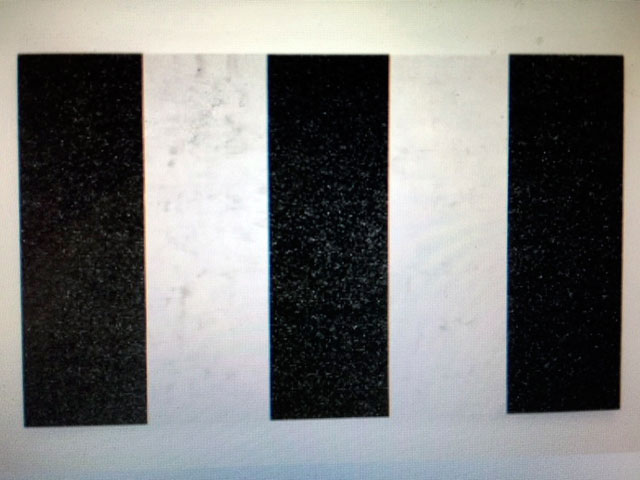 Mary Corse. Untitled, 2017. Acrylic squares and glass microspheres in acrylic on canvas, 72 x 114 in. Photograph: Jill Spalding.

Several were pre-sold (a tactic that is doing the art fair a disservice) which qualified their inclusion as good business. And yet, heartening as it was to see modern masters featured here, this year they somehow looked out of place, a distraction that called attention to the morphing model of an art fair. What is the young collector looking for? A conversation piece? A frisson? A new paradigm? It rattled that monuments to art history suffered here by seeming not of the moment; that, like the gilded portraits of a distant aristocracy, even the masterpieces of early contemporary now take the air out of fair – noble and noteworthy, but increasingly less impactful. Two welcome exceptions – at Paul Kasmin, a stunning Lee Krasner (breaking her record to sell for $7m (£5.2m) and the exquisite lineup at Pace of maquettes for well-known large works by such as Louise Nevelson, Alexander Calder, Jean Dubuffet and Sol LeWitt that condensed their power to look newly relevant.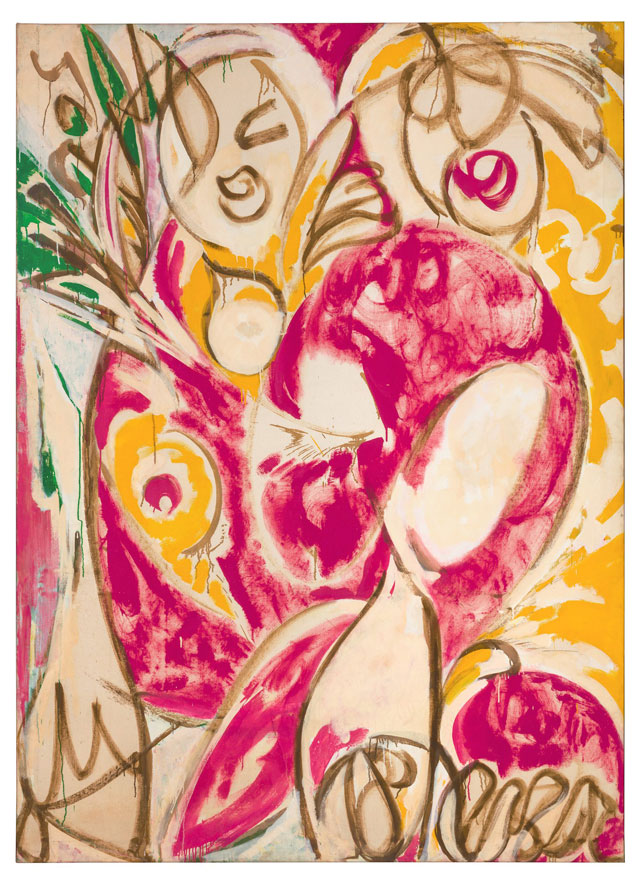 Lee Krasner. Sun Woman 1 (detail), 1957. Oil on canvas. Photograph: Jill Spalding.

The overall exception is abstraction, newly practised by young artists such as Torkwase Dyson and Tomashi Jackson to address tough material and saturated issues indirectly and differently. Even early practitioners are again very much front page of what is held happening – though it gave pause to overhear decor referenced by two viewers interested in the vivid Tom Wesselmann at Galerie Hans Mayer and the pulsing Sean Scully at Kewenig, as in "great with our colour scheme", and "would work as a neutral background for all that's going on in the carpet".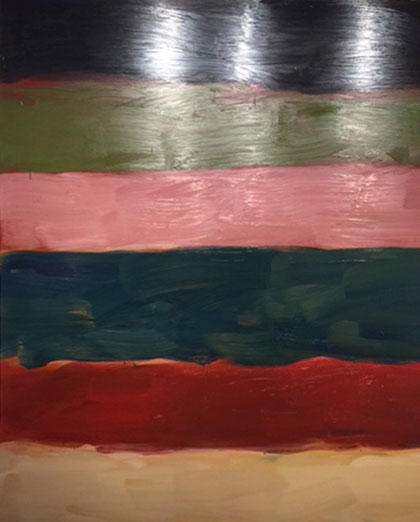 Sean Scully. Landline That Pink, 2017. Oil on aluminium, 216 x 190.5 x 5 cm. Photograph: Jill Spalding.

Despite the Trump government pullback on art funding, there was no sense of cut corners. The fair's knights in armour, corporate backers once held tacky and antithetic to creative integrity, now reassure. Today's Medici, "connoisseur" brands, such as Christian Dior, Audemars Piguet, MGM, Fendi, Hermès, Louis Vuitton, Loewe, Prada and Gucci, are consistently backing heroic installations. Speaking to the imprimatur on fair art of even edgier brands, this year's satellite efforts were supported by Cos, Sies Marjan, Miansai and Alchemist.

There was nonetheless, as with cryptocurrencies, a question lapping at the walls about how long the euphoria can last. Several regulars expressed a touch of fatigue, with art fairs and even with contemporary art. The deeper question addresses the dealers, many of whom are wondering whether the art fair model is losing its relevance – if not close to broken. There are altogether too many; the smaller ones sap the energy from the main ones; and it is becoming increasingly clear that satellite fairs, for all their energy and young-artist vibe, may no longer be able to compete in the big league. Even the mighty ABMB may have an expiry date. UBS may insist on the irreplaceable urgency of its three Basel events (Hong Kong the latest) and position them increasingly as art shows rather than art fairs, but a startling number of gallerists I spoke to on site were less certain.
They talked of technology effecting a sea-change, if not a tsunami, in the way dealers move art today. "We live in changing times," observed Christine Wächter (New York). "Collectors don't leave their names any more; instead, they follow you. When you have 800,000 followers on social media, it changes the whole game. I'll post a work on Instagram and it sells in four hours. It took a lot to get our sea legs on Artsy, but now we sell a lot there as well." Elba Benítez (Madrid) referenced "interconnectivity and ubiquity". Annely Juda (London) credits social media with "greatly increasing our profile". Maria Bernheim (Zurich) said the new technology enables a "Musée imaginaire", which allows her to show without a physical space, and Tina Keng (Taipei) said: "It has exploded geographical boundaries." All note that, by eliminating the gallery space, they could radically reduce the killing overheads of insurance, staff and storage. Will the art fair, in turn, cede to the jpeg?
On the other hand, Fredric Snitzer says he makes 25% of his annual sales at fairs, and emphasises the irreplaceable immediacy of meet, greet and see in situ. One of the only two Miami dealers showing at ABMB, Snitzer reported a huge bump in international contacts from this year's presence here, "and vigorous sales", he added, referencing the Hernan Bas, Alan Sonfist and Enrique Martínez Celayas that rolled out by the fourth day.
Clearly the fair's organisers are bullish, as they have just signed a contract with the city for another five years. Plenty of time for both detritus and marvels to wash up on the beach.