Thomas Bayrle: Playtime
This major retrospective of the work of Thomas Bayrle brings together works from the past 50 years and throws an unsettling light on the nature of society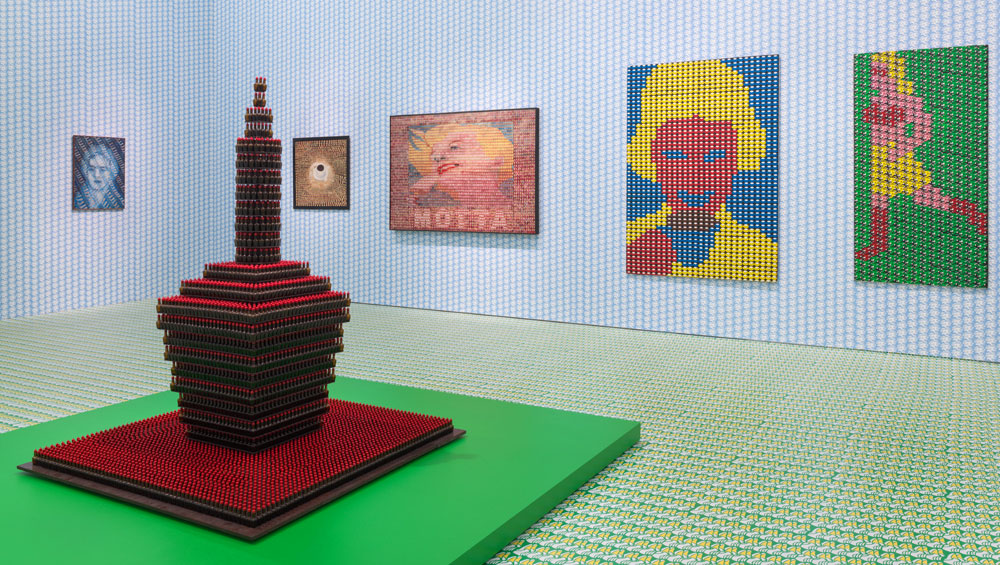 New Museum, New York
20 June – 2 September 2018
by ANNE BLOOD
In Jacques Tati's 1967 film Playtime, the staid order of the modern world is visually articulated by a humming office space in which each worker toils away in their individual square cubicle, an exact copy of the one in front, behind, to the side, etc. Here, the modular architecture reflects life – controlled, repetitive and productive. This type of assessment of the postwar age and mass culture is equally apparent in the "superforms" of German-artist Thomas Bayrle, whose work is currently the subject of a retrospective at the New Museum in New York that takes its name from Tati's film.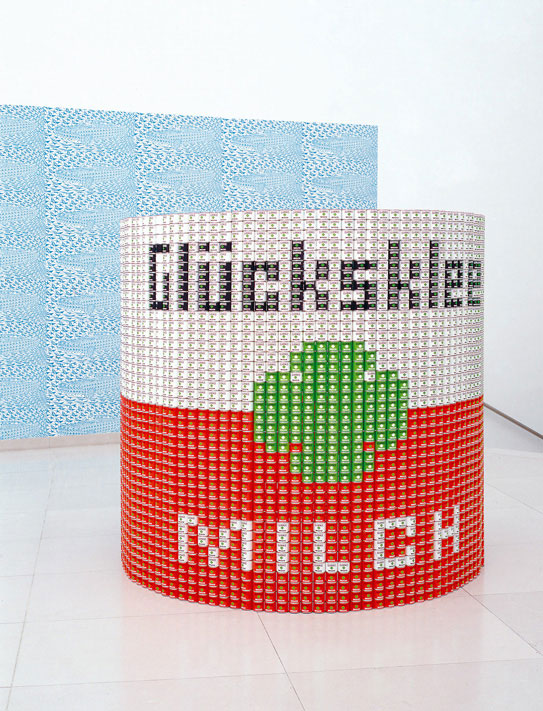 Thomas Bayrle. Glücksklee Can, 1969/1996. Evaporated milk cans, 70 7/8 x 70 7/8 x 70 7/8 in (180 x 180 x 180 cm). Photograph: Rolf Abraham.

In Bayrle's superforms, a single image, frequently borrowed from advertising, is repeated hundreds, or even thousands, of times, creating a large, recognisable figurative form or simply an exhaustive repetitive pattern. These works appear variously as paintings, textiles, wallpaper and even sculptures, and all of these iterations are present at the New Museum, most prominently as soon as one steps out of the lift into the first gallery on the third floor: the floors are lined with superform wallpaper depicting thousands of green, yellow and white pairs of shoes, and the walls are lined with superform wallpaper displaying the Laughing Cow motif from the famous cheese brand in white on a pale blue ground. Atop the wallpaper, superform paintings are mounted to the walls and a superform sculpture stands staunchly in the centre of the room. A clear play on themes of manipulation through the oversaturation of advertising and the contemporary dependence on mass production, these works fluctuate between cheerful recognition of the modern moment and knowing disdain.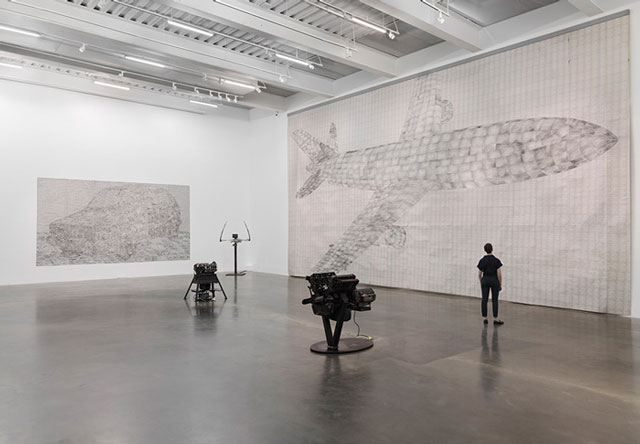 Thomas Bayrle: Playtime, 2018. Exhibition view, New Museum, New York. Photograph: Maris Hutchinson/EPW Studio.

Born in Berlin in 1937, Bayrle now lives and works in Frankfurt. Although he is hailed as one of the key figures of German pop art, alongside Sigmar Polke and Gerhard Richter, his artistic training was in textile design; he was apprenticed to a jacquard weaver, from whom he learned the importance of pattern and mechanisation as he worked on the factory floor. From there, he moved into commercial advertising, producing global campaigns for the chocolate company Ferrero and the fashion designer Pierre Chardin. At the same time in the postwar period, he was actively involved with the German student protest movement, taking advantage of his access to machines while employed in commercial advertising and publishing to reproduce posters and other graphic materials used in demonstrations. His influence on contemporary German art is far reaching, especially through his role as a professor at the Städelschule from 1975 to 2007.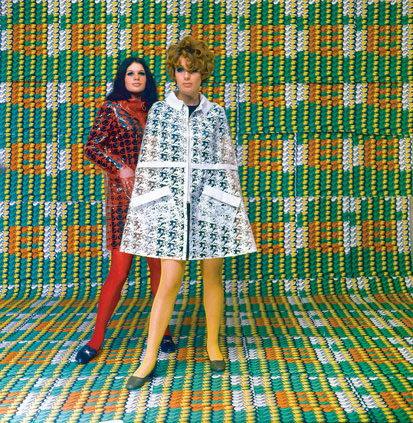 Models wearing coats designed by Lukowski + Ohanian with textile pattern by Thomas Bayrle, Galleria Apollinaire, Milan, 1967–68. Photograph: Christian Roeder.

Bayrle began making art in the 60s and, in 1964, he started to produce his "painted machines", which are composed of miniature hand-painted wooden figures that rotate when activated by switch, like a game at a fairground attraction. Dually inspired by the spectacle of communist pageantry and the dominance of consumer culture, the works combine these supposed opposed influences to highlight the role of the individual within controlled societies.

Thomas Bayrle. Ajax, 1966. Oil on wood construction and engine, 88 5/8 x 41 3/8 x 4 3/4 in (225 x 105 x 12 cm). Photograph: Colin Davison.

In Ajax (1966), rows of apron-clad woman stand with arms raised, brandishing a bottle of Ajax floor cleaner in one hand and a mop in the other. On one level, the work is a playful commentary on the proliferation of American products that flooded the German markets in the years following the second world war, but there is something much darker here, too. Even in the shiny period of economic stability, the individual can still be subjugated to the seductive power of consumerism, and the obsession with cleanliness holds sinister echoes of the recent Nazi past.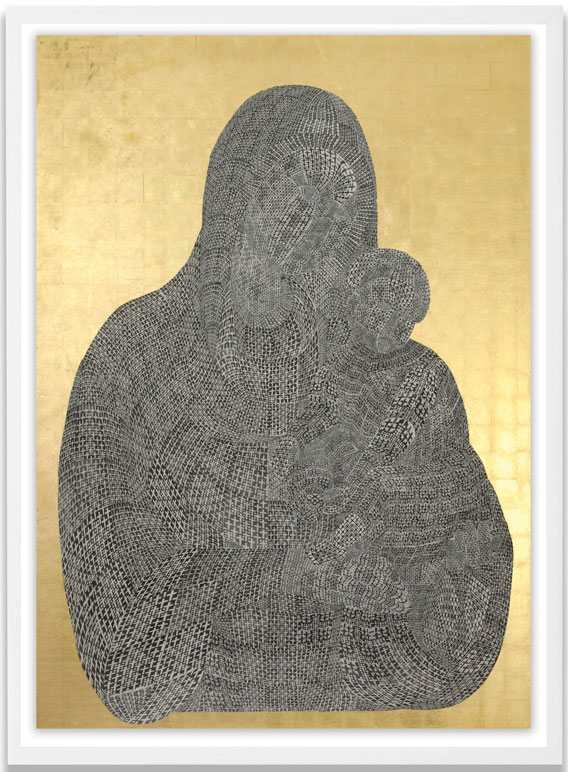 Thomas Bayrle. Golden Madonna, 1988. Photocopy collage and gold leaf on wood, 78 x 57 1/2 in (198 x 146 cm). Photograph: Wolfgang Günzel.

In the 70s and 80s, Bayrle perfected a technique for distorting images that he applied variously to paintings, films and video works. In his 1988 Madonna d'Oro (Golden Madonna), he built the central image of the Mother and Child from numerous crosses that he initially printed on rubber and then distorted and photocopied to manipulate the original image. The curved crossed that wind in rows to form the Mother and Child bring to mind chains of rosary beads and the recitation of prayers for forgiveness. The subject matter clearly reflects the artist's fascination with Catholicism (Bayrle was raised in the Protestant tradition), in particular the power of rituals and iconography to structure behaviour through repetition, yet the central image more closely recalls the poses found in the icons from Eastern Churches, even more so through their shared us of gold ornament. The somewhat obvious parallels between religion and consumerism arise in Bayrle's other recreations of the Mother and Child, which are formed from such luxury items as cars or iPhones.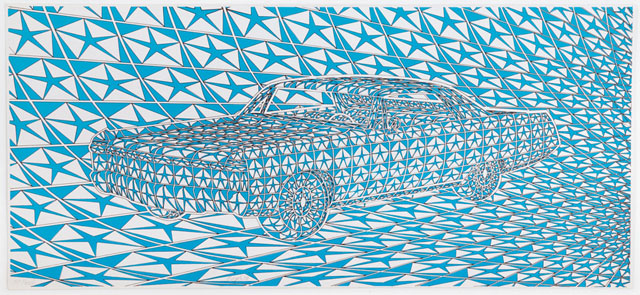 Thomas Bayrle. American Dream, 1970. Silkscreen print on paper, 16 1/2 x 31 1/8 in (42 x 79 cm). Edition of 25. Photograph: Wolfgang Günzel.

Yet Bayrle's exploration of religion is not irreverent. For his "praying machines", which he has produced for the last decade, he takes engines from cars, motorcycles and planes and repurposes them as kinetic sculptures. Each machine has a soundtrack composed of recordings of church services and recitations of the rosary that plays amid the hum of the whirling machine.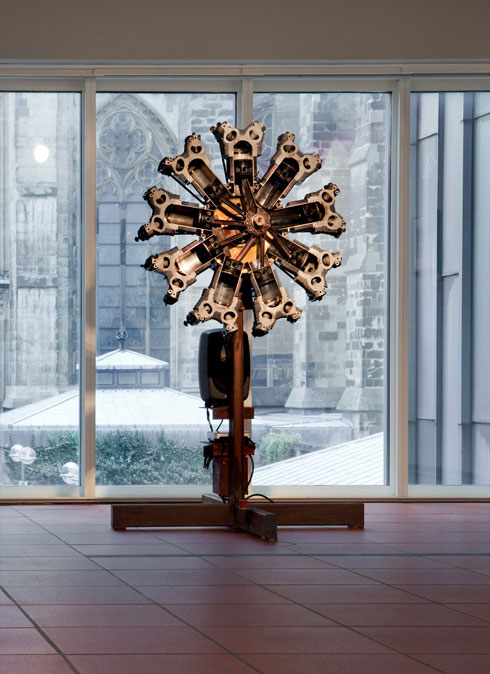 Thomas Bayrle. Monstrance, 2010. Radial engine, electric drive, and sound; sound collage: Rosary (German) and radial engine, 9 x 43 1/4 x 47 1/4 in (150 x 110 x 120 cm). Photograph: Nikolaus Schletterer.

The faintly audible human voices transform these objects into anthropomorphic devotional figures. At times, the intertwined cacophony of machine and prayer feels peacefully meditative, as both march continually on at an even pace. Yet, at the same time, as the engine represents the desire to achieve a more perfect modern age, that perfection, much like the desire to achieve absolution from sin through prayer, is also for ever out of reach.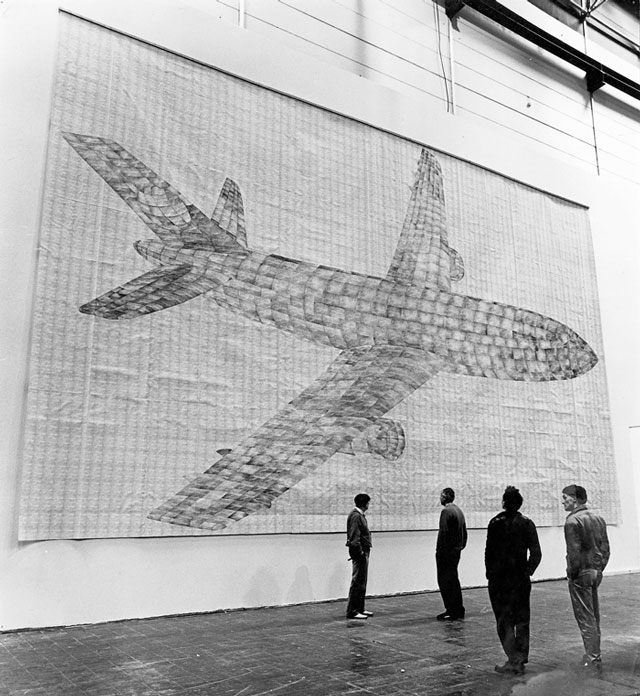 Thomas Bayrle. Airplane, 1982–83. Photo-collage on paper, 315 x 527 1/2 in (800 x 1340 cm). Installation view: dOCUMENTA 13, Kassel, 2012. Photograph: Nikolaus Schletterer.

Hanging behind Bayrle's praying machines at the New Museum is the monumental collage Flugzeug (Airplane), 1982-83, his largest superform to date. In 1980, the German airline Lufthansa commissioned the artist to create a graphic pattern for its first-class lounge. Bayrle fashioned a silkscreen print of a passenger plane composed of 760 smaller planes against a sky made up of an additional 1,020 planes. This design is repeated hundreds of times in Flugzeug to create a gigantic composite image of a single passenger plane. Here, repetition feels pushed to exhaustion as the limitless output enabled by industrial production hovers between the absurd and the sublime.