Teresa Lawton: Tipping the Balance
Lawton's paintings are inspired by her love of Dorset, where she explore the shapes and colours of the landscape, always in awe, she says 'of the silence and mystery of nature'
Teresa Lawton travelled extensively throughout Europe, America and Greece, before studying painting at Winchester College of Art, and then returning to her home county of Dorset, where she now lives and paints. Spending hours in the Dorset landscape Lawton begins her day "up with the lark, before most people are out of their beds" walking her dogs "miles into the forest or along the coast". Lawton explains that she "likes to be alone, alert and quiet", watching as "the landscape changes with the weather and light, creating so many variations" that she is "never short of inspiration or ideas".

Teresa Lawton. Tipping the Balance, 2018. Oil on canvas, 106 x 76 cm. © the artist.

Lawton is interested in "isolated and unloved places with a story to tell, rooms full of light, shadows in the woods, changing light falling into the sea". The Dorset coast is full of stories both ancient and modern. Smugglers and pirates knew their position at night on Chesil beach by the size of the stones where their boast made landfall, fossils of molluscs and brachiopods are common finds along that part of the Jurassic coast, and Meryl Streep in The French Lieutenant's Woman stood battling the wind and heartbreak, wrapped in a cape at the end of the cob in Lyme Regis.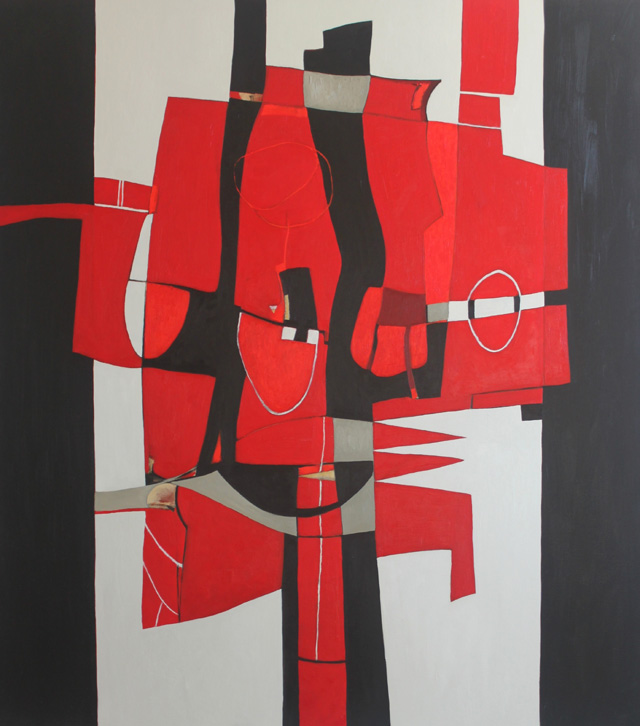 Teresa Lawton. Dare, 2017. Oil on canvas, 91 x 81 cm. © the artist.

Lawton's paintings explore the various shapes and colours of the landscape, the ploughed pink fields, the pale rocks, and the different forms of trees, patterned environments occasionally visited by birds or animals. "Always in awe of the silence and mystery of nature," if she is not walking in the landscape, then her studio is her favourite place to be.
Teresa Lawton: Tipping the Balance
The Gallery at Duke's, Dorchester
12 – 26 July 2018
Interview by MK PALOMAR
Filmed by MARTIN KENNEDY