Bruegel
Marking 450 years since Pieter Bruegel the Elder's death, this staggering survey reunites a vast amount of work from the greatest Flemish painter of the 16th century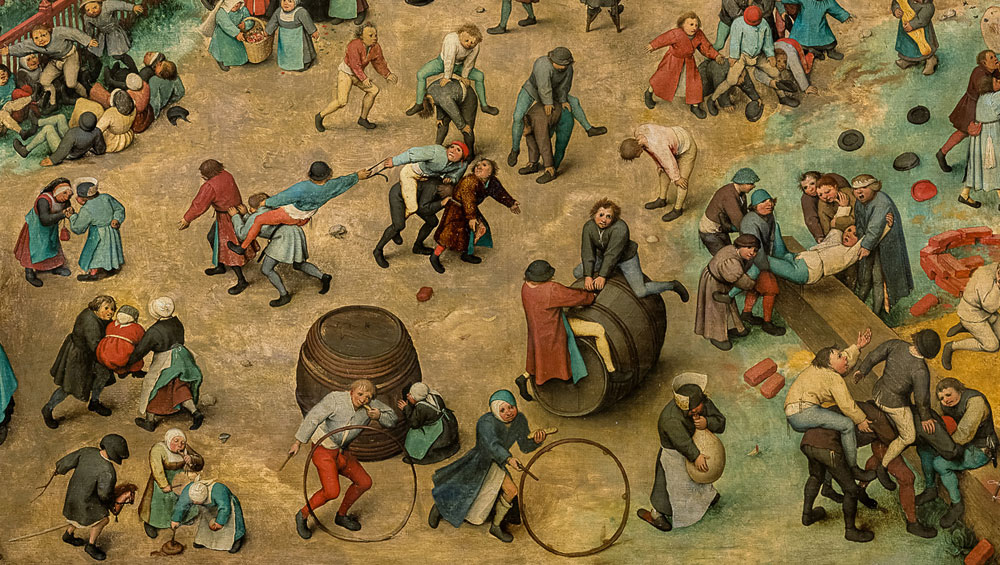 Pieter Bruegel the Elder, Children's Games, 1560 (detail). Kunsthistorisches Museum Vienna, Picture Gallery © KHM-Museumsverband.
Kunsthistorisches Museum, Vienna
2 October 2018 – 13 January 2019
by JOE LLOYD
The world – or at least a patch of it, somewhere in Flanders – has been turned upside down. A dirt-floored town has been taken over by quarrelsome children, more than 200 in number. Some play tiddlywinks, others marbles. A pair are led in procession by their friends in a mock wedding, with petals of confetti spread in their path. There are stilts and hobbyhorses, barrels to vault and hoops to roll; one child uses an inflated pig's bladder to float down a stream. Occasionally, fits of semi-jovial violence erupt: five youths surround another and pull his hair, and grapplers brawl on the ground. One unfortunate is held by the limbs and bounced up and down on a wooden plank until his buttocks are sore. The idea of play is further stretched to extremes by a young girl twirling a mound of faeces with a stick. This is the scene that unfolds in Children's Games (1560). Compendious but bustlingly alive, it is the creation of Pieter Bruegel the Elder (c1525/30-69), the pre-eminent artist of the Dutch and Flemish Renaissance, now on show at the Kunsthistorisches Museum, Vienna. Few painters can lay claim to art so full of life.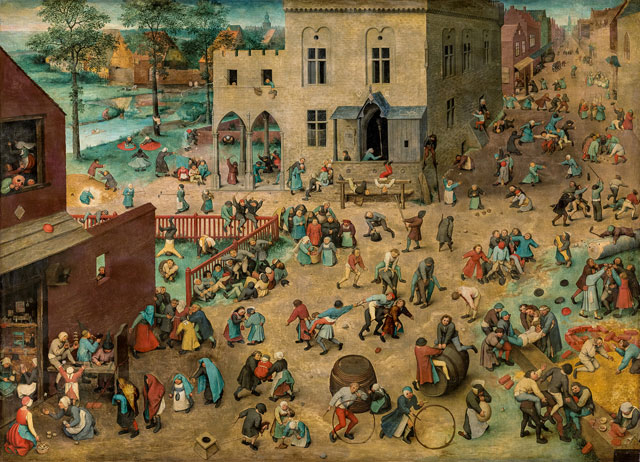 Pieter Bruegel the Elder, Children's Games, 1560. Oak panel, 118 × 161 cm. Kunsthistorisches Museum Vienna, Picture Gallery © KHM-Museumsverband.

Even fewer painters can be said, especially over such a short (and not particularly prolific) existence, to have contributed so distinctly to so many genres. For there are many facets to Bruegel. There is the tracker of bawdy rustic customs, nicknamed "Peasant Bruegel" after three late-career masterpieces depicting rural weddings and dances. There is the encyclopaedic Bruegel of the "wimmelbild" (busy paintings), placing hundreds of tiny characters into stupendous tableaux. There is the Bruegel of nightmarish, demon-filled domains such as Dulle Griet (1563), which mingle wit with moral exhortation. And there is Bruegel the pioneering landscape artist, who gave the natural world a prominence and a majesty seldom approached before.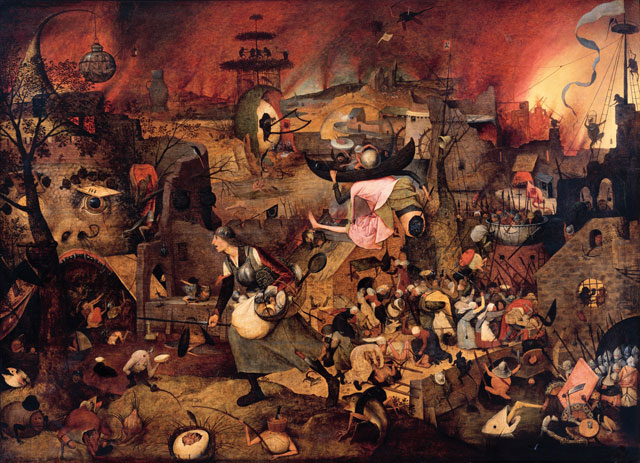 Pieter Bruegel the Elder, Dulle Griet, 1563. Panel, 117.4 × 162 cm. Antwerp, Museum Mayer van den Bergh © Museum Mayer van den Bergh.

All these aspects are revealed in their full glory at this essential exhibition, celebrating the 450th anniversary of Bruegel's death. It is the largest survey of the master ever assembled, gathering three-quarters of his paintings alongside numerous drawings and engravings. For the first and possibly only time, the breadth of Bruegel's practice can be viewed together, allowing connections to be forged across the seemingly disparate strands of his career.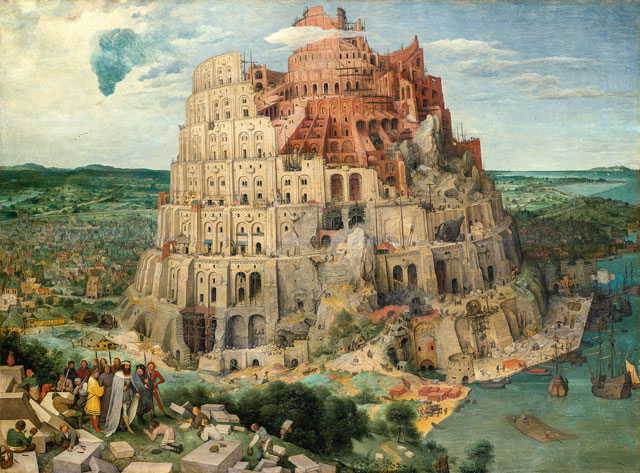 Pieter Bruegel the Elder. The Tower of Babel, 1563. Oak panel, 114 × 155 cm. Kunsthistorisches Museum Vienna, Picture Gallery © KHM-Museumsverband.

It is a career that remains potholed with unknowables. Bruegel's life is sparsely documented. From Karel van Mander's Schilderboeck (1604), a northern equivalent of Vasari's Lives of the Artists, we learn that Bruegel joined Antwerp's Guild of Saint Luke in 1551 before travelling to Italy, where he made the unusual decision to venture south of Rome to Calabria and probably Sicily. This extensive journey left significance traces in his work. Back in Antwerp in 1555, he was commissioned by the publisher Hieronymus Cock to produce preparatory drawings to be turned into engravings; some time later, he moved into painting, which gradually became the primary medium of his career. In 1563, he married and relocated to Brussels, where he lived until his death.
Partially because of this sparseness of biography, the purpose of much of Bruegel's art remains enigmatic. Take Children's Games, for instance. Is it a wryly comic look at provincial life, or an attempt to exhaustively chronicle customs? Is it a theatrum mundi, a depiction the world as a stage in which people enact their roles as players, according to the direction of God? Is it a repudiation of the folly of the young, or even of the folly of mankind in general? The painting remains enthralling not just because of its thrilling density of incident, but also because of its mysteriousness. Complementing this, the Kunsthistorisches' texts furnish us with the tools of interpretation, but refuse to force conclusions, trusting visitors to exercise their own minds.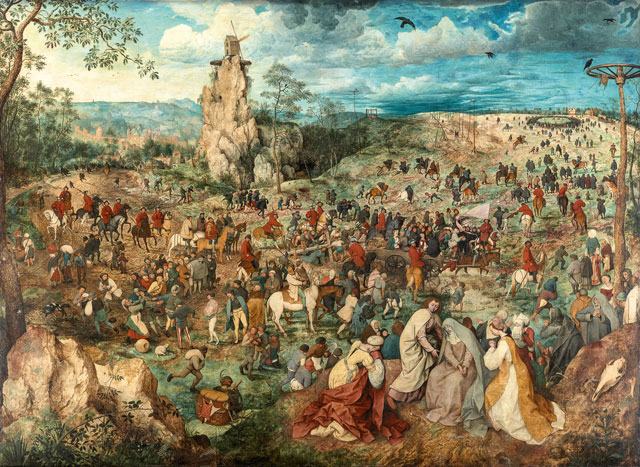 Pieter Bruegel the Elder, Christ Carrying the Cross, 1564. Oak panel, 124 × 170 cm. Kunsthistorisches Museum Vienna, Picture Gallery © KHM-Museumsverband.

What the exhibition does make abundantly clear is Bruegel's technical talent. From the beginning, he was a precise, dextrous draughtsman, as demonstrated by a selection of his early landscape drawings. The Landscape with Saint Jerome (1553), for instance, places the viewer atop rolling hills. Minuscule differences in the curvature and size of Bruegel's lines relay the contours of the land with ease. A tree, as gnarled as those in Titian, has a knobbly, textural trunk and airy leaves created with simple ring-like strokes. Beneath it, the picture's ostensible religious subject and his leonine companion are rendered minuscule, yet we can still recognise the saint's voluminous beard and the penitent's bare chest. Already here, the macro and the micro are combined to astonishing effect, a technique Bruegel would later perfect in the staggering likes of The Tower of Babel (1563) and Christ Carrying the Cross (1564).
The 12-part Large Landscapes (c1555-56) series largely dispensed with saints altogether, extending the spark of the Italian drawings to a rhapsody on the theme of nature: although only two are extant, accurate engravings by Joannes and Lucas van Doetecum remain. There are sharp rocks and cascading water at Tivoli, and softly sloped agricultural lowlands. The Alps are everywhere: even when we are following a wagon down a valley into a Flemish coastal village, mountains loom in the background. These works, as Van Mander remarked, are "wonderfully lifelike" in their depiction of "the rugged, craggy Alps, gazing down into vertiginous valleys with precipitous rocks, pine trees reaching to kiss the clouds, distant vistas and murmuring streams". Stand close and you can hear the murmuring streams and feel the caress of the wind.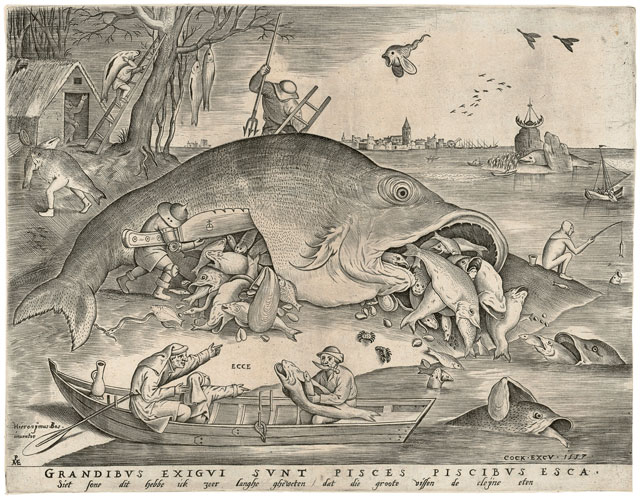 Pieter van der Heyden after Pieter Bruegel the Elder, Big Fish Eat Little Fish, 1557. Engraving, 230 × 296 mm, first state of four. Vienna, Albertina © Albertina, Wien.

Simultaneously with his recasting of the natural world, Bruegel was also drawing wildly imaginative visions of demons, fantastical tales and contemporary adages. Take Big Fish Eat Little Fish, engraved by Pieter van der Heyden in 1557. Bruegel takes a simple proverb and spins it out into a thrilling orgy of aquatic life. An enormous fish is cut with a knife and out tumbles a menagerie of smaller fish, some of which themselves clasp smaller fish. Witty touches abound: in the right foreground a scallop tries to consume a far-too-big fish, while on a grassy shore a fish has grown legs and creeps out of view, away from the fisherman's grasp. When the engraving was published, Cock replaced Bruegel's signature with that of Hieronymus Bosch, then enjoying a posthumous resurgence, and Bruegel's eye for detail, humour and the uncanny places him in the lineage of the earlier master. Some works of this period, such as The Temptation of Saint Anthony (c1556), presented in Vienna as both drawing and engraving, explicitly borrow motifs from Bosch.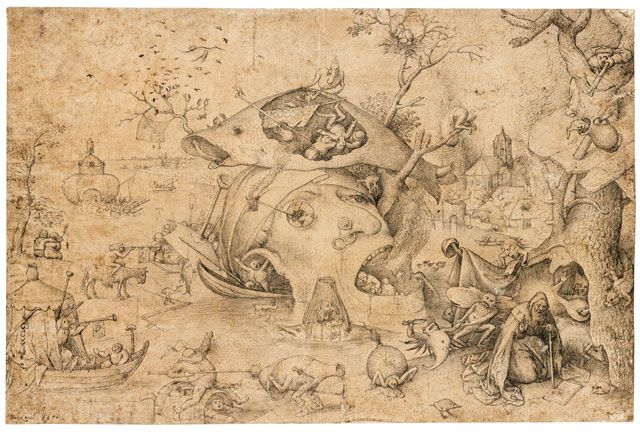 Pieter Bruegel the Elder, The Temptation of Saint Anthony, c1556. Pen and brush and brown and greybrown ink, 215 (right) / 216 (left) × 326 mm. Oxford, The Ashmolean Museum, Bequeathed by Frances Douce, 1834. © Ashmolean Museum, University of Oxford.

Yet Bruegel was far from a copyist. While Bosch is an artist of fantasia, Bruegel is always tethered to reality. Take his Seven Deadly Sins (1557-58), a series of drawings and engravings that present miniature worlds of cruel and unusual tortures. Rather than blasted hellscapes, they are set among elements of Flemish life – steep-roofed stone houses, swaying trees, bridges and boats, Antwerp-esque port cities on low-lying sand banks. Bruegel brings sin and his consequences into the terrestrial realm.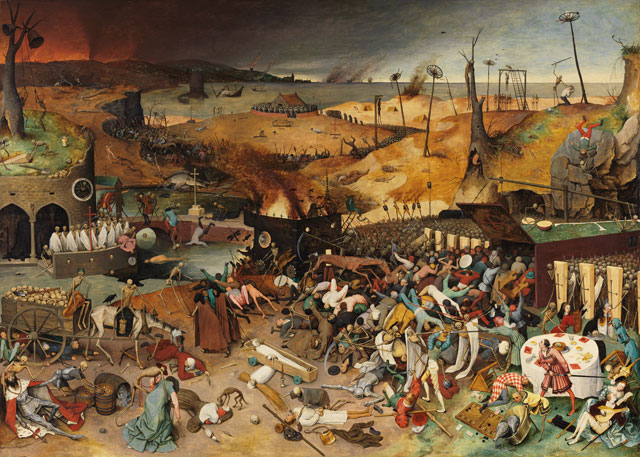 Pieter Bruegel the Elder, The Triumph of Death, probably after 1562. Wood, 117 × 162 cm. Madrid, Museo Nacional del Prado © Museo Nacional del Prado.

This bridging of the seen and unseen world comes to a head in The Triumph of Death (1562), newly restored for the exhibition. One of the most terrifying paintings ever conceived, it depicts the massed legions of the dead running ragged over the paltry remains of the living, sparing neither high king nor lowly peasant. The same profusion of detail used for rambunctious delight in Children's Games is turned into utter horror, as skeletons slit throats, hang, behead and crush people under wheels; one particularly gory moment, in the foreground, has a mangy undead dog gnaw an infant from its fallen mother's arms, while another serves a human skull for dinner. Bruegel takes a fundamental fact of existence and spins it out into a massacre.
Three years later, on a commission from the Antwerp banker Nicolaes Jonghelinck, he produced his most extraordinary cycle: The Seasons (1565), a series of six large-scale landscape paintings. Five survive; for the exhibition, the three held by the Kunsthistorisches have been reunited with The Hay Harvest from Prague Castle. Although similar in composition – they all present an undulating landscape viewed from a bird's eye perspective, translating the early nature drawings to a grand scale – they cover an enormous range of mood and tone.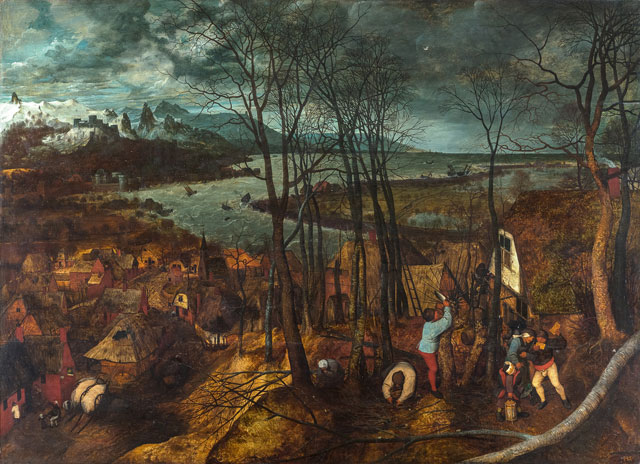 Pieter Bruegel the Elder, The Gloomy Day, 1565. Oak panel, 118 × 163 cm. Kunsthistorisches Museum Vienna, Picture Gallery © KHM-Museumsverband.

The colouration is remarkably deft. In the early spring of Gloomy Day, brown earth and grey sky are leavened from beneath with radiant underpainting, hinting at the warmth to come. The frosty white surface of Hunters in the Snow glows in the winter light, with a crisp, crunching surface. There is the slightest yellowish tint of the dun ground beneath where wagons have pressed dirt into the snow. Bruegel's characteristic moments of drollery – spot the fallen skater in the farthest ice patch – meet an acknowledgement of the world's harshness, as the huntsmen and their hungry hounds return to the village with a meagre pheasant.
Just presenting so many of these great works together would be enough for this exhibition to be a triumph. To the curators' credit, it also endeavours to help us understand the technicalities of Bruegel's practice. There is a display, for instance, explaining his use of oak panels rather canvases, unusual for his time, and the peculiarities of painting on such a material. Another section uses infrared and x-ray technology to reveal the evolution of Bruegel's painterly process; the results of this research is available to view on an accompanying website, Inside Bruegel.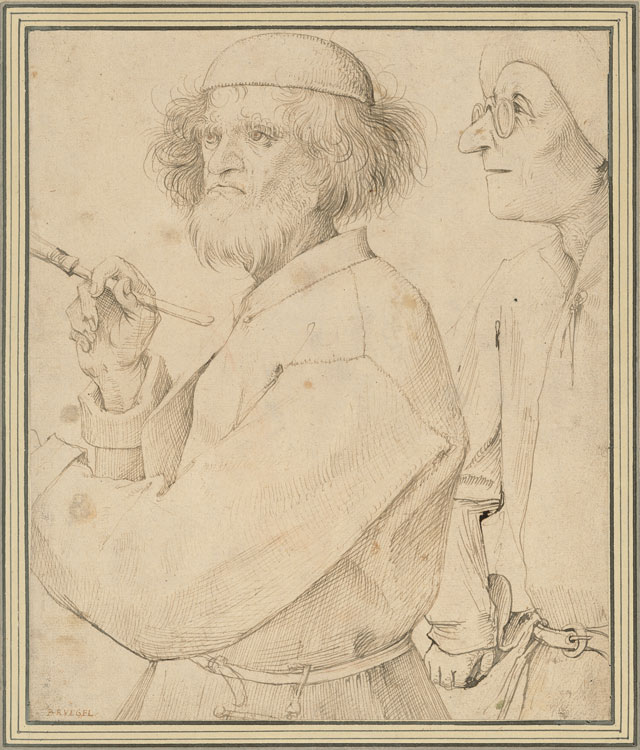 Pieter Bruegel the Elder, The Painter and the Buyer, c1566. Pen and brown ink, 203 × 309 mm. Vienna, Albertina © The Albertina Museum Vienna.

In the drawing The Painter and the Buyer (c1566), thought by some to be a self-portrait, Bruegel himself offers a shred of insight into his processes. The wild-haired artist stands working on an unseen painting, his eyes firm and focused in a serious, melancholic disposition. Behind him stands a dopey figure in spectacles – then seen as a sign of both physical and mental shortsightedness – reaching down into his purse so that he can greedily snap up the unfinished painting. The artist's earnest intelligence is contrasted with the hasty ignorance of the public. Confronted with Bruegel's genius, we may all become this fool, rummaging around that we do not understand. But what a pleasure it is to rummage.