Painters' Painters
There is a quiet revolution happening in paint. But, paradoxically, Painters' Painters seems out to prove otherwise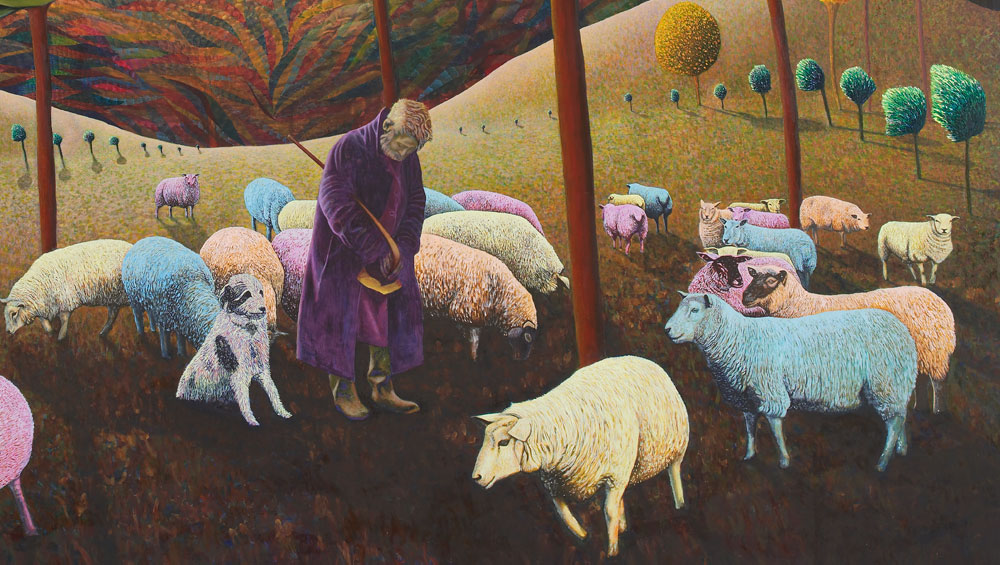 Saatchi Gallery, London
30 November 2016 – 28 February 2017
by EMILY SPICER
"It feels like figurative painting is having a bit of a mini renaissance," artist Ryan Mosley said to me as we talked in front of his carnivalesque canvases of tangled limbs and clownish dancers at the Saatchi Gallery's show Painters' Painters. And I'd have to agree. A new era of painting is emerging, but it has yet to be given a name. Throughout the 1990s and early 2000s it seemed that, just as video killed the radio star, installation had killed the canvas. The new kids on the block were exciting, rebellious rock stars and, for a while, making art was almost a licence to print money. These were the boom years, a time of sex, drugs and huge price tags, an era when art was quite literally made of pound notes and diamonds.
But then everyone grew up. Tracey Emin is now a Royal Academician, and Damien Hirst's inaugural show at his Newport Street Gallery was a reverently curated exhibition of works by the abstract painter John Hoyland. Sarah Lucas and Cornelia Parker remain relevant and exciting and draw the crowds, but after the hype and exorbitance of the 90s and early noughties, there seems to have been a move away from art that can be consumed in an instant to art that requires reflection. Even Charles Saatchi has sold many of the works he bought from Hirst, reportedly much to the artist's dismay.
In 2007, one painting sold at Sotheby's for £5.7m that marked a change, making its artist the most expensive living painter at that time. That artist was Peter Doig and the man who sold it, Charles Saatchi. It was an unprecedented sum, as previously Doig's paintings had struggled to go for more than £10,000. Contemporary painting was coming out of the shadows once more. Of the 10 most expensive living European artists of 2015, six were painters. It's strange then that the introduction to this exhibition states: "Painting … is less frequently seen in contemporary museums and galleries today and is seemingly out of favour with many curators" when there are so many exciting painters filling the fashionable commercial galleries of London, many following in Doig's footsteps.
Mosley graduated from the Royal College of Art with an MA in painting the same year that Doig's painting made millions. "I've always been a fan of Phillip Guston and people such as Peter Doig and Luc Tuymans," he tells me. "You can't be a painter and not be wowed by the trail they blazed in the 80s and 90s because no one is really painting. They've done a lot for painting."
Although there is a discernable Doigesque darkness to Mosley's work, as I look at Empress Butterfly (2007), an insectine creature given form by flat colours and strong outlines, a different artist comes to mind. Has he been influenced by Egon Schiele? "It's funny. A lot of people cite that, but I don't really know a huge amount about Schiele." For Mosley, these figures are born from a different source: "I was really interested in the central protagonist in these pantomimes or performances. You don't really know if they're male or female, like a woman playing Robin Hood or a man playing the pantomime dame. It's about limited information and how much is needed for it to be read as a human or a figure or something representative."
This exhibition draws out some exciting painters from Saatchi's collection. Dexter Dalwood (nominated for the Turner Prize in 2010) seems to owe his artistic lineage to Richard Hamilton and James Rosenquist, but paints his collaged compositions with a darkly modern sensibility. David Brian Smith's works are deeply personal, intricate psychedelic representations of English rural life. They are almost impossibly detailed elegies to farming, dream-like farewells to the past. The artists featured here hail from America, South Africa, Australia and the UK but, strangely, not one is a woman. The Triumph of Painting, an exhibition held at Saatchi Gallery in 2005 had only Marlene Dumas – the rest were men. Pangaea: New Art from Africa and Latin America (2014) was another entirely male show. It seems strange. There are so many fantastic women artists. "I don't collect art, but what I do collect are only female artists," Mosley tells me. "There are a lot of female painters that I think are really impressive." But where are they? It seems, for whatever reason, female painters are being segregated, or, incredibly, left out entirely.
For its all-male roll call and a title that hints at artists that are relevant only to other artists, this is a strangely conceived exhibition. There are some fantastic works, but Painters' Painters seems oddly out of step with what is happening in the world of painting. We are long overdue a seminal exhibition that celebrates a very tangible movement that has been developing for some time. And, if Saatchi could see his way to including women, it would be a very popular show.