Molly Erin McCarthy: Invites
In this clever and inventive exhibition, part of the Zabludowicz Collection's Invites series, McCarthy takes inspiration from the natural environment of her native Cornwall, as well as the role-playing video games she grew up with, to create a world that is apocalyptic and escapist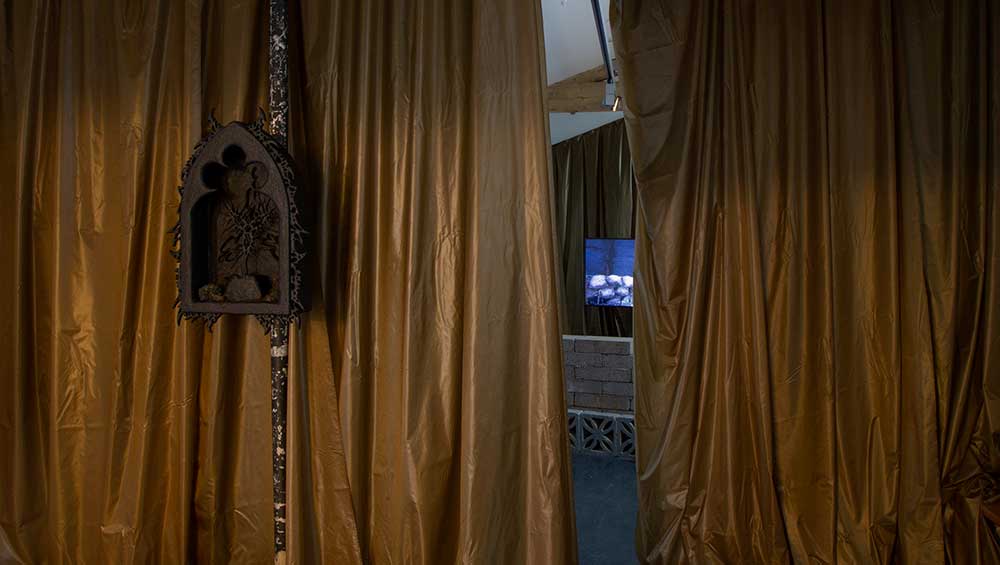 Invites: Molly Erin McCarthy, installation view, Zabludowicz Collection, 2023. Photo: David Bebber.
Zabludowicz Collection, London
12 January – 26 February 2023
by CHRISTIANA SPENS
Molly Erin McCarthy grew up in Cornwall and, after a few years in London, moved to Plymouth in nearby Devon. Her work invokes the natural landscape, folklore and history of her home county. For this show, a small gallery has been transformed into an interactive game space, a makeshift military bunker where small sculptural works give the sense of being part of a shrine and make "real" parts of the virtual world that plays out on a screen.
Visitors are encouraged to sit here amid sandbags and military khaki parachute material and play the interactive video game, exploring McCarthy's digital landscape and navigating a virtual world. The space becomes a place to reflect on the often-dystopian world in which we live and an immersive apocalyptic outpost where we can escape from it. A subtle narrative reveals itself through the game, which the artist has determined, allowing for an interesting interaction between artist and players, the latter swaying between individual choices and McCarthy's pre-created vision and story.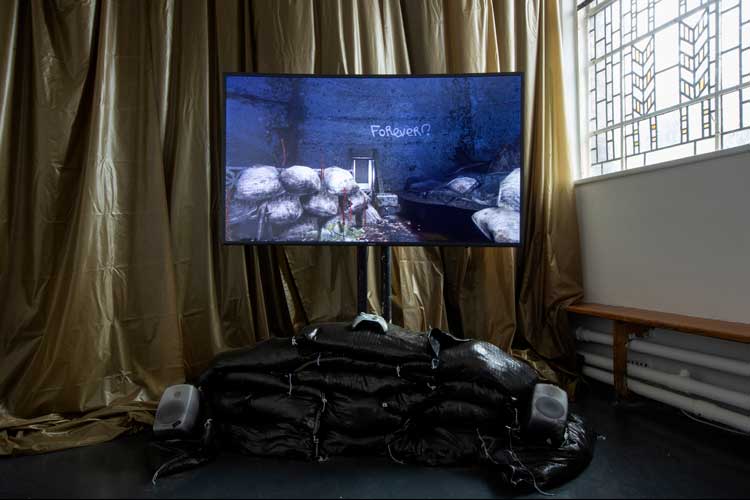 SDiAR ver.1.321618720143181418, installation view, Invites: Molly Erin McCarthy, Zabludowicz Collection, 2023. Photo: David Bebber.

In an interview with the show's curator, Julia Greenway, McCarthy explains that she drew her influences from open-world role-playing games such as Death Stranding and The Elder Scrolls, which involve quests and exploration of digital environments; in her own game, she has created riddles and codes that piece by piece reveal a narrative and world. She says: "I was really influenced in my adolescence when home game consoles and PCs were just becoming commonplace. I was spending half my time in the beautiful landscapes of Cornwall and then half my time in digital worlds. That was all new for me: cohesive world-building games that had all these different styles and levels of engagement and interaction. The transition between a regional landscape and a digital one is very much the foundation of my practice."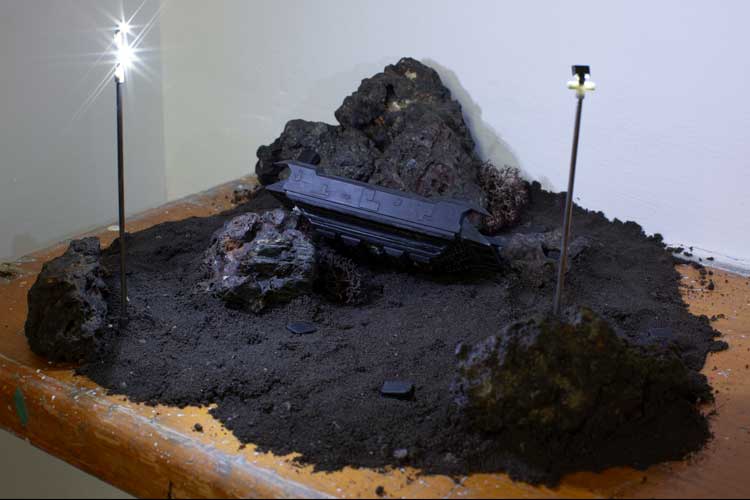 Ferry, installation view, Invites: Molly Erin McCarthy, Zabludowicz Collection, 2023. Photo: David Bebber.

As such, in the exhibition space there is a fusion of the physical and digital, and the imaginaries between them both; mysticisms of the Cornish region, and in particular Celtic symbols and mythologies, are combined with a techno-dystopian aesthetics particular to the artist's teen years. What comes together is a strange and clever vision of a post-technological future, in which old codes and riddles co-exist with a military sensibility, as if the past is in constant tension with the present. "What I set out to create is the sublime but eerie elements of the landscape I grew up in," says McCarthy. "The outcome is quite bleak and dystopian, but my intention was that there would be an inspired conclusion."
This bleak atmosphere is rooted in reality; for all the mysticism and beauty of Cornwall, it is quite a deprived and isolated region and, for a young person who has grown up there, it can be difficult to leave. As McCarthy says: "[I talk] about it now in a very romantic way, but particularly as you get a bit older you can feel trapped by being from a tiny town on the edge of Cornwall and having limited opportunities and access. I have had to work very hard to live or work outside the region. I think, because of this, I've always sought out a level of escapism to imagine a better place for myself. I lived in London for a few years and then came back to the south-west, and I've learned to appreciate it so much and to really get lost in the otherworldliness of this actual real-world place."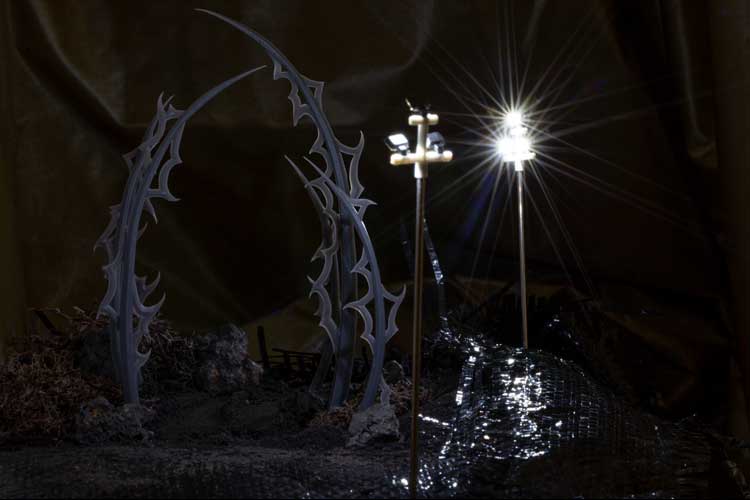 Ribs, installation view, Invites: Molly Erin McCarthy, Zabludowicz Collection, 2023. Photo: David Bebber.

This is where the escapist element comes into play; while there is a rustic, other-worldly nature to the Cornish landscape, there is also a feeling of a need to escape it, and this contradiction is where McCarthy finds this fascinating space and means of transformation and creativity. By using her art practice to recreate the environment she knows so well, she honours it and also escapes it. Crucially, this kind of escapism is, for McCarthy, innately subversive and empowering; in her transforming world-building, she finds a way to give herself power over a place and wider systems over which she would otherwise have no control. In Invites, she simulates a version of the world in which she does have power and freedom; she transforms what could be stifling or overwhelming into something clever and intricate. "I build worlds in which I can unpick the philosophical landscapes surrounding military, industrial and technological power structures, all of which I get to control."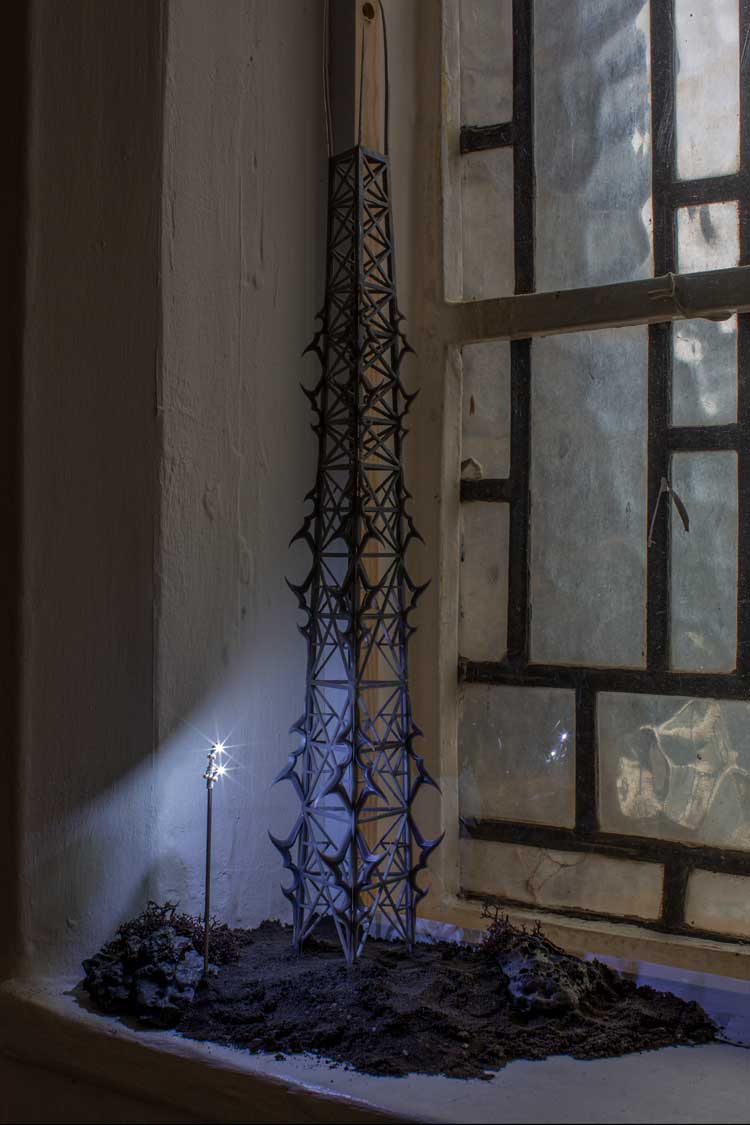 Spire, installation view, Invites: Molly Erin McCarthy, Zabludowicz Collection, 2023. Photo: David Bebber.

This aspect of her work is fascinating, and speaks to a shared feeling of needing to confront the dystopian and overwhelming nature of the world around us, and to make peace with it, as well as finding one's own space apart from it. In creating this bunker, which is also a sort of shrine, McCarthy condenses this shared desire to retreat from the world but also to remake it and resolve it in ways that are ancient and mystical in origin. We live in the past and the future at once, and McCarthy makes a space in the present to meditate and unpack that strange, uncanny experience.