Impressionists in London, French Artists in Exile (1870-1904)
This exhibition lacks coherence and has little to say about the influence British artists had on the French impressionists, but is redeemed by paintings of the Thames, the highlight of which are eight works by Claude Monet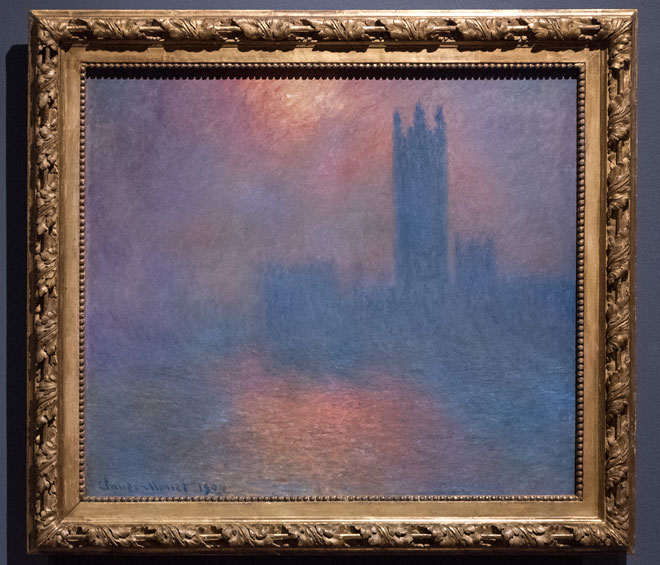 Tate Britain, London
2 November 2017 – 7 May 2018
by FRANCESCA WADE
In the winter of 1899, Claude Monet arrived at the Savoy hotel on the Strand in London. The hotel had been recommended to him by James Abbott McNeill Whistler, himself a dedicated artistic chronicler of London's fog, who was aware of Monet's purpose. Using pastels bought hastily on Charing Cross Road until his canvases and paints arrived from France, Monet sat out on the balcony and sketched the river. "London would be quite ugly if it was not for the fog," he wrote to his wife Alice. "There are black, brown, yellow, green, purple fogs and the interest in painting is to get the objects as seen through all these fogs."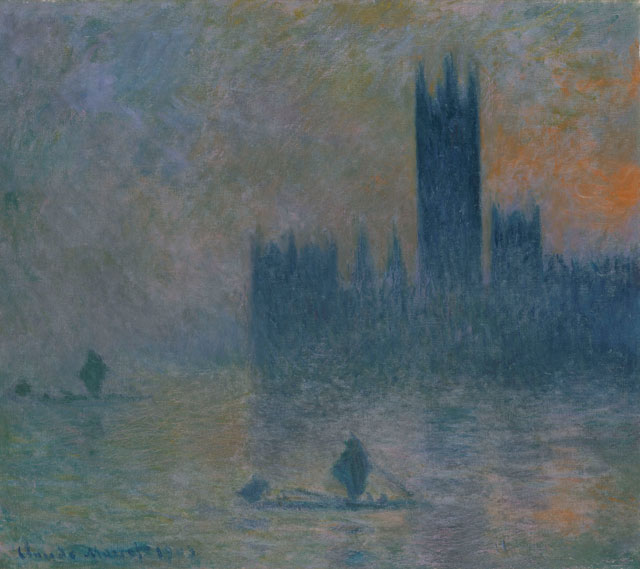 Claude Monet. Houses of Parliament, Fog Effect, 1903-04. Oil paint on canvas, 81.3 x 92.4 cm. Metropolitan Museum of Art.

The next winter, and the one after that, Monet returned to the Savoy, painting views of Waterloo Bridge in the morning and Charing Cross Bridge in the fiery afternoon light. In 1904, 37 of his pictures – splendidly evocative hazes of red and blue – were shown in Paris in an exhibition called Views of the Thames.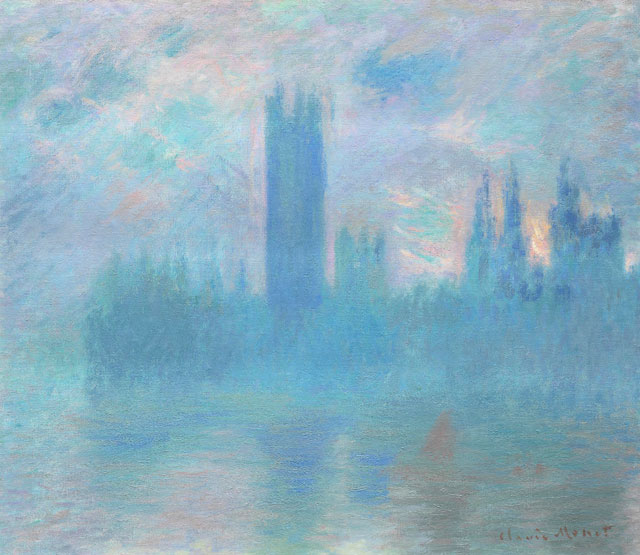 Claude Monet. Houses of Parliament, c1900. Oil paint on canvas, 81.2 x 92.8 cm. Art Institute of Chicago.

Eight of these works form the centrepiece of this Tate exhibition, lighting up the night-blue walls of the penultimate gallery with their blurry theatricality. They are the highlight of a collection built around them, and the clearest embodiment of the show's title. Up to these blockbuster final rooms, we are presented with a series of paintings, sculptures and drawings linked often only tangentially to impressionism, and to London not so much in subject but in the context of their making.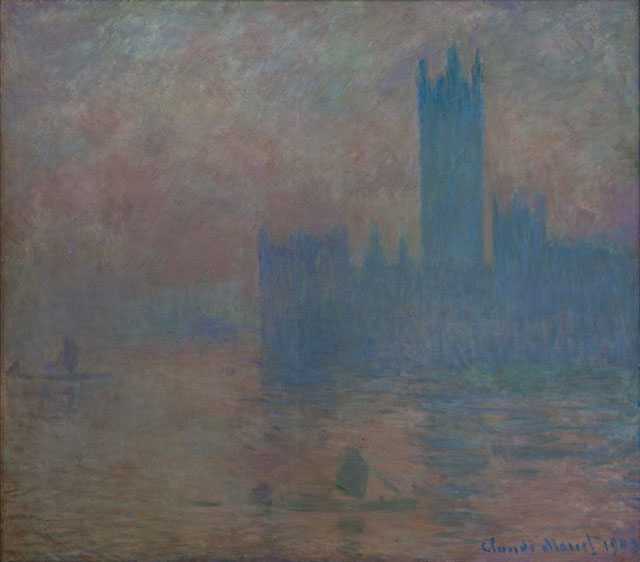 Claude Monet. Claude Monet. Houses of Parliament, 1903. Oil paint on canvas, 81 x 92 cm. Musée Malraux.

The show opens with the Franco-Prussian war of 1870, which led to the fall of the Second Empire and culminated in the four-month siege of Paris. The devastation unleashed by this, and the ensuing civil war in which the surging Paris Commune was quashed by the French government, is starkly documented in sombre black-and-white photographs of the fallen monuments that provoked a craze for "ruins tourism". While voyeurs flocked to the city, residents of Paris were seeking refuge in exile. In May 1971, Theodore Duret wrote to Camille Pissarro: "Paris is empty and will become even emptier … Anyone would think there never were any painters and artists in Paris."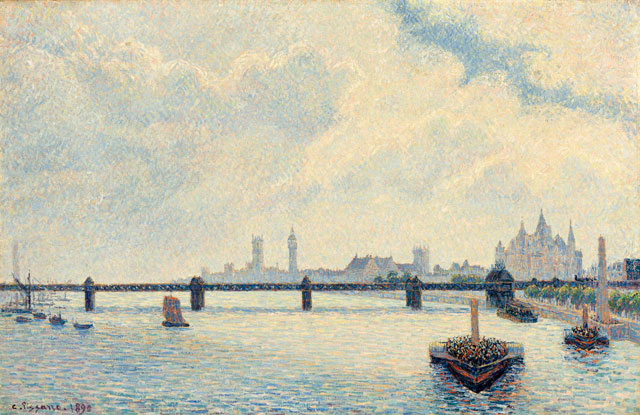 Camille Pissarro. Charing Cross Bridge, 1890. Oil paint on canvas, 60 x 92.4 cm. National Gallery of Art (Washington, USA).

This exhibition focuses on the artists who came to Britain as political exiles, seeking safety, a thriving art scene and new artistic patrons. Monet moved to London in September 1870, to escape conscription, setting up home with his first wife, Camille, in Kensington, where he painted her reclining on a chintz chaise longue. That same year, Pissarro arrived in Norwood, and immediately began to paint his suburban surroundings: frosty hedgerows along the lanes leading to the Crystal Palace, Lordship Lane railway station in Dulwich, the fields and roofs of Sydenham. Alfred Sisley, a British citizen born in Paris, came to Hampton Court, where he painted lush scenes of figures bathing and promenading in the west of the Thames.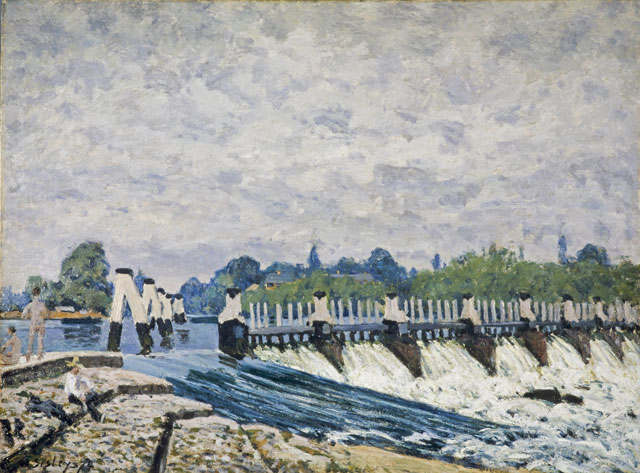 Alfred Sisley. Molesey Weir, Hampton Court, Morning, 1874. Oil paint on canvas, 51.1 x 68.8 cm. National Galleries of Scotland (Edinburgh UK).

After a relaxing room of chocolate-box paintings, the exhibition makes a surprising swerve away from its focus on the London landscape, with a series of rooms dedicated to the work of individual artists, exploring the networks that allowed refugee artists to succeed on the British art scene. James Tissot had been a stretcher-bearer in the National Guard during the Paris Commune, and witnessed myriad executions, but there is little sign of political turmoil in his London works. Before moving to St John's Wood, Tissot lodged with Thomas Gibson Bowles, editor of Vanity Fair, for which Tissot provided sharp caricatures of society life. His narrative paintings of upper-class English people – lounging in verdant gardens pouring tea from china teapots, drifting down the river in sailing boats, flirting and simpering in ruffles and bows, and crowding around the piano at a glamorous soiree – earned him comparisons with Jane Austen. Engaging and often amusing, his works document late-Victorian urban society through an outsider's eye.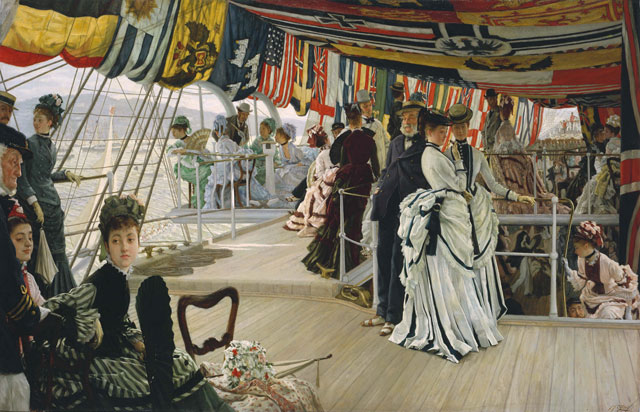 James Tissot. The Ball on Shipboard, c1874. Oil paint on canvas, 101.2 x 147.6 x 11.5 cm. Tate. Presented by the Trustees of the Chantrey Bequest 1937.

Yet Tissot's oeuvre can hardly be called impressionist; neither can the works of Alphonse Legros or court sculptor to Napoleon III, Jean-Baptiste Carpeaux, whose work is somewhat incongruously over-represented here. These rooms are less interesting for the work they display than for the social background they offer – although even that is a somewhat convoluted list of introductions and connections. Legros first visited London in 1861-2, staying with the brother-in-law of Whistler. He was supported by George Frederic Watts, who urged his own patron, Charles Rickards, to commission a painting from Legros. Legros became Slade Professor of Fine Art in 1876, and was the centre of a network for refugee artists, in turn helping out Monet, Pissarro and Tissot to enter London's art market and artistic salons.
Another important player was Charles-François Daubigny, whose painting of St Paul's is shown here. Monet admired his style, and the critic Théophile Gautier dubbed him impressionist in 1867, before the term had been applied to Monet or Pissarro. Like Legros, Daubigny had come to London in the 1860s, where he met the art dealer Paul Durand-Ruel, owner of an influential gallery on New Bond Street. He persuaded Durand-Ruel to buy Monet's work, prophesying: "this artist will support us all." Monet, in turn, brought Pissarro to Durand-Ruel's attention, creating a chain of French recommendations that helped to establish impressionism in London.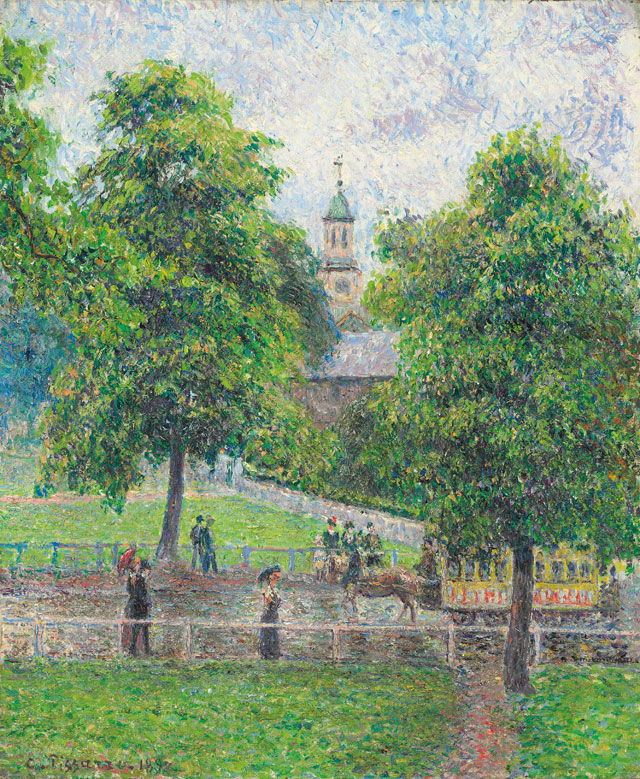 Camille Pissarro. Saint Anne's Church at Kew, London, 1892. Oil paint on canvas, 54.8 x 46 cm. Private collection.

The emergence of support networks is a difficult story to tell through works of art, and the works on display in these rooms don't provide a very coherent exhibition; extensive captions make connections clear, but what is lost in this convoluted "who knew who" is a sense of artistic influence. We never hear about any influence British art might have had on these French artists – there is no sign of John Constable or JMW Turner, although Whistler's misty "nocturnes" are shown, their complex interplay of light and paint in parallel with French works.
Before turning to atmospheric views of the foggy bankside, there is a large room dedicated to depictions of sports, crowds and parks, with some scenic paintings of regattas, cricket matches and Kew Gardens. The final room features three paintings by André Derain, currently the subject of a solo exhibition at the Centre Pompidou in Paris. He saw Monet's views of the Thames in Paris and loved them; his own paintings offer a radical twist on the same motifs, exulting in vibrant reds, greens and pinks. But it is the depictions of the Thames – foggy skies, mysterious reflections dappling the water's hidden depths – that redeem a patchy show.