Hans Ulrich Obrist and Peter Pakesch – interview: 'The work of Atta Kwami emanates hope, particularly in these difficult times'
The artistic director of the Serpentine Galleries and the director of the Maria Lassnig Foundation explain the significance of the Maria Lassnig Award for mid-career artists, and discuss the work of the 2021 recipient, the late Atta Kwami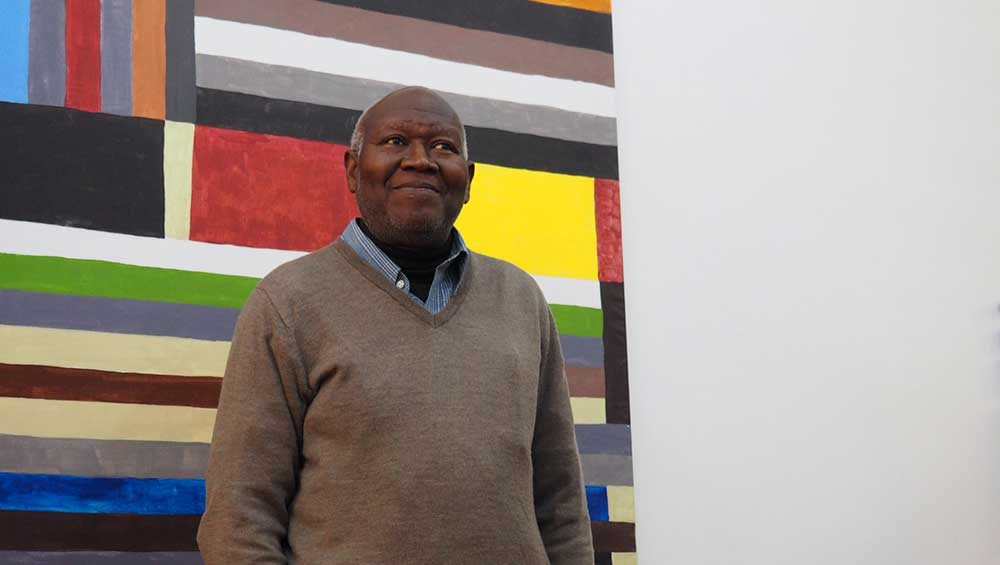 Atta Kwami. Photo: Josh Jones. Courtesy Modern Painters, New Decorators.
by LUCIJA ŠUTEJ
The Maria Lassnig Prize is awarded biennially to a mid-career artist in association with different institutional partners – previous partners include New York's MoMA PS1 and the Städtische Galerie im Lenbachhaus und Kunstbau in Munich. In 2021, the associated institution was the London-based Serpentine Galleries, with the latter's artistic director Hans Ulrich Obrist together with Peter Pakesch participating in the jury selection. Atta Kwami received the award in 2021 and his public art commission executed by his widow is on display at Serpentine's gardens.
I spoke to the curators over Zoom to discuss the importance of the award and the work of the late artist. The following is an edited extract of our conversation.
LUCIJA ŠUTEJ: The Maria Lassnig Prize was inaugurated in 2016. It was created with the aim of supporting "mid-career" artists and operates biennially in association with an international institutional partner. Why mid-career artists?
PETER PAKESCH: That was something we decided early on. Even for Maria Lassnig, it probably would have been very helpful at that stage of her life to have had a strong boost. Also, there are lots of prizes for young artists and prestigious artists, but there's nothing in between. And it is a very interesting phase for artists between the ages of 40 and 60, who maybe have still not achieved the acknowledgment they should have. Therefore, we decided to go explicitly for mid-career artists.
I think, so far, there has been a really interesting selection of artists – Cathy Wilkes in 2017, Sheela Gowda in 2019, and now Atta Kwami. For all of them, there was huge interest when we announced the prize, and it was very helpful for them to build their work. Wilkes did the British Pavilion at the Venice Biennale in 2019, Gowda had well-acknowledged shows all over Europe. And Kwami's presentation at the Serpentine has been very well received.
It is also one of the ideas of the prizes to work with the help of partners. They are all institutions that were close to Lassnig. There is the MoMA PS1 in New York, where Maria had her last show in her lifetime. Then there is the Städtische Galerie im Lenbachhaus und Kunstbau in Munich, which has an amazing collection of her work. And, of course, the Serpentine Galleries were super-important for her, and Hans Ulrich was always very close to her. So, it naturally makes sense. And there will be other institutions in the future: at the moment, we are in discussion with the UCCA Center for Contemporary Art in Beijing. It is important for the foundation to link places and people with Maria's work and legacy.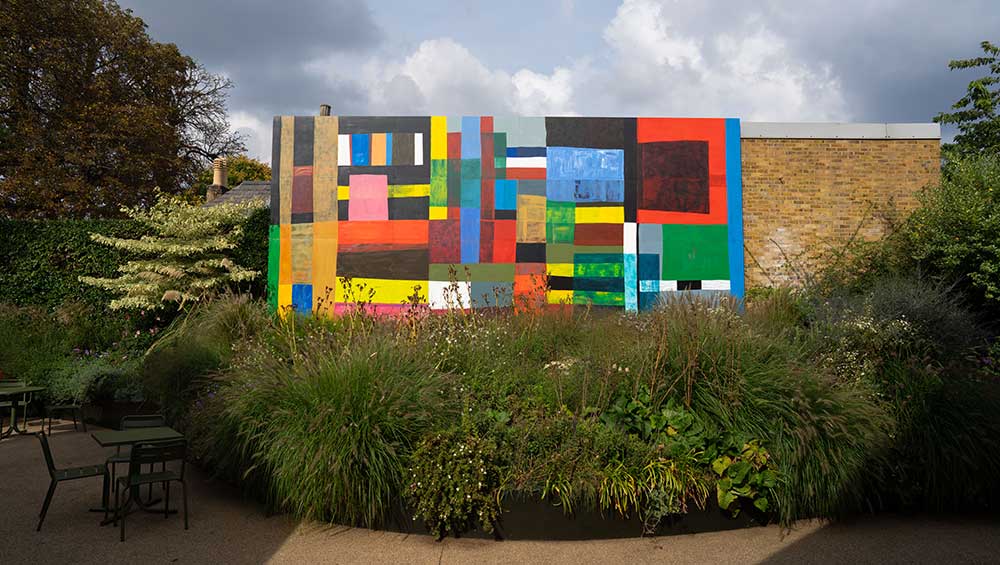 Atta Kwami, DzidzƆ kple amenuveve (Joy and Grace), 2021-22. Installation View: Maria Lassnig Prize Mural, Serpentine North Garden, 6 September 2022 – 3 September 2023. Courtesy the Estate of Atta Kwami. Photo: Hugo Glendinning.

HANS ULRICH OBRIST: The 2021 jury of the Maria Lassnig Prize felt that Atta Kwami needed to have more visibility in the UK. And it is exactly what Maria Lassnig Prize is about – not only young artists, but also artists in a middle or later part of their career, who need more recognition. That is what Maria Lassnig wanted. The jury unanimously felt that Kwami would be a great candidate. And, luckily, he knew about it during his lifetime: he got the prize and the press wrote about it, he saw the articles, and he knew that we would do this project with him.
LŠ: Serpentine Galleries partnered with the Maria Lassnig Foundation on the third edition of the prize. Could you tell us more about how the partnership was created?
HUO: Maria Lassnig was one of my close friends for probably 25 years or so. We met when I was a teenager, in 1986. I was 18 when I went to see her. Our first collaboration was in 1993, when we did The Broken Mirror with Kasper König. We felt that Maria should be internationally more known because she was, at that time, only known in Austria, Germany and Switzerland – only in the German-language space.
The way I met her is also interesting. I visited Rosemarie Trockel when I was a teenager and she was then in her 30s, a young artist. She said that it was great that I visited all these young artists locally, but she suggested there were pioneering artists, particularly women, who hadn't had the recognition they deserved. She said that one should just go from city to city and ask who were the pioneering female artists there who needed more recognition. Who was the Louise Bourgeois of your town? The first city where I applied this was Vienna. I asked all the younger local artists I met: "Who is the pioneering female artist in the city who needs more?" And, literally, everybody said Maria Lassnig – the artists adored her. I rang her up, and then visited her and we spent a day together.
I realised that she had this practice as a writer, and I edited the book of our collected writing – so that kept us busy for several years because it was a very complex endeavour. That's really when we developed a deep friendship and she started to send me these long letters, which ended as an exchange of letters and are now published as a book. In these letters, we talk a lot about photography and the fact that painting goes where photography doesn't go. She was, in that sense, not satisfied with photography. She felt painting could go much further and it could go into the neurons. We talked about her teaching as she was teaching younger artists and was always supportive. Before she passed away, she appointed Peter [Pakesch] to be the director of her foundation, and I'm on the scientific advisory board.
Peter and I started to consider, together with people such as Matthias Mühling, director of the Städtischen Galerie, what we could do to honour Maria. Of course, her foundation is about making exhibitions. We did her exhibition at the Serpentine South Gallery in 2008, which was her first solo museum show in the UK, and it was instrumental in getting her work known outside the German-speaking space. The Maria Lassnig Foundation, of course, has a mission to produce books as well as exhibitions, but Peter and the rest of us felt it would be nice to think about younger artists and how to support them. Specifically, mid-career artists as Maria received recognition rather late. That's how this idea came about: it was really Peter's idea. A great idea – to do shows, always with a different institution and their curators.
The jury is formed of us – the Scientific Advisory Board, the local curator of the partner institution and, this time, Melissa Blanchflower and Rebecca Lewin, our curators at the Serpentine Galleries. Melissa also curated the mural. There is also always an artist as part of the jury, which is very important: this time it was Albert Oehlen.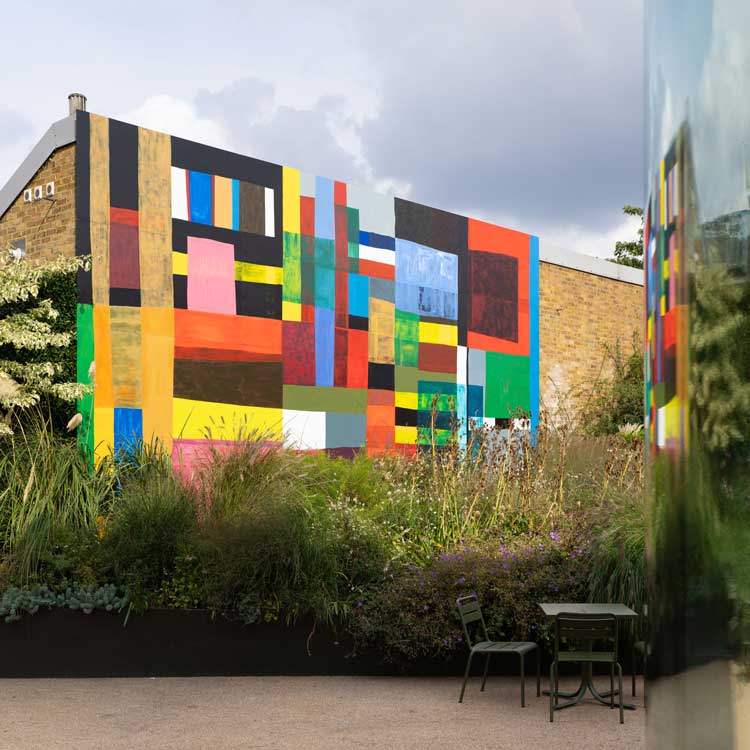 Atta Kwami, DzidzƆ kple amenuveve (Joy and Grace), 2021-22. Installation View: Maria Lassnig Prize Mural, Serpentine North Garden, 6 September 2022 – 3 September 2023. Courtesy the Estate of Atta Kwami. Photo: Hugo Glendinning.

LŠ: Atta Kwami was a prolific artist, whose diverse practice encompassed painting, print, sculpture, installation and architecture. He won the Maria Lassnig Prize in 2021 and sadly died the same year. How did his work speak to you during the selection process?
PP: We had very profound discussions where we considered a great number of artists for the prize. During these discussions, it became more and more clear how unique the position of Kwami was – his interest in artists from different situations, his view of global art, and a lot of young positions he took. He uniquely combined western and African modernism and tradition, and his work can be seen as the talking point on the different histories of modernism.
I was strongly inspired by his personal history – the history of his family, Kwame Nkrumah University of Science and Technology, where he was educated and later taught, and all of these concentrated in his work. I am very happy that we were able to choose him and that the piece has been so well received. It is tragic and sad that he is no longer around, but still I believe that prize was very important posthumously for him and, hopefully, we can position his work in the reception of African contemporary art.
HUO: The work spoke to all of us before and we were all passionate about it, particularly since Peter's exhibition at Kunsthalle Basel. We all felt that it would be so timely to finally make him known in the UK.
His work always spoke to us through these amazing colours and there is some kind of hope in them. The work of Kwami emanates hope, particularly in these difficult times, and his idea of the power of art to heal – to heal society, to heal people and not only people but also all species, it connects even to plants. The mural is connected to the garden house of the English landscape designer Arabella Lennox Boyd, and when you visit, you see the plants growing alongside the colours of Kwami – it is very beautiful! His work is a communion with nature. And in our time, it's so important to go beyond the colonialist separation from the environment and to have a more holistic communication with nature.
LŠ: Was the mural decided as commission from the start, or did that come from a conversation with the artist?
HUO: Yes, we decided that with Kwami. With Peter and our curator Melissa, we visited him. He was so passionate about public art and, because of our desire for it to be longer than an exhibition and to last for a year, we agreed on a mural. He was very motivated to do this mural and the book – he was strongly involved until the very end. Kwami made the work, but he couldn't realise the mural and that is when his partner, Pamela Clarkson Kwami, who is also a wonderful artist and printmaker, executed the mural following his instructions and his vision.
We decided to do a mural because of his interest in public art, but we also saw this beautiful connection with the Zaha Hadid [Serpentine Pavilion] building. There will be a very big book, his first big monograph, which we're currently working on. And, of course, after the first visit, we recorded more interviews with him, also to be featured, but the book will also include a lot of different writers: it will involve his teaching, and David Adjaye has already written an essay, as has Melissa [Blanchflower].
LŠ: Could you recount your first encounter with Kwami and his work?
PP: My first encounters with art from Africa started with Clémentine Deliss's show Lotte or the Transformation of the Object at the Grazer Kunstverein in 1990. It was one of the first shows that dealt with African popular culture and contemporary western art. It was a super interesting and pioneering show that showed different fields of art and geography. Then there was her big project of historic shows called Africa95, organised at various locations. [As part of Africa95], she also curated the show Seven Stories about Modern Art in Africa, at the Whitechapel Gallery. Deliss introduced me to Kwami in the late 1990s, when we did Tempolabor in Basel. I became more and more interested in his work and, in about 2000, I did a show with him at Kunsthalle Basel. After that, I was in regular contact with him. He was such an interesting artist, and I was so happy that we could give him the prize.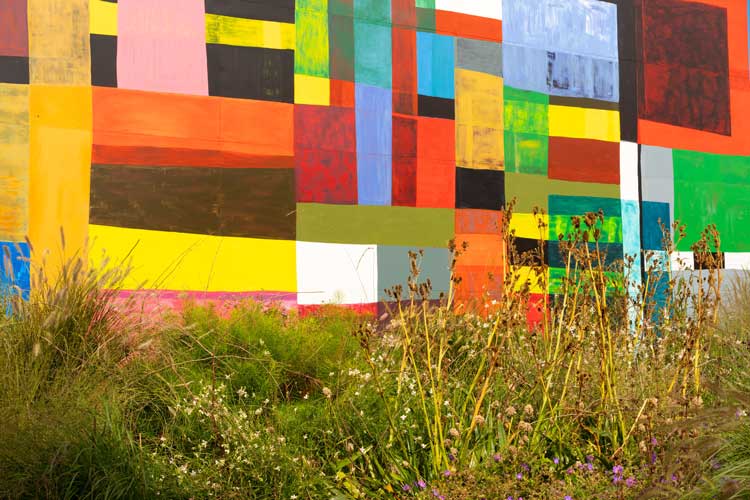 Atta Kwami, DzidzƆ kple amenuveve (Joy and Grace), 2021-22. Installation View: Maria Lassnig Prize Mural, Serpentine North Garden, 6 September 2022 – 3 September 2023. Courtesy the Estate of Atta Kwami. Photo: Hugo Glendinning.

For Kwami, art was a life form; life and art were very much linked together. Art was related to education and to the situation and the politics in western Africa. There were so many dimensions to his work, and they were all concentrated in his paintings and his pavilions and architecture. His kiosks were 3D paintings. There are influences of Ashanti and Ewe fabrics – the strict ornamental textiles that are part of the life of people and rituals. There is a complex situation when trying to understand his practice – you're facing his paintings and his three-dimensional paintings (kiosks) and prints and there's a lot of writing he has done. On the other hand, his practice is completely interwoven into the categories of everyday life. This is especially interesting if you see his architecture – he does pavilions that can be used. We had such a pavilion in Basel, and it ended up with a collector who is using it for events and that is completely in the spirit of Kwami. There is also a blend between high and low, making everyday situations valuable and he is so innovative out of traditions. He links cultures: his work is not about separation but integration and finding a specific and very universal language.
HUO: Before ever meeting him in person, I came across his work for the first time through Okwui Enwezor and the Johannesburg Biennial [he curated in 1997]. Kwami was part of that show.
The second contact happened during the exhibition which Peter organised at the Kunsthalle Basel, which was the first monographic show of his I saw. It was very interesting because he combined his abstract paintings with his kiosks, the more architectural spaces. Then, a few years later, I made the first studio visit because I suddenly realised that I never knew that he lived [some of the time] in the UK. I thought he lived [permanently] in Ghana. And a friend told me that he was in the UK. So, I asked Peter to connect us, and I made a studio visit. I was very excited about the visit because he was an amazing painter, who like Paul Klee makes the invisible visible. But it also became clear that he had so many more dimensions to his work. He was also a great scholar of Ghanian art, and he was, in essence, an archivist, but he was also a curator. And he was an architect, because his work always has these architectural components.
Kwami was an artist who engaged and collaborated a lot with public space to bring art to the people. He also worked with textiles and was a printmaker and made books. I was fascinated by all these dimensions. I also found out that he came out from initially painting boats on the shore. That made me think of Milton Avery, who has a show right now, at the Royal Academy – the way Avery handles paint is incredibly interesting in relation Kwami, how he lifts it from the palette directly to the canvas. And Kwami told me that Avery proved to be a really big influence on him. Another influence was textiles, not only in Ghana, but also in the Far East and India. He studied the history of African textiles and that was a major thing about his abstract painting, and it led to his painting. So, that first encounter was really magical, and I recorded a long interview with him on that occasion.
LŠ: As you mentioned, Kwami was also a curator and educator, and these activities were reflected in his artistic practice.
PP: When he was growing up, he was influenced by the Kwame Nkrumah University of Science and Technology in Kumasi and, of course, his mother was very important. His family were also very much involved in musical projects between Ghana and Britain. But on the other hand, he was shy, reclusive and modest. He would not make much of a fuss about his work and this is why it is necessary to kind of point again at him and show how important he was.
Kwami wanted people to interact with his work such as his pavilions. In Africa, kiosks are on the street, and you can buy drinks and food from them – they are an integral part [of life there]. They are built in creative ways with the influence of popular culture and architecture. Kwami continued this dialogue by translating paintings into three-dimensional paintings or kiosks. He was interested in putting paintings into urban space, using existing forms and phenomena and transforming them into his artistic sphere.
LŠ: Kwami's practice as an active educator was parallel to the work of Maria Lassnig, who also supported fellow artists and peers. How do you see the impact of his legacy and his work on the next generation of artists?
HUO: Kwami's influence is immense in Ghana and far beyond Ghana. Roberta Smith from the New York Times said that Kwami has the most flexible and abstract vocabulary of a painter today. I think, in a way, that incredible flexibility and fluidity, in the language of abstraction, inspires a lot of artists. But we also live in a time where there is a resurgence of interest in public art. When we have art in a museum or a gallery, there is a door – a threshold. I think artists today are very interested in communicating directly to the audience and reaching people who otherwise would never go to a museum.
It is interesting to compare the trajectory of Kwami to the trajectory of the late Lebanese painter Etel Adnan, who died at the age of 96 last November, and received much attention towards the end of her life. Adnan, similarly to Kwami, had these radiating colours in abstraction, almost like mandalas. But like him, she was interested in the paintings migrating outside the exhibition space and going to society. So, she did murals and, ultimately, she wanted to be an architect. What is interesting is that Kwami also had this aspect of architecture in his work – I mean, the kiosks are really architecture. Just before his passing, he built kiosks in Folkestone as a part of its triennial, which is dedicated to public art. Kwami's colourful kiosks can be used and they were integrated in the city.
I think that's something a lot of artists are interested in – how these abstract colours can migrate into society. It is a bit like when Vladimir Mayakovsky talked in the earlier part of the 20th century of this idea of art growing into society via streets and squares. And let's not forget that more and more biennials and exhibitions are curated by artists.
Kwami had this fluidity of practice from painting to public space, architecture, curation to art history. I think that's also very relevant and so his influence is big. That's also why we want to do this big book, because we think that his practice needs a dedicated publication to remember him.
• Atta Kwami Maria Lassnig Prize Mural is on display at Serpentine North Garden, Serpentine Galleries, London, until 3 September 2023.