Learning from Athens: Documenta 14 (Part one, Athens)
Despite multiple curatorial concepts, the first part of Documenta 14 is dominated by the decision to hold it in Athens. Beyond the political decisions and curatorial rhetoric, the exhibition is an ambitious and extensive city-wide production that can be read in many ways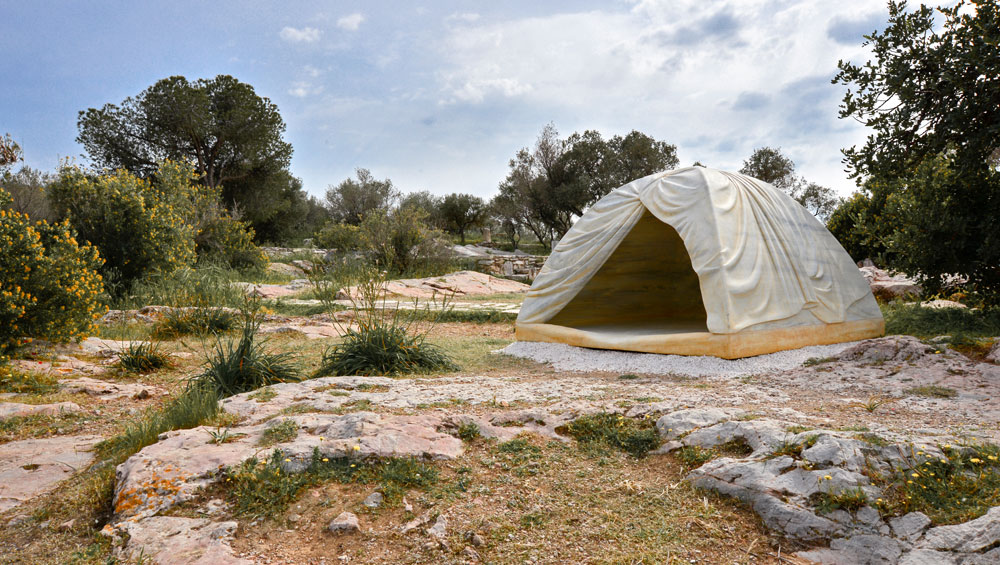 Athens, multiple locations
8 April – 16 July 2017
by HARRIET THORPE
On Philopappos Hill, facing the Parthenon, sits a tent made of marble. Its yellowed chalky patina echoes the smooth surfaces of the sun-tinted steps of the Acropolis, while its freshly carved stone folds are in direct opposition to its purpose as a temporary structure. Assembled offsite and lifted into its space by a crane, the tent is by Rebecca Belmore, a Canadian artist of Anishinabe descent, whose work interrogates forms of displacement in colonialist contexts, such as that which she has experienced.
Other works at Documenta 14, titled Learning from Athens and curated by Adam Szymczyk, explore contemporary and historic interpretations of immigration, migration, displacement and asylum relevant to Athens, a place that has been seen as a gateway to Europe during the current refugee crisis, and, historically, as a geographical location that has forged the city's identity as a mix of influence from the east and the west. Iraqi-Kurdish artist Hiwa K's video work Pre-Image (Blind as the Mother Tongue) (2017) sees him retrace his journey as a refugee from Iraqi Kurdistan through Greece to Berlin; Naeem Mohaiemen, who was born in London but grew up in Bangladesh, elegantly portrays his father's story of being stranded at Athens airport; and Moroccan-French artist Bouchra Khalili presents The Tempest Society (2017), a work that pays homage to a theatre group called al-Assifa (which means the tempest in Arabic), set up in Paris in the 1970s by North African migrant workers and two French students. Kolkata-born artist Nikhil Chopra prepares for a nomadic style journey between Athens and Kassel, and American artist William Pope.L's Whispering Campaign, an abstract study of racial discrimination, descends as an "'atmosphere" across Athens as speakers emit whispers throughout the city.
It was in 2013 that Szymczyk announced that Documenta, which is usually based in the German city of Kassel, would be twinned with Athens, with artists making works for both locations and the normal 100-day timescale extended to 100 days in each city (with an overlap in June and July, when it will be taking place in both cities simultaneously). Many would argue that with this statement, Szymczyk's work was done – with the two countries at economic and political odds since the Greek financial crisis of 2007-8 and an unresolved relationship that continues to make headlines. Yet, historically, Documenta has proved it is undaunted by conflict: after all, it was born into the fractious land of postwar Germany in 1955, when the five-yearly exhibition was established by Professor Arnold Bode, who hoped to soothe the war-torn country by bringing culture to it in the form of modern art.
When Documenta pitched up in Athens in 2014, it made a quiet entrance. An Athens-based team comprising mainly local people and some foreign staff began researching locations and working with artists in Greece and from abroad to realise their work. The main locations were chosen – the Athens School of Fine Arts (ASFA), the Athens Conservatory, the National Museum of Contemporary Art (known as EMST) and the Benaki Museum – as well as many smaller venues across the city.
Walking down Philopappos Hill, you will find the Byzantine church of St Demetrius Loumbardiaris, which dates back to the 12th century. Outside the church, paintings by the Argentinian-born, Guatemala-based artist Vivian Suter flap peacefully in the breeze, and collages by her mother, Elisabeth Wild, are shown inside a neighbouring pavilion. The stone church was restored in the 60s by Dimitris Pikionis (1887–1968), a Greek architect and professor whose work is also included in the Documenta programme, and who landscaped the broad Acropolis pathways in the 50s. Built from the neo-classical ruins of a devastated Athens emerging from civil war, the patterned stonework of the pathways designed in situ by Pikionis and his students, drew from the abstract and cubist shapes of Paul Klee, Wassily Kandinsky and Piet Mondrian. Merging European modernism with references to the Byzantine church, using material from the city, Pikionis hoped he would find a cultural pluralism that could strengthen Athens.
As you head north from the Acropolis, the pathway turns into concrete paving. Shiny facades of marble-clad office buildings hide disregarded lobbies, and walls are scrawled with graffiti protesting: "Narcissists of the world unite: Crapumenta 14." Beyond Syntagma Square, where the Greek parliament is situated, is the pure modernist shell of the Athens Conservatoire, known as the "Odeion" to locals, which is hosting works by nearly 50 Documenta artists.
Models of the conservatoire, which was designed by left-leaning Greek architect Ioannis Despotopoulos, are on display inside as part of the exhibition. The Odeion was commissioned by the Greek state in 1959 as the Athens Cultural Centre, envisioned as a multipurpose arts venue with a theatre, library and museum. Halfway through construction, the building was given to the Athens Conservatoire, a performing arts institution founded in 1871, in exchange for its former buildings, and the music school moved to occupy the upper floors, leaving the ground floor and basement empty until 2016, when temporary exhibitions were first hosted there.
Slim colonnades support the smooth grey slabs of a restrained first floor that cantilevers over a covered walkway running the 160-metre length of the building. Below ground is a network of spaces for the Documenta exhibition. Emeka Ogboh fills a huge stepped auditorium of rough concrete with melancholic choral verses and a scrolling real-time LED display of the world's stock indexes in his work The Way Earthly Things Are Going (2017). A symmetrical staircase leads down to a double-height space where Akinbode Akinbiyi's framed photographic series Passageways, Involuntary Narratives and the Sound of Crowded Spaces (2015-17) shows 48 fleeting glances of city life. Here, too, is Beatriz González's orange, green and yellow canvas curtain screen, Decoración de Interiores (1981): printed with a frieze of Julio Cesar Turbay Ayala, the president of Colombia in 1978-82, entertaining guests, it is drawn across the long wall.
Upstairs on the first floor, beyond the territory of Documenta 14, parents and children gather in the communal spaces of the music school. Long corridors host small football games, while the sounds of cello groups and violin solos leak out of the multiple wooden doors to practice rooms overlooking a subterranean outdoor courtyard below, where artist Daniel Knorr compresses junk into artist's books and, inside, Nevin Aladağ's musicians perform compositions on her instrument/furniture hybrids.
It is also at the Odeion where the scores and ephemera of Greek composer Jani Christou (1926-70) are displayed. Documenta 14 is curated around Christou's concept of the "continuum", an open-ended and self-perpetuating compositional format that is open to participation and flexible to change. Performative and durational works by Rasheed Araeen, Pope.L, Georgia Sagri and Daniel García Andújar, among others, are part of this. There are also a number of curatorial structures in place to provide a guiding framework for the exhibition, such as The Parliament of Bodies – a forum-style programme based at Parko Eleftherias (Freedom Park) inspired by "micro-political self-organisations" – the Keimen, a weekly film programme, and a radio programme aired across nine international radio stations.
This concept of the continuum and the durational events was defended so intently at the press conference that the very frameworks for consuming, or "understanding", the exhibition, seemed to draw away from the artwork, and, there was a recurring emphasis on "'unlearning" instead of "learning", which seemed to leave the title of the exhibition redundant. "Working on Documenta 14, we have always been against interpretation in many ways, believing that the modes of elucidation, literal explication and so forth have to be treated with suspicion and suspended," said Szymczyk at the press conference, peppering his introduction with words such as "ignorant", "indigenous", "exploited" and "power", which were key to the acceptance of the past and the deferential position of Documenta 14 in Athens. Wrapped in academic rhetoric, "against interpretation" became translated as "above interpretation" and was interpreted – despite all attempts to abolish the act of interpretation itself – as a shield for criticism.
Documenta 14 began by temporarily taking over the magazine South as a State of Mind. "The magazine preceded the show and became a place to speak, anticipating the exhibition and asking questions about the directions we could take in our research and our interests," said Documenta curatorial adviser and editor Marina Fokidis. The magazine looks at the concept of "south" broadly as a European and global, geographical and economic zone, questioning its characteristics, perspective and power. While fascinating as a process and curatorial angle, this editorial framework seemed to become lost in other layers of curatorial concepts and programming.
At EMST, the six-storey contemporary art gallery converted from the former Fix brewery, which is the largest of all Documenta venues, it is the quieter works occupying smaller wall spaces, archival tables or free-standing displays that interest the most. Architect Christos Papoulias's designs for the Erichthonean Museum of the Acropolis (1990-91) are on display in plan form, their sections opening up possibilities of a museum 17 metres beneath the Acropolis. Located between the huge copper bags of Dan Peterman's Athens Ingot project and 22 masks from the series Atlakim (1990-2012) by Beau Dick, they could easily be missed.
Moving past a loud painting display by Ashley Hans Scheirl and beautifully brazen flat-packed junk by Danai Anesiadou, up escalators, through McDermott & McGough's 2001 series of paintings titled Hitler and the Homosexuals that sit alongside stills from Piotr Uklański based on Leni Riefenstahl's film Olympia, the visitor eventually surfaces at the top of EMST. Here, rooftop views reach to the port, and a sober archival installation of Maria Eichhorn's Building as Unowned Property (2017) explores the process behind the conversion of a building's legal status. The neo-classical building in question, at Stavropoulos 15, is part of the work.
Another address in the city, Archimidous 15, an empty tavern, is in use as Chopra's base before his road trip to Kassel. During the opening days he makes an all-consuming drawing of the sea across the walls. It is also the site of Otobong Nkanga's soap-production workshop, with its in neat piles of chunky soaps made of red clay, mastic oil, charcoal and other ingredients sourced from across Africa, the Middle East and Europe. At Polytechniou 8, Andreas Angelidakis's work, Unauthorised (Athinaiki Techniki) (2017), explores the "psychotechnical parameters of the construction of Athens", with his video footage guided by his own memories and experiences of the city.
Behind the thickly graffitied walls of ASFA, Rosalind Nashashibi's video work Vivian's Garden (2017) records, coincidentally, two other Documenta artists, Suter and Wild. The film captures them at home in Panajachel, Guatemala, where they live in self-imposed exile, and presents a peaceful portrait of a mother-daughter relationship later in life. There is a nice circularity to this return, which is further complemented by Hélène Binet's dense, black-framed photographs of Pikionis's Acropolis pathway, displayed with his plans and drawings of it. Elsewhere in the high-ceilinged space are highlights including Olaf Holzapfel's abstract compositions of straw on plywood and Agnes Denes's surreal diagrams. Walking deeper into the art school, you pass lockers pasted with posters and easels left propped up with half-finished paintings by students from the school. A handful of people step cautiously around partitions, where, unlike in the rest of the exhibition, there are no names written on smooth white marble cuboid blocks to tell you which works belong to which artist.
In the forecourt of the Benaki Museum, which is housing the work of about 20 Documenta artists, Hiwa K's One Room Apartment (2017), a sculptural and incomplete dwelling made of wood, cement and metal, is reduced to a staircase and a single platform hosting a bed that cantilevers uncomfortably into the evening air. The architecture of the apartment reflects a way of life in Iraq that shifted after the Gulf wars from communal to "newly individualised societies", where it was the economic model that reshaped social structures and consequently created more singular modes of living.
I touched the cement frame of Hiwa K's home. At a loss among conceptual frameworks, I had ended up clinging to the physical. There is no hope of trying to fully understand or "interpret" Documenta 14 as a whole because Szymczyk – intentionally or not – made it too difficult. That won't prevent people from judging, interpreting, learning or, indeed, unlearning from the exhibition. As an earnest participator, I tried to unlearn. I tried to unwalk the streets of Athens. I tried to unread what I wanted to read. But, contrary to the curatorial vision, I ended up walking, reading and learning. Like politics, contemporary art also operates inside an "epicycle", instead of moving left to right, it moves from conceptual to physical, in the most basic of terms. With all his jargon, Szymczyk might just have irritated enough people to spark a new episode of the cycle.
• Documenta 14 (Part 2) will run in Kassel, Germany, from 10 June to 17 September 2017.