Learning from Athens: Documenta 14 (Part two, Kassel)
Returned to its traditional home in central Germany, Documenta 14 abounds with intelligent, well-curated art by an often obscure array of international practitioners. But does it live up to its valiant political aims?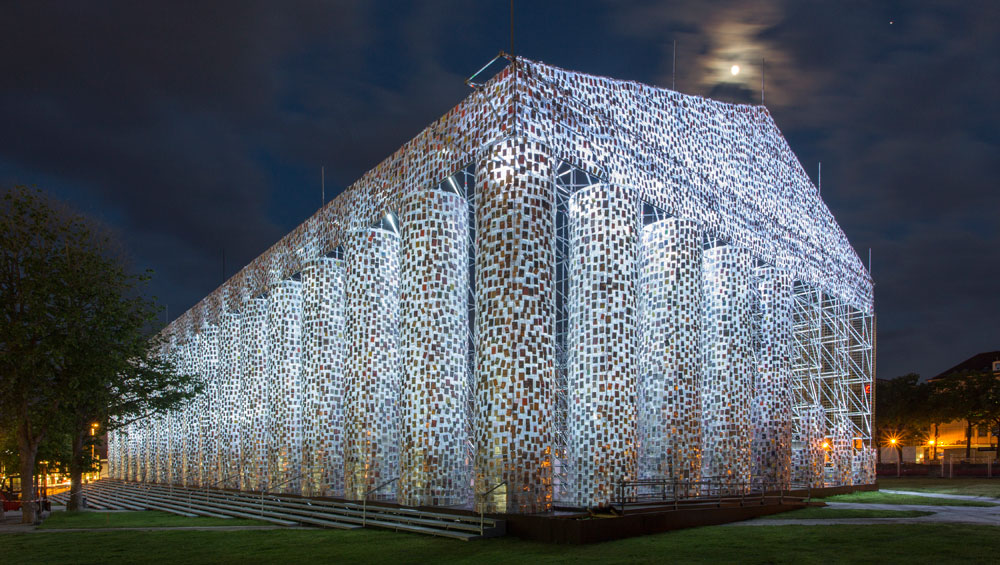 Marta Minujín. The Parthenon of Books, 2017. Photograph: Roman März.
Kassel, multiple locations
10 June – 17 September 2017
by JOE LLOYD
It must be a relief for Documenta 14 director Adam Szymczyk and his curatorial team to be back in Kassel. For his edition of the quinquennial exhibition, Szymczyk took the unprecedented decision to split proceedings between its traditional home in Hesse and an alternative site, with the 160 artists exhibiting work at both. The choice of Athens – capital of a country understandably wary of German interventions – led to not a little controversy. The word "Crapumenta" was spray-painted across the city, Greece's former minister of finance, Yanis Varoufakis, accused Documenta of "crisis tourism", and one artwork, Catalonian artist Roger Bernat's imitation oath stone, was stolen by a group of LGBTQ+ refugee rights activists.
These hitches could pass by a casual visitor to Kassel. Here, the most contentious moment was the unveiling of Romanian artist Daniel Knorr's smoke sculpture, Expiration Movement (2017), atop the Fridericianum museum, which caused some locals to call the fire service. Kassel used to be a major manufacturing centre for weapons; it was consequently levelled in the second world war. Although it was largely rebuilt in a dour, 1950s modernist style, it preserves some astounding remnants of the past 500 years. Former industrial towns in the German west are often unlike their equivalents in France and the UK. Much of Kassel feels prosperous and peaceable, extending westward through prim suburbs that terminate at the Bergpark Wilhelmshöhe, a Unesco site whose staggering 18th-century Hercules monument looms over the settlement below.
Documenta was founded by Arnold Bode in 1955 to show art deemed degenerate by the Nazi regime, and gradually grew into the most respected exhibition in contemporary visual art. If the Venice Biennale shows art at its most glitzy and gigantic, full of bling and marvels, Documenta demonstrates its more reflective side, courting theorists and graduate students over collectors and celebrities. Szymczyk's iteration goes further in positing itself as the art world's conscience. Its subtitle, Learning from Athens, triangulates the inequalities of the eurozone, the refugee crisis and the Enlightenment fixation with the perceived values and culture of Ancient Greece. Reports from the Kassel press conference suggest the atmosphere of a political rally, with curators lining up to proclaim the potency of art in a tumultuous world. "Documenta," claimed Kassel's mayor, "has embodied a bit of hope."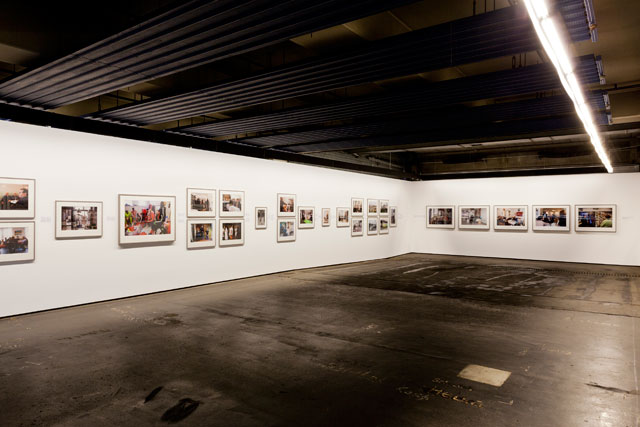 Ahlam Shibli. Heimat, Nordhessen, Germany, 2016–17. Series of 53 photographs, installation view, Neue Neue Galerie (Neue Hauptpost), Kassel, documenta 14. Photograph: Michael Nast.

It is surely commendable to reclaim art's potential as an agent of social weal, rather than as a commodity and a leisure activity. But lift up the oath stone and all sorts of issues squirm out from beneath, pivoting around a single question: how does one justify art as a political medium?
The most prominent public installation in Kassel, Marta Minujín's The Parthenon of Books (2017), was first erected in the artist's hometown of Buenos Aires in 1983, just after the fall of Argentina's National Reorganisation Process, a rightwing military dictatorship. Composed of 30,000 copies of previously banned books that were afterwards distributed to the public, it was a startlingly direct challenge to an immediate authoritarian past. Reassembled in sleepy Kassel, it loses both its urgency and its focus, instead becoming a non-specific reminder of censorship. During the press preview, it was still unfinished due to a paucity of donations, although there is perhaps something to be said for its consequent appearance as a raided ruin rather than a complete structure.
Notwithstanding its Argentine origins, The Parthenon of Books is among very few nods to the Athens of the festival's subtitle. There are few Greek artists in the main programme. Despite the heavy presence of the Greek language in marketing material, the wall texts stick to German and English. The Fridericianum, traditionally Documenta's central venue, has been given over to Antidoron, an exhibition of works from Athens's recently opened National Museum of Contemporary Art (EMST) collection. Although this does present a broad swath (in both form and quality) of contemporary Greek art, its practitioners are removed from the main roll call, consigned to a sideshow. Antidoron thus feels akin to an anthropological presentation of the country's artistic endeavour, trapped in the urn-mounted walls of a German baroque public museum. The unkind might wonder if the Athens project was voguishly conceived at a time when the Greek crisis was continually in the news, and then left to languish afterwards.
Other engagements with ancient and modern Greece bear variable fruit. In a series of drawings and videos at the Museum for Sepulchral Culture, the German-based duo Prinz Gholam has turned the poses from ancient marbles into glib pieces of contemporary erotica. In the Giesshaus, a circular remnant of Kassel's arms industry, the Munich-born artist Angela Melitopoulos's video and sound piece Crossings(2017) juxtaposes footage of refugee camps in Lesbos and Piraeus with a spoken narrative on the societal ravages of debt. It is an impressive melange of word and image, with some of the essay-film finesse of the late documentarian Harun Farocki.
Farocki's shadow looms long over many of this exhibition's highlights, along with those of Jonas Mekas and Wang Bing, both of whom receive retrospective screening programmes. At the Ottoneum natural history museum, Vivian's Garden (2017), by the Palestinian-English artist Rosalind Nashashibi, is a thoughtful look at the mother and daughter painters Elisabeth Wild and Vivian Suter in their self-imposed exile in Guatemala. Sensitive and tender, it is a corrective to Grey Gardens cliches about intergenerational eccentrics; works by both Suter and Wild feature elsewhere in Kassel. In Tofufabrik, a former organic tofu factory, Véréna Paravel and Lucien Castaing-Taylor (born in Neuchâtel, Switzerland, and Liverpool, respectively) present the bone-chilling Commensal (2017), about an incident in 1981 in Paris when a student killed and ate one of his peers then drew a manga recounting the events. Best of all is the three-channel digital video Two Meetings and a Funeral (2017) in the Hessisches Landesmuseum by Naeem Mohaiemen, who was born in London but grew up in Bangladesh. Mohaiemen's video is a John Akomfrah-esque account of Pakistan's role in the cold war Non-Aligned Movement.
Many of these film works run to an hour or more, and demand a significant investment of time and consideration from their audience. Documenta 14 is not a show to dash around. If the "from Athens" aspect of the subtitle is somewhat effaced, the "Learning" certainly isn't. The more one is willing to learn about an abundance of historical regimes, conflicts and migrations, the more one will get out of these works. In the temporarily named Neue Neue Galerie, Kassel's former post office, Palestinian photographer Ahlam Shibli's Heimat (2017) series depicts the daily rituals of two ingrained settler communities in Kassel – postwar displaced Germans from eastern Europe and 1950s guest workers from Turkey. Without the context, they are worthy photographs; with it, they acquire a deeply humanistic tint. The Neue Galerie's basement contains 37 hand-drawn maps from the series Atlas of Russian History (1953) by the Lithuanian American artist and Fluxus founder George Maciunas, beautifully detailed sheets that resemble supremely swottish revision notes.
Texts are everywhere in Kassel. There are artworks that manipulate pre-existing literary works – Israeli artist Roee Rosen's The Blind Merchant (1989-91) at the Grimmwelt, for instance, which annotates The Merchant of Venice with humorous drawings and a parallel narrative from the perspective of Shylock. There are pieces that play with textual mediums, notably German artist Ruth Wolf-Rehfeldt's dizzying 1987 work Untitled (Mail Art Collaborations), typographic drawings circulated as letters. The late Italian artist Maria Lai is represented by books made from traditional Sardinian bread. Sámi artist Máret Ánne Sara's series of works about Norwegian reindeer culls includes the official report on a court case, while Lebanese-born Mounira Al Solh's Nassib's Bakery (2017) contains dozens of typed-up accounts from members of Kassel's migrant communities. And at the Neue Galerie, several rooms are devoted to German artist Maria Eichhorn's Rose Valland Institute (2017), a library of books looted by the Nazis placed alongside documentation pertaining to the Gurlitt art hoard.
With the Fridericianum given over to EMST, the Neue Galerie feels like the core of Szymczyk's project and the ultimate demonstration of its curatorial approach. Here, contemporary work – including an excellent room from the deservedly resurgent Romanian conceptualist Geta Brătescu – is placed in dialogue with a swollen inventory of historical material. It is a lot to take in: Benin bronzes, 16th-century woodcuts, paintings by the Russian avant-garde painter Pavel Filonov, surrealist Antonio Vidal sculptures, scores from the Maoist period of the British composer Cornelius Cardew. Much of this is fascinating, with a particular joy being the display devoted to Lorenza Böttner, a transgender woman who lost her arms in childhood and painted vivacious self-portraits using her mouth and feet. Connections can be drawn across time, space and milieu, in many cases emboldening the slighter pieces. As a collection and arrangement of art it is superb and, by forsaking the well known, it provides a recurrent sense of discovery lost in exhibitions featuring the usual suspects.
And yet … For all its curatorial merit – and in part due to it – Learning from Athens negates the stipulations it has laid down for itself. Much of it speaks of historical and contemporary injustices, often very eloquently. But when ensconced in an international art exhibition and presented as part of an artistic and intellectual continuum, the work loses its radical potential. Rather than being instilled with faith in art's capabilities to affect the wider world, I left pessimistic. Szymczyk's Documenta is a serpent eating its own tail, introspectively peering into art rather than its potential repercussions. Learning from Athens is too clever for its own good.