Chris Ofili
Chris Ofili's mid-career retrospective at Tate Britain is a crowd pleaser, and this is no bad thing. What comes across most strongly in the exhibition is Ofili's tactile approach to painting and his joy of colour, leading to the exciting realisation that his painting still has the power to enthral.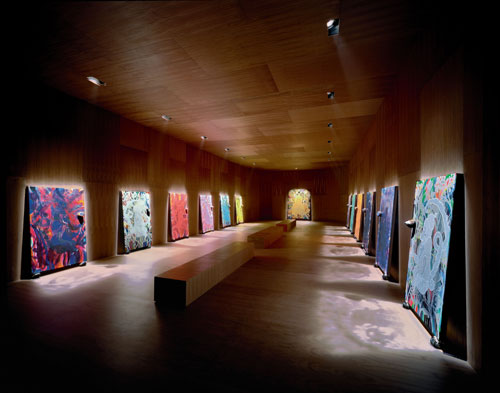 Chris Ofili. The Upper Room, 1999.
Tate Britain, London
27 January–16 May 2010
by ALICE CORREIA
The show offers an opportunity to view early works that have not been on public display since his 1998 Serpentine exhibition, as well as new works never before exhibited in the UK. The middle section of the show is dominated by The Upper Room (2002). This large-scale painterly project, which is displayed within an architectural setting especially designed by David Adjaye, is already in the Tate Collection and will be familiar to regular Tate audiences. Nonetheless, positioned here as a marker between his youthful London works and the more recent paintings inspired by the sights and spaces of his new home in Trinidad, The Upper Room acts as both a culmination of one way of working and a signal that change was around the corner.
The exhibition starts with Ofili's "discovery" of elephant dung whilst on a travel scholarship in Zimbabwe as an MA Student at the Royal College of Art. The first painting we encounter is Painting with Shit on it (1993), and this work sets the tone for the first two rooms of the exhibition. Here was a young artist living in London in the early 1990s, mixing and remixing an amalgamation of artistic and cultural referents that included William Blake, hip-hop, comic book heroes, the prostitutes that hung around his Kings Cross studio, and of course, the elephant dung. However, while Ofili's recognition of the aesthetic potential of the elephant dung was no doubt central to his artistic development, in order to appreciate the full impact of the Zimbabwean trip it would have been useful if we had had an opportunity to see some of his very accomplished early work. Despite the reproduction of The Queen and I (1989), in the accompanying catalogue (a painting for which Ofili won a prize in the 1989 Whitworth Young Contemporaries show) unfortunately in the exhibition there is little sense of Ofili's artistic transformation because we only get to see the 'after', and not the before.
Nonetheless, the works in the first room do provide a sense of experimentation. As well as the dung, Ofili introduces a complex method of layering collage, resin, paint and glitter. Seven Bitches Tossing their Pussies Before the Devine Dung (1995), a painting that echoes both the title and the compositional format of Blake's The Four and Twenty Elders casting their crowns before the Divine throne (c1803–5, Tate Collection), also introduces us to key themes that are evidently consistent preoccupations: God and Sex. Religion, specifically Catholicism and its attitudes to both sexual desire and gratification are prevalent in Ofili's early paintings; Seven Bitches… proposes the possibility of honouring a divine being through sexual self gratification, where sexual ecstasy and religious ecstasy are made equivalent. In this light, perhaps we should regard Ofili's collaged porn-stars as latter-day versions of Mary Magdalene.
Room Two is perhaps "classic Ofili". Here we find not only The Holy Virgin Mary (1996), with her halo of butterfly vaginas and vulva-like robes, but Blossom (1997), the exhibition's poster girl, and the gigantic phallus of Pimpin ain't easy (1997), strategically positioned to be the first visible work as audiences enter the room. Overall these paintings give the impression of an artist who has found his voice and who is utilising diverse painterly possibilities to address contemporary issues of sexuality, racism, gender, and identity politics. While there is still experimentation with form, all of these paintings are significantly larger in size, and by the late 1990s Ofili clearly felt able to tackle bigger and weightier subjects. Despite its uniqueness as a direct comment on a specific contemporary event, No Woman, No Cry (1998), inspired by the grief of Doreen Lawrence over the racist murder of her teenage son Stephen, does not look out of place in this context.
The Upper Room (1999–2002), has been faithfully installed in the exhibition and for first-time audiencesit will no doubt be an extraordinary viewing experience. Walking down the long darkened corridor of David Adjaye's architectural structure I still got a thrill of expectation and anxiety- there will be something great at the end, but you're not quite sure what. What you are presented with is a dimly lit room with two rows of six paintings on either side, each individually spot lit, forming a procession to a larger golden canvas at the far end of the room. Each painting depicting a monkey is a unique study in colour: white, red, turquoise, green, and so on. Each painting is akin to a coloured jewel and the whole physical experience of walking through the darkened corridor and into a colourful space with its chapel-like calm is reminiscent of viewing the stained glass windows of Europe's Gothic cathedrals. This is art as experience and phenomenological excess. Instead of interrogating each painting individually, it is perhaps best to think of The Upper Room in sculptural terms, to be experienced bodily, through the senses.
Moving on we find the series Freedom One Day. Created using only red, green and black, collectively these paintings propose a pan-African or utopian space of universal blackness, based on Marcus Garvey's pan-Africanism. Paintings such as Afro Love and Unity (2002), present men and women in loving, trusting embraces, set within verdant vegetation, and it perhaps significant that they do not contain Ofili's pornographic collage. The series was exhibited when Ofili represented Britain at the Venice Biennale in 2003, and I felt that the Tate curators could have made more of this fact: that these paintings were presented within such an overtly nationalistic setting at the Venice Biennale could have been a central point for discussion, challenging as they do, racist desires for a specifically white Britain.
For me, Ofili's works on paper were perhaps some of the most interesting elements of the show. The drawings and watercolours in Room 5 demonstrate Ofili as a wonderful draughtsman and watercolourist. In the 9-part work, A Gardener (2005), Ofili presents a male profile surrounded by eight other works, each depicting a tropical bird perched on a branch, or a flower. Fluorescent pinks, green and turquoises' create an atmosphere of heat and humidity. Here, stripping his work back to the simple components of colour and brush he has created something magical. Watercolour is not the most "rock and roll" painting technique, frequently, and unfairly associated with Sunday painters and maiden aunts. But A Gardener, and Afromuses (1999–2005), a series of mainly female portraits exploring the tonalities of black skin are extraordinary works, and deserve to better known.
After so much colour and exuberance, in Room 6, exhibiting The Blue Rider series, I got the feeling that Ofili needed to cleanse his palette. While we can marvel at his dedication of completing the four-year project of The Upper Room and his decision to limit his colour range in Freedom One Day, there is a sense that by the mid-2000s, Ofili had painted himself into a corner and that by reducing his palette even further he hoped to paint himself out of it. Gone is the elephant dung, the collage and the glitter. Gone is the vibrant and exuberant colour, this is Ofili in "serious" mode. Using inky blues, purples and blacks, depicting landscape scenes at night, these works, painted between 2006 and 2008 are the first that Ofili created after his move to Trinidad. The shift from urban to rural imagery is evident, as are the Island's colonial legacies. In the dimly lit gallery, it was difficult to make out the animal carcass strung up in Blue Stag (All Fours), but once my eyes had adjusted, the work is reminiscent not only of Chaïm Soutine and Francis Bacon, but also of Wilfredo Lam. In Lam's The Jungle (1943, Museum of Modern Art, New York) figures merge in and out of tall vegetation and comments on the position of non-western visual culture within a narrative of modernist painting. Lam's figures holding scissors, thought by many to be anti-colonial statements in the era of colonial upheaval, are echoed by Ofili: From the tall vegetation on the left of Blue Stag (All Fours) a thick forearm grasping a machete in its fist is about to strike the carcasses, while another hand with bright blue fingernails holds onto the stag's right leg. Strength and power are key themes being worked through in these blue paintings and there is a sense that Ofili had to unlearn his all over decorative approach to covering surfaces in order to move forward.
The final room of the exhibition contains eight canvasses all made between 2007 and 2009 and are presented as Ofili's most recent thoughts. Here we see the Trinidad effect in full swing: hot tropical colours combined with natural landscapes to create works such as The Raising of Lazarus (2007). As with the blue paintings, we are presented with an artist exploring the possibility of how to make figurative colourfield paintings. His interests in God, religion, spirituality clearly remain intact: the composition of The Healer (2008), is indebted to Blake's Winter (c1820–25, Tate Collection). But whereas Blake's work was a composition in white and grey, Ofili's version is all black, except for a streaky column of yellow running vertically through the centre of the canvas. It appears that the central male figure is either vomiting or engorging himself on a mass of bannanary-yellow gloop. While clearly a figurative work, the painting also quotes Barnet Newman's zips and suggesting a more serious engagement with the legacies of modernist painting and how the flat qualities of the American abstractionists might be updated for a contemporary Caribbean setting.
And perhaps this is what is interesting about having a mid-career retrospective. We get a tightly organised opening, leading to a more expansive and experimental present. If the first part of this show is a kind of greatest hits, the latter part is too new and too unfamiliar to be able to make definitive statements about which is a great painting and which, in future exhibitions, will get edited out. Ofili has made a break from his dots and his elephant-dung no doubt to the dismay of those looking for easy headlines. His recent works, demonstrate a more spacious approach to painting, recognising that experimentation with the medium does not necessarily mean adding new components. Having demonstrated his interest in colour and movement, and perhaps most importantly, his love of paint, I left the show feeling like Ofili was about to embark on a gestural odyssey.