Carmen Herrera
Herrera's abstract, geometric paintings pulse with life in this solo show. She was discovered late – she sold her first painting in 2004, at the age of 89 – and her work has a concentrated intensity that speaks of many decades of quiet, unsung dedication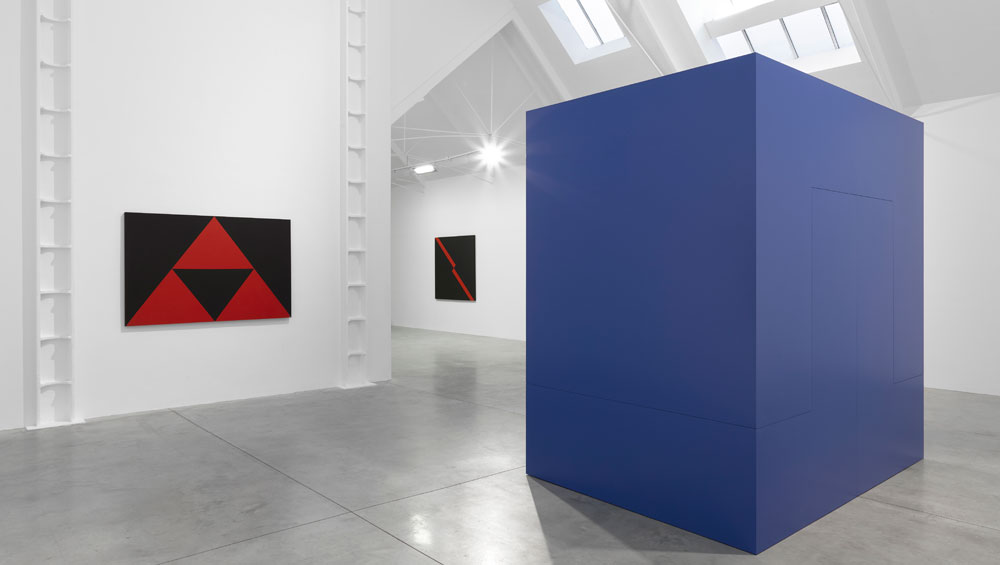 Lisson Gallery, London
25 November 2017 – 13 January 2018
by VERONICA SIMPSON
An aura of vibrant certainty emanates from Carmen Herrera's work. At 102, having painted for the past 80 years, the Cuban-born, New York-based artist is entitled to have honed her thoughts and processes to the point of transcendental simplicity. Robert Storr, former MoMA curator and, until last year, dean at Yale School of Art, compares her to late-stage Matisse - restricted in mobility yet conjuring moments of great lyricism from coloured paper and scissors. Having painted all her adult life and yet not sold a painting until 2004, when she was 89, she told Observer art critic Hermione Hoby, in 2010, that there is a real advantage to being undiscovered for so long: "Because when you're known, you want to do the same thing again to please people. And, as nobody wanted what I did, I was pleasing myself."

Carmen Herrera, installation view, Lisson Gallery, London, 24 November – 13 January 2018. Courtesy Lisson Gallery.

For Herrera, pleasing herself means meditating on the line, the tension between planes and colours, the power of elemental geometry. Time is perhaps something you have a different relationship to once you reach her impressive age, although her working practice has apparently not changed – she begins at 9.30am sharp, every day, in the Manhattan studio apartment she has occupied for more than 50 years. She may now need an assistant to paint the canvases she so decisively dictates, but they still evolve over weeks or months of intense focus and contemplation: an idea starts as a sketch, pinned up over her desk and then – if deemed worthy – is transferred to a small piece of velum she colours in with acrylic paint markers, before it becomes resolved as either a larger paper work, or a painting, and occasionally sculpture.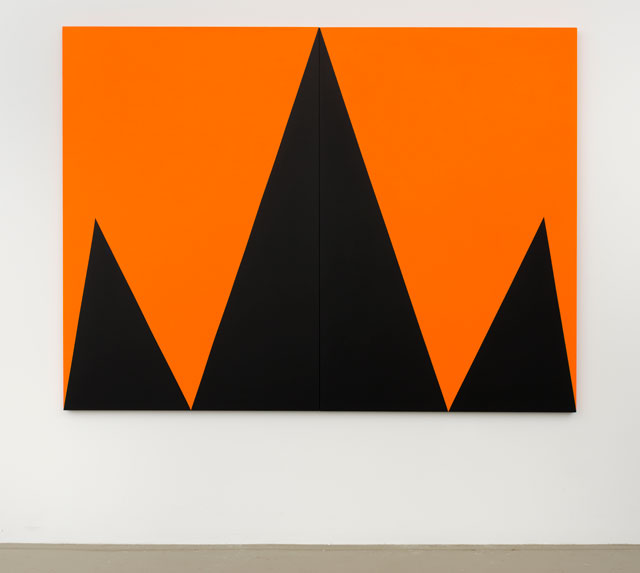 Carmen Herrera. Mountain Drawing, 2017. Acrylic on canvas, 182.9 x 243.8 cm (72 x 96 in). © Carmen Herrera; Courtesy Lisson Gallery.

Twelve years after the art world woke up to her talents (her pieces now sell for hundreds of thousands of dollars), Herrera's current popularity seems to have inspired a renewed focus and ambition. She told Hoby: "I'm more dedicated to my art now and I'm more watchful. Anything – a piece of paper that's folded in a funny way – I think, 'Ah, I can use that.' I feel much more aware now."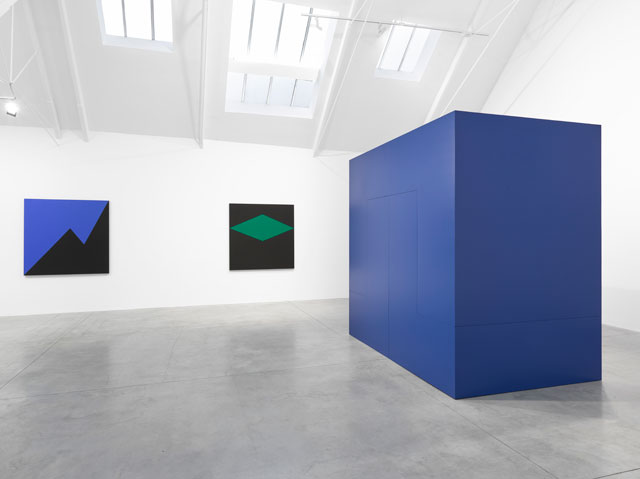 Carmen Herrera. Right: Pavanne, 1967/2017. 274.3 x 274.3 x 182.9 cm (108 x 108 x 72 in). Installation view, Lisson Gallery, London, 24 November – 13 January 2018. Courtesy Lisson Gallery.

Her early interest – and training – was in architecture, and that three- dimensional sensibility leaps off the canvas in this small solo show at the Lisson – only her second in London – comprised entirely of new work she has made in the past year. It includes one of her large Estructuras (sculptures). However, Pavanne (2017) has been gestating since 1967, when it was conceived as a tribute to her younger brother, who was dying of cancer. Its large, perfectly square form has a monumental scale, its interlocking edges barely visible through the density of its uniform blue colouring. The cuboid arch of the top structure seems to enclose – protectively – the two interlocking L-shapes that form the base; it is unified, tightly aligned, seemingly impenetrable, but clearly broken. This blue mass is not the colour of seas or skies, but of a deep, compacted grief; an iceberg of frozen emotion.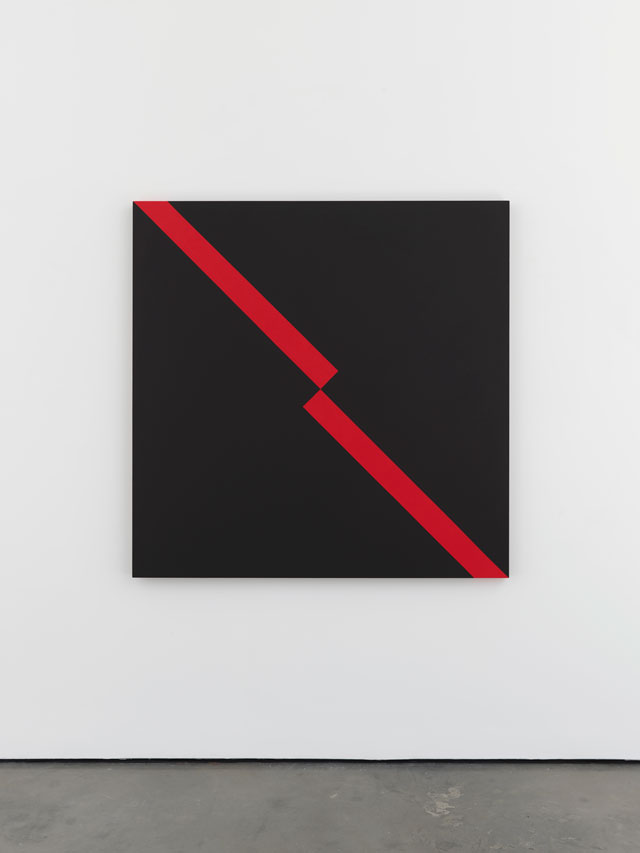 Carmen Herrera. Camino Rojo, 2017. Acrylic on canvas, 152.4 x 152.4 cm (60 x 60 in). © Carmen Herrera; Courtesy Lisson Gallery.

The touching planes of her paintings are often described as "kissing"' – a gesture that humanises their basic geometric composition. This is beautifully realised in the first work we encounter, Camino Rojo (2017): two long, thin red oblongs emerge towards each other, from opposite sides of the canvas, as if magnetically propelled. But they are exquisitely misaligned so that their almost-but-not-quite touching at the centre charges the black field around them with tension.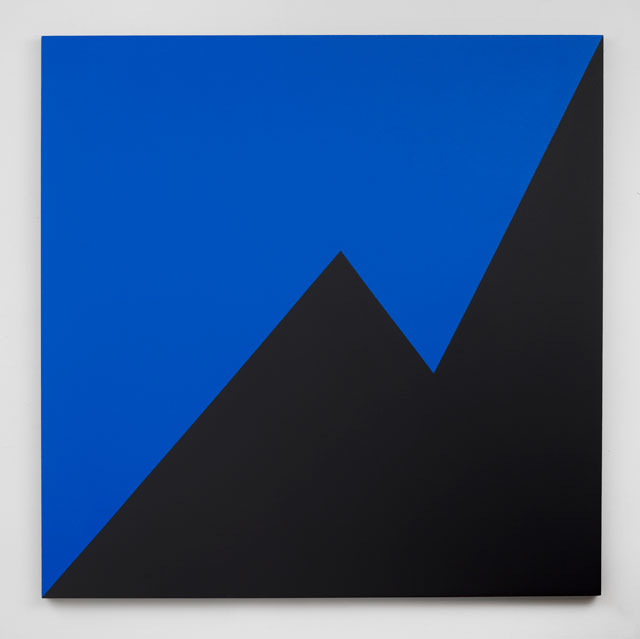 Carmen Herrera. Nocturne, 2016. Acrylic on canvas. © Carmen Herrera; Courtesy Lisson Gallery.

Two jagged black peaks, set against a deep midnight blue in Nocturne (2016) emerge as dense, structural presences – whether buildings or rock – against a vast expanse of open sky. It evokes a sense of both mass and distance that you feel viscerally, rather than intellectually. Nearby, the deep, green rhomboid that punctures the blackness in Sereno (2016) conjures a different mood altogether: like gazing into a lush landscape, it generates a creeping euphoria, a promise of lushness, escape, freedom.
A vivid, asymmetric chequerboard rendition of yellow on black, Again (2017) becomes a chromatic tug-of-war between the two tones; somehow the yellow - despite there being less of it - wins.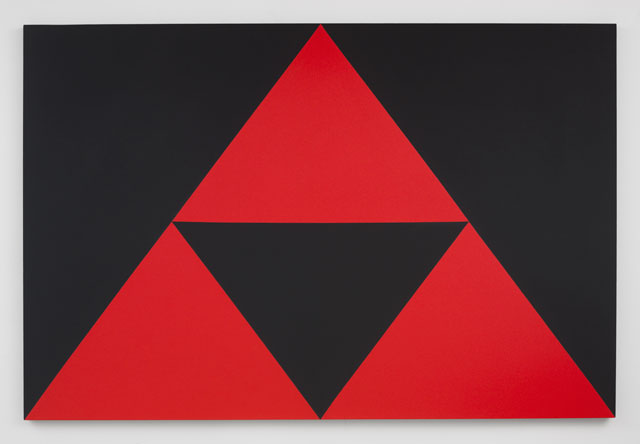 Carmen Herrera. 3 Red Triangles, 2016. Acrylic on canvas, 182.9 x 121.9 cm (72 x 48 in). © Carmen Herrera; Courtesy Lisson Gallery.

The work is alchemical, almost mystical. I am not sure why the two more symmetrical paintings have two such different impacts: 3 Red Triangles (2016) is a fairly orthodox arrangement of interlocking red and black triangles. Although the pattern is deeply satisfying, there is nothing more sticky or provocative about it. Meanwhile, Mountain Drawing 2017, also presents three triangles – black ones this time, a tall one flanked by two smaller ones, against a force field of orange so intense, the warmth is palpable.
Herrera's life story is fascinating, coming into close contact with the 20th century's most celebrated writers, painters and thinkers: born in Havana in 1915, she spent time in postwar Paris (1948-52), together with her husband Jesse Lowenthal (an American, and an English teacher), where she first encountered the work of Kazimir Malevich, clearly an influence. They hung out with Yves Klein, Jean-Paul Sartre, Jean Genet and Simone de Beauvoir. After they moved to New York in the mid-50s, her work became more minimalist. But in mid-20th century New York, while geometric abstractions were fine when Ellsworth Kelly and Barnett Newman (a friend and neighbour) did them, she was told – quite bluntly – by a prominent gallerist, that she wouldn't show Herrera's work, even though it was better, "because you're a woman".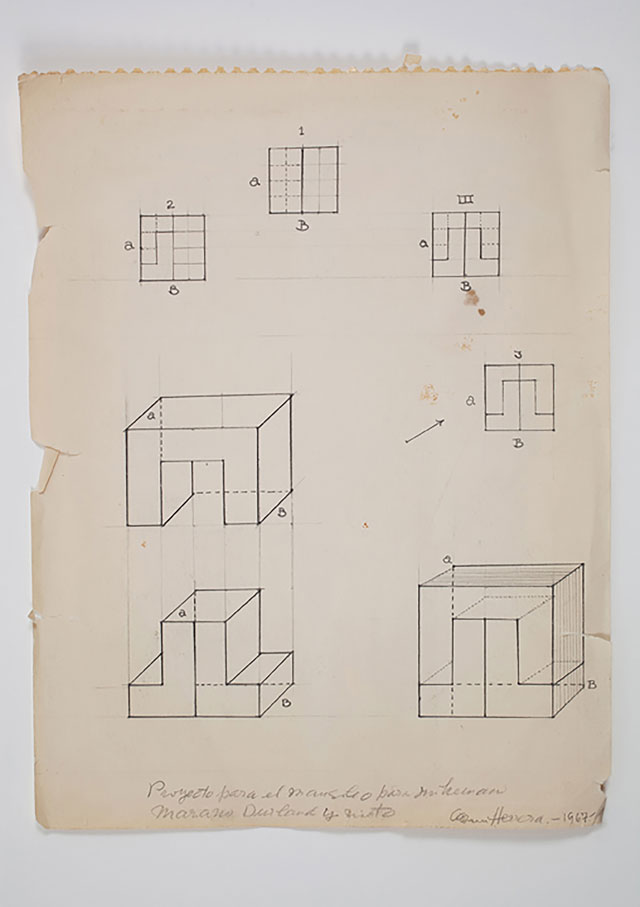 Carmen Herrera. Drawing for Pavanne, 1967-2017. © Carmen Herrera; Courtesy Lisson Gallery.

That seems an extraordinary omission now; though she also admits she didn't help matters by not understanding – or being willing to play - the system. "I wasn't that kind of personality." Had she been, would we now be gazing at these luminous works? Has all that time of uninterrupted, unmediated, self-directed concentration been a vital element in the unique creation of her aesthetic - austerity infused with a kind of ecstasy?
The art world is certainly making up for that early lack of interest now. The Lisson chose her work to inaugurate its new New York gallery, in 2016. After her first solo show in Europe – at Birmingham's Ikon gallery in 2009 – the Observer newspaper's critic Laura Cummings declared: "Carmen Herrera is the discovery of the year – of the decade … How can we have missed these brilliant compositions?"
This show provides a nourishing taster for fans of – or newcomers to - her work. But if you like what you see, you can still catch the hugely successful large-scale survey Carmen Herrera: Lines of Sight, which opened at the Whitney Museum of American Art in September 2016 and is now on show in Europe at the Kunstsammlung Nordrhein-Westfalen (K20) in Düsseldorf (until 8 April 2018).