Capturing the Moment: A Journey through Painting and Photography
This exhibition considers the relationship between the two media, from documentary photography of the 1930s to the digital age. There is little new here, but some standout individual works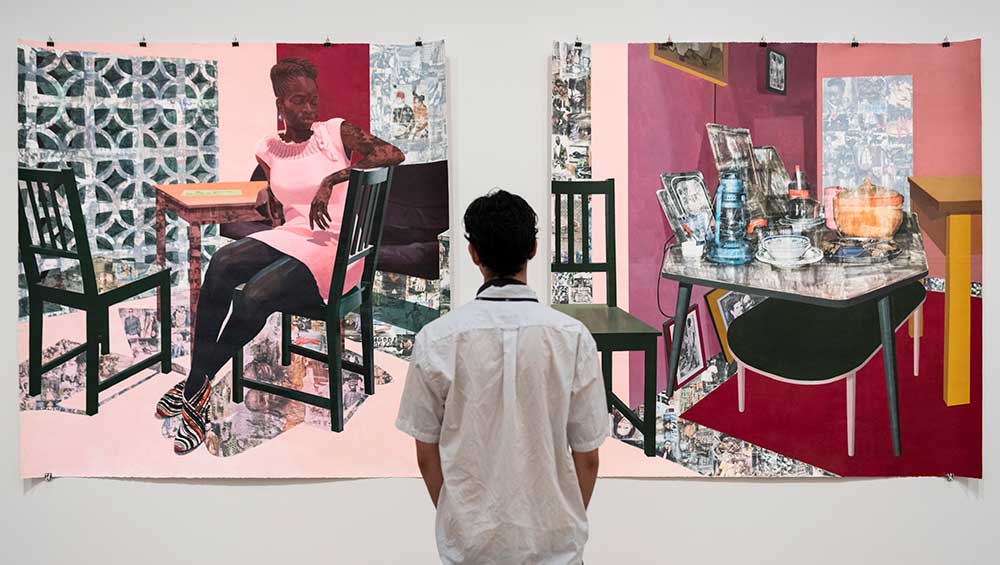 Capturing the Moment: A Journey through Painting and Photography, installation view, Tate Modern, 2023. © Tate (Jai Monaghan).
Tate Modern, London
13 June 2023 – 28 January 2024
by BETH WILLIAMSON
As the world wide web becomes overrun with images spawned by artificial intelligence, deepfakes become more realistic, and the art world grows mildly hysterical about AI-generated "art", Tate Modern has returned to a much older question, the relationship between photography and painting. In her seminal book On Photography (1977), the critic and philosopher Susan Sontag said: "The painter constructs, the photographer discloses." But can we really make that distinction? Can these two modes of making really be separated in this way? Essentially, this is the question this exhibition grapples with by examining the dialogue between the two media in modern and contemporary art. It brings together paintings and photographs, largely from the Tate collection and the Yageo Foundation Collection, to show the influence of photography on painting and vice versa.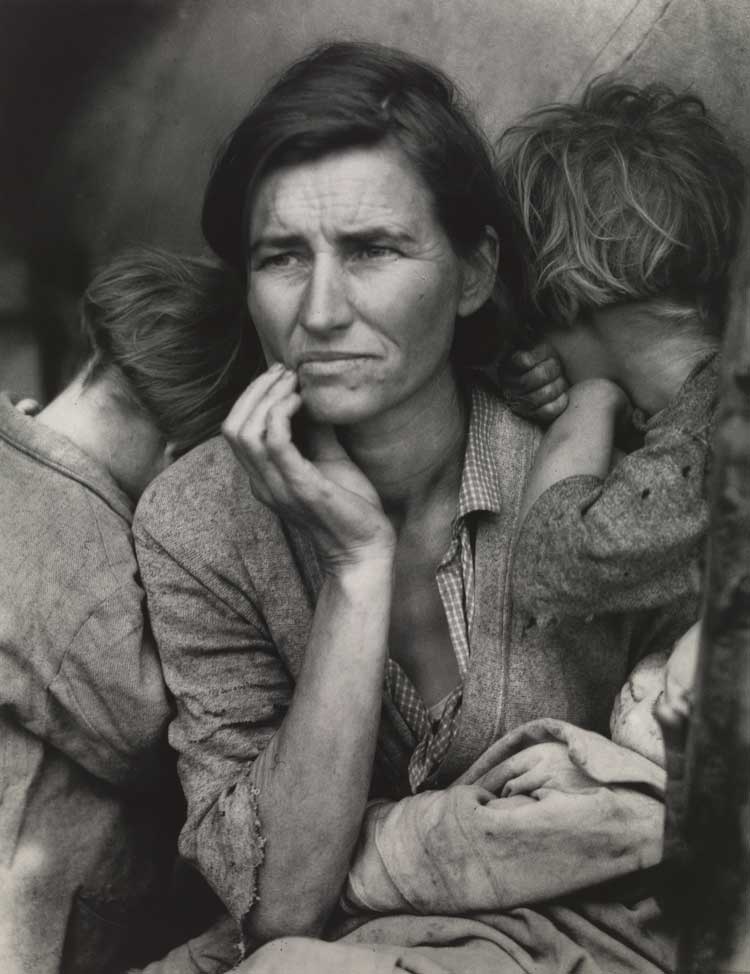 Dorothea Lange, Migrant Mother, Nipomo, California, 1936. Printed c1950. Tate. Photo: Tate (Jai Monaghan).

Across eight sections, a story of a shifting but deepening dialogue between painting and photography unfolds. It opens with painting's response to lens-based media in the 20th century. In a sparsely populated space, visceral representations of the self by Lucian Freud (1922-2011) and Francis Bacon (1909-92) sit alongside a distorted portrait of the artist and photographer Dora Maar (1907-97) by Pablo Picasso (1881-1973) and an emotionally charged portrait of life in a working-class neighbourhood of New York by Alice Neel (1900-84). It is the image Migrant Mother (1936) taken by Dorothea Lange (1895-1965) in the US during the Great Depression that is presented as a marker of what painters were responding to at that time.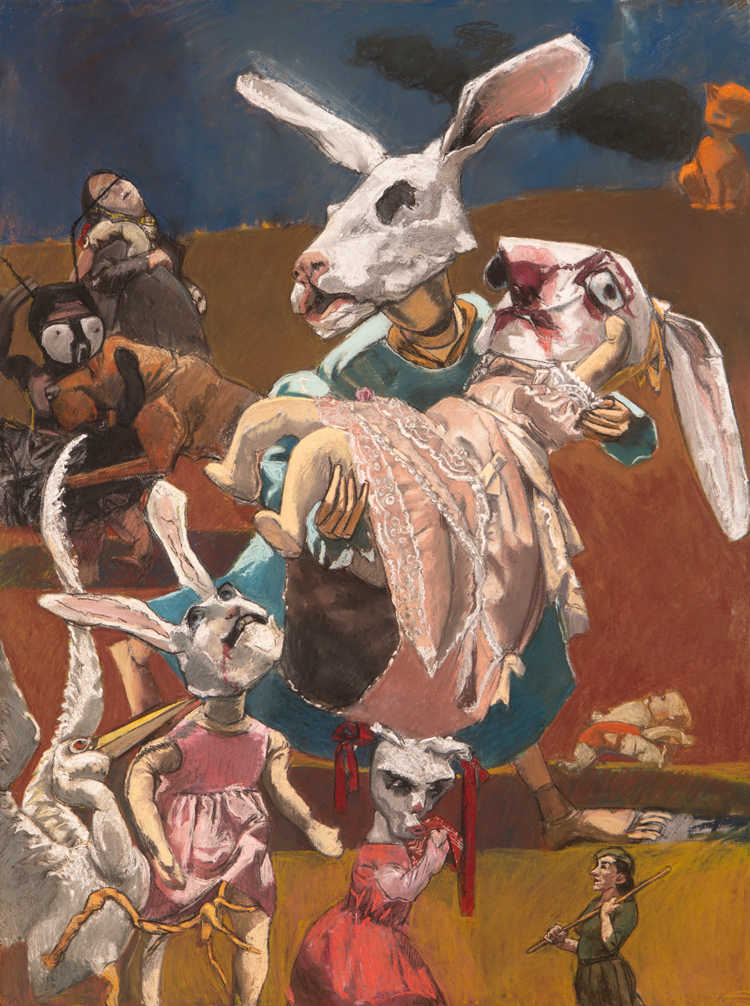 Paula Rego, War, 2003. © Paula Rego. Image © Tate (Oliver Cowling).

The proliferation of photographic imagery and the precision offered by lens-based media saw many painters turning to an approach that sought to harness the expressive potential of paint on canvas to convey the very essence of human bodies or figures. In this way, the materiality of paint was used to convey the rawness and vitality of human flesh. Works by Bacon, Marwan (1934-2016) and George Condo (b1957) are all represented here. Alongside these are works by Paula Rego (1935-2022), whose violent subject matter is expressed through her painterly technique. Similarly, the work of Cecily Brown (b1969) exposes a fleshy eroticism through her expansive painterly technique.
The signature style of Canadian photographer Jeff Wall (b1946) is large-scale photographs mounted on lightboxes. Wall focuses on landscapes and contemporary scenes, and viewers are encouraged to gaze on a fleeting moment and consider the myriad narratives running through it. Wall's A Sudden Gust of Wind (after Hokusai) (1993), is a tableau based on a woodcut by the Japanese printmaker Katsushika Hokusai (1760-1849). Although it appears to capture a fleeting moment for four figures caught in a gust of wind, it is in fact, highly staged, as adjacent drawings evidence. This "fleeting moment" involved Wall taking in excess of 100 individual shots over more than a year.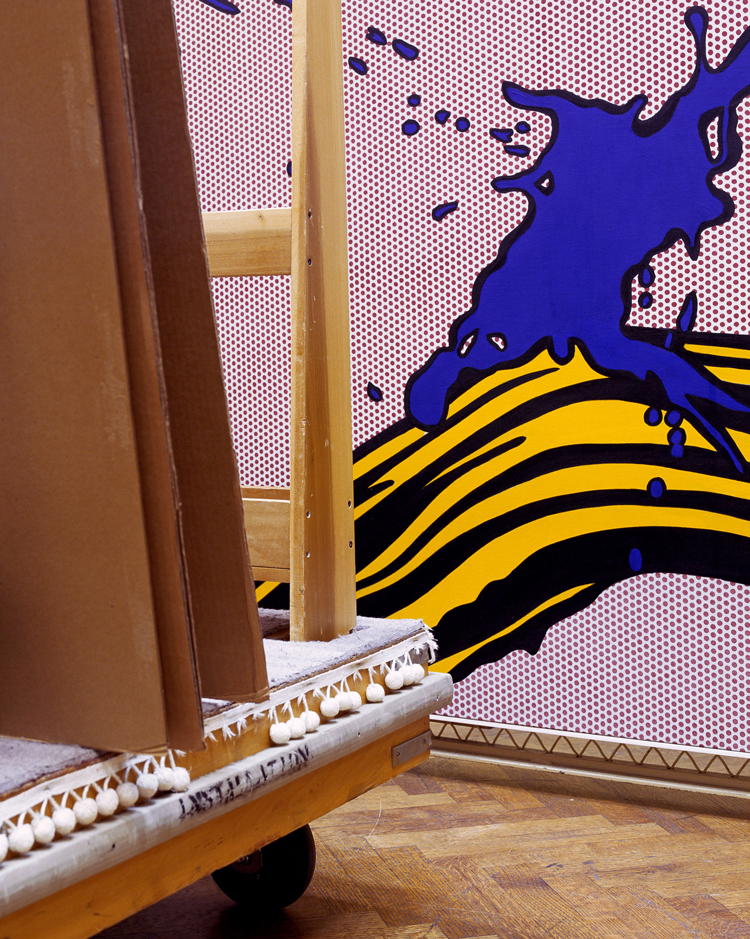 Louise Lawler, Splash, 2006. Printed 2012. Tate. © Louise Lawler.

When photographers draw on the traditions of painting, something spectacular happens. Through scale and composition, they create an opportunity to get a more immersive, collective experience of being and looking. The monumental images of Thomas Struth (b1954) interrogate how we look at art in different settings – in a library or a church, for instance. Louise Lawler (b1947), Andreas Gursky (b1955) and Pushpamala N (1956) all interrogate the constructed nature of image-making. After the monumental work of Gursky, Struth and others, the more intimate Seascapes of Hiroshi Sugimoto (b1948) punctuate this exhibition with their quiet calm presence. The artist has developed a series of 220 black and white photographs of his expansive views of the ocean with cloudless skies over 30 years. A handful of examples are included in this exhibition. These images sit between abstraction and representation and ask us to consider the urgent need to protect the natural world. Gerhard Richter (b1932) and Wilhelm Sasnal (b1972) are two artists who make copies of photographs and so engage with history, media and memory. In images such as Scheune (1984), Richter paints landscapes from photographs he has taken himself and offers them as meditative in the mode of the 19th-century German romantic painters. His Two Candles (1982), on the other hand, is in the still-life tradition of memento mori.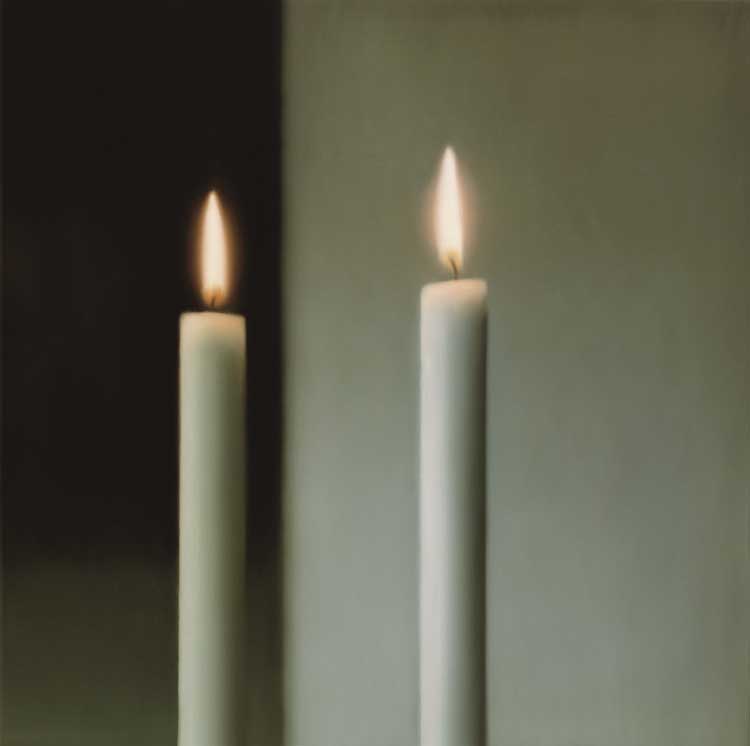 Gerhard Richter, Two Candles, 1982. Yageo Foundation Collection. © Gerhard Richter 2022.

The largest space in this exhibition is devoted to the theme of convergence. Merging images from popular culture, mechanical process and high art was a new approach adopted by artists as diverse as Pauline Boty (1938-66), Richard Hamilton (1922-2011) and Andy Warhol (1928-87). Screen-printing techniques became popular, too, in pop art. Other artists, such as John Currin (b1962) and Lisa Brice (b1968), take images from popular culture to refocus on the female body in a manner that questions the relationship between image-making and self-representation. Currin's painting Thanksgiving (2003) draws from pornography and advertising to question representations of women and desire.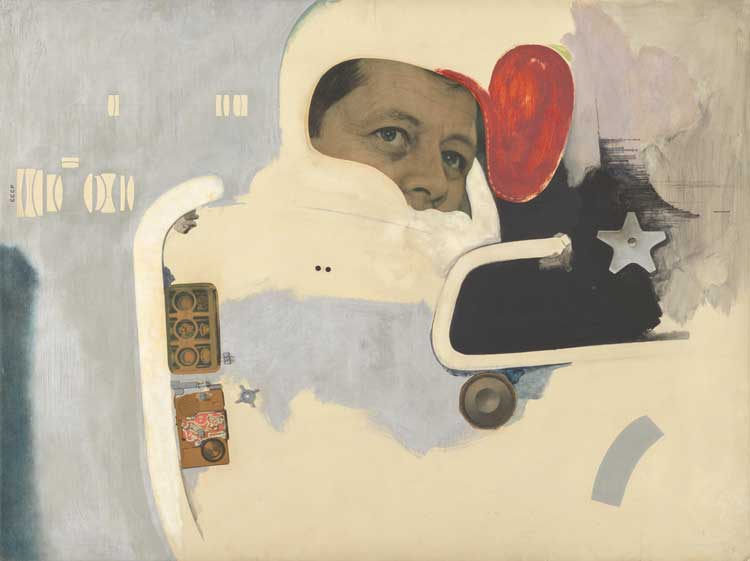 Richard Hamilton, Towards a definitive statement on the coming trends in menswear and accessories (a) Together let us explore the stars, 1962. Tate © The estate of Richard Hamilton. Photo: Tate (Oliver Cowling & Lucy Green).

The exhibition's final room gestures towards the digital. Exploring the possibilities for painting in the digital age, artists such Lorna Simpson (b1960) use broadcast media to interrogate political struggles whole others such as Christina Quarles (b1985) draw on lived experience and use digital renderings to create controlled gestures. From the abstract to the figurative, from the expressive to social realism, from the analogue to the digital, much of this story has been told before. Here, in its retelling, it brings an opportunity to see artworks that serve to underline important issues such as gender, eroticism, ecology, death, violence and much more in an era of deepfakes and AI. For that alone, it is worth seeing.
Ed: This very topic was first discussed in "Is the Camera the Friend or Foe of Art?", The Studio, June 1893.