Anne Imhof: Sex
Spending four hours at Imhof's live works is like Waiting for Godot, for the slacker generation. The audience turns out to be the most fascinating element of the exhibition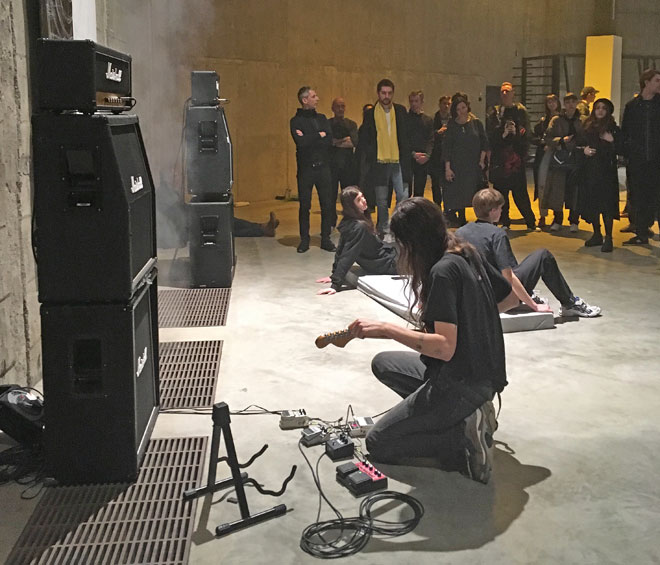 Performance view, Anne Imhof: Sex at Tate Modern 2019. Photo: Veronica Simpson.
Tate Modern, London
22 – 31 March 2019
by VERONICA SIMPSON
For 10 days in March, the Tate Modern's Tank Rooms were invaded by a small troupe of sulky youths: mostly tall and skinny, their faces partially obscured by curtains of long, lank hair, their bodies shrouded in baggy sweatshirts, jeans hanging off their hips, looking malnourished. The night I encounter them they are scattered sparsely around the exhibition installation by artist Anne Imhof (b1978, Geißen, Germany); one is hunched in a corner with his back to us, another slouched on a podium looking bored, yet others are sitting on unmade beds staring at their phones, or noodling aimlessly on an electric guitar.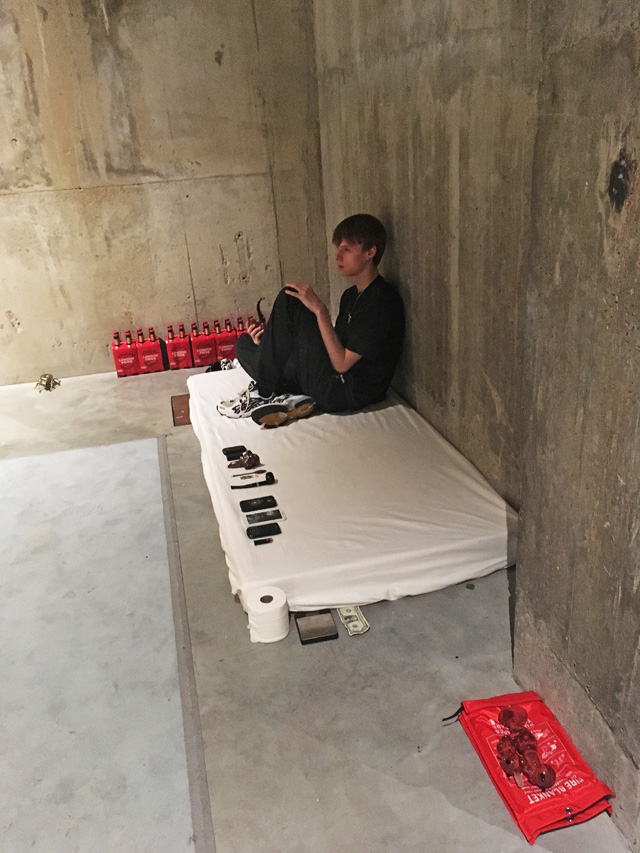 Performer on mattress, Anne Imhof: Sex at Tate Modern 2019. Photo: Veronica Simpson.

So what's new? Nothing if you are a parent of teenagers. Apart from the dry ice that puffs regularly from basement vents, I can see this show free any night of the week at home. But the stained concrete walls and gritty urban infrastructural sculptures and props (bridges, gangways, ramps and piers) that populate the two vast gallery spaces, not to mention a lack of soft furnishings, indicate a setting far from the creature comforts of home.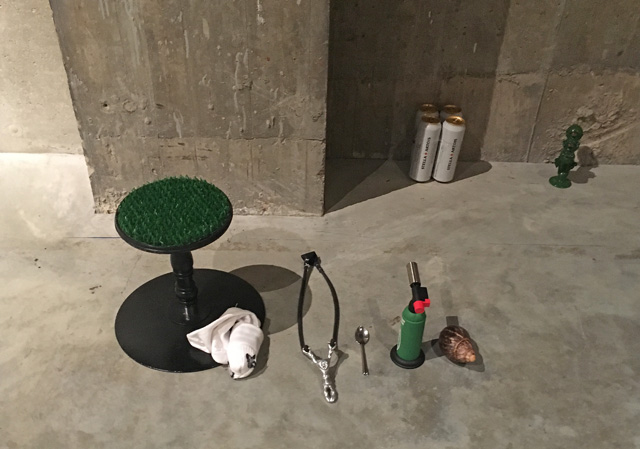 Props, installation view, Anne Imhof: Sex at Tate Modern 2019. Photo: Veronica Simpson.

In fact, it looks like the worst warehouse rave you could imagine rocking up to: no party atmosphere, no party music, stacks of beer cans lying around unopened, and nobody looking very interested in drinking them – or very interested in anything much. Apart from the audience, that is. We turn out to be the most fascinating and fascinated spectacle of all.
We prowl around trying to spot the performers (we outnumber them about 100 to 1), whipping out our smartphones when we find one, jostling to get into position when we get a whiff of something about to happen – although nothing much does.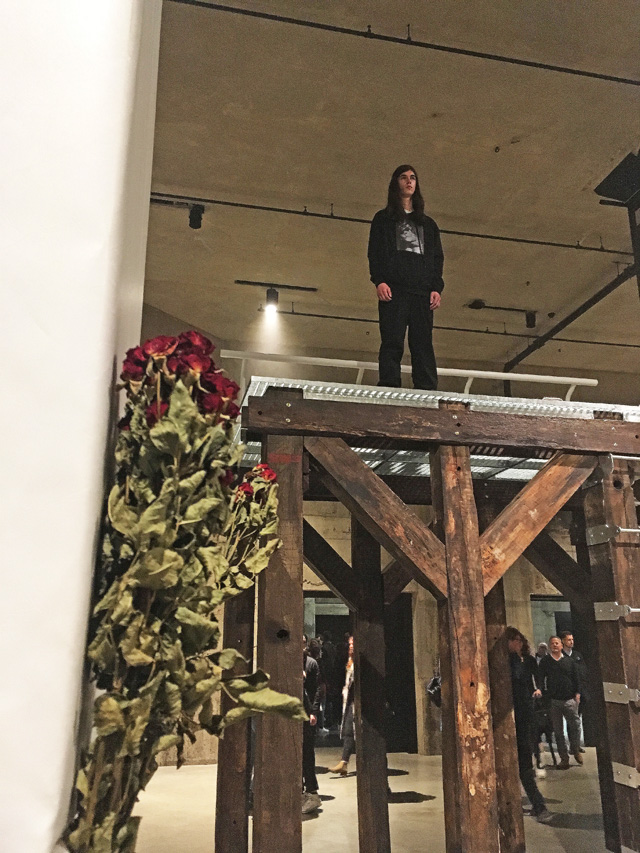 Eliza Douglas on platform, Anne Imhof: Sex at Tate Modern 2019. Photo: Veronica Simpson.

In the first hour of Saturday's performance, there was a point when a skinny tall guy who could be a girl (and is in fact artist and performer Eliza Douglas, Imhof's muse and partner) stands high on a pier platform and sings in an operatic voice. At another point, two youths get hoisted on top of their peers' shoulders and paraded slowly and pointlessly around, looking sombre, expressionless. They pass under the pier to the other side and back again. The audience – stupidly or sheepishly – follows at their heels.
The crowd's behaviour is intriguing and mildly hilarious. After I have toured the first two rooms looking for action (there isn't any), I spot a large group of people clustered around the far gallery door, through which loud music and flashing lights emanate. Something is clearly going on in there and we aren't being allowed in to look at it. We crane our necks to see what is happening, but we can't see, so we stand there patiently for at least 10 minutes.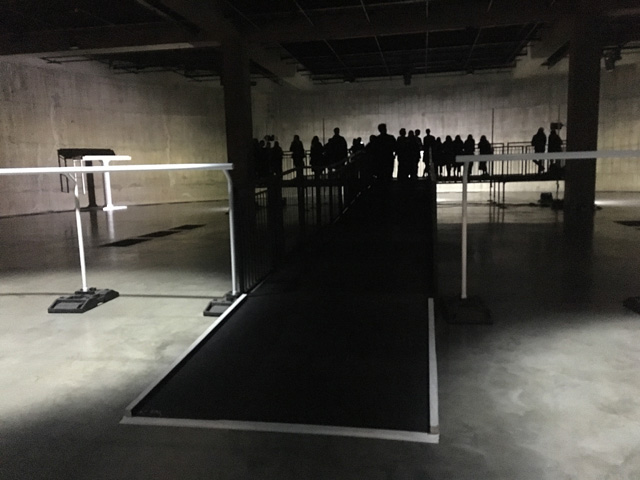 Performance view, Anne Imhof: Sex at Tate Modern 2019. Photo: Veronica Simpson.

Then people who have been inside this room start filing out, and we grab our chance to get in, finding a narrow ramp leading up on to a wide, crowded platform that is slowly being vacated. We – the latecomers – spend a few precious moments standing around feeling pleased to be in the "hot spot" and then realise that people have left because the action has moved to the next room. A surprisingly large number of people carry on standing there, in the hope that the action will move back in.
The audience adds up to an interesting spectacle on several levels: there are a lot of cool, edgy-looking people wearing statement coats (stiff and shiny, huge and heavily embroidered), and sporting artfully hacked or buzzcut haircuts; men with chandelier earrings. At one point, as Douglas plays an emotionless segment of meandering, repetitive lines on her guitar, youngsters with vibrantly hued hair sit at her feet, staring intently at her as if she is about to do or say something profound. She doesn't.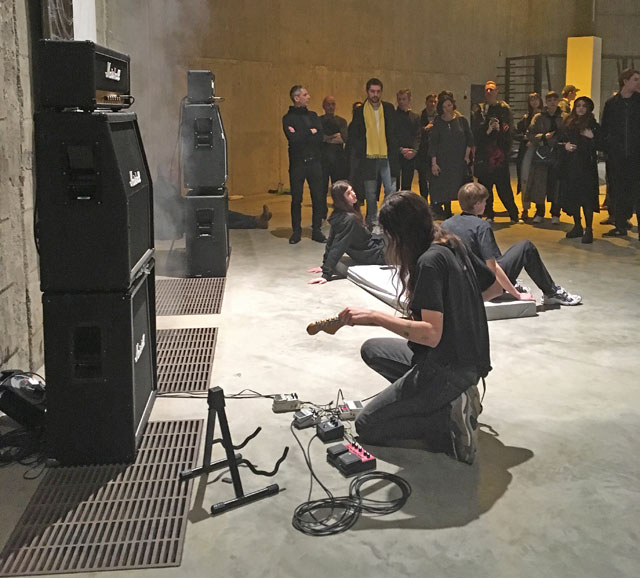 Eliza Douglas playing a guitar, Anne Imhof: Sex at Tate Modern 2019. Photo: Veronica Simpson.

It is like a performance art equivalent to Samuel Beckett's Waiting for Godot, for the slacker generation.
Despite the title, and the Tate's advertisement of this BMW Tate Live commission with a semi-naked man, there is very little of what one might expect from a show called "Sex". It is an exhibition by day and a series of live works at night. Its one-word title follows a trend set with Imhof's previous works Angst (2016) and Faust (2017) – the latter winning her a Golden Lion at the Venice Art Biennale.
The latter piece also featured a bit of guitar strumming and a lot of youths with sulky or viciously deadpan demeanours, but it also had caged dobermans and performers crawling around under a specially constructed glass floor; deeply disturbing, it more than hinted at the vicious and claustrophobic world of the refugee. Reviewing Faust, the Telegraph's Mark Hudson said he got a "potent sense of witnessing the birth of a new kind of angst-ridden romanticism for the social media age".
Here, we have more of the same, with many of the same performers, although this time the choreography lasts for four hours with a pre-recorded score, and they don't appear to be constrained or suffering (apart from a pervasive sense of listless ennui). Instead, they seem to be limply living their lives, vaping, drinking, painting, lying around.
Occasionally, they burn flowers or burst into choreographed ensemble pieces where they take it in turns to climb the scaffolding structure that supports the rampart, and then fall back to be caught by their colleagues – body surfing, but without appearing to take any pleasure from it. The set Imhof has created has elements of corporate glass walkways, piers, promenades, catwalks and sleeping platforms. The props also speak of the quotidian: bags of sugar, unopened cans of Guinness and Stella, ketchup bottles, mattresses, huge loudspeakers and amplifiers. The paintings that crop up around the walls have been defaced – divided down the middle into blocks of colour or scratched and semi-erased. There are sculptures that look like the most minimal, least comfortable of spaces to sleep or sit.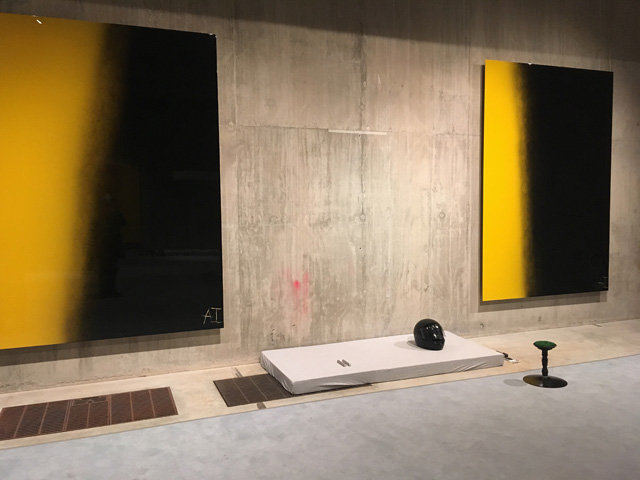 Installation view, Anne Imhof: Sex at Tate Modern 2019. Photo: Veronica Simpson.

Apparently, the title is not in any way about nudity or rampant coupling but about "fluidity between binaries" – a concept that resonates strongly with the digital natives who were well represented in the audience.
Reviews from that generation are largely positive. "You can find a sense of the modern sublime – this mixture of fear and beauty, the horror and the majesty. We are lost in a maze of fluctuating tableaus, all these endless, empty, repeating images," said Felix Patty in i-D magazine.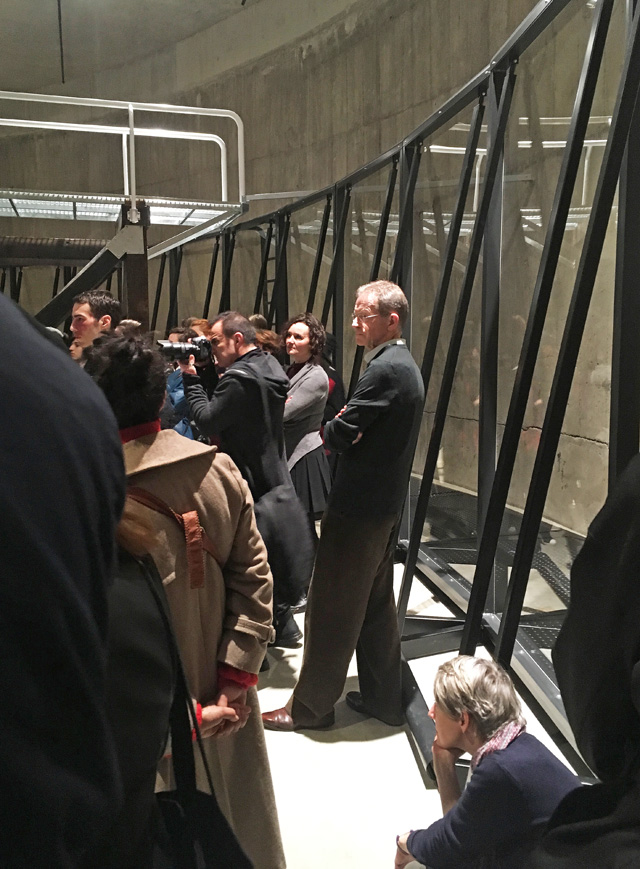 Nicholas Serota, former Director of the Tate, watching the performance, Anne Imhof: Sex at Tate Modern 2019. Photo: Veronica Simpson.

Everyone probably has a different tolerance threshold for this kind of listlessness and blank-eyed dissolution, but it feels as if Imhof stretches that "doing nothing" element to its absolute extreme. It is usually at this point that a sequence might kick off where the performers engage in odd rituals, from clasping hands over someone's face as they vape, vacuously (producing peculiar curls of smoke through their fingers), or suddenly careering into the audience; at one point someone starts whipping their own reflection. After so much torpor, the impact of these moments is electrifying. But four hours just for that? It is a feat of endurance, on all fronts.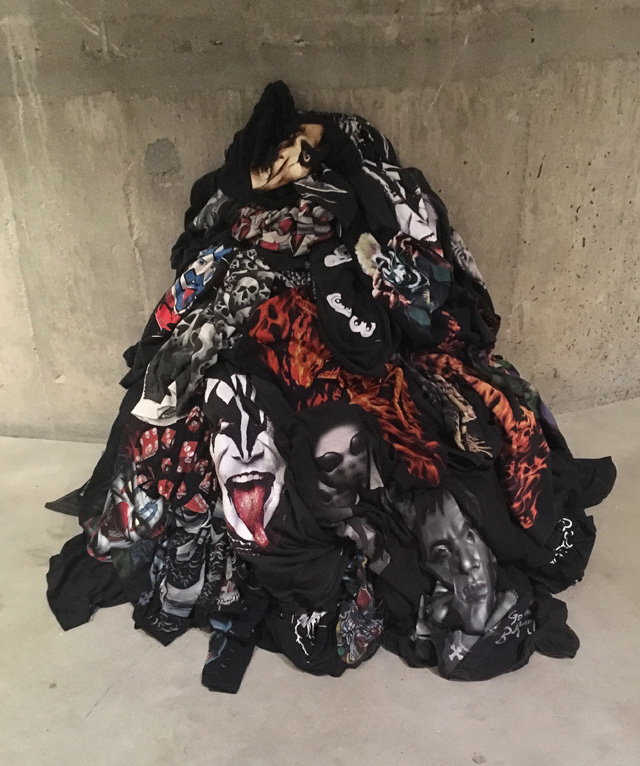 A pile of T-shirts, Anne Imhof: Sex at Tate Modern 2019. Photo: Veronica Simpson.

As I leave, I pass a sign telling me that the grungy T-shirts worn by some of the performers (and piled in a corner of one room) are for sale in the Tate shop. Perhaps it is all about the merchandise after all - like an extended Gap advert taken to its darkest, most nihilistic extreme.
• Sex is the first of three chapters in a project commissioned by Tate Modern, London, the Art Institute of Chicago, and Castello di Rivoli Museo d'Arte Contemporanea, Rivoli-Turin.