William Eggleston
Eggleston was an entirely different pioneer — not only of colour photographer, and a rapid, almost casual style (often without using the viewfinder); but also in portraying the seamy underbelly of America and the sordid detritus of human life.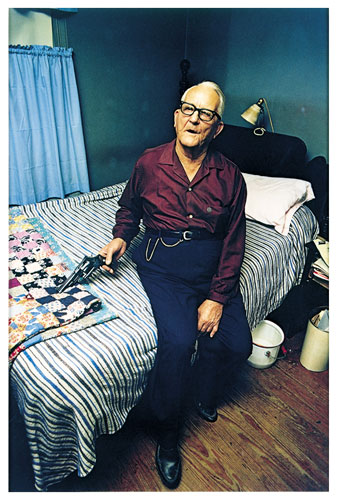 William Eggleston. Untitled, (Morton, Mississippi), c1972. © Eggleston Artistic Trust.
Hayward Gallery, London
11 July – 22 September 2002
by ROBERT JOHNSTON
Before Eggleston, colour photography had scarcely been taken seriously as an art form, and one can imagine the sensation his images caused at his first major exhibition at the Museum of Modern Art in New York in 1976. Colours are saturated, intense; his human subjects unposed; traditional ideas of 'composition' abandoned.
Now, we are familiar with the artistic depiction of the mundane and 'trivial' and the deliberate — often painstaking — simulation of chaos and confusion, in everything from fashion photography (such as heroin chic) to contemporary conceptual art (most infamously, Tracey Emin's bed). Twenty-five years ago these ideas were revolutionary and, looking back, it is possible that Eggleston is the, uncredited, inspiration for much of the output of the YBAs and many of the glossy pages of fashion magazines.
Eggleston photographs an elderly man, casually holding a gun while sitting on a bed in a cheap motel. The vivid colour of his shirt jumps out at you; the longer you look at him, the more sinister the image appears. I was forcibly reminded of the gun violence in the United States and how the most innocuous individuals commit some of the most incomprehensible crimes.
A young girl lies, eyes closed, arms outstretched, on bright green grass; down the middle of her dress is row of blood red buttons that could be bullet holes.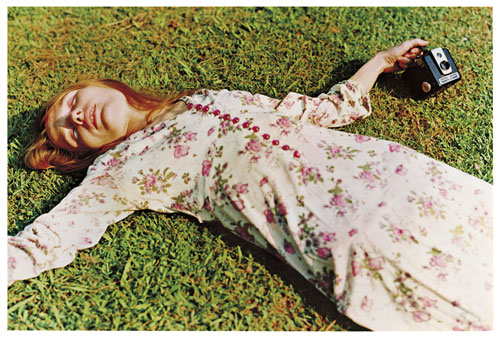 William Eggleston. Untitled, 1975. Dye-transfer print. © Eggleston Artistic Trust.

A bare light bulb site in the centre of a dark red ceiling that meets dark red walls. In the corner of the picture is a small part of a poster demonstrating sexual positions … a brothel?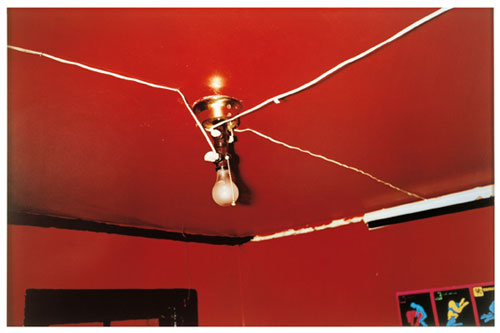 William Eggleston. The Red Ceiling, Greenwood, Mississippi, 1973. Dye transfer print, 35.2 × 55.1 cm (13.9 in × 21.7 in). Getty Center; Museum of Modern Art. © Eggleston Artistic Trust.

In a wood, a large 60s American car stands, door open. By its side is a middle aged white man in a suit; behind him, a black man in a servant's uniform. The image speaks of the American South and attitudes to race that persist well into the present day.

William Eggleston. Untitled (Sumner, Mississippi, Cassidy Bayou in background), 1971. © Eggleston Artistic Trust.

There are more than 200 images in this exhibition, taken individually many could be dismissed as simply 'snapshots' — as they were at their original exhibition. In totality, however, they constitute a coherent analysis of an unseen America; the real America, rarely seen by tourists or portrayed on television; the America — and Americans — not included in the 'American Dream.'