The Mystery of Appearance: Conversations Between Ten British Post-War Painters
The phrase "School of London" has frequently been applied to the artists showcased in Haunch of Venison's latest exhibition, Mystery of Appearance, ever since R B Kitaj first used the term in relation to post-war British painting in 1976. Yet to describe the ten diverse artists shown here – Michael Andrews, Frank Auerbach, Francis Bacon, Patrick Caulfield, William Coldstream, David Hockney, Lucian Freud, Leon Kossoff, Richard Hamilton and Euan Uglow – in such loose-fitting terms does little justice to the subtler, more intricate dialogues operating among these artists and their work since the 1940s.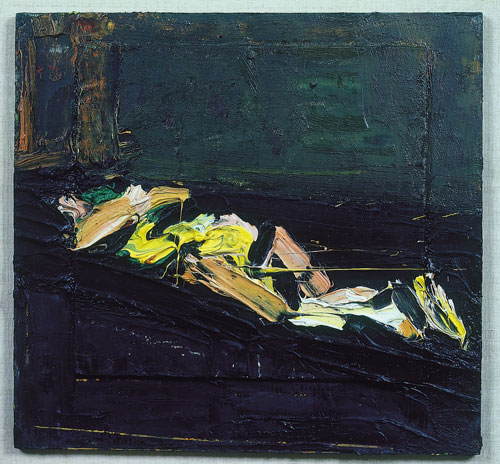 Frank Auerbach. Reclining Figure, 1972. Oil on board, 38.1 X 40.6 cm. Private Collection, NY. © Frank Auerbach.
Haunch of Venison, London
7 December 2011–18 February 2012
by CELIA WHITE
In this exhibition Haunch of Venison attempts to excavate these specific connections, whether historical, aesthetic or technical, using the conceptual apparatus provided by one of the artists themselves: Francis Bacon's description of painting as a means of capturing form and sensation as it emerges and disappears. For Bacon, and for the show's curator Catherine Lampert, each of these ten artists uses paint to address the essential question: "How can this thing be made so that you catch the mystery of appearance within the mystery of the making?'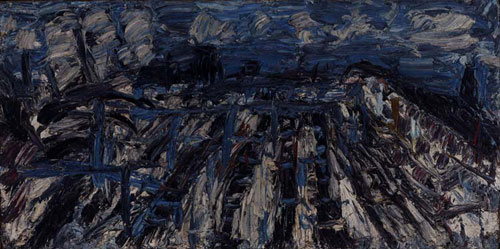 Leon Kossoff. Willesden Junction, Summer No.1, 1966. Oil on board, 91.4 x 152.4 cm. Private collection. © Leon Kossoff.

The question of how painting, and representation in general, can make objects, ideas or impressions come into being can hardly be considered specific to these artists' time. Yet by the 1970s, when Kitaj first historicised British post-war painting with his exhibition The Human Clay (Hayward Gallery, London, 1976), these questions had become more pertinent for figurative painting, which sought a new identity in an artistic environment dominated by conceptualism. This exhibition reveals how the medium of painting prevailed despite the challenges of the avant-garde: how these artists were engaged in a dialogue about representation that did not ignore, yet operated separately from, the aesthetic norm. The catalogue's concluding essay even looks to the continuing influence of these ten artists' endeavours on contemporary artists, comparing Gerhard Richter to Hamilton, Damien Hirst to Bacon, Gary Hume to Caulfield. In doing so, it describes an enduring legacy, and posits painting's mission to capture the "mystery of appearance" as the medium's saving grace well into the 21st century.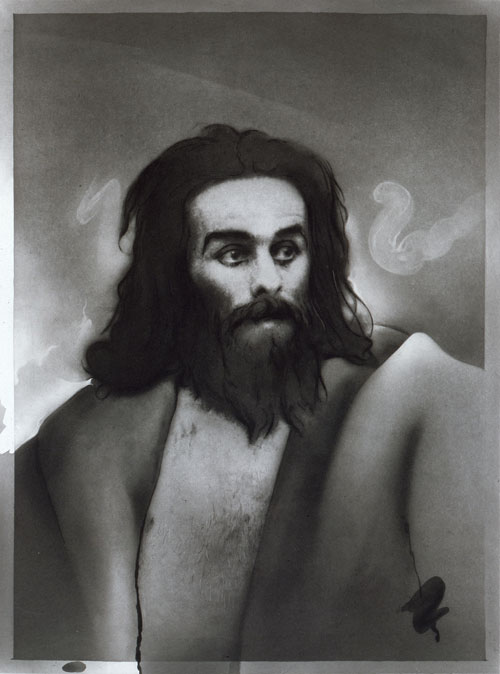 Richard Hamilton. Finn MacCool, 1983. Framed heliogravure, lift ground and spit-bite aquatint, engraving and burnisher on Rives paper, 76 x 56 cm (paper). © The Estate of Richard Hamilton. All rights reserved, DACS 2011. Courtesy Alan Cristea Gallery.

As with any exhibition that takes its cue from historical connections between artists and transforms those into conceptual and visual comparisons, the show is ambitious at its premise. However this is rarely to its detriment due to the sensitivity and thematic breadth with which it approaches these key artists' work. The first gallery space focuses on the artists' differing interpretations of the traditional nude, while the third is concerned with landscape painting; but while both seem fairly prosaic ways of comparing the artists, the effect is extremely powerful. Auerbach's Reclining Figure, 1972, for instance, paired with Kossoff's Nude (Autumn Morning) (1971) reveals strong similarities in the use of colour and painterly technique, while also allowing less definable differences to emerge. Two further paintings by Auerbach and Kossoff provide a stunning visual effect on entry to the landscape gallery: the warm, muddy yellows of Auerbach's Primrose Hill, Winter Sunshine, 1962-64 contrast with the coolly vibrant blues of Kossoff's Willesden Junction, Summer No. 1, 1966. Yet both of these works are painted with the same intensity and urgency, such that seeing them juxtaposed causes the eye to merge them into one, perceiving both differences and similarities in the colour and handling simultaneously and in equal measure.
While the strongest aesthetic comparisons are made in these two rooms, however, it is the remaining two spaces that most clearly establish the curator's philosophical argument concerning the emergence of form in paint. The room that connects the ten artists' paintings to those of the Old Masters implies the deep debt to painting's long history that they could not avoid. Further, it points to the curator's own notion of historical influence as a dialogical practice: the artist no longer copies but incorporates and transfigures the visual past, articulating it in his or her own painting through a series of iterations.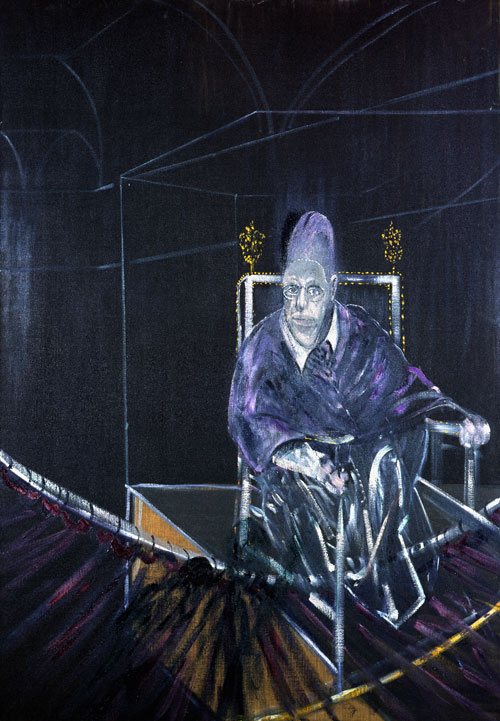 Francis Bacon. Pope I – Study after Pope Innocent X by Velasquez, 1951. Oil on canvas, 197.8 x 137.4 cm. Aberdeen Art Gallery & Museums Collections. © The Estate of Francis Bacon.

This is evident in the choice of Francis Bacon's Pope I, Study after Pope Innocent X by Velazquez (1951) – his blatant working and reworking of a pre-existing painting. The poignancy of Bacon's intervention into art's history is further elaborated by the painting's juxtaposition with Hockney's Man in a Museum (Or You're in the Wrong Movie) (1962): in this scene, an abstractly-rendered figurative artwork that has transcended its frame or plinth looks on at a gallery visitor as he turns away, heading out of the picture to the left, an ambiguous gesture that may signify Hockney and his generation's confused relationship with their art historical heritage, and consequently with the avant-garde of their time. In the same room, Richard Hamilton's Mother and Child (1984-85) pushes further the feeling of conflict between present and past; a beautifully-rendered recreation of a family snapshot, Mother and Child is large in scale and intimately cropped, offering a personal, contemporary stand-in for the traditionally de-individualised and moralising museum pieces depicting families, most particularly the Madonna and Child.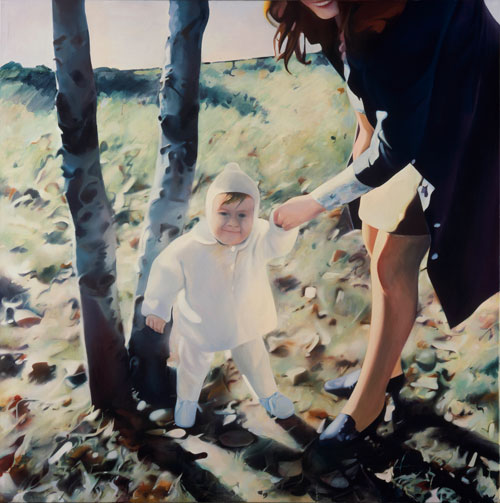 Richard Hamilton. Mother and Child, 1984-85. Oil on canvas, 150 x 150 cm. Private collection. © The Estate of Richard Hamilton.

It is in the final room of the exhibition that the quest to render "appearance" in contemporary painting is most explicitly tackled, and in a way that provides a far more stimulating perspective on these artists than the relatively unadventurous previous rooms have been able to offer. Retaining a generalised theme – this time one of objects, architecture and space – this room nonetheless reveals the level of experimentation with different media that these artists undertook. Andrews' The Lord Mayor's Reception (1966–69), for instance, is a large-scale painting based on a photograph, rendered in black and white but with an overlay of colour in specific areas – the pink of cheeks, the blues and reds of ladies' dresses. It possesses an overall impressionistic tone that is nonetheless grounded in the "reality" of the photograph, thus implying the emergence of our interpretive and perceptual biases out of the grounded, concrete visual stimuli that lie before us. This painting in turn converses powerfully with two pieces by Hamilton in the same space. In Whitley Bay (1965), oil paint is applied over an intensely grainy photograph of a beach scene, once again layering abstraction over realism. Similarly, Hamilton's Finn MacCool of 1983 is a heliogravure in which this mythological Irish figure is rendered real through the act of painting with light, yet bleeds off the edge of the frame in a way that continues to question the boundary between reality and mere appearance.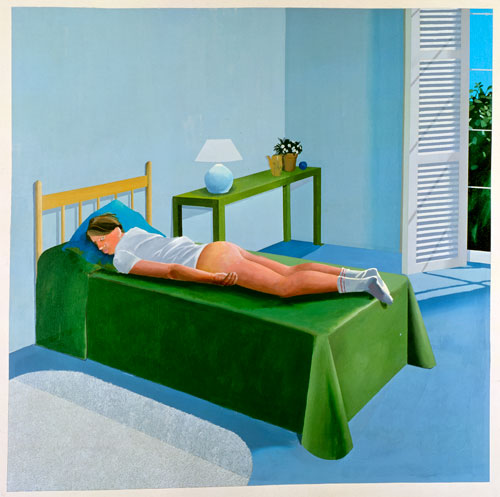 David Hockney. The Room Tarzana, 1967. Acrylic on canvas, 243.8 x 243.8 cm. © David Hockney.

Likewise, the concept of still life painting takes on a new dimension in these artists' hands. Arguably the most concrete, declarative means of presenting our surroundings, still life here is rendered a hazy notion: the jug and glasses in Caulfield's Coloured Still Life (1967) pulsate unanchored in a sea of blue, with only their saturated tones lending them any gravitational potential. Nearby, Hockney's The Room Tarzana (1967) is by contrast a figure painting realised as a still life: a half-nude, prostrate on the bed, takes on the static qualities of the eerily sparse room and the solidly-rendered bed sheet. Eugene Uglow's two paintings of a mosque and an obelisk reduce these structures to toy-like, flattened shapes; the monumental is captured, downsized and controlled by the interpretive licence of the eye and of paint.
Aside from its convincing premise and the intelligent selection and presentation of some outstanding artworks, this show also seems underpinned by a second set of agendas which make it far richer than a simple thematic display of works would usually possess. Firstly, there is the show's celebration of specifically British artists, and a British approach to painting – both that of the ten painters themselves and the contemporary artists that the catalogue essay connects them to – as well as the argument for painting as an enduringly popular means of artistic expression. Secondly, there is the self-confessed timeliness of such a show given that only three of the ten artists are still living, with two of the ten – Hamilton and Freud – having died only in the past year. The exhibition is in the unique position of presenting these figures as contemporary artists just prior to the complete consumption by art history that inevitably follows the death of an artist. Using a "personal" approach to exhibition-making, it is a last-ditch and enviably executed attempt to draw out and document the pluralism that such a broad group of individual artists would naturally show.