Rafael Lozano-Hemmer: Pulse
In this fascinating show, large-scale immersive installations track visitors' heartbeats and translate them into flashing lights, rippling waves and soundscapes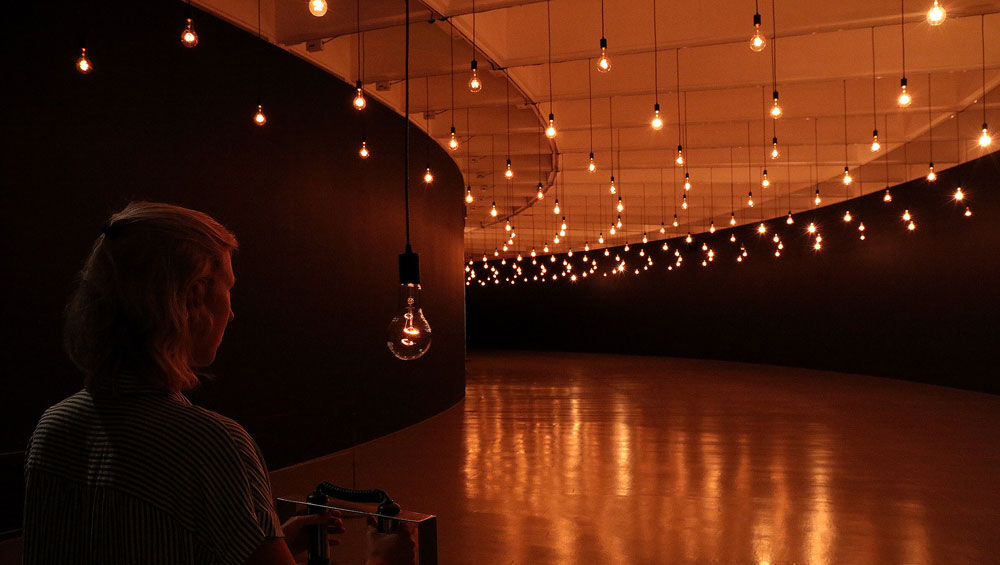 Hirshhorn Museum, Washington DC
1 November 2018 – 28 April 2019
by CASSIE DAVIES
In the foreword to his show at the Hirshhorn Museum, Rafael Lozano-Hemmer (b1967, Mexico City) describes the influence behind his Pulse series. During his wife's pregnancy in 2003, he discovered that he could listen to the pulse of the foetus using an ultrasound machine which, through a combination of electrical impulses, muscle contractions, greyscale images and echolocation, artificially produces the sound of a heartbeat. Although he knew he wasn't listening to a real heartbeat, but rather a sonification of data sent to a transducer, as he explains in his foreword, he found himself interested in the way that its symbolism of life and love wasn't lost. The sound of a heartbeat, whether real or artificial, is instantly recognisable and laden with universal meaning.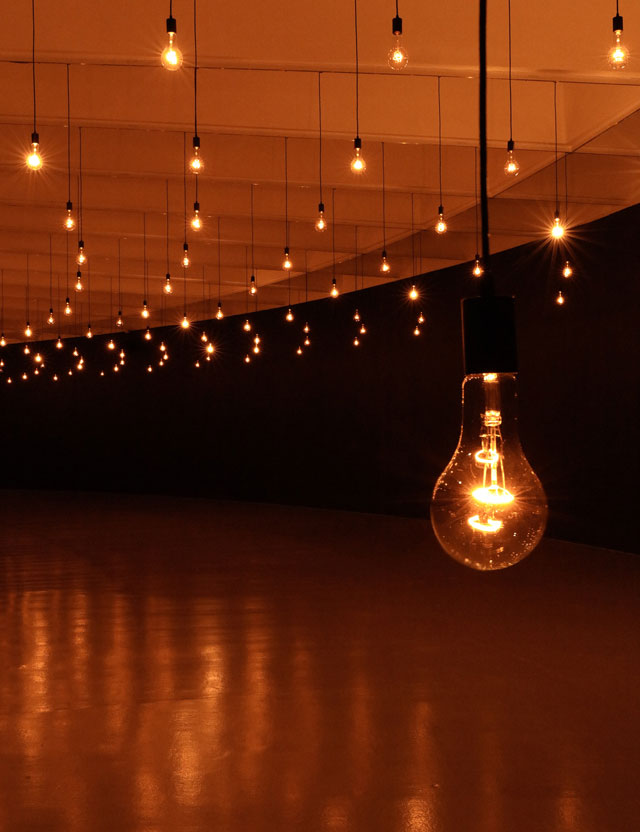 Rafael Lozano-Hemmer, Pulse Room, 2006. Installation view, Rafael Lozano-Hemmer: Pulse at the Hirshhorn Museum and Sculpture Garden, Washington, DC, 2018. Photo: Cathy Carver.

A few years later, when his wife was pregnant with fraternal twins in 2006, Lozano-Hemmer asked for two ultrasound machines so that he could hear both hearts simultaneously. They were similar, he found, although not the same, and the complex sounds of them combined motivated him to work with the human pulse. His aim was: "To make visible these slight differences, to create immersive experiences that are platforms for participation." This led to his creation of a series of large-scale, immersive installations that, using heart-rate sensors, digital microscopes, projectors and other audiovisual biotechnologies, externalise the pulses of visitors. In the museum's largest technology exhibition to date, the Hirshhorn has brought together three of these installations – Pulse Index (2010), Pulse Tank (2008) and Pulse Room (2006).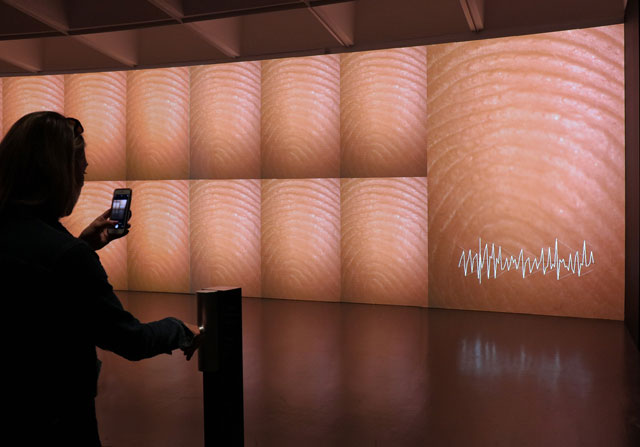 Rafael Lozano-Hemmer, Pulse Index, 2008. Installation view, Rafael Lozano-Hemmer: Pulse at the Hirshhorn Museum and Sculpture Garden, Washington, DC, 2018. Photo: Cathy Carver.

The show begins with Pulse Index, presented at its largest ever scale. At the far end of the cavernous room, visitors are instructed to insert their index finger into a sensor which, after 10 or so seconds, photographs the fingertip and measures the subject's heartrate. An enlarged photograph of the fingertip is then projected on to the wall alongside the fingertips of previous visitors, displaying data from up to 10,000 users on a scaled grid. The images are both fascinating and exposing, for they reveal the unique patterns of lines on each fingertip, as well as every minuscule bead of sweat and even the odd hair.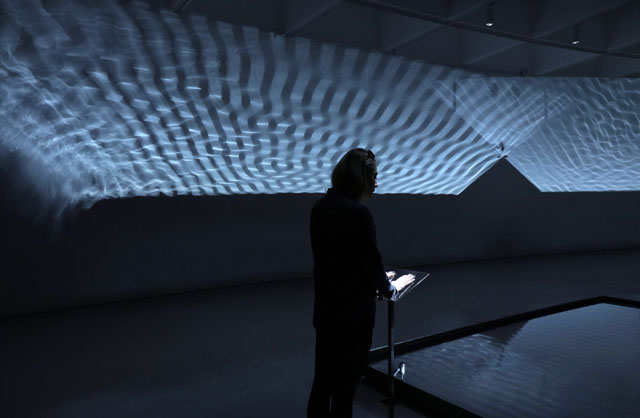 Rafael Lozano-Hemmer, Pulse Tank, 2010. Installation view, Rafael Lozano-Hemmer: Pulse at the Hirshhorn Museum and Sculpture Garden, Washington, DC, 2018. Photo: Cathy Carver.

Next is Pulse Tank, which was first exhibited at Prospect.1, New Orleans Biennial, and has been updated and expanded for the Hirshhorn. The installation asks visitors to stand on the periphery of shallow, rectangular tanks of water and either insert their finger into a sensor or place both hands on one. Their pulse is then detected by a computer and, like an electric current, it generates ripples in the water. There are three sensors around each tank, inviting three different visitors and their pulses to overlap in the water. The patterns are reflected on to the gallery walls using lights and projectors, and then, on top of these ever-changing patterns, are the shadows of other visitors walking around.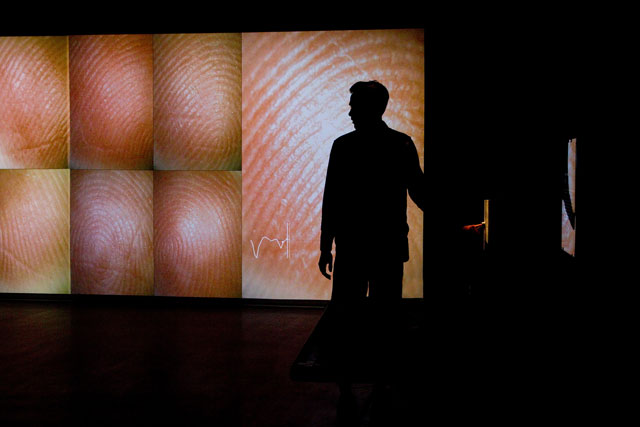 Rafael Lozano-Hemmer, Pulse Index, 2010. Installation view, Recorders, Museum of Contemporary Art, Sydney, Australia, 2011. Photo: Antimodular Research.

The final installation, Pulse Room, is perhaps the most riveting of the three. The room, like the other two, is large and dark, the floor empty, but hanging from the ceiling in even rows are hundreds of clear, incandescent lightbulbs. At the end of the room is a single sensor, shaped like a handle, which visitors are instructed to grip with both hands. On touching the sensor, the subject's pulse is transmitted to the first lightbulb, while additional heartbeats from previous subjects advance to the next bulb. The combination of pulses causes the bulbs to flash irregularly, and with this flashing comes the sound of the combined heartbeats. The flashing bulbs and throbbing sounds are chaotic at first, but after about 20 seconds of patiently holding the handle, the bulbs all fall in rhythm of a steady heartbeat. Like an ultrasound scan, the heartbeat is externalised into an audiovisual experience, heard and seen by anyone else in the room.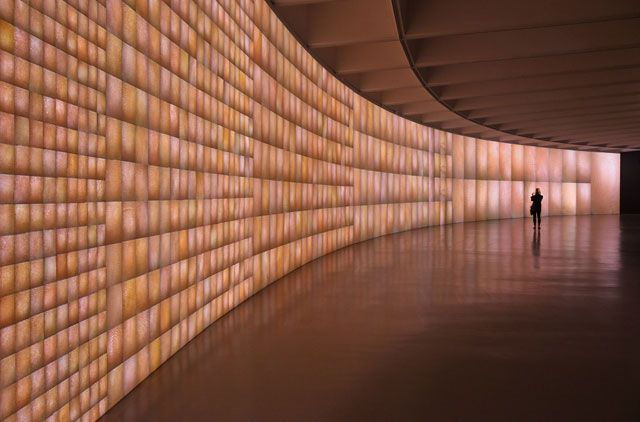 Rafael Lozano-Hemmer, Pulse Index, 2008. Installation view, Rafael Lozano-Hemmer: Pulse at the Hirshhorn Museum and Sculpture Garden, Washington, DC, 2018. Photo: Cathy Carver.

Lozano-Hemmer is not the first artist to record and replicate the human heartbeat. Also included in the exhibition are references to earlier works, chosen by Lozano-Hemmer, which influenced his installations. In 1969, John Lennon and Yoko Ono used a recording of the foetal heartbeat of their unborn son in a track called Baby's Heartbeat, before Ono's miscarriage. In 1966-67, the Irish artist and former doctor Brian O'Doherty recorded an electrocardiogram of Marcel Duchamp's heartbeat and used it for his portrait of the artist in 16 parts, one of which animated the electrocardiogram with flickering light inside a small wooden box. In 1978, Colombian video artist Sandra Llano-Mejía placed electrodes on her body and used an electrocardiograph machine to visualise the data on graph paper and a video monitor. These are just few of many artists who have explored new ways to capture the human heartbeat, and with innovations in audiovisual and biotechnologies, there are most likely to be more to come.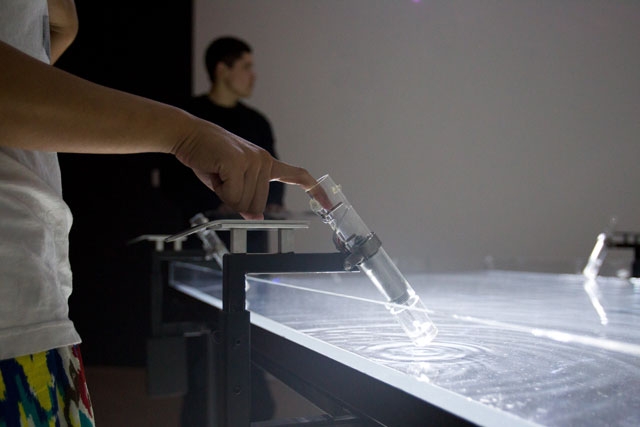 Rafael Lozano-Hemmer, Pulse Tank, 2008. Installation view, Beall Center, University of California, Irvine, California, United States, 2010. Photo: Antimodular Research.

Pulse is on show at the Hirshhorn for six months and, by the end, it will have animated the heartbeats of thousands of visitors. I participated in all three installations, and there was something incredibly moving about experiencing the pulse of my heart on such an amplified scale, in flashing lights, soundscapes, rippling waves and fingerprints. Lozano-Hemmer describes these externalisations as "portraits" or "snapshots", and it is refreshing to think of portraiture like this, as lightbulbs and heartbeats, rather than faces and figures. It is a new way of representing the human body and its uniqueness. But what impacted me even more was the communality of his installations, how, for a few minutes, the rhythms of so many strangers' hearts, mine among them, could be brought together in one space.