Michael Andrews: Earth Air Water
Best known for his party scenes, Michael Andrews' later landscapes reveal him as a master of perspective and a laureate of uncertainty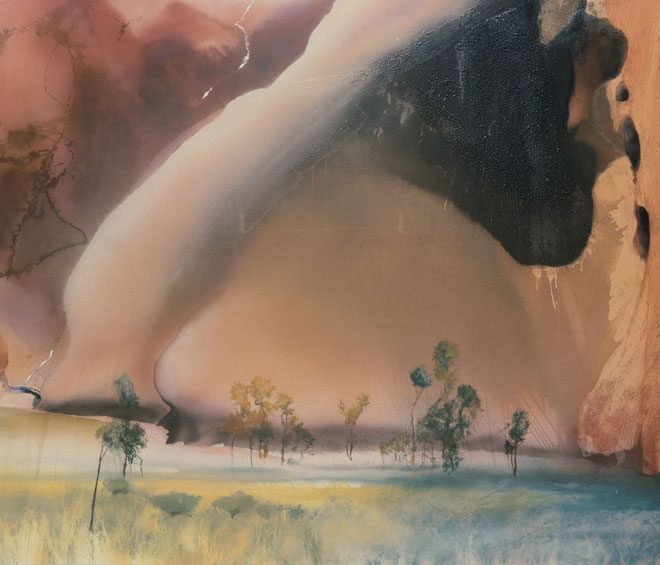 Gagosian, London
20 January – 25 March 2017
by JOE LLOYD
It is the pond-green walls that give it away. That and the unmistakable figure of the young Lucian Freud, handsome, though possessed of a certain patrician plumminess, staring out inquisitively, his eyes shot with devilish intent. The scene is Soho, 1962, and we are in The Colony Room, surrounded by the artists and their orbiting bodies. This is the world of, and the world seen through the eyes of, Michael Andrews (1928-95), one of Britain's most talented postwar painters. If Freud was his milieu's great flayer of flesh and thought, Andrews was the scene's widescreen observer, an acolyte of surface and arrangement.
Resident in London throughout the 60s, Andrews initially specialised in such party scenes, which remain the best known of his works. Then, in the 70s, his practice shifted from confined rooms to open spaces, to landscapes crossed by hot-air balloons and shoals of tropical fish. By the decade's close, he had left the city for Saxlingham Nethergate in his home county of Norfolk, and turned to painting the English and Australian countryside. Earth Air Water, a non-selling exhibition at Gagosian's Grosvenor Hill gallery, focuses on, but is not confined to, Andrews' work after the parties were over.
Always a perfectionist, Andrews painted little more than 250 canvases in his 40-year career, and Earth Air Watergathers something like a third of his entire oeuvre. It is thus the most significant Andrews show since a 2001 Tate Britain retrospective. Curated by public-to-commercial migrant Richard Calvocoressi – who during Andrews's life organised two of his solo shows – it continues Gagosian's trend of tiptoeing into territory more usually occupied by state-subsidised museums. Earth Air Water even contains work loaned by the Tate collection, a sort of reversion of the museum sector's regular borrowing from private owners.
As potentially troublesome as this private incursion into public territory may be, from the perspective of the gallery-goer there is no doubt that this is a munificent trend. Earth Air Water is a diligently arranged survey of Andrews' career. Four substantial rooms guide the viewer through the painter's large-scale works, arranged by elemental theme and series; a connecting space and the lobby captures his earlier portraiture and party scenes; and the gallery's offices provide a photographic window into his studio and circle. In each section, we thus encounter a discrete phase of Andrews. Together, they provide a picture of an artist whose successive subjects trace a clear trajectory.
The most seemingly uncharacteristic set of works on display provide a key to the whole. Andrews' 60s portraits, many of them studies for the Parties series, feel like an overlaying of cumulative sittings. In this, one can perceive the influence of his Slade tutor William Coldstream. Coldstream's ethos of "direct statement" called for an open, unrehearsed initial reaction to the sitter that would then be built on, as if in dialogue. Andrews turned this technique towards his own conviction that there are things beyond the known. His blustery, unhewn heads are ingrained with a sense of incomplete knowledge. Study of a Head for Lights No 2 (1968) melds a well-defined lower face and ears with blurrier eyes, temples and cheeks.
A pair of sketches for Cabin (1975) visualise this approach even more clearly, with the partially concealed faces of subjects emerging from black gloom like strange creatures from the ocean's depths. In the earlier of the two, much of the face's front is well defined; in the second, even these aspects have become more distant. Take a look at Cabin itself, in the Air room, and you'll find further proof of Andrews' meticulous technique: these painstaking sketches, fascinating in themselves, were unused preparations for minuscule figures glimpsed through the window of an aeroplane. With its clean lines and washes of finely modulated colour, it might also seem like a refutation of Andrews' earlier layered incompletion.
Cabin sits amid three paintings from the seven-part Lights series (1970-74), which should assuage any such doubts. Each one depicts a balloon floating across a landscape, including Waterloo Bridge and Brighton Pier. The sequence reflects Andrews' interest in Zen Buddhism, the balloon representing the drifting, flesh-enclosed ego. Lay this reading aside, however, and you will see a fantastic showcase of perspective and texture. We see the balloon from a dizzying range of impossible angles, all the giddier for their precision. From Lights onwards, Andrews habitually used spray paint to create a light, airy world. In the phlegmatic final canvas, Lights VII: A Shadow (1974), the silhouette of the balloon drifts over a beach; the sea and sky look as if they would ripple to the touch. The portraits' acknowledgement of the unascertainable is still present, only here it is rendered in the almost translucent quality of the paint.
These paintings feel like gateways to a trance-like state, something compounded by School (1977-81), a sequence of four enormous depictions of an aquarium tank. Andrews' earlier talent for human figures reaches fulfilment in his portrayal of fish as social figures, while his skill at rendering softly detailed landscape is refined in the murky waterbed. After School, Andrews turned to landscape, which was to dominate the last 15 years of his life. His paintings of rural pursuits in Norfolk are among the finest English landscapes of the 20th century. In 1983, a nine-day trip to Ayers Rock prompted obsession. "It's a cathedral," he wrote on a postcard. "I'm longing to work from it." The Australian paintings impart this might, but also a feeling of intent. Despite their moniker, the russet lips on Laughter Uluru (Ayers Rock) The Cathedral I (1985) intone a solemn language, impregnated with aboriginal history.
Such solemnity carries through to Andrews' final subject, the River Thames. In 1992, he returned to London (where he would die of stomach cancer three years later). The extraordinary pair of Thames paintings in Earth Air Water are desolate things, colour palette more akin to John Constable's storms than Oskar Kokoschka's prismatic waterway. Like Whistler's fog-suffused waterscapes and nocturnes, they posit the river as a place of haunting and detritus. But for a forlorn boat, The Thames at Low Tide (1993-94) is as depopulated as the moon. The nacreous sea in Thames Painting: The Estuary (1994-95), which Andrews delayed cancer treatment to complete, laps the shore like mercury; an oily yellow smear crawls over the sand. The water becomes a thing of unknowable beauty, halfway between this world and another. It is not the happiest ending, but it is difficult to imagine a more fitting one.