Liverpool Biennial 2018
The 10th edition of Britain's largest contemporary art festival explores oppressive structures, endangered histories and a world in constant flux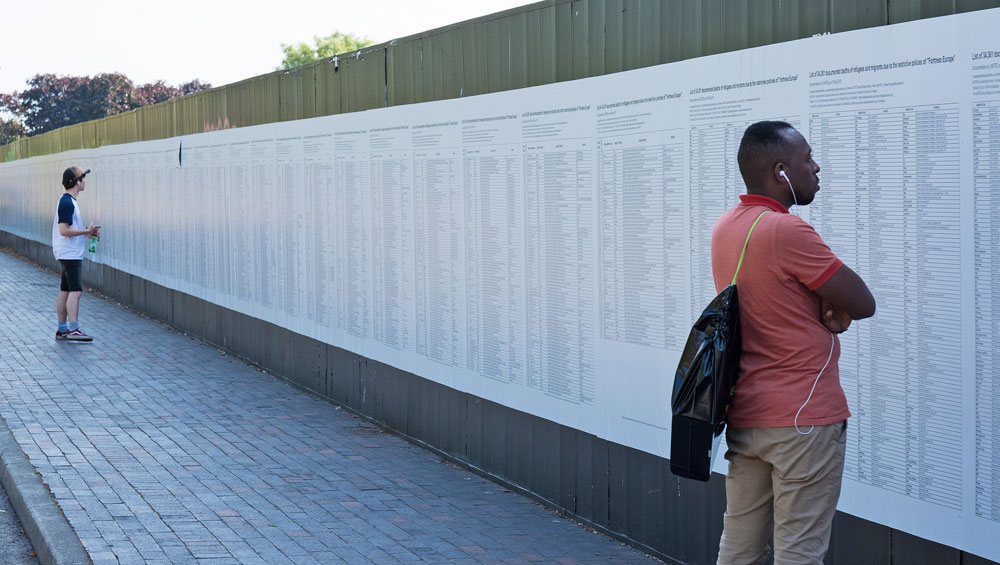 The List of 34,361 documented deaths of asylum seekers, refugees and migrants who have lost their lives within or on the borders of Europe since 1993. Documentation as of 5 May 2018 by UNITED for Intercultural Action. Facilitated by Banu Cennetoğlu. Presented at Great George Street, Liverpool Biennial 2018. Photo: Mark McNulty.
Various venues, Liverpool
Until 28 October 2018
by JOE LLOYD
Biennials, triennials, quinquennials, decennials: the contemporary art calendar is defined by such international exhibitions. While the most established have carved out roles as barometers of contemporary practice, it is increasingly difficult to discern what makes particular biennials special, or indeed worth visiting by any but cosy art-world insiders. In order to beautify their plumage and stand out, it has become common for such events to edge towards spectacular, supersize works by star artists, shortcuts to Instagram feeds the world over. One would be forgiven for wondering just how necessary these events are.
The 10th edition of the Liverpool Biennial takes a different approach, and is all the better for it. Curated by festival director Sally Tallant and Kitty Scott, of the Art Gallery of Ontario, it is a success of sensitivity to context. It forsakes bold claims and grand conceptual frameworks to allow visitors to come to their own conclusions. And, free to attend and liberally spread across the city, it puts the people of Liverpool at its core, enabling residents to drift in and out its 20-or-so venues over three and a half months.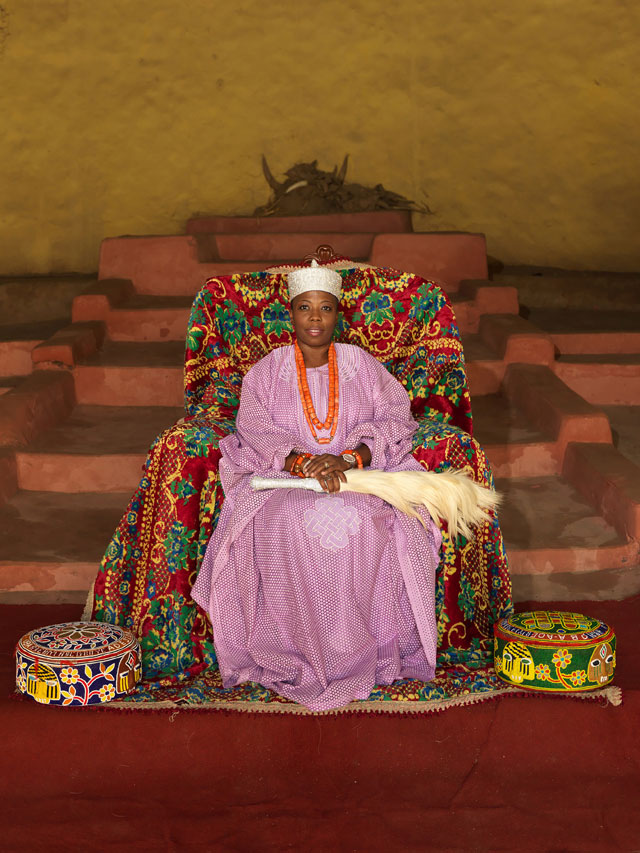 George Osodi, Nigerian Monarchs (HRM Princess Adetutu Adesida Regent of Akure Kingdom), 2014. Image courtesy the artist & TAFETA.

There are works that take time and works that will change over time. Series such as George Osodi's characterful photographs of now-ceremonial Nigerian rulers, dignified in their royal regalia, demand return visits. A haunting sculpture by Abbas Akhavan, Variations on Ghost (2017-18), which shows the base and feet of an Assyrian deity, Lamassu, references the many ancient sculptures that were blown to oblivion by Isis. Over the course of the exhibition, the soil, mesh and water sculpture will naturally harden, appearing more like stone: a hardening against destructive forces.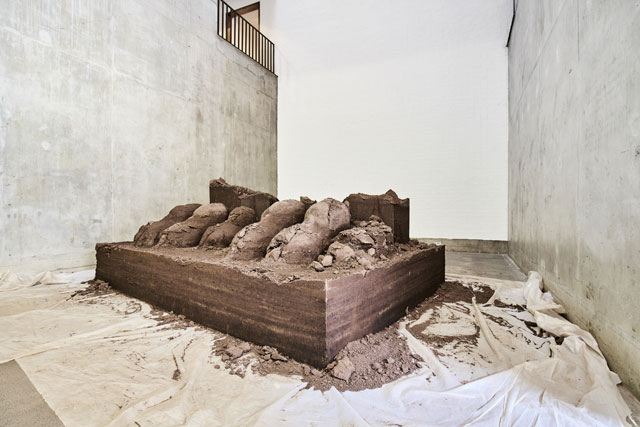 Abbas Akhavan, Variations on Ghost, 2017/2018. Installation view at Bluecoat, Liverpool Biennial 2018. Photo: Rob Battersby.

This year's Liverpool Biennial, named Beautiful World, Where Are You? after a line by the German poet Friedrich Schiller from The Gods of Greece, a poem that was later set to music by Franz Schubert, follows the last Documenta by favouring art that reflects on modern sociopolitical traumas. Displacement, conflict, oppressive structures, erasure of smaller histories under the boots of more powerful ones – these are the themes that pulsate throughout. They are apposite ones for Liverpool, a port city that grew grand on the proceeds of the slave trade and colonial commerce, before a precipitous, painful postwar decline abetted by wilful government neglect. That Liverpool has shaken off its crumbled reputation to become one of Britain's most convivial and culturally exciting cities is in no small part thanks to initiatives such as the biennial, which has repeatedly sought ways to make art chime with its hometown. This edition is no exception.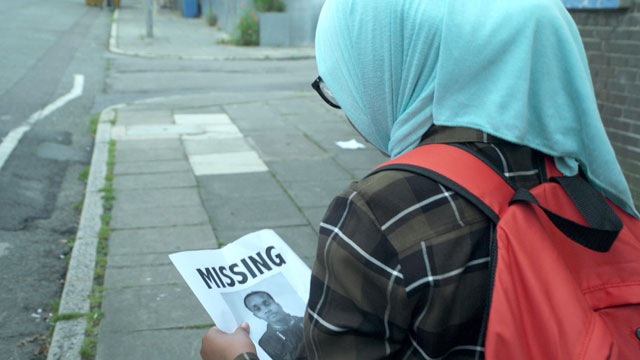 Rehana Zaman, How Does an Invisible Boy Disappear? (film still), 2018. Image courtesy the artist.

In the musty grandeur of the Playhouse Theatre, Ari Benjamin Meyers presents cinematic portraits of four musicians with ties to the city performing new compositions that distil Liverpool's popular music history. A wordless vocal performance by Bette Bright has a spine-tingling majesty, although one wishes the four pieces were more tightly wound. At a women's education centre, Blackburne House, Rehana Zaman digs deep with How Does an Invisible Boy Disappear? (2018), a series of videos made with local women of Somali and Pakistani backgrounds that explores the city's complicated history with race. And at Bluecoats, a former charity school turned gallery, Ryan Gander exhibits work made in collaboration with five local children, co-credited in all gallery material. Using techniques drawn from Montessori schools, Gander's film Time Moves Quickly (2018) shows the children play around with wooden blocks and images, the result of which informed the creation of five large-scale benches exhibited on the terrace of the spectacular Metropolitan Cathedral. It is a joy to watch these children experiment with form.

Mohamed Bourouissa, Resilience Garden, 2018. Granby Gardening Club, April 2018. Photo: Pete Carr.

Further afield, in Toxteth, the Algerian artist Mohamed Bourouissa has created a community garden based on the theme of resilience and inspired by the horticultural occupational therapy practised by a patient of the psychoanalyst and writer Frantz Fanon in Algeria; a film, Le murmure des fantômes (2018), at FACT (the Foundation for Art and Technology) documents the backstory. Another project of Bourouissa's is even better. Horse Day (2014-15) charts the artist's attempt to organise a community derby for a deprived community in Philadelphia, with happy results. Yet, although Bourouissa's pieces are life-affirming, he never lets his viewers forget the bitter situations that provoked his interventions, nor the problems of their implementation. In Le murmure, a Liverpool local challenges him to "go back to fucking Algeria and help out there", a statement that mingles xenophobic undertones with the accusation that the artist in some way is abnegating his duties at home.
Beautiful World, Where Are You? is full of such moments of ambiguity, where art's ability to enhance the world is brought into question. Also at FACT, Ulysse, by the one-of-a-kind film director Agnès Varda, combines a mysterious photograph she took in 1954 of a naked man, a boy and a dead goat on a blasted beach with a 1982 short film in which Varda interviewed the man and the boy from the images. In a bittersweet meditation on the artwork's inability to make memory speak, neither of the subjects remembers it being taken, or indeed much about the situation surrounding it being taken.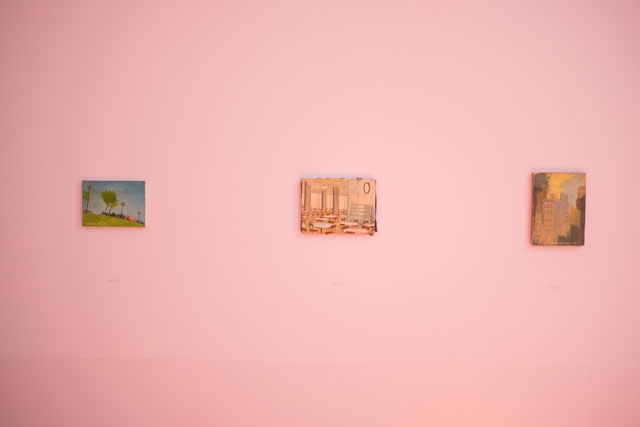 Francis Alÿs, Age Piece (Age 29, Age 30, Age 32), 1982–present. Installation view at Victoria Gallery & Museum, Liverpool Biennial 2018. Photo: Mark McNulty.

A room at the University of Liverpool's neo-gothic Victoria Gallery & Museum collects a series of postcard-size paintings by the Belgian artist Francis Alÿs, executed between the ages of 22 and 58. These miniatures, awash with fulgent impressionist colours, are exquisitely calm. Yet many of the places they depict – including Kabul, Mosul and the West Bank town of Jenin – are sites of recent atrocities. What right does the artist have, these quiet paintings seem to say, to aestheticise such zones?

Taus Makhacheva, Tightrope (film still), 2015. Image courtesy the artist.

Alÿs's works come as something of a breather in a festival that prioritises often lengthy video art. The medium of film is especially well suited to works that explore suppressed histories and silenced voices. But the sheer surfeit of them here can prove exhausting, particularly as they supplant the self-directed pace of interacting with art with sitting at the mercy of a work's duration. Many of the most compelling films here – such as Taus Makhacheva's Tightrope (2015), previously exhibited in Venice last year, Naeem Mohaiemen's Turner Prize-nominated Two Meetings and a Funeral (2017), first shown at Documenta 14, and Aslan Gaisumov's Keicheyuhea (2017), placed in the brooding prison cells beneath the stupendous neo-classical pile of St George's Hall – are those that offer clear images and narratives.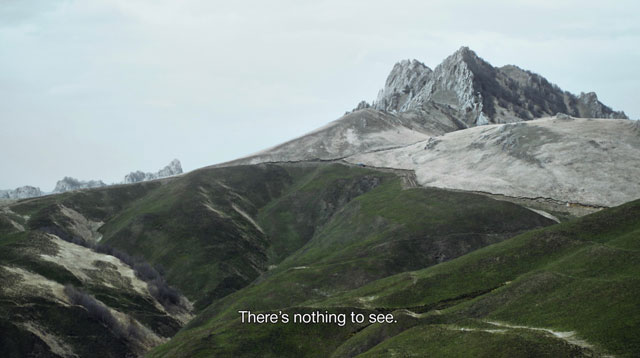 Aslan Gaisumov, Keicheyuhea (film still), 2017. Image courtesy the artist.

In Keicheyuhea, the Chechen artist takes his grandmother to her home in the mountains, from which she was forced out by the Soviet Union 73 years ago. It marries breathtaking photography with genuine pathos, as its subject attempts to come to terms with her displacement. "Some things," she says, ground down by the disbelief and ignorance of their suffering, "can be left unsaid. They're in the past."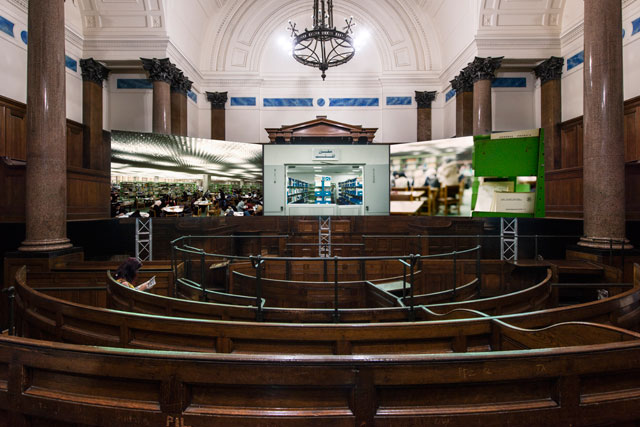 Naeem Mohaiemen, Two Meetings and a Funeral, 2017. Installation view at St George's Hall, Liverpool Biennial 2018. Photo: Thierry Bal.

As with most such expansive exhibitions, there are moments that do not come together. At Tate Liverpool, a presentation of several artists from American and Australian Indigenous peoples includes Duane Linklater's clothes racks bedecked with animal skins and Brian Jungen's Cheyenne-style headdresses made from the soles of Nike trainers.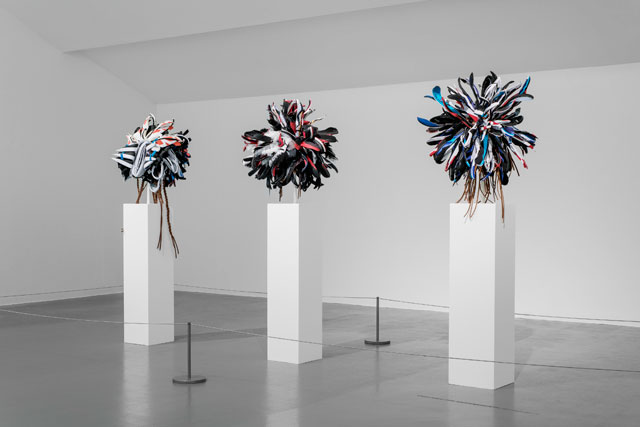 Brian Jungen, Warrior 1, 2017, Warrior 3, 2017 and Warrior 4, 2017. Installation view at Tate Liverpool, Liverpool Biennial 2018. Courtesy the artist and Casey Kaplan, New York. Photo: Thierry Bal.


Annie Pootoogook, Man Abusing His Partner, 2002. Collection of John and Joyce Price. Image courtesy Feheley Fine Arts.

Both of these feel somewhat glib, especially when placed alongside the delicate pen and pencil drawings of the (tragically deceased) Inuit artist Annie Pootoogook. Her scenes of quotidian life range from traditional whale feasts and seal hunts to scenes of watching television, queuing for alcohol and, most shockingly, a club-wielding act of domestic violence. Pootoogook had a rare talent, and her poker-faced realism cuts through the Tate's crasser works like a knife.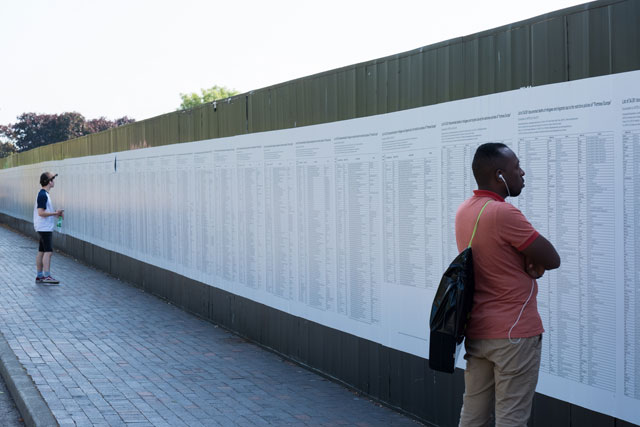 The List of 34,361 documented deaths of asylum seekers, refugees and migrants who have lost their lives within or on the borders of Europe since 1993. Documentation as of 5 May 2018 by UNITED for Intercultural Action. Facilitated by Banu Cennetoğlu. Presented at Great George Street, Liverpool Biennial 2018. Photo: Mark McNulty.

A very real violence, sadly, has crept into this biennial. At the start of August, The List (2007-), an installation by the Turkish artist Banu Cennetoğlu naming the 34,361 migrants known to have lost their lives attempting to reach Europe since 1993, was removed from the hoarding of a building site. Promptly restored, on 20 August it was severely vandalised for a second time, slashed into fluttering ribbons. Cennetoğlu's work, which draws on the constantly updated database of United for Intercultural Action, was a profoundly sobering testament as it stood. Destroyed, it becomes a grave reminder of just how close the world's malignities are, and just how remote the "beautiful world" really is.