Lagos, Peckham, Repeat: Pilgrimage to the Lakes
An absorbing group show explores the familial, economic and spiritual connections between the Nigerian megacity and a south London suburb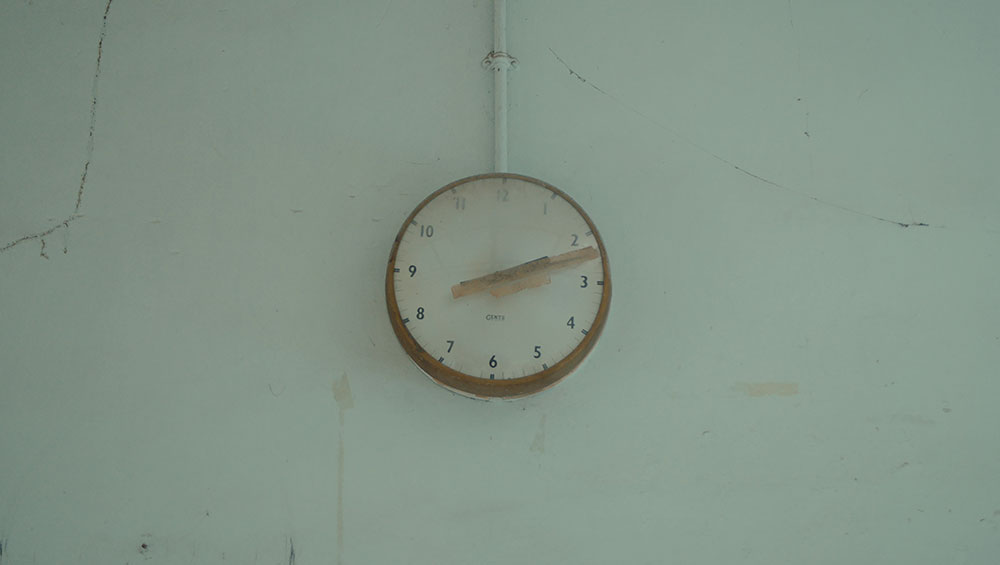 Onyeka Igwe, No Archive Can Restore You (still), 2020. Courtesy of the artist.
South London Gallery
5 July – 29 October 2023
by JOE LLOYD
The danfo buses are to Lagos what the red Routemaster is to London. They are squat, yellow transporter vans, often Volkswagens, that have been refitted with metal frames topped with rudimentary wood or foam seating. They are often overstuffed and their passengers boisterous and animated. Their drivers weave through the packed roads of the sprawling Nigerian megacity, sometimes switching up their routes based on traffic without notifying passengers. The city's government has repeatedly attempted to phase out the danfo, citing danger and discomfort, as well as the desire to implement a modern infrastructure network. But the buses have proved difficult to eradicate.
Some order is brought to the chaos of the network by the conductors, who call out stop names in a style indebted to freestyle-rapping. Lagos Soundscapes (2023), a set of new works by the Nigerian artist Emeka Ogboh, is inspired by this process of turning place into words. Standing inside the South London Gallery (SLG), which sits at Peckham's western tip, you are transported to the African megacity. Ogboh weaves together Lagos's various sounds: the rumbles, honks and thuds of traffic, street vendors and the rhythmic fuji music. Inside, the artwork plays undisturbed; outside, it mingles with the vehicles and passersby of Peckham Road, bridging two metropolises.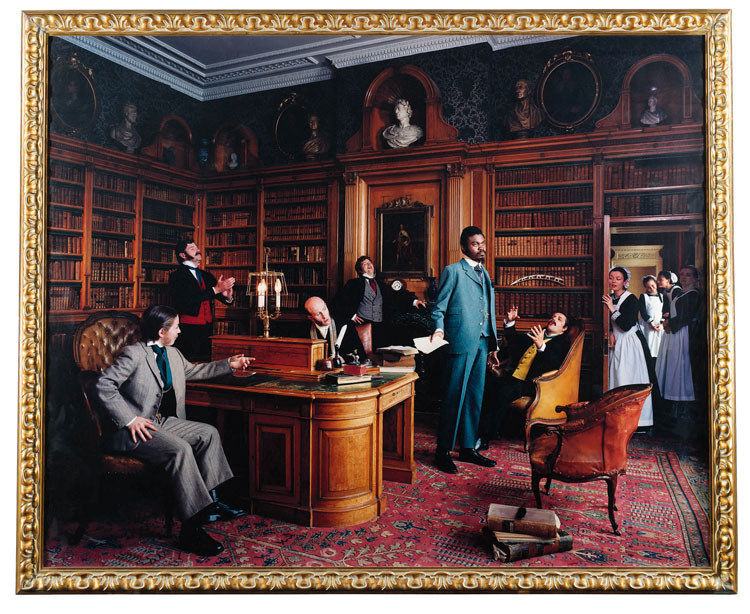 Yinka Shonibare, Diary of a Victorian Dandy, 14:00 hours, (1998). Courtesy of the artist.

Lagos, Peckham, Repeat: Pilgrimage to the Lakes collects the work of 12 artists. All come from, live in, or have a connection to Lagos and Nigeria. Spread out across the gallery's main building and multistorey fire station space, a varied range of works is given the room to breathe. There are videos, sculpture, installation, photography, sound works, collage and drawing. There are two images from Yinka Shonibare's Diary of a Victorian Dandy (1998) series, in which the celebrated British Nigerian artist performed in a succession of Hogarthian scenes where his status as a black dandy upends social conventions. But the majority of the pieces here are new or new-ish and relate to the contemporary cities of Lagos and London.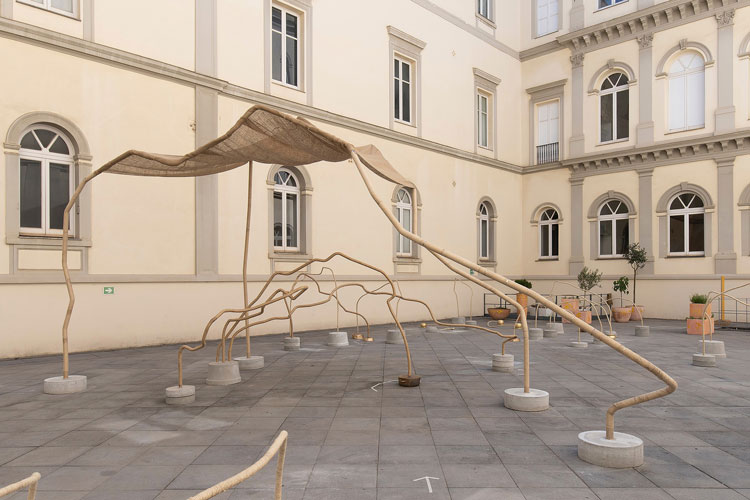 Temitayo Ogunbiyi, Giocherai nel quotidiano, correndo / You will play in the everyday, running, 2020. Courtesy of the artist. Photo: Amedeo Benestante.

Temitayo Ogunbiyi has created a sculpture from steel and rope that children are invited to play with. You Will Find Lagos in London Living (2023) is based on the flight path between London and Lagos, as well as various paths between Heathrow and the SLG; it aims to conjure common Lagosian forms such as threaded hairstyles and yam roots. Temitayo Shonibare's I'd Rather Not Go Blind (2023) is a performance piece recorded on the London overground. The artist sits fiddling with a face-covering strawberry-blond wig, inspired by those on posters in Lagos hair salons, while fellow passengers look on in bemusement. And there is even a craft beer. Ogboh's No Food for Lazy Man (2023) is a popular Lagos idiom that stresses the importance of hustle. The beer is made of English hops and Nigerian spices and sugar, brewed by the south London-based Orbit and fermented underneath Ogboh's soundscapes, again drawing together the experience of Lagos and London.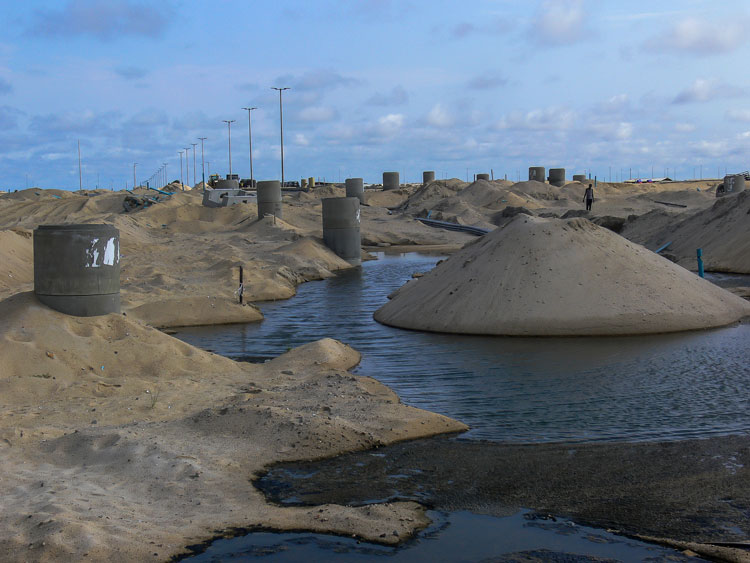 Christopher Obuh, No City for Poor Man 2015-16. Courtesy of the artist.

Lagos is a fascinating place when viewed from afar. Lying on a lagoon, it was originally inhabited by the Awori tribe of the Yoruba people, and became known as Eko when it was conquered by the Benin Empire, before Portuguese explorers gave it its current name in the 15th century. When Britain colonised it in 1861, it was already a cosmopolitan trading city. Today, it is a megacity (in 2015, the UN estimated Lagos State had a population of 24.6 million). Not long ago, it was synonymous with uncontrolled sprawl and chaos. The architect Rem Koolhaas referred to late 90s Lagos as the "ultimate dysfunctional city". But it is developing at a rapid rate. City authorities are planning Eko-Atlantic, an enormous development on reclaimed land that aims to become Africa's Dubai. Christopher Obuh's No City for Poor Man (2014-) depicts this new form of urban dysfunction, where current residents are cast out to be replaced by their economic betters. His photographs capture an austere desert of concrete pipe shells, heavy machinery and part-built skyscrapers, harbingers of a new Lagos in hock to global capital.
London's days of rapid expansion are long gone. But gentrification and social change has also characterised recent history in Peckham, a south London suburb whose central ward has a population of 14,785. Peckham has a substantial Nigerian-descended community, enough that it has been nicknamed Little Lagos. "Gentrified as it may seem," writes Folakunle Oshun, who co-curated the exhibition with the SLG, "its crevices and alleys are crammed with street food and African shops, some of which are Asian-owned, and the area is filled with the vibe, smell and taste of quintessential Lagos." Many members of Peckham's Nigerian community travel frequently to Lagos to visit relatives and friends, creating a loop of interactions between the two districts.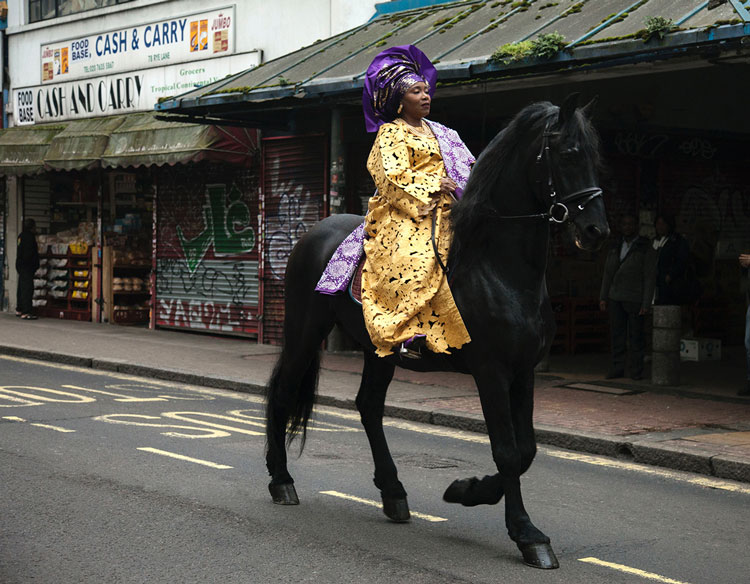 Adeyemi Michael, Entitled (still), 2018. Courtesy of the artist.

The idea of a pilgrimage is a recurring motif. It perhaps occurs most explicitly in London-based Adeyemi Michael's Entitled (2018), a short film in which his mother rides through Peckham on horseback dressed in traditional Yoruba attire, to a voiceover describing her experience of moving from Nigeria to the UK. Adeyemi's tone is valedictory. It counters the idea of the European coloniser by casting his mother as a conquering hero, proud of her heritage and experiences. Adeyemi's film can be viewed in a replica of his mother's living room, replete with bead curtain, half-played game of Ludo and a tub of Ovaltine. Soft, low-backed armchairs instil the sense of being at ease, at home.
A religious current is also found in Victor Ehikhamenor's monumental Cathedral of the Mind (2023), perhaps the most immediately visually striking work in the exhibition. It is a texture installation in the form of a lavish chapel with stained-glass windows and a representation of the Holy Spirit. Look closer, and you will find rosary beads woven into the surface, a symbol of the cross-pollination of beliefs that has formed modern Nigeria. Behind this facade, however, sit several pairs of ibeji statuettes. Ibeji are divine twins in Yoruba spirituality. Religion is depicted as a yes-and rather than an either-or; the legacies of various periods of history co-exist. And Lagos, Peckham, Repeat fascinates the most when it captures the commonalities between cities and communities across place and time, combining specific and shared experience.