In the Light: Photographic works by James Barnor, Benji Reid, Alexis Peskine and Zana Masombuka
Aware of Africa's past and confident in its future, four contemporary artists shed fresh light on the continent's sociocultural heritage in this uplifting exhibition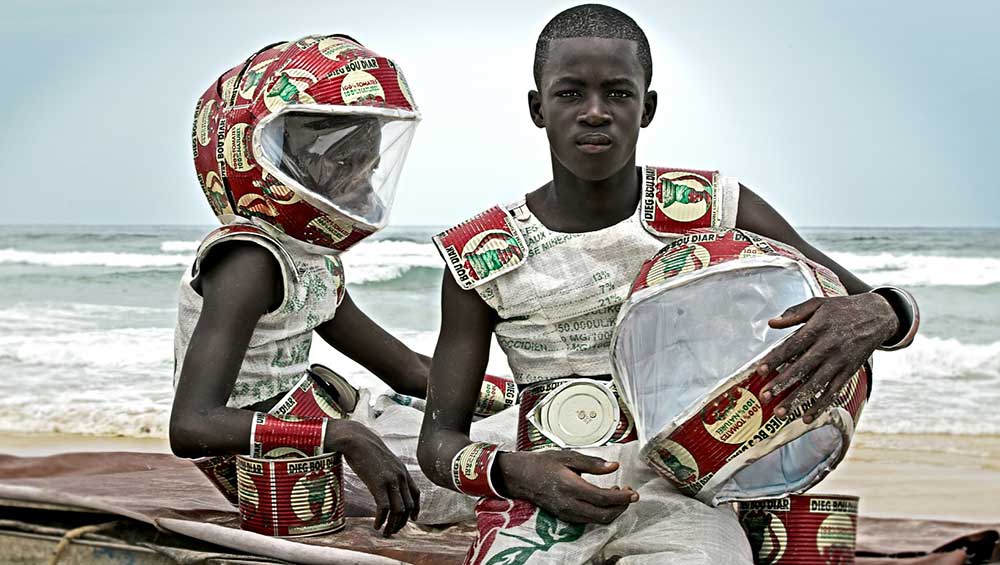 Alexis Peskine. Aljana Moons III, 2015. Archival pigment print on Hahnemühle Photo Rag 308gsm paper mounted on Dibond, 82.5 x 149 cm. Copyright Alexis Peskine. Courtesy the Artist and October Gallery, London.
October Gallery, London
8 September – 1 October 2022
by MARIA GOLIA
The first documented photograph taken in Africa was a daguerreotype exposed by the French painter Horace Vernet on the morning of 7 November 1839, in Alexandria. Featuring two indistinct male figures in front of a building, it was not much to look at. Yet it created a sensation in Europe and was widely reproduced (as a lithograph) not because it marked the start of Africa's photographic history, but because the building was a haramlik, residence of the wives and children of Egypt's ruler, Muhammad Ali. At a time when French and English translations of the Thousand and One Nights, with their tales of languid consorts, were popular, laying eyes on a genuine harem (and a possible pair of eunuchs) was a matter of public interest, no matter where the picture was taken.

James Barnor. NIFA NIFA, 1974. Digital C Type Print, 70 x 70 cm. Copyright James Barnor. Courtesy the Artist and October Gallery, London.


From that moment on, the people and places of the African continent would be subject to associations arising from western photographic depictions devoid of context and manufactured largely to serve market demand. Extracting historical truths from superficial representations has lately kept post-colonial academics busy, illuminating photography's role in shaping foreign and local perceptions of African nations, each with its distinct sociocultural heritage. But expanding the medium's reach into new territories and lending it fresh purpose is the work of artists such as those featured in October Gallery's exhibition In the Light.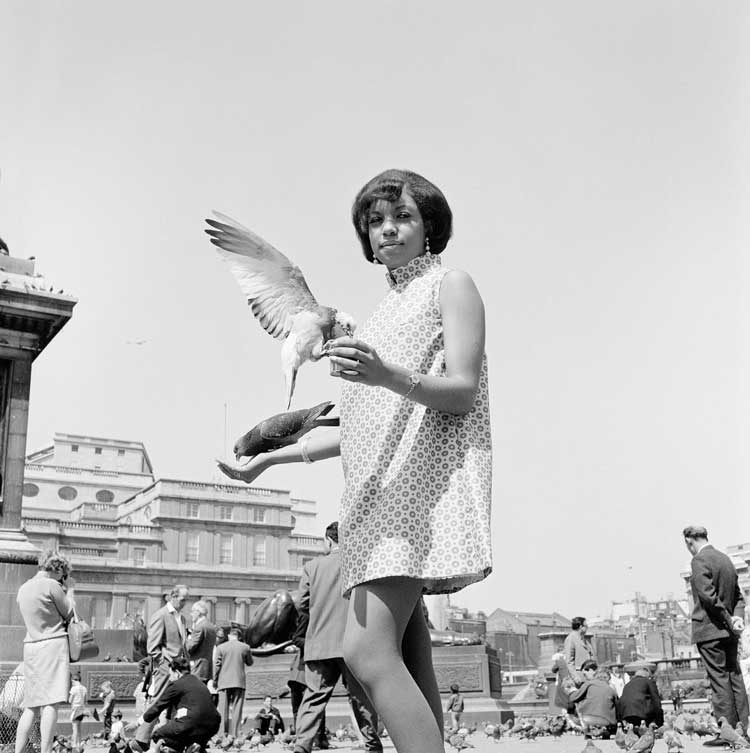 James Barnor. Erlin Ibreck at Trafalgar Square, 1966/67. Digital Fibre Print, 70 x 70 cm. Copyright James Barnor. Courtesy the Artist and October Gallery, London.

James Barnor (b1929), elder statesman of African photography, was Ghana's first photojournalist and introduced colour photography processing to the country in 1969. Studio photography has lately been recognised as a precious repository for the incidental details that colour history. Like his colour photographs of London's swinging, multicultural 60s (October Gallery, 2016), Barnor's black and white portraiture, composed in and out of the studio, chronicled Accra's social and political quotidienne from the 60s to the 80s with unerring grace and elan. With his penetrating, playful eye for movement, mood and detail, Barnor's images are imbued with an immediacy that promises a timeless relevance.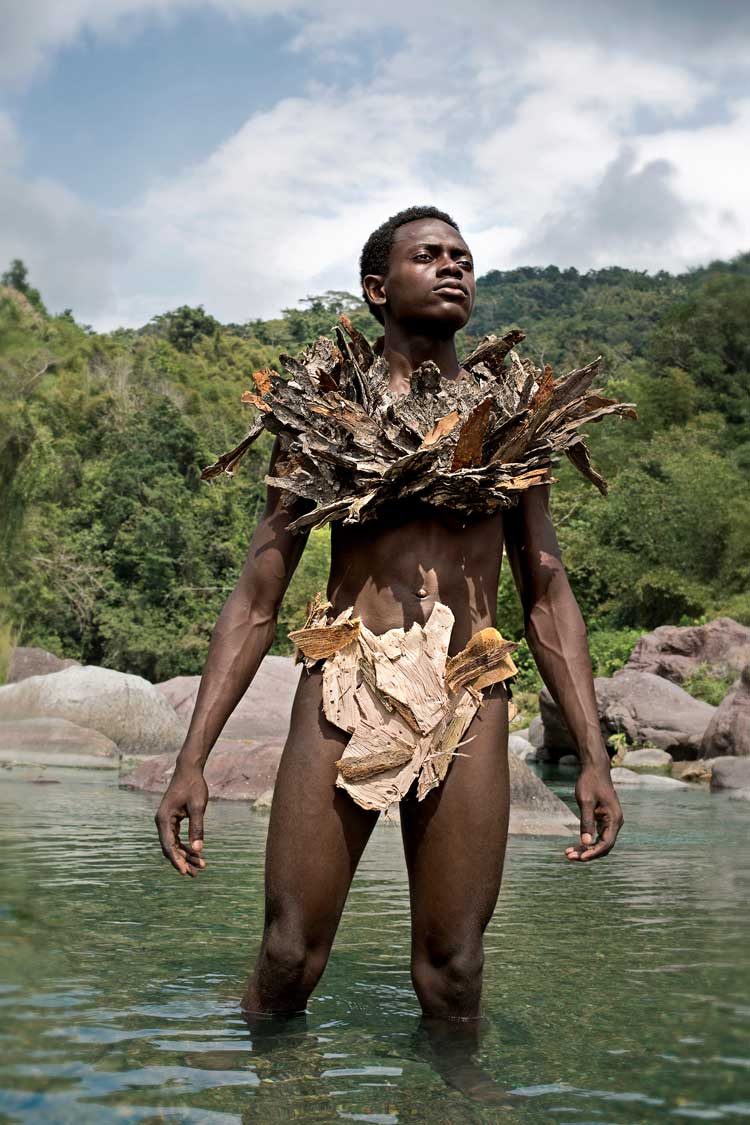 Alexis Peskine. Oxaláland 1, 2018. Archival pigment print on Hahnemühle German Etching, 310gsm paper on Dibond, 150 x 100 cm. Copyright Alexis Peskine. Courtesy the Artist and October Gallery, London.

Alexis Peskine's debut solo show in London, Power Figures (2017), and subsequent Fire Figures (2020), both held at the October Gallery, featured outsized portraits of totemic intensity, created by hammering tens of thousands of nails into wood stained with coffee and mud. The lushly coloured photographic portraits in the current show display a remarkable depth and texture thanks to their printing technique (using Hahnemühle German Etching paper). A man emerging from a verdant wilderness dressed in bark, water lapping at his knees expresses an Arcadia yearning. Likewise, a pair of boys by the sea, grains of sand clinging to their skin, wear space helmets made of tomato cans, ready for takeoff to a place of limitless self-invention.

Benji Reid. Light Bike, 2021. Giclée print, 110 x 165 cm. Copyright Benji Reid. Courtesy the Artist and October Gallery, London.

Owing at least partly to his background in dance and theatre, Benji Reid's photographs are charged with kinetic energy. His subjects (versions of himself) leap from the frame, relating what he calls a "magical and incongruent" narrative that counters preconceptions regarding the black British male experience. Fantastical and meticulously choreographed, each mise en scène involves weeks of shooting. Yet the results are the very opposite of "captured" images; by liberating the viewer from reflexive conclusions, Reid's photographs set his subjects free.
For more than 40 years, the October Gallery has been at the forefront of London's multicultural arts scene, showcasing African and diaspora artists, many before they became widely recognised. The latest of these is Zana Mosambuko, a South African raised in a rural community, whose work reconciles notions of western modernity with indigenous forms of expression. Filtered through the memes and dreams of Ndebele culture, Mosambuko's self-portraits are sumptuous and appetising, an invitation to imagine the staggering possibilities residing in the world's demographically youngest continent (average age, 25).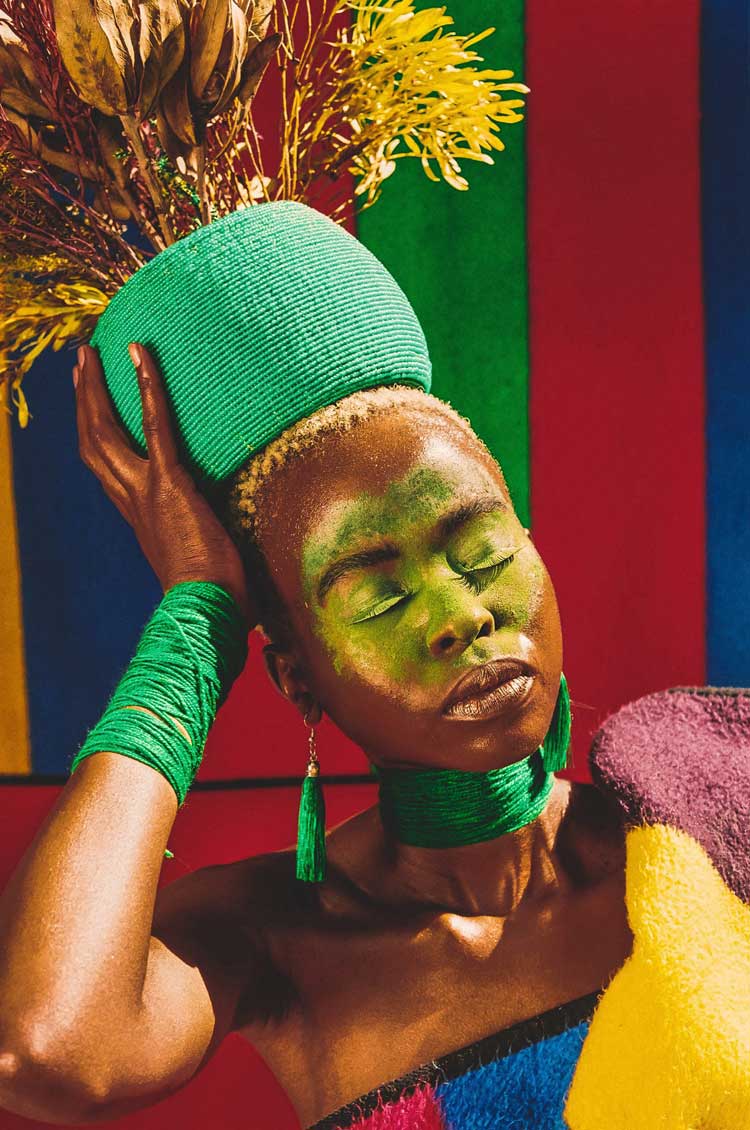 Zana Masombuka, Proudly South African: Exploration of Identity 6 (detail), 2018. Giclée print on Hahnemühle FineArt Baryta paper 325gsm, 60 x 40 cm. Copyright the Artist. Courtesy the Artist and October Gallery, London. Photo: John Baloy.

Africa is both younger and bigger than you think, as large as the United States, China, India and much of Europe combined. How then, might a "pan-African aesthetic", as mentioned in the exhibition's show notes, define itself? Barnor speaks of "a unification of Africans through the notion of African beauty, in all its plurality and the diversity of African cultural artistic values. I believe in bringing people together." With this in mind, rather than an aesthetic, we might speak of a project on behalf artists such as those on display, to express a culture unburdened of projections and biases, current and historic, self-aware of its past, and confident in its future not least because these artists are experientially diverse, and they are legion. Look around and listen: whether emanating from the continent or its global diaspora, the visual, aural and performing arts indebted to Africa are already pervasive, a vital and redemptive force, a guiding light.