In-Spire: Breath of Life
Fashion stylist Shinichi Mita brings together 11 craftspeople to show how traditional Japanese workmanship practised for hundreds of years can be adapted for the future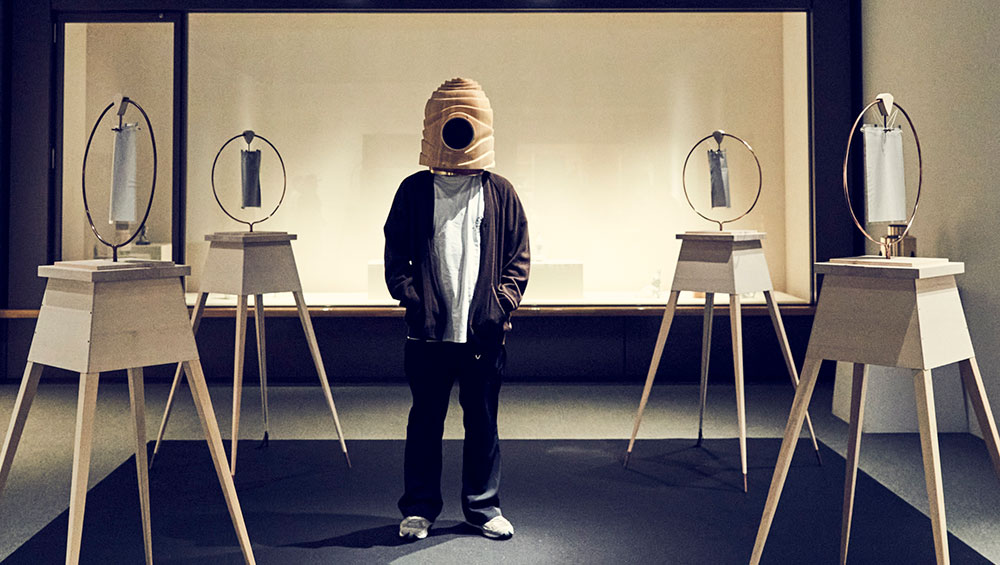 Stylist Shinichi Mita wearing a helmet for outer space by Nakagawa Mokkogei. Photo: Kenichi Muramatsu.
Dazaifu Tenmangu Museum, Kyushu Island
10 June – 27 August 2023
by KANAE HASEGAWA
The premise of this exhibition at the Dazaifu Tenmangu Museum, on Kyushu Island, is that objects created by Japan's traditional craftspeople will become the cutting-edge items of the future. The Japanese fashion stylist Shinichi Mita has brought together 11 craftspeople, including: Takahiro Yagi, the sixth-generation owner of the copper tea caddy maker Kaikadō; Housai Matsubayashi, a 16th-generation potter at Asahiyaki, which has been in business in Uji, Kyoto, since 1600; Keigo Kamide, a sixth-generation porcelain manufacturer at Kamide Choemon kiln in Kutani; and Shuji Nakagawa, a third-generation woodworker at the Nakagawa Mokkougei workshop. Mita devised the following narrative as the basis for the exhibition and asked the craftspeople to contribute to the objects that would be found in the mysterious box at the centre of the tale:
"The time was the late Edo period. Patriots from all over Japan gathered, exchanging passionate discussions, looking into the future. Here, in the treasure house of Dazaifu Tenmangu, a "box", kept sealed since ancient times, was mysteriously unsealed by someone. Inside the box were items that seemed to be a fusion of old and new technology. It is unclear who made them, for what purpose, and when. A myriad of hypotheses, daydreams, and uncanny delusions spread throughout Japan. Skilled craftsmen, who gathered to see the items, saw in them the root of their techniques. Some perceived it as a 'spacesuit' (Sorafuku). Others said it was to send the souls of the dead to the underworld."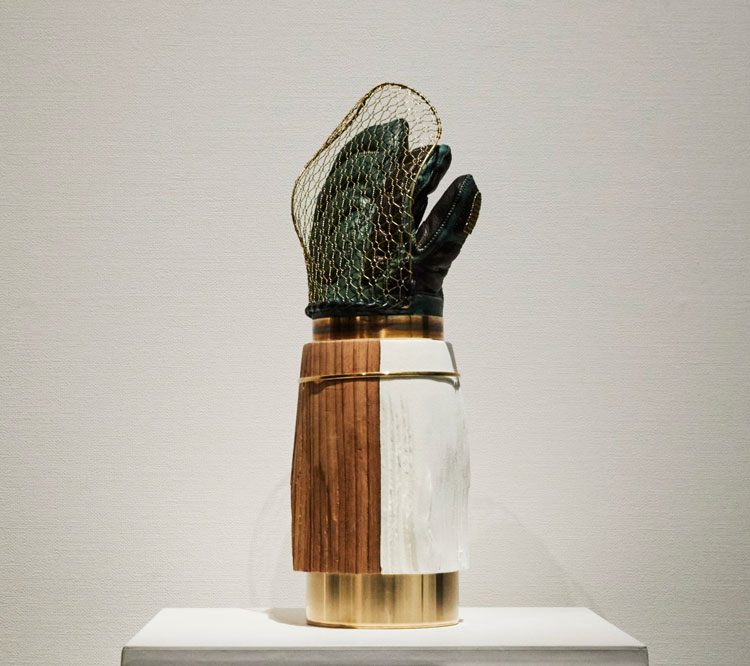 Arm created by woodworker Nakagawa Mokkogei, ceramicist Hasami, with glove in light deerskin by Kentaro Kozuki and wire work of Kanaami Tsuji. Photo: Kenichi Muramatsu.

One piece in the show, a sculpture in the form of an arm, is a tour de force of different crafts. Half of the arm was fashioned by Shuji Nakagawa using the craft employed in wooden bucket-making. This is fused with the other half of the arm, by Maruhiro, which is in Hasami ware, a form of porcelain. The hand is a glove of light deerskin crafted by Kentaro Kozuki and adorned with wirework by Toru Tsuji of Kanaami Tsuji. These elements are connected by a tea container dating from 1875. The contemporary object, which looks like a cyborg arm, while at the same time paying homage to traditional crafts, came out of a dialogue between all the craftspeople involved. It was a challenge for them as they searched for ways to apply their familiar crafts to something they know nothing about – their unseen future. This is what the craftsmen came up with as their "outfit for travelling to outer space". It took 18 months for them to make the arm.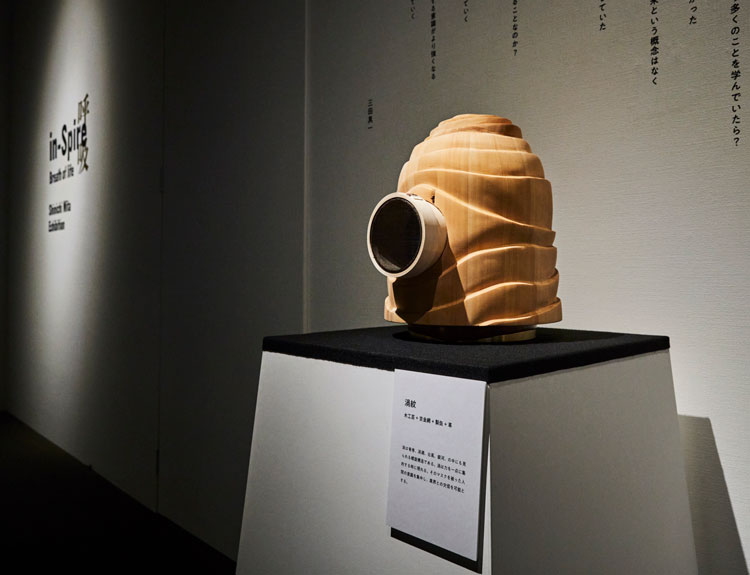 Helmet made by oke (wooden tubs) maker Nakagawa Mokkogei. Photo: Kenichi Muramatsu.

Another piece on show for the space outfit, a wooden sculpture in the form of a beehive carved by Shuji Nakagawa, has a round hole that makes it look like a helmet. There is a copper utensil, named Sora-Fune, which is supposedly a rocket in which to escape from Earth, fashioned by Takahiro Yagi using the crafts employed to make tea caddies, with a wooden tripod for legs made by Shuji Nakagawa.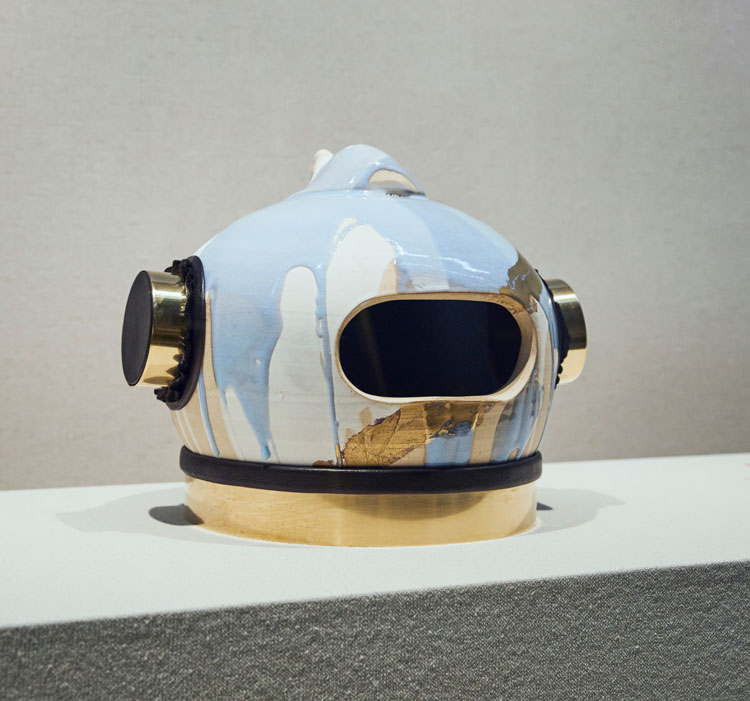 Helmet made by Asahiyaki resembling the earth. Photo: Kenichi Muramatsu.

Another helmet-like object has been made using the 400-year-old crafts employed by the Asahiyaki pottery. Throughout its history, the pottery has been preserving and handing down its customs, which includes using 50-year-old old local soil. The soil will be used for Asahiyaki potter 50 years in the future. This is the legacy of the kiln, inheriting and passing on the history of Asahiyaki pottery from the Uji region of Kyoto, and cultivating soil for future use, so this spherical object, with its pale-blue and gold glaze can be seen as Mother Earth.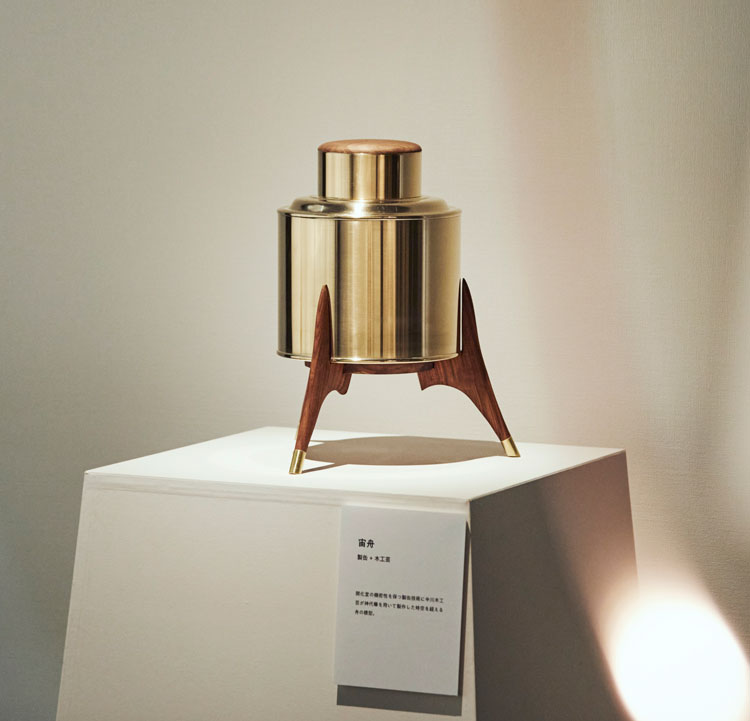 Sora-Fune, rocket to escape from earth, by Kaikdado with wooden tripod by Nakagawa Mokkogei. Photo: Kenichi Muramatsu.

Although these objects are not practical items for contemporary living, they may exist in the future in outer space, but can still be seen as being made using time-honoured crafts. The makers in this exhibition did not intend their pieces to be functional: instead, they thought about what would happen if their own time-honoured craft were applied in an unknown future to objects that don't exist at this time. Indeed, even from olden days, hand crafts have been at the forefront of manufacturing in Japan. Kaikadō, having seen cylindrical cans imported after Japan reopened her doors to the west, acknowledged that loose-leaf tea was best kept in an air-tight container rather than preserved in a paper box, which had been the tradition until then. Thus, in 1875, the company invented air-tight copper tea caddies. The artisans who are the successors to these traditional crafts have constantly reinvented new applications suited to contemporary living.
What is surprising is that these crafts, which are laboriously made by hand, are now being seen as luxuries in an era when society expects things to be made in the shortest possible time in an automated factory to meet the increasing demand of customers wanting to get hold of products straight away.