Henry Skerritt and Margo Smith talk about the Kluge-Ruhe Aboriginal Art Collection
With more than 1,900 works, the Kluge-Ruhe Aboriginal Art Collection at the University of Virginia is the largest collection of Indigenous art in the US. Here, Margo Smith, the director, and Henry Skerritt, the curator, talk about the museum and its work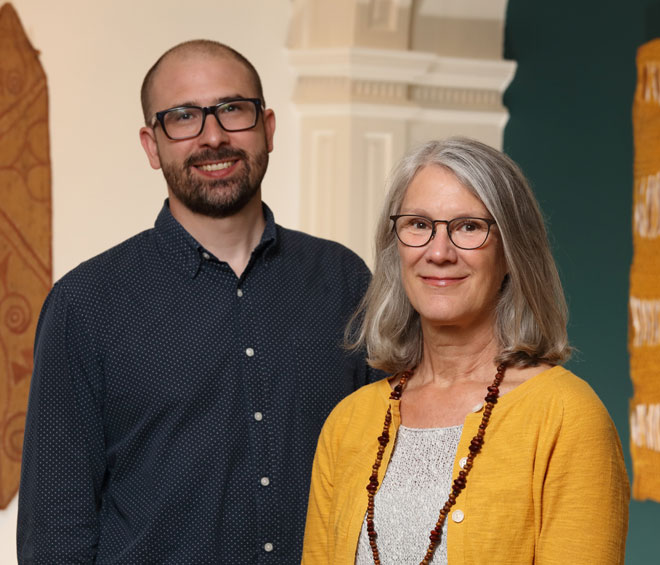 by CASSIE DAVIES
In 1988, John W Kluge (1914-2010) attended an exhibition called Dreamings: The Art of Aboriginal Australia, at the Asia Society galleries in New York City. It was here that his interest in Aboriginal art began, and the following year he made several visits to Australia and collected more than 600 artworks. Then, in 1993, Kluge acquired the collection of Edward Ruhe (1923-89), the first person to exhibit his impressive, privately owned collection of Aboriginal art in the US.
Kluge continued to collect Aboriginal art for several more years until, in 1997, he decided to donate his collection to the University of Virginia. The Kluge-Ruhe Aboriginal Art Collection opened at its current location in 1999, and since then the museum has continued to expand its artworks from Australia. With more than 1,900 already, it has become the largest collection of Aboriginal art in the US.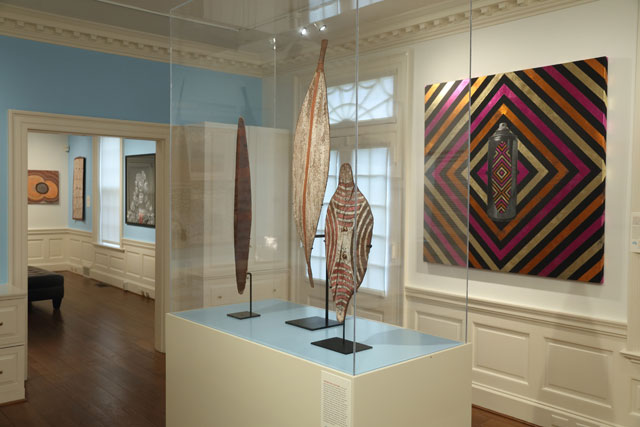 Beyond Dreamings, exhibition view, Kluge-Ruhe Aboriginal Art Collection.

The museum has rotating exhibitions, showing parts of this collection at a time, and it also shows artwork that isn't part of its collection. There are three exhibitions on at the moment: Beyond Dreamings, a show that was curated by nine graduate students at UVA and which harks back to the 1988 exhibition in NYC that captured Kluge's attention; Ngunguni: Old Techniques Remain Strong, an exhibition of paintings on eucalyptus bark from northern Australia, including earlier and contemporary artworks; and, lastly, Judy Watson: Experimental Beds, in which Watson, an Indigenous Australian artist, explores the relationship between Thomas Jefferson and Sally Hemings, an enslaved woman of mixed race, alongside the mixed-race relationships of her own family history.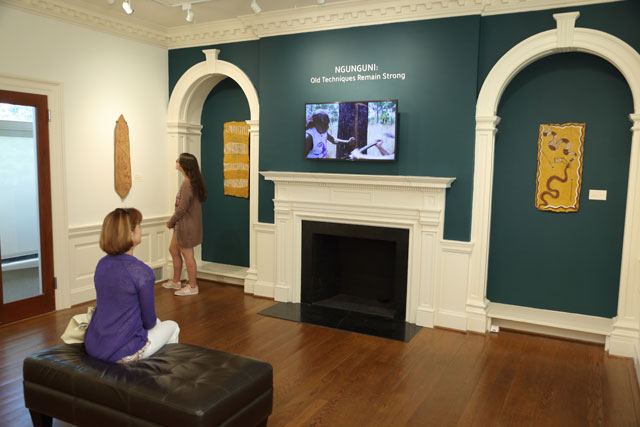 Ngunguni, exhibition view, Kluge-Ruhe Aboriginal Art Collection.

I visited Kluge-Ruhe and spoke to Margo Smith, the director, and Henry Skerritt, the curator, to find out more about the museum and their work.
Cassie Davies: The collection has more than 1,900 artworks, and only a select handful are shown to the public in the museum. Could you tell me more about how this selection is made, and why so much is preserved from the public eye?
Margo Smith: It has a lot to do with our location. The building that we're in is really not large enough to show more of the collection. We're in a historic home that has windows and french doors everywhere and residential-sized galleries. The reason that we're here is because, when the gift of art was given to the University of Virginia in 1997 by John Kluge, it wasn't incorporated into the university art museum, and so we were set up as a separate museum.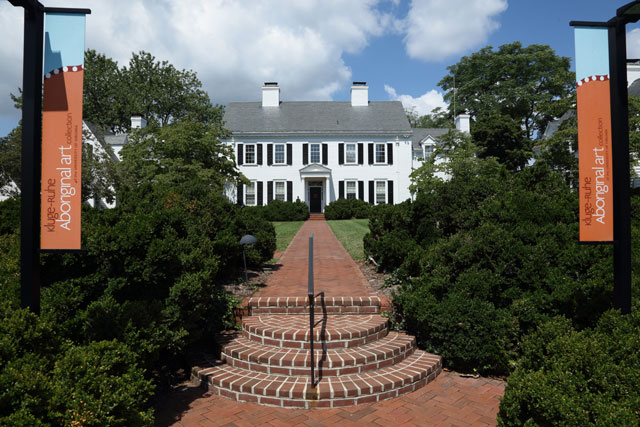 Kluge-Ruhe Aboriginal Art Collection. Exterior view.

This house was given at the same time by a different donor and, without doing a whole lot of renovation, we were able to turn it into a public museum. But we are constrained by ceiling height, wall space and the square footage, which means we have to make very judicious choices about what we show. Over the 20 years that we've been open, we've shown a large part of the collection, but through rotating exhibitions. We also show work that isn't part of our permanent collection.
Henry Skerritt: Kluge wanted to have a world-class collection, but as the number and scale of the collection expanded, it became difficult to show more than a small proportion. We try to show the diversity of the work and regional variations, but we're also concerned to show that it is contemporary art, that it is not static, and that it encompasses every medium from bark painting through to video art. One of the key questions that we're asking every time we put on a show is: how do we present the sophistication, diversity, and contemporaneity of Aboriginal art to an American audience?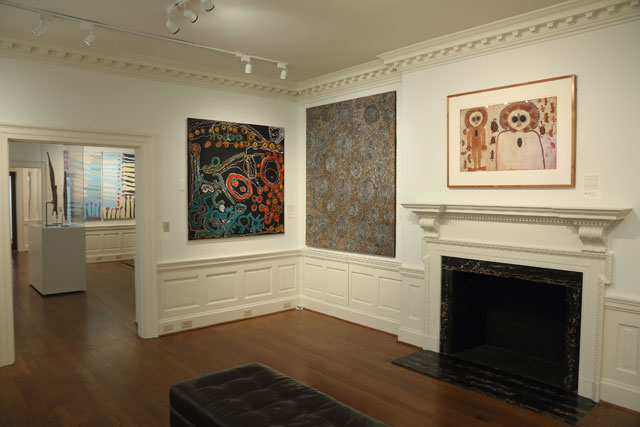 Beyond Dreamings, exhibition view, Kluge-Ruhe Aboriginal Art Collection.

CD: I noticed that the museum has a very respectful approach to acknowledging Indigenous people. Do cultural boundaries factor into the way you exhibit artwork?
HS: One of the things that we're really committed to is the idea that these are not just pretty pictures. Every one of these artworks is part of a larger complex of knowledge. It's a knowledge where art and song and dance and country are united into this very big way of seeing the world. Every time we curate, the first thing we think about is how these are not our stories to tell. These stories belong to the Indigenous knowledge-holders, and the big challenge that we have is that they are a very long way away. Every day we're searching for ways to bring those voices into the curatorial endeavour. That's been a really big part of what we've been trying to do here.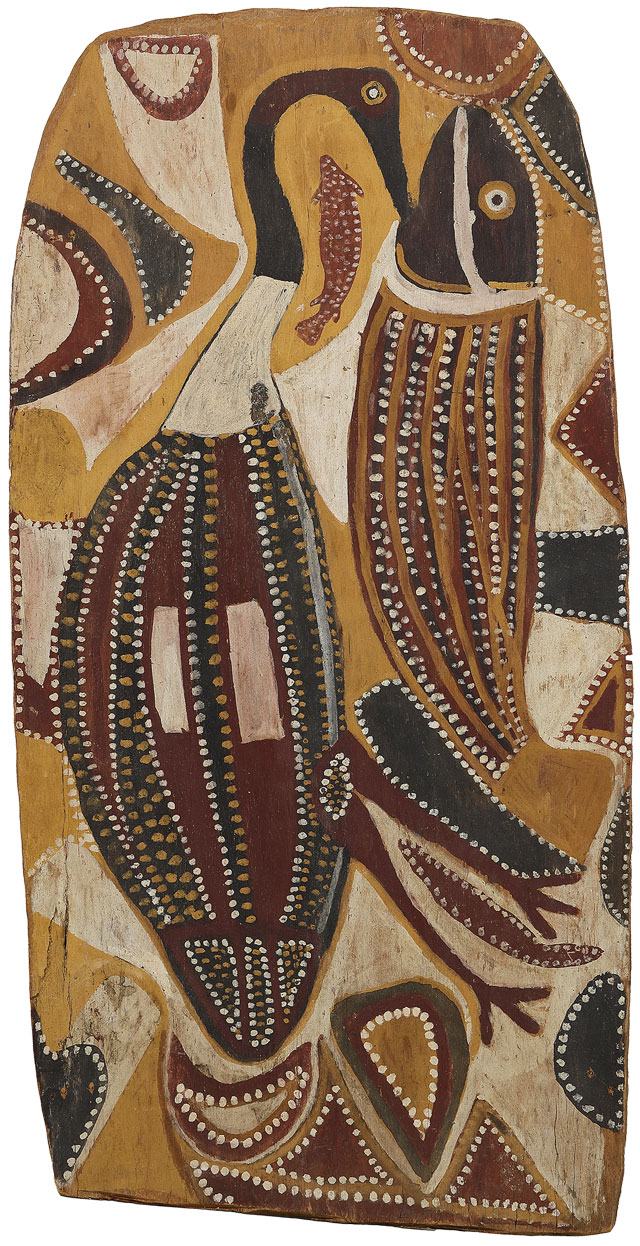 Majata Bunduk (Murrinh-patha, c1920s – c1990s). A Wader Catching Fish, before 1966. Natural pigments on bark, 32 ¾ x 16 ¾ in. Courtesy of the Kluge-Ruhe Aboriginal Art Collection. © the artist licensed by Aboriginal Artists Agency Ltd.

The current show Ngunguni was a co-curated venture. We're also working on a very large touring project that spans eight decades of Aboriginal bark painting. The important thing for us is that those are being led by the Aboriginal people. On the other hand, we also have to curate on a day-to-day basis – we have to put on standing shows. So, one of the things that we've also been thinking about is how to develop the community here. We're really trying to actively engage with students to curate with the collection, and to think of the collection as a research and teaching tool.
MS: Also, a quarter of our space is our rotating gallery and for nine months out of the year we show the work of our artists in residence. The whole point of our artist residency is to integrate art into the academic life of the university, so they become teachers in our classrooms, not just with studio art classes, which for some artists is something they're really accustomed to already, but also in other disciplines, where they have information and skills to share with students. We've had artists work in everything from environmental sciences to gender studies to astronomy, so it's really quite interesting to see how broadly artists are able to work with our students. And, again, as Henry was saying, one of our goals is really to amplify Indigenous voices, by giving people an opportunity to speak for themselves, and giving them power and agency in the way we exhibit their artwork in our galleries. We consult with them constantly on that. We are really bringing them to the fore and making sure that it fits in with how they want to present themselves to an international audience.
HS: It's a collaborative venture. We're acting as mediators between these artists and the world, helping to get their message across in the way they want us to.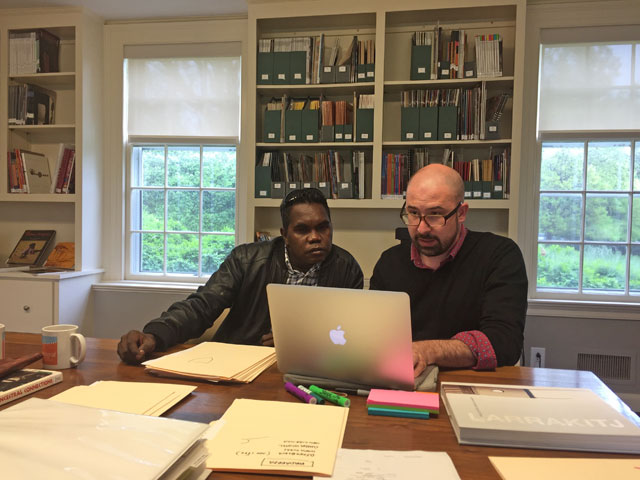 Yinimala Gumana and Henry Skerritt researching the collection. Image courtesy Kluge-Ruhe Aboriginal Art Collection.

CD: I was particularly interested in the maps of Australia beside each painting, which mark the location of Aboriginal clans. The themes of location and migration seem to recur throughout Aboriginal art. Could you tell me more about this, and its relation to the history of Aboriginal people and culture?
MS: People's relationship to country, the place that they're from or where their people are from, is the primary relationship. That can be land, sea and sky. But it's true that many people have been moved from their country, whether it has been forced or voluntary, and so when people are telling those stories about their own personal experience of either returning to country or memories of country, or staying in their country, creating art is a means of telling these stories. We see that in the history of Australia: Aboriginal people have made their relationship to country known through their art, and art has, therefore, been a very political expression for them.
HS: The narratives are about ancestral beings moving across country, so it's deeply embedded in place and people's attachment to individual places, but it's not nativist. These places have a great ancestral essence that connects to every other place around it. If we think about the world today, we're living in this networked, global condition, and Aboriginal people have been thinking about the world in these terms for ever. Today, people are thinking more and more about themselves in these isolated silos, of our place with its closed borders, we're not going to trade with anybody, we're not going to think about anybody who speaks a different language or looks different. Aboriginal art has a world view that says it's OK to be from a place, to hold it deep in your heart, but your place only makes sense in relation to every other place. That's a very powerful message.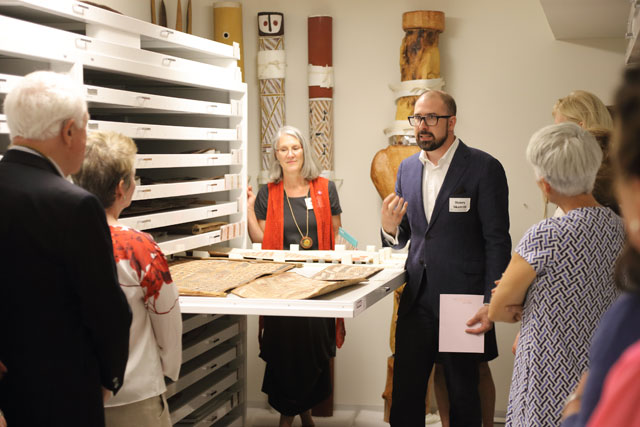 Kluge-Ruhe storage tour.

CD: It seems, also, that there is an important, spiritual component to Aboriginal artwork?
MS: There are sacred designs that are part of Aboriginal people's ceremony and ancestral connections. Sometimes, we have people coming in to see paintings by members of their clan, parents and grandparents. It's been years and years since these paintings were made, and to be reunited with these artworks that are so meaningful to them, that have something to tell them, is really extraordinary. It is a powerful moment for all of us to be a witness to that.
HS: We work with people who have seen a lot and who have experienced great upheaval and challenges, but are still so centred in who they are, and so willing to share their stories. Every time we have artists here, we recognise that this art is just the tip of an iceberg of a whole culture.
CD: I'm very familiar with the dot style of Aboriginal artwork. I was delighted to see other styles at the museum though, such as those in the Beyond Dreamings show. How has Aboriginal art adapted through the years?
MS: The artwork people are most familiar with, in a commercial sense, are the dot paintings –a lot of Americans think that is the extent of Aboriginal art, and so what's really exciting is to show the great diversity that exists and the different changes that you can find over time. It's really becoming possible at this point, with the amount of production that is going on and the collections that have been built, such as Kluge-Ruhe, to examine art history within an Aboriginal culture. It's also become possible to learn art history from an Aboriginal perspective as well, because they have their own sense of their art history that's somewhat different from ours. I think those are all exciting things that are only possible when you have large museum collections where a lot of research is going on, and where there's engagement with Indigenous people.
HS: Many people come to Kluge-Ruhe with the view that Aboriginal art is unchanging, and one of the things that we're trying to show is that it does have a history, and it has a history of people engaging with the outside world, but also looking backwards tens of thousands of years.
We have to think about how to write those histories in ways that honour both continuity and change, and in ways that are relevant to the Aboriginal people who are making those histories. The other thing we need to constantly get across is that there is no one Aboriginal people, there are hundreds of distinct language and cultural groups. Australia is roughly the size of continental US, so the work does vary a lot. One of the other challenges now is really digging down into those regional art histories and thinking about how individual groups, schools of artists, develop their own histories, but also how those histories are all interlocked.
In Australia, about every five years, a national newspaper writes a story about how Aboriginal art is dead, and every time an article like this comes out, it seems there's another burst from Aboriginal artists. The amazing thing with the Aboriginal art movement is that we've now had one hundred or so years of art being produced for the market, for outsiders, and it has not sat still for a second, it just keeps going. Every year, there are new artists hitting the scene and, every year, the work goes in directions that you could never have expected.
MS: There are so many wonderful Aboriginal art festivals going on in Australia, where artists come from all over and you get to see a great variety of artworks, and there are prizes for different categories of art. I wish Americans were able to be exposed to that, or to see what is on show in major museums in Australia. In a lot of the contemporary art galleries in Australia, Aboriginal art is integrated with contemporary art, but here, in the US, you're very lucky if you get to see a smattering of Aboriginal art at one museum every five years. Except for Kluge-Ruhe, of course, which is really the only place you can see it all the time.
HS: We have three Aboriginal barks that were produced in the last six months on display. One of them is radical and contemporary and unlike anything that would have been produced 30 years ago, and two of them are harking back to the very beginning. There are multiple ways of expressing contemporaneity and some people are looking backwards, some people are looking forwards, but all of these perspectives make up a really interesting, vibrant movement. We have contemporary works with ceramics, stencil and spray paint, but exhibit them alongside 19th-century shields. What we have here is an art movement that is absolutely engaged with the present, with the politics of the present, the aesthetics, the social changes, but at the same time they are all looking backwards to a very living idea of the past. I find that really inspiring. The work here is also very genuine, there's no cynicism, and that really does say a lot about the way in which Indigenous artists see the power of art. Art is not just a game, it's something that you live, and it has a tangible ability to affect the world.
• Ngunguni: Old Techniques Remain Strong is on until 9 September 2018; Judy Watson: Experimental Beds is on until 30 September 2018; and Beyond Dreamings is on until 7 July 2019, all at Kluge-Ruhe Aboriginal Art Collection of the University of Virginia, US.